Among a sea of online dating apps, it is not so easy to stand out and get the attention of a great number of users. Some of the most popular dating sites include Tinder, Bumble, and OkCupid. 
In this vastness of choice among dating websites, we will present you one with a very catchy slogan – 'designed to be deleted' – showing that they are there to help their users find long-term relationships (like eHarmony or Tinder) rather than casual hookups (like BeNaughty or Ashley Madison), after which they will no longer need a social media dating profile.
OFL Top Recommendations based on 100,000+ Survey

"Serious Relationships"
"Discreet Hookups"
"Best Course for Men"
"Quick Flings"
"Normal Hookups"
"Our Quiz"
The focus of this text will be on:
Is your dating app giving you the best chance for success?
Make sure to take our online dating site/app quiz to find out.
It's a fact that people who follow our dating site suggestions have on average 2 extra dates per month.
Before we dive into the main topic, let us dedicate a few lines to what catfishing is.
It is a type of online scam where a person creates a fake profile on a social media or dating website. The true identity of the person is hidden behind a fake account. Sometimes, identity theft is in question.
The term 'catfish' was initially used in this sense in a 2010 documentary of the same name. The film is about an online relationship between two people who met on Facebook. The woman turns out to be dishonest and to represent herself falsely to him. The follow-up on the film is a reality show called 'Catfish: The TV Show'.
The origin of this usage of the word 'catfish' is explained in the movie. It is said that, when people shipped cods from Alaska to China, due to the inactivity of the fish, its meat became mush and tasted bad. But someone decided to add some catfish to keep the cods active and preserve the quality of its meat.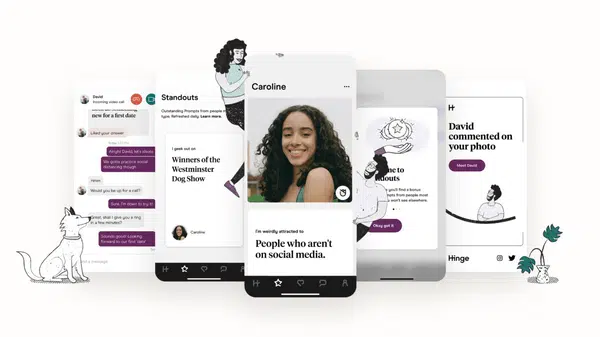 In the same way, catfishing keeps real internet users alert and adds to the excitement of whatever they are doing.
The possible motives for catfishing include financial gain, harassment, and downright kidnapping and abuse, but probably more frequent motives are loneliness, social struggles, dissatisfaction with one's own physical appearance, and believe it or not, exploring one's sexuality.
Though not all catfishing scammers are actually wicked and in for it to hurt their victim, all of them are doing something morally (and often legally) wrong. And some kind of harm is always imposed, be it financial, physical, or mental.
And then there is the narrow question of what is a catfish on a dating site?
Well, that is a fake profile, more precisely a person behind that profile, posing to be someone they are not and getting matches on the app. They may do that to get some gain and scam gullible love-seekers out of money, while others are just bored or insecure about themselves so they hide behind a fake account.
Can Someone Catfish You on Hinge?
Unfortunately, yes, people can (and some of them do) catfish others on Hinge. This site doesn't have a thorough background check like some other sites, but they make up for it by working hard on eliminating perpetrators as they appear on the site.
What you need to understand before even registering on any online dating website is that, even though the ways to spot and deal with a scammer are more plentiful than years ago, the ways how to be a catfish are also on the rise.
The development of technology has made it simpler for a person of just decent computer skills to take someone's photos from other social media networks and to edit them so that it is not easily spotted that a fake profile is in question.
OFL Top Recommendations based on 100,000+ Survey

"Serious Relationships"
"Discreet Hookups"
"Best Course for Men"
"Quick Flings"
"Normal Hookups"
"Our Quiz"
Also, nowadays, people tag their locations, where they travel, what they like to do, and all that information can be misused by a scammer.
And all these are reasons for you to trust your gut. If something feels wrong, it is probably wrong. So should you get a strange feeling while communicating with someone on Hinge, pay close attention to what and how they speak and behave towards you, do a Google search, and in the end, report them if you find that the account is not real.
Are the Profiles on Hinge Fake?
We can like the answer or not, but there are fake profiles everywhere, on every website, no matter what its purpose is. There are even popular catfish profiles that are very hard to bust.
Remember that there isn't any catfish app. Behind every fake profile is a person who created it.
Some apps will take more serious measures if an account is flagged or reported several times. So, if you are sure to have spotted a possible Hinge bot, report it so that there is more chance for it to get the necessary attention from the authorities.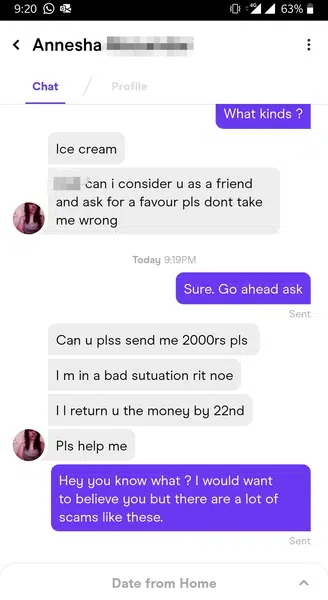 With online dating, you are never 100% sure with anyone, and that is a fact. But you can take the necessary steps to lower the possibility of getting caught in a catfish date by analyzing your match and the communication with them, as well as your gut feeling.
How to Spot a Catfish on Hinge?
There are red flags that may serve as a warning of possible scams. If you choose to use Hinge as one of your social media profiles, here is how to tell if you're being catfished.
First of all, trust your instinct. If it feels off, then something may really be off. We, humans, actually have a good intuition. Though we are sometimes reluctant to follow it.
Listen carefully to the person's story, especially the way it unfolds over time. If you are getting catfished, some parts of the scammer's story will probably not add up.
A catfish profile will not be consistent across social networking apps. Their Hinge, Twitter, Instagram, Snapchat, or Facebook accounts might not be so similar to one another. Also, take a look at how many followers they have, as a scammer will probably not have many.
A great way to check out if someone is a real person is to do a reverse image search on Google. If you see the catfishing photos connected with another person's name, you have probably spotted an online identity theft.
If your Hinge match asks you for money or your bank account number, take this as a serious red flag and run away. Or report the person and bring them one step closer to justice.
A person may ask you to communicate through some other messaging app. This should be taken as a red flag because the chats on Hinge can be used for reporting a scam.
If your Hinge match avoids giving you their phone number, picking up your phone call, or meeting you IRL, or arranging a video chat, it is just normal that you will realize that something fishy is going on.
On the other hand, if the person gets too close or is over the top with their feelings for you, that may also trigger the question: Am I being catfished?
If you are having a lovely chat with someone on Hinge and they start requesting unusual, or downright rude things such as your nudes, this is one of the signs you're being catfished.
Catfishing on dating apps can end up innocently, but it can grow to become an enormous problem. So, if you spot catfish signs on Hinge, or if your gut tells you 'I think I'm being catfished', you should take the cautionary steps. Check the account yourself, gather all the evidence you can, make screenshots, and report them.
Even if you get engrossed in a relationship (or the beginning of one) that turns out to be with a catfish, don't beat yourself about and don't lose self-esteem. It happens, and not only to you. Report them, remove them from your life, and carry on!
To help you even more with this, here are some things you should know about your online partner if they are genuine.
Their name. Do you know your partner's full name? What about other personal information?
Their history. Do you know it? Does everything they told you add up?
Their photos. Have you checked them via the Google reverse image search?
Their age and places they visited. Have they shown you photos from their younger days?
Other social media. Do they have a usual number of friends or only a few of them on Facebook, Instagram, and the like? Are you connected with your partner on those platforms?
People they are close with. Did they show you photos of their friends and family? Do they tell you stories about them that add up?
Face-to-face conversation. Be it in real life or via Skype or FaceTime, have you met face to face?
Can Someone See if You Report Them on Hinge?
The short answer is no. The action is anonymous, so the person cannot see that you have reported them on Hinge.
Also, it is permanent. Once you have reported someone, you cannot go back and 'unreport' them. So be careful about this. You don't want to be harmed, but you shouldn't harm anyone else without a good reason.
If the violation is serious, you can contact the Hinge staff via their email ([email protected]), tell them your story, provide them with relevant screenshots and other evidence, and they will do their best to handle the matter and prevent the scammer from imposing any more harm.
What they will do to the possible online dating catfish depends on how often they are reported and how serious their offense is – they can be just warned or downright banned from using the website.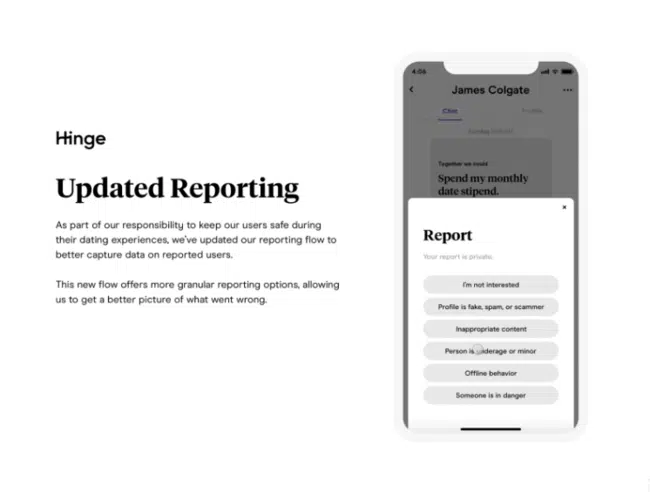 The company states that they have zero tolerance for any behavior that is reported or seen as insulting, harassing, discriminatory, or obscene.
How to Report a Catfish on Hinge?
When the realization 'I got catfished' comes to your mind, you will probably feel upset, worried, or even somewhat afraid. Now you know that you can report a Hinge profile and that the person will not know that. You will just disappear, together will all the communication you had with that person.
To report someone, follow these steps:
Open the profile you want to report.
Tap or click the three dots at the upper right part of the screen.
Choose Report.
Click the reason why you want to report the profile.
You have finished reporting and now the person cannot see your profile, match, nor the conversation you had before.