Welcome to today's dating website review where we evaluate ItalianoSingles.com.
It's a place where Italian singles or those that want to meet people of Italian descent can start a profile in their search for love and relationships online.
But is it the best Italian dating site out there?
Well, it has competition from the likes of Meetic.it and others, so be sure to read through this review where we highlight what you need to know about the site and analyze what it offers.
OFL Top Recommendations based on 100,000+ Survey

"Serious Relationships"
"Discreet Hookups"
"Best Course for Men"
"Quick Flings"
"Normal Hookups"
"Our Quiz"
To do this we'll conduct an in-depth critique of Italiano Singles looking at:
So let's explore what Italiano Singles has to offer then.
If you want to meet Italian singles, could this be the site for you?
Is your dating app giving you the best chance for success?
Make sure to take our online dating site/app quiz to find out.
It's a fact that people who follow our dating site suggestions have on average 2 extra dates per month.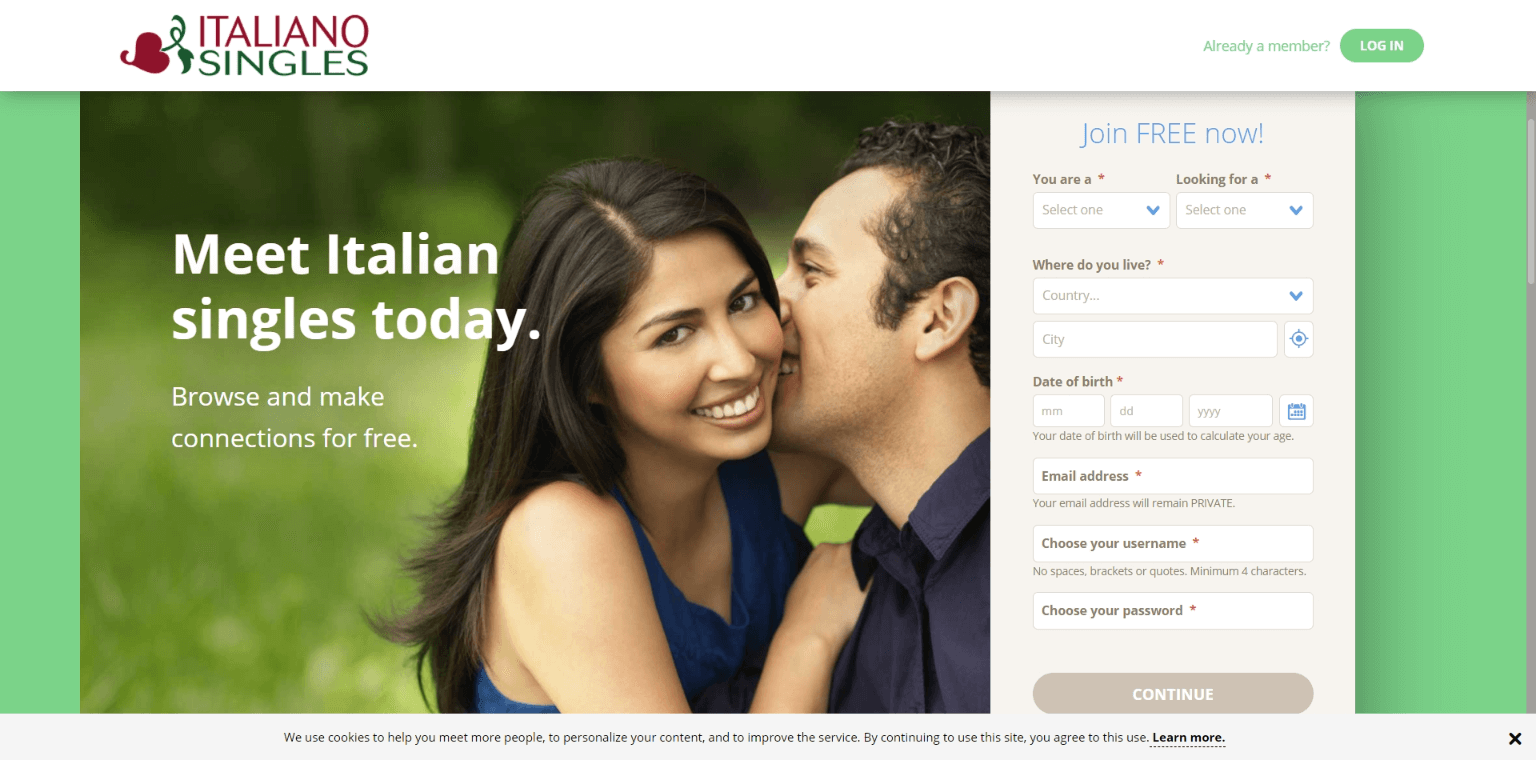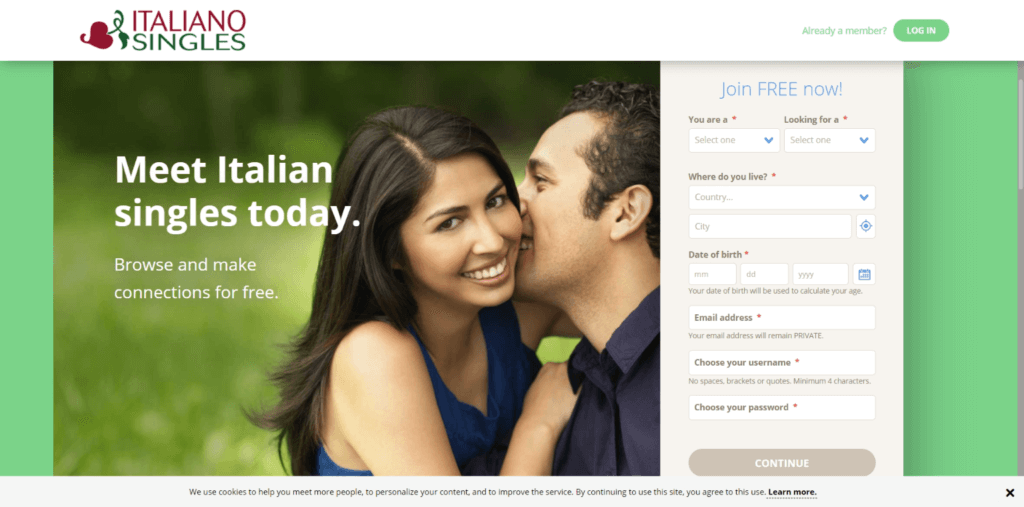 Ease of use – 5/5
Success rate – 3.5/5
Key features – 3.5/5
Price – 4/5
A dating site for people of Italian descent and those who want to meet them
Membership pricing is not too expensive
Italiano Singles has no app
It could do with a few more member features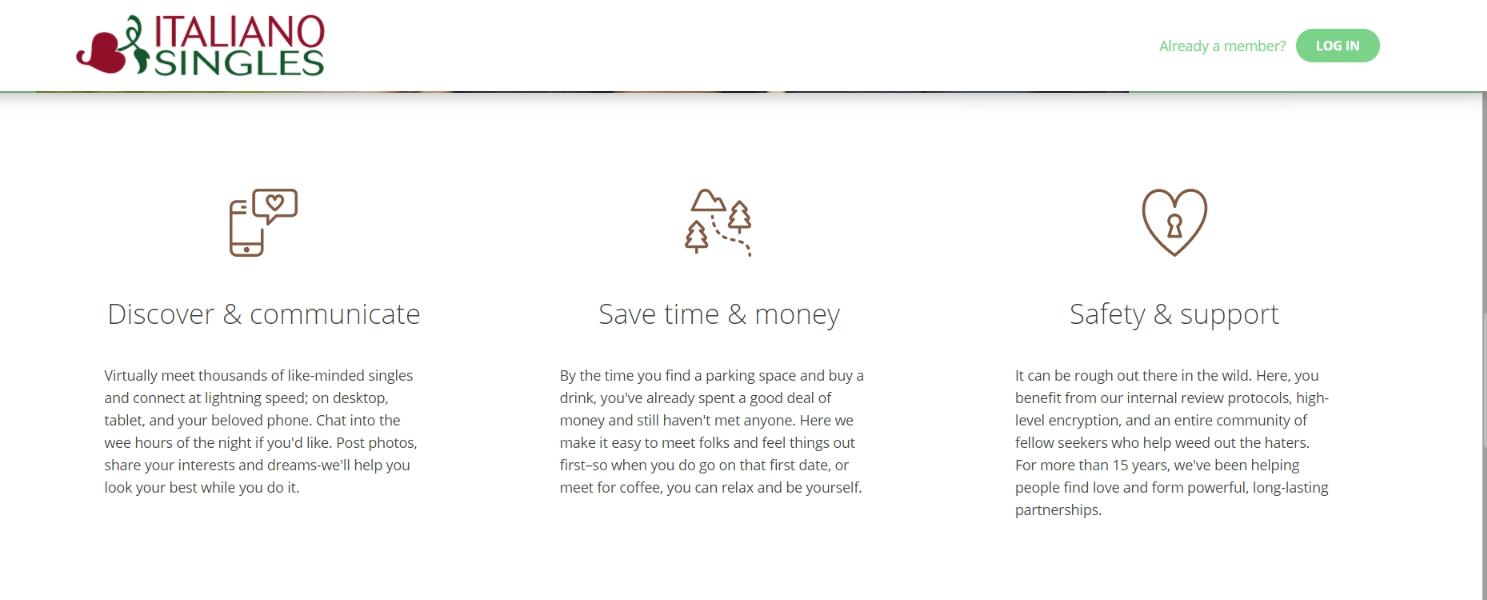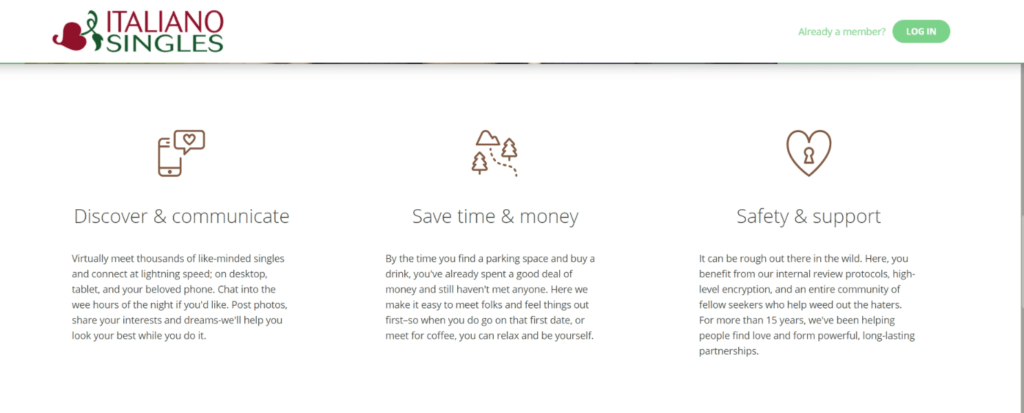 Who's It For/Demographics
You will find a wide range of users on Italiano Singles who are looking for friendship, people to date, serious relationships, or someone to chat with (like Tinder or eHarmony). Those who seek casual encounters should look at sites like BeNaughty or Ashley Madison.
Run by the World Singles network, it's claimed that this is one of the biggest Italian dating sites online today.
World Singles has around 15 million users, but obviously, that's not for this site alone.
Here's some more demographics and other facts behind the site:
OFL Top Recommendations based on 100,000+ Survey

"Serious Relationships"
"Discreet Hookups"
"Best Course for Men"
"Quick Flings"
"Normal Hookups"
"Our Quiz"
Under 100000 users are from the United States
Many users are from Europe
40000 are active on the site each week
That's 200000 per month and just under 6000 each day
Research shows most women members are from Italy itself while many male members who want to meet Italian women on the site are from all over the world.
It's similar to other ethnic specific dating sites in that way, for example, those where you can meet women of Eastern European descent.
But let me clarify that it differs from them too because this also includes Italian men looking to find Italian women for relationships.
Gender ratio and user age ranges
The collected data when it comes to gender ratio show that male users outnumber female users on the site.
But not by that much.
In fact, the research I gathered showed that:
55% of members are male
45% of members are female
On sites like these, you will often detect that the biggest age group of users are the 25-34-year-old group.
Why?
Well, just think about it.
That's the age where most people are looking to settle down.
So when people don't have a significant other, they turn to commercial dating sites like Tinder, or more niche dating sites like this to help them find love.
It does make sense, right?
So yes, the 25-34-year-old group are around 35% of all users (20% male, 15% female).
But in identifying the other popular age groups, there were some interesting anomalies.
Let's look at a breakdown first and then I will explain what I mean.
25-34-year-olds (35% of all users of which 20% are male and 15% are female)
35-44-year-olds (20% of all users of which 5% are male and 15% are female)
45-54-year-olds (20% of all users of which 15% are male and 5% are female)
18-24-year-olds (15% of all users of which 10% are male and 5% female)
55 and older (10% of all users of which 5% are male and 5$ female)
For me, the most revealing thing here is the fact that the 35 to 44-year group has females in the ascendency.
We can speculate as to why this is, but it certainly is interesting.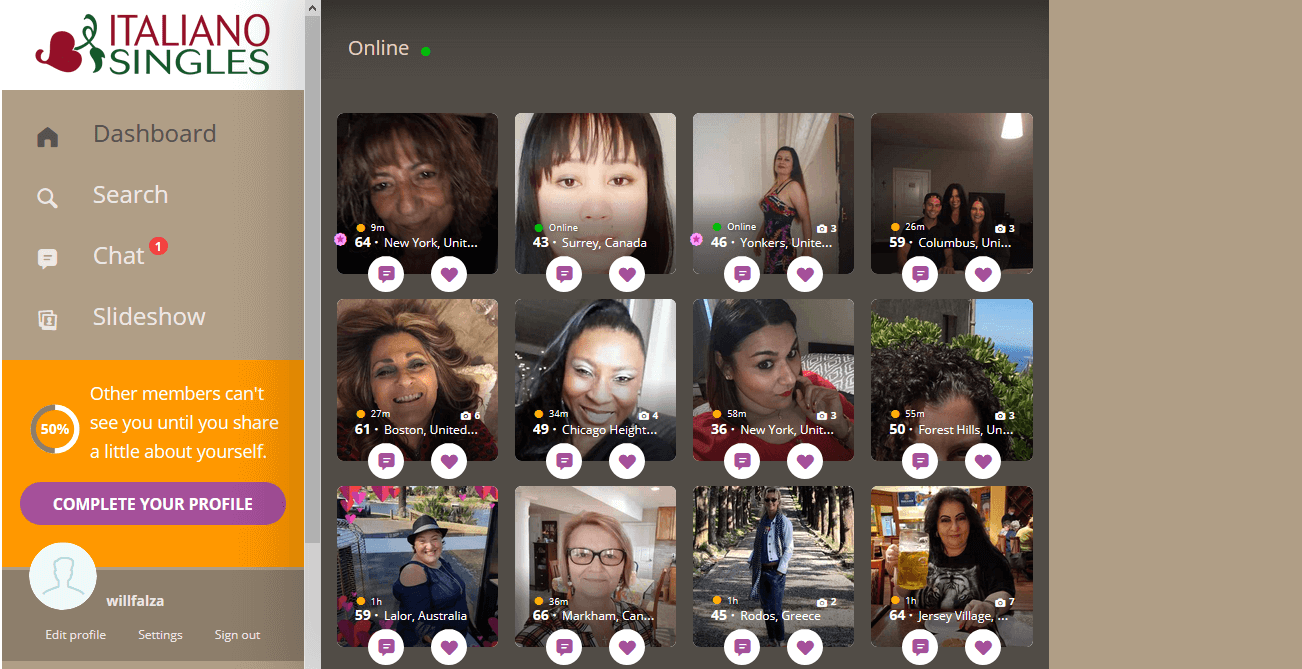 With no mobile app, registering for an Italiano Singles profile is done through the website.
It process is similar, yet a little different to some other dating sites but begins with much the same information that you will need to provide.
So that's obviously your gender, the gender you'd like to meet, your location, your date of birth, and email address, username and password.
Nothing very different there then, right?
World Singles sites always require that you fill in large parts of your profile but not to completion.
So before you can continue to the site, you will have to give the following:
Your body type
Your height
Your eye and hair color
Your occupation
Your income
Level of education
If you drink or smoke
Your marital status
Your religion
Your political affiliation
Do you have children
Do you want children
Your family roots (Italian or other)
Your ethnicity
The languages you speak
The music you listen too
Lastly, you get to upload a profile picture before you can access the site for the first time although you must also validate your email address before you can use it.
Finding your way around the site
Italian Singles uses the same design as all World Singles sites.
It's pretty unique, super easy to navigate and I can confirm, fun to use.
That's because it's uncomplicated as all dating sites should be and profiles are the stars here.
From the moment you land on the main page or the Dashboard, it's potential matchups that take the lead.
The site is divided into two sections.
On the left, you have the site navigation menus that you will use to find your way around.
On the right is the viewing panel, either for your search returns and other potential matchups or for a single profile that you've clicked on.
From my perspective, I love the fact that the profile pictures for matchups or search returns are larger than you will find on many other sites.
On a dating site, we are always attracted to someone through what we see first, right?
And these large profile pictures help, that's for sure.
But let's discuss the menu system that you will use to find your way around.
Well, there are only five menus:
Dashboard: This is the homepage of the site. Here you can see new users who have joined, users that are currently online and those that have recently upload new photos into their photo galleries.
Search: Launch your own searches from this menu
Activity: This menu allows you to see various connections you have made, who has like or viewed you and who you have viewed or liked
Chat: This is where your messages are found, both those you have received and those you have sent
Slideshow: You click here if you want to scan through potential matchups one at a time. Pass on those you don't like and click the heart sign on those that you do
Not many sites put the menu system on the left-hand side of the screen, but I believe it works well here.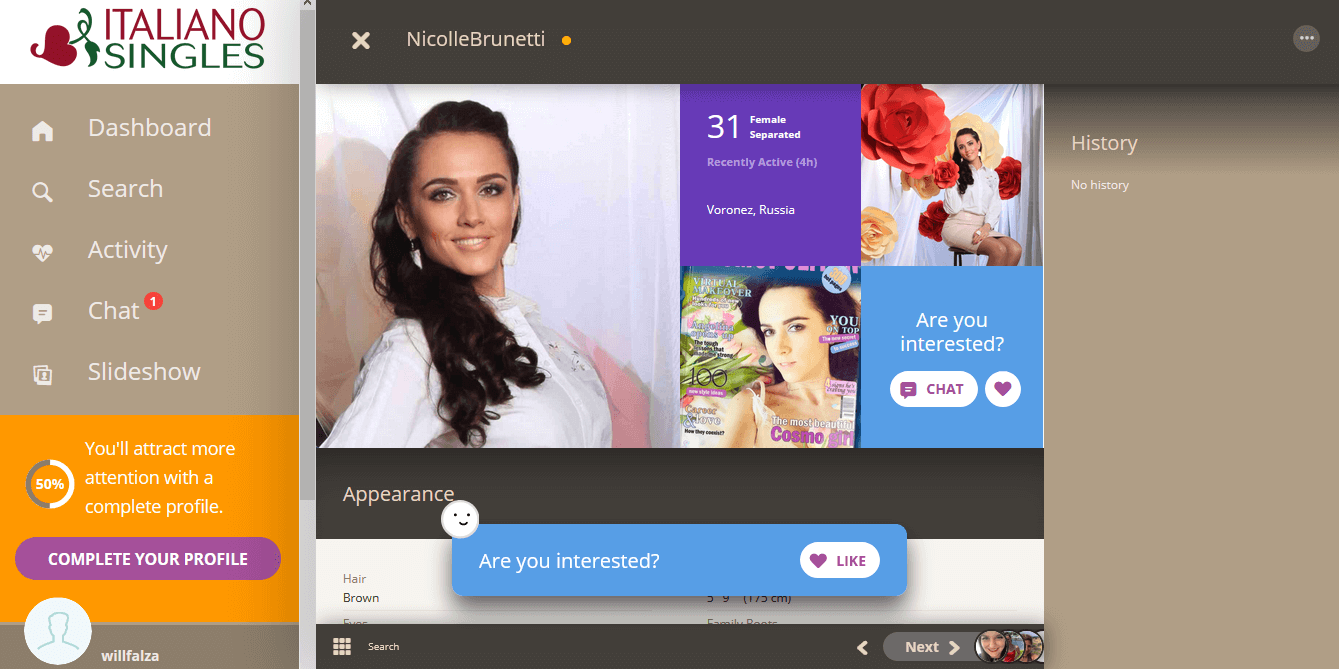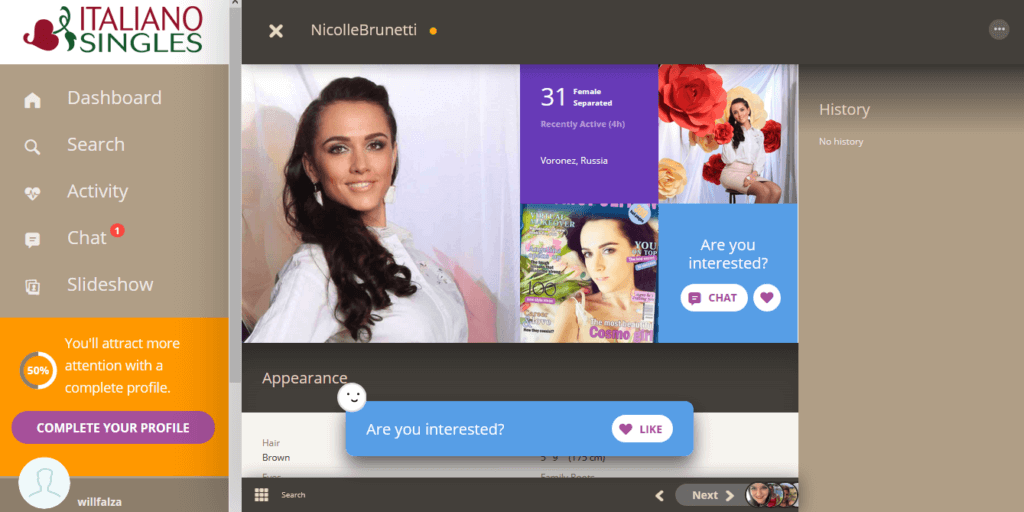 While you filled in quite a bit of your profile during the registration process, the site will alert you to the fact that you are only 50% complete.
So before you get too into looking for that soulmate, just quickly take the 10 minutes you will need to complete it.
Profiles on Italiano Singles have some excellent information in them and of course, you can use these profile parameters when you are launching quite specific searches.
So what's left that you need to complete then?
You will still need to:
Add a profile headline
Write a self-summary (an About Me section, in other words)
List your favorites (there are 40 categories here, from favorite actors, sports, foods, colors and more)
List your favorite interests (here you will find over 60 interests including exercise, writing, theater and more.
Personality (this is important because it helps to provide you with the right kind of matchups. Categories include adventurousness, confidence, trust and more)
Lifestyle (includes dress sense, neatness, the importance of religion and more)
Insights (here you can describe your perfect weekend, discuss how important physical appearance is to you, describe the most critical lesson you have learned, reveal what turns you on and more)
Looking for (here you can change the age range you would prefer your matchups to be).
Profiles on Italiano Singles is certainly one area on the website that's done right, that's for sure.
I love how they are filled with information.
And not the fluffy stuff but information that you can use to learn more about someone and identify what it is they are all about.
In comparing profiles, it seems that many users on the site like to fill in all the information that they can although quite a few also only filled in the sections they had to during registration.
But if you analyze all dating sites that give people an option, that's what you will find.
It's only those that make completing your profile a necessity in some way that ends up with full profiles for their users.
And World Singles sites like Italiano Singles don't do that.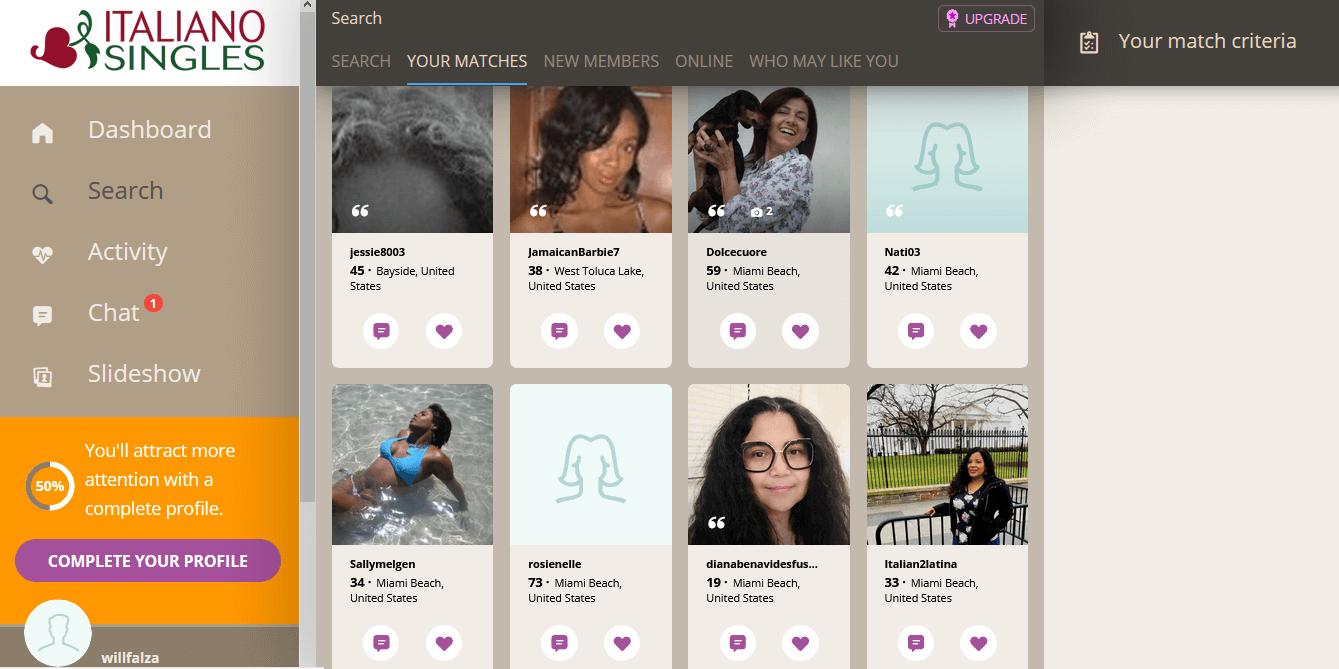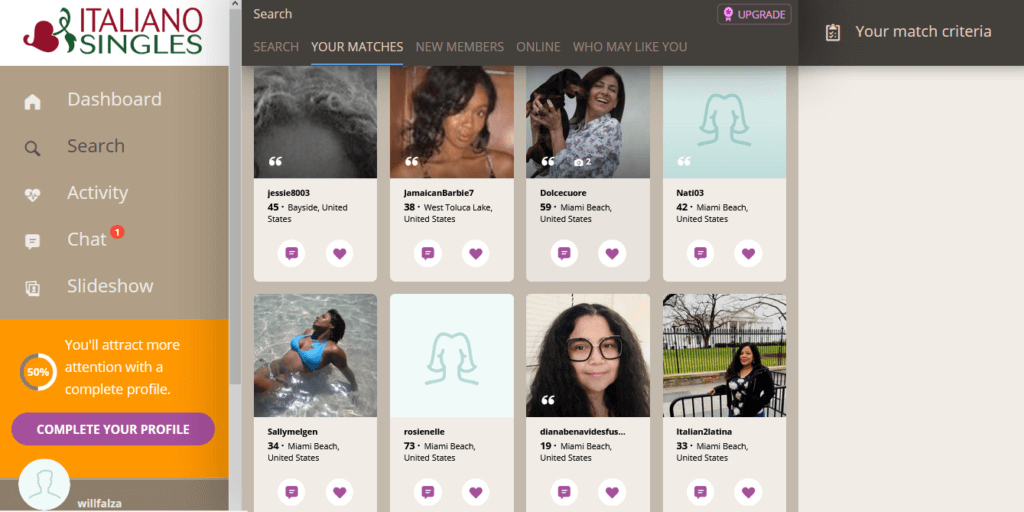 Within a couple of minutes of having been on the site, you will know it inside out.
And once you are happy that you have completed your profile to a level that you see as necessary, you are going to no doubt start to look at others.
So just how does Italiano Singles present matchups to you or how do you go about searching for your own.
Well, let's talk about the first category.
If you click on the Dashboard menu, you can start looking through profiles that in three categories:
Users that have uploaded new photos
Online users
New users (near your location)
"You may like…."(more users near your location)
"They may like…." (users where you match up to what they are looking for)
That's a ton of categories for you to start with, right?
For me, this is one of the strengths of the site.
Yes, some of these categories aren't near your location but not everyone is looking for a serious relationship.
Some of us don't mind becoming friends with others from around the world.
That said, there should be more than enough matchups near your location to get you started with potential profiles to reach out to.
There certainly was for me.
Plus don't forget to look at the "They may like" category, especially if you can find people in the same city that you live in to reach out to.
Before we get into launching searches of your own, don't forget about the Slideshow option.
This is a roulette-style matchup system but with a bit of a difference from most other sites.
You will be presented with matchups that you can either pass on or like.
The difference is that if you click on the right arrow below their picture, you can view their full profile.
That's often not an option on other sites.
So you welcome to search for love using this.
Of course, for the most part, however, you are going to launch searches of your own.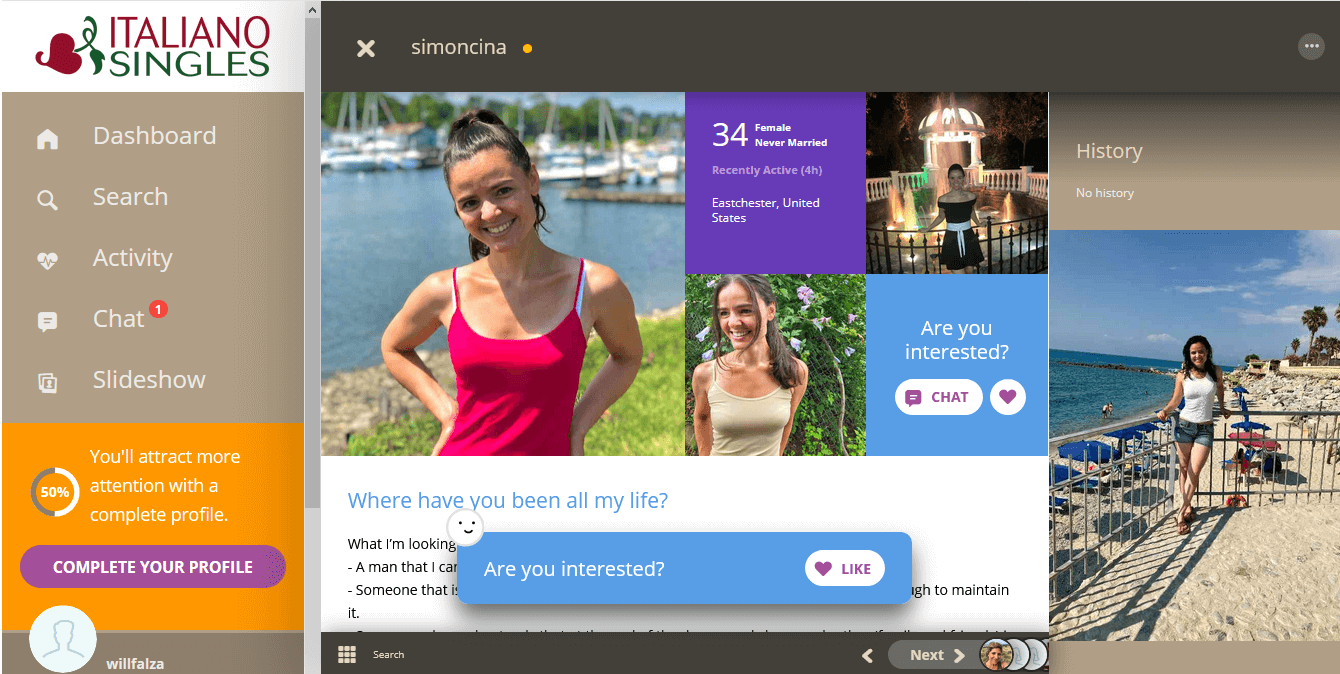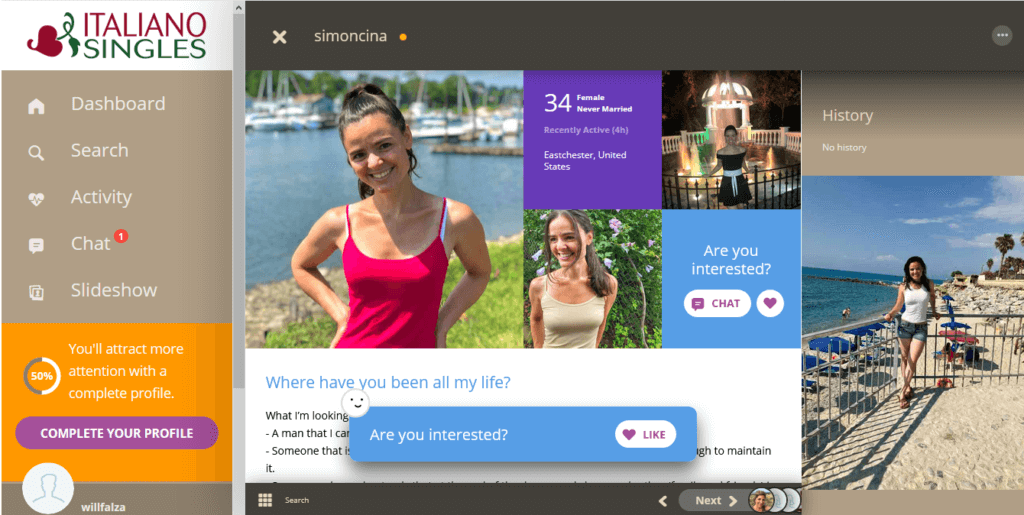 Using Italiano Singles' search engine
While membership to the site does bring added parameters, the search engine for regular users certainly exceeded my expectations.
At first, I thought that it was only the age range and location that you could adjust.
But no, if you click on the Add Filter button, you can use these extra parameters:
Family Roots
Physique
Race
Religion
It's not that much extra but more than many other sites offer.
Regular users can also save their searches as well as only return profiles that have pictures.
If you opt to become a premium member, you really can fine-tune your searches by adding the following parameters:
Best attributes
Education
Appearance
If they have children
Marital status
Occupation
Income
Habits
And more
While this is useful, it can be held back by the fact that not everyone fills in their profile in that much detail.
But it's worth trying, especially the appearance parameters as that's something that's usually always completed on profiles.
On Italiano Singles, messaging is the domain of paying members, much like on 99% of all dating sites.
As a regular user, you can only like someone's profile and again, they wouldn't know that you have done that because it's a member-only feature to see profile likes.
So if you want to reach out to someone, you are going to have to think about signing up as a member on the site because that's the only way that you are going to be able to reach out to them.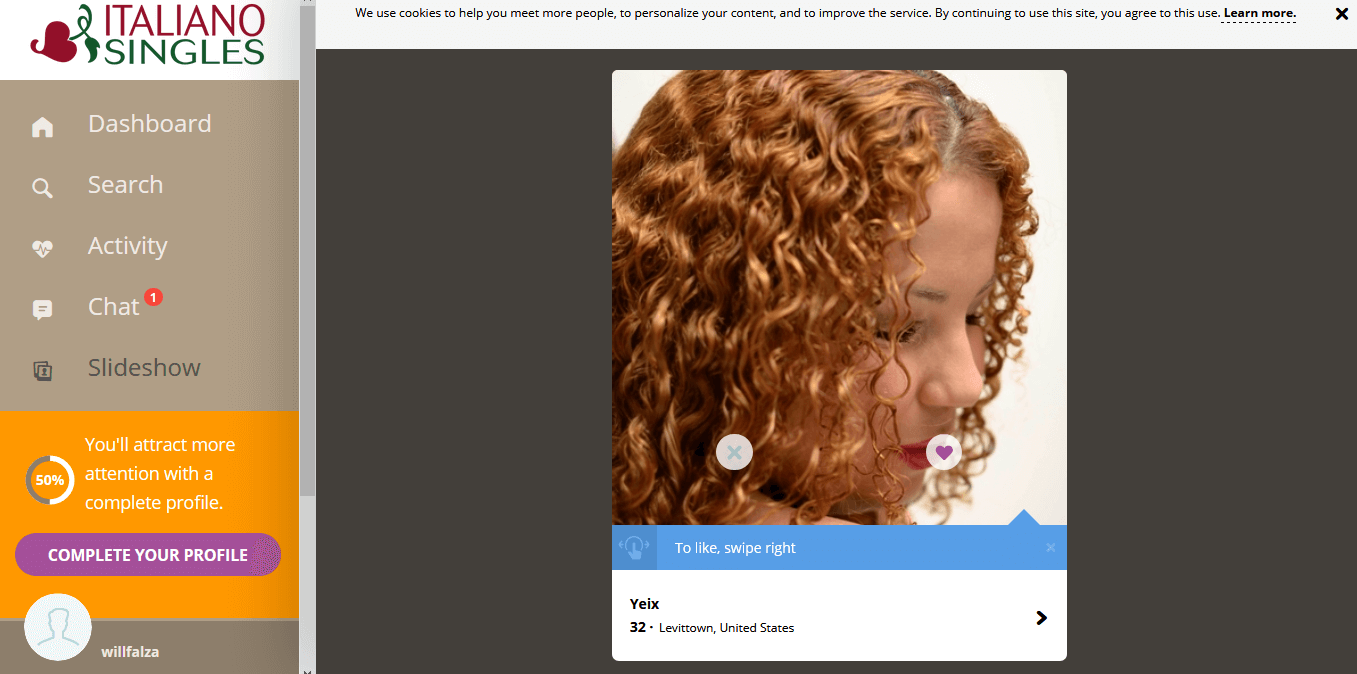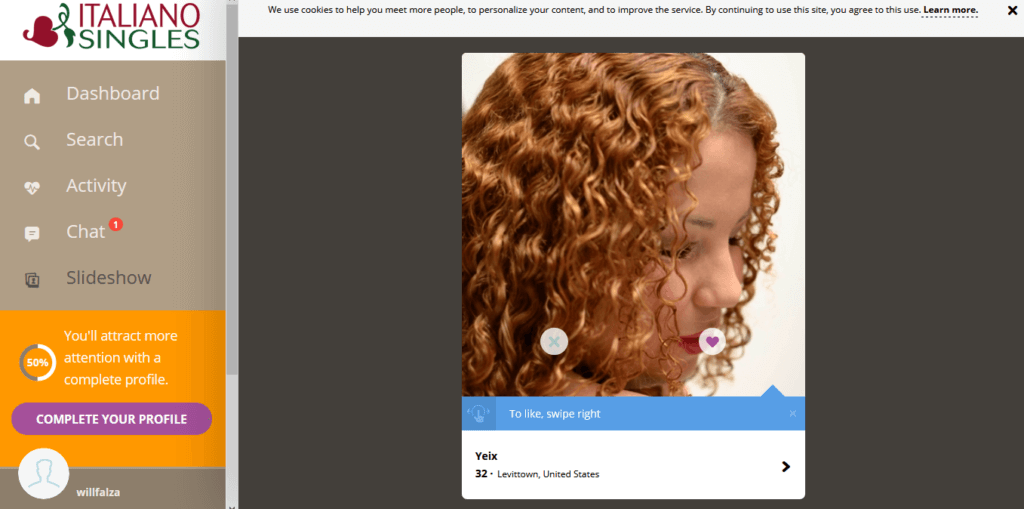 Signing up for membership to Italiano Singles brings several key features for you to use.
Let's look at these in greater detail.
As a member of the site, you are free to message other users.
There is no limit to the number of messages you can send and when people send messages to you, you are free to reply as well.
2. Extra search parameters
I have already mentioned the extra search parameters that members can make use of to fine-tune their searches.
It's important to remember, however, sometimes putting in too many of these parameters will cut down on your search returns.
So if you are only receiving a few for your parameter-based searches, rather cut out those that are narrowing down your options too much.
The profiles of those who are members of Italiano Singles will appear first in the searches of other users.
This helps in getting people to reach out to you instead of you have to do all the searching by yourself.
It's a useful extra, that's for sure.
While I didn't find the advertising on the site annoying at all, for members, it is totally removed.
And that's it.
When compared to other sites, there is not a lot of extras.
The ones that are the most critical for me are messaging (obviously) and the extra search parameters which can come in useful.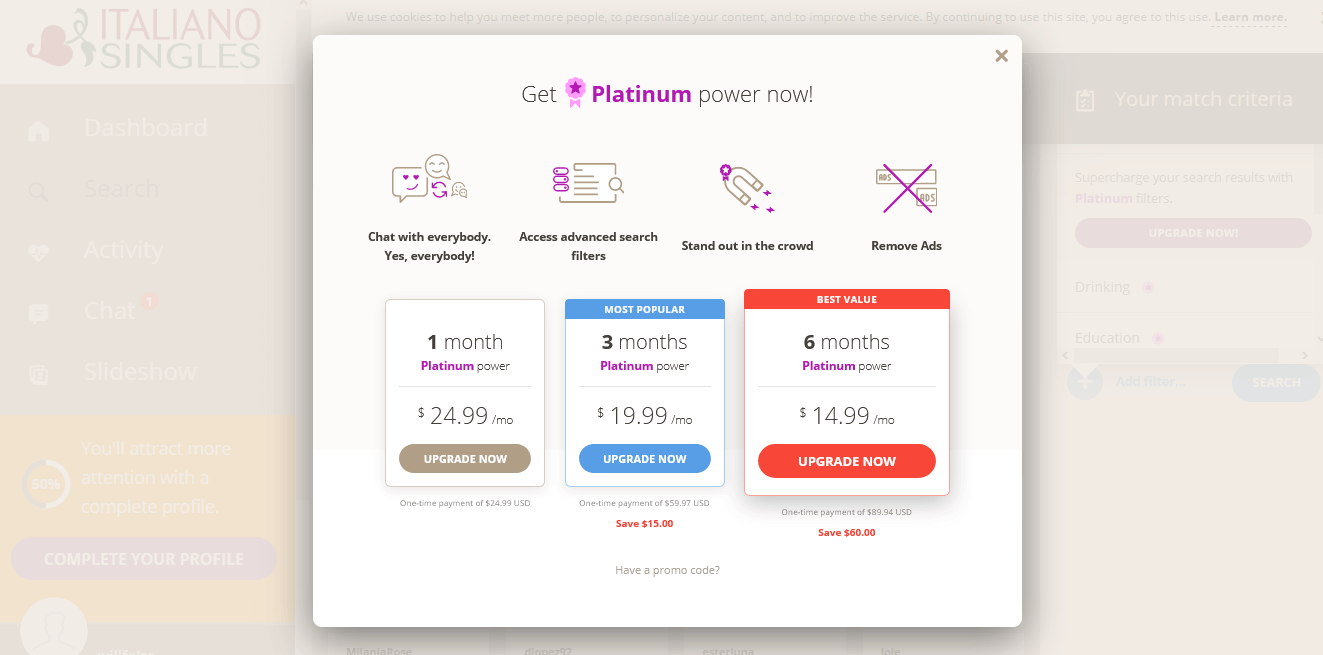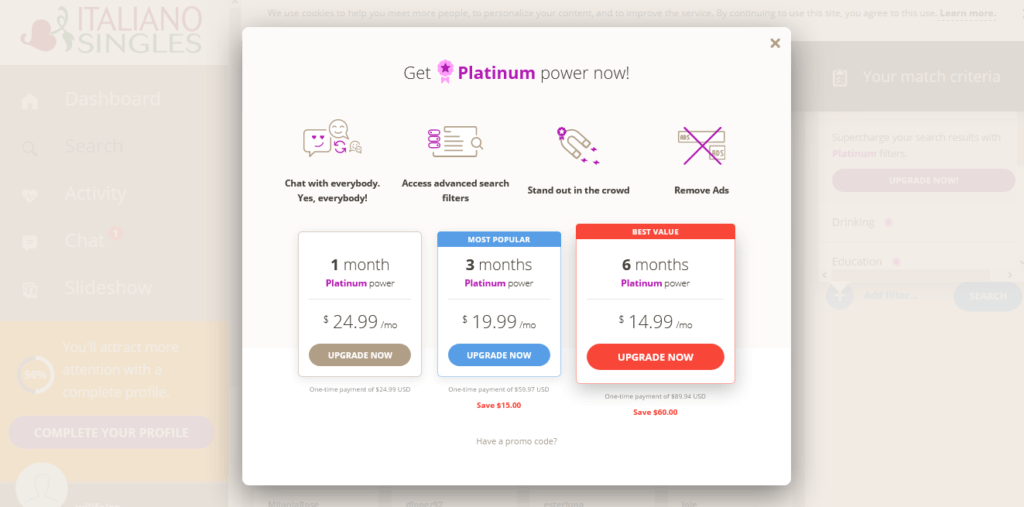 With not that many key features on offer, you'd expect the pricing of a monthly membership option on the site to be below $30.
And you'd be happy to know that it is.
Here are the three packages that ItalianoSingles.com offers:
1-month membership: $24.99
3-month membership: $59.99 ($19.97 per month)
6-month membership: $89.94 ($14.99 per month)
$24.99 is a fair price for the month-to-month membership options but you can save by opting for the three-month and six-month packages.
If you see yourself using the site for a fair amount of time and you can afford the bigger initial payment, perhaps these would work out better in the long run.
But that's a decision that each individual has to make.
Payment options include credit card and PayPal.

Conclusion and Overall Rating
Thanks for taking the time to read our review of Italiano Singles.
To summarize, this is an online dating site that's aimed at people of Italian descent, be they living in Italy or around the world.
It's not just for them, however.
So if you aren't Italian but want to date someone who is, you are free to join.
Could you be an Italiano Singles success story?
Well, you'll only know if you try out the site for the first time, right?
Without a doubt, all the tools you need are here to help you find love and membership is well priced.
And you will need to become a member to have any success on the site.
It's not the biggest dating site in terms of users, but I found some potential matchups near my location, so I am sure you will too.
For an overall rating, Italiano Singles gets 4 out of 5.
Onlineforlove tested and studied the Italiano Singles over an extended period of time.
Our approach while we tested the site saw us give an overall star rating after studying critical criteria by which we compare other online dating websites we have reviewed.
The final evaluation of Italiano Singles was based on the following factors: how much membership cost, ease of use, what features the site includes, how many users it has, and its overall effectiveness in finding matchups.