Kasidie is not only a dating site but it's an adult community of its own.
Aimed at both singles and couples alike, Kasidie doesn't hide what it's all about, that's for sure.
You are not going to meet Mr or Mrs Right here at all.
This is a hook up site through and through.
OFL Top Recommendations based on 100,000+ Survey

"Serious Relationships"
"Discreet Hookups"
"Best Course for Men"
"Quick Flings"
"Normal Hookups"
"Our Quiz"
And in today's review, we will be taking a deep dive into:
So if Kasidie has been on your radar for some time and you are wondering if it's worth joining the community, without a doubt, you are in the right place to help you make that decision.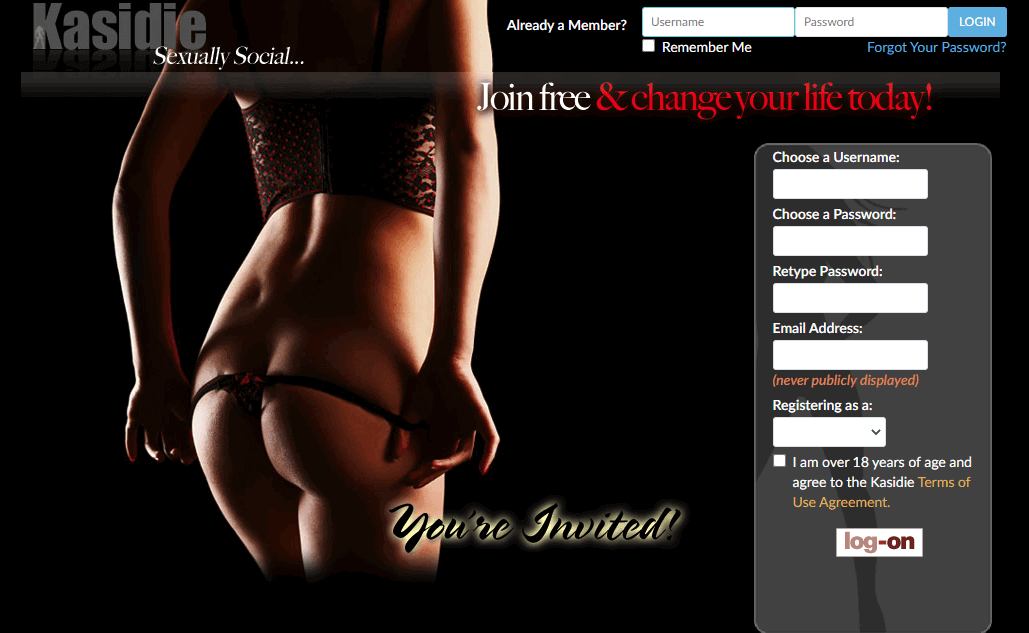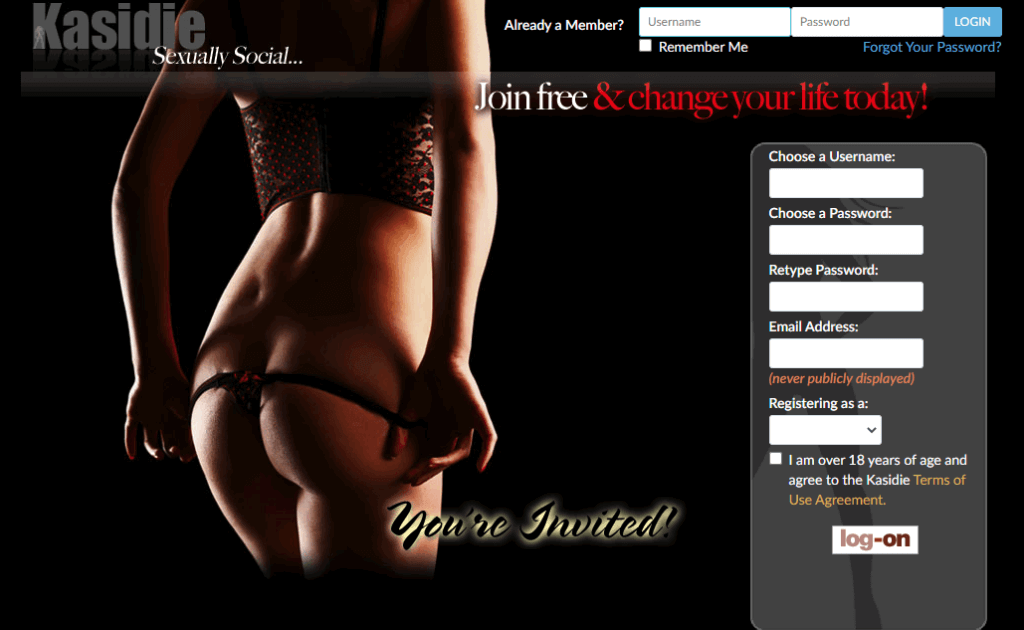 Kasidie Review in Video Form
Audio (podcast) form for those of you on the go
Ease of Use 4/5
Effectiveness – 2/5
Key Features – 3/5
Pricing – 4/5
Includes local and international listings for swinger parties and events
A large user base of like-minded people
A comprehensive registration process with a questionnaire
Excellent pricing options on the membership
Free users cannot see other user profiles
You cannot contact other users unless you are a member
Who Is It For/Demographics?
So we've already briefly touched on what Kasidie is all about.
Yes, this is a dating site, but it's a little bit more than that.
Kasidie has become a community of like-minded individuals who all have the same thing in mind.
And that's hooking up for no-strings-attached sex just like BeNaughty or Ashley Madison.
This could be individual males or females but mostly, the site is frequented by couples.
OFL Top Recommendations based on 100,000+ Survey

"Serious Relationships"
"Discreet Hookups"
"Best Course for Men"
"Quick Flings"
"Normal Hookups"
"Our Quiz"
If you're seeking serious relationships, sites like Match.com or eHarmony might be a better choice for you.
In essence, Kasidie is a swinger dating site with a communal aspect that's moved beyond online dating.
The focus here is physical encounters.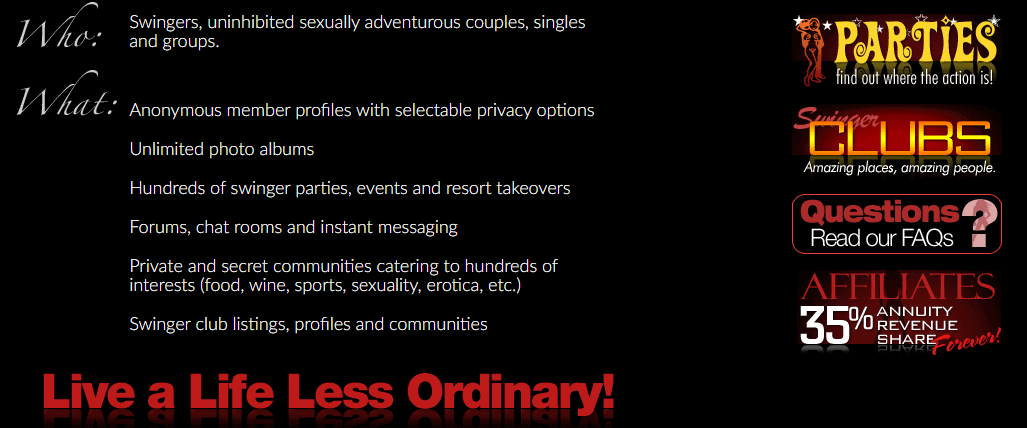 Even Kasidie's tag line of "Remember my name, you'll be screaming it later" highlights that, right?
And dating sites and communities like this are certainly popular and have been for a long time now, certainly before the internet.
Taking it all online, however, has made things even easier and sites like Kasidie continue to grow.
It's all about the numbers
So let's talk a little about user numbers for Kasidie.
Well, they proved pretty difficult to track down, especially when talking about an overall number of registered users.
I've seen all kinds of user numbers quoted online, none from the horse's mouth, however, so to speak.
Certainly, the fact that the site has been in existence since 2006 means that the user base isn't going to be small.
One number I saw suggested that Kasidie had around 8 million users worldwide.
Is that possible?
Well, I guess it is, but that type of number is right up there with some regular dating sites that have users from all over the world.
Let's just say that Kasidie is one of the biggest swinger sites on the net and has user numbers to back that up.
If you live in a fishing shack in Alaska, the chances of finding a swinger close to you are remote.
The bigger the city you reside in the better.
But that's pretty true of all dating sites, right?`
Gender breakdown and user age ranges
While the exact user numbers were not forthcoming, I was able to track down a gender breakdown split as well as the most popular age ranges using the site.
Let's start with the gender split.
Now remember, this is not just a site for single.
No, swinger couples also sign up for user profiles on Kasidie.
And that can be seen in the figures:
30% of the users on site are female
10% of the users on site are male
60% of the users on site are couples
In terms of age groups, the biggest proportion of users, around 30% are in the 25-34-year-old age group.
The next biggest group is 35-44-year-olds who account for 25% of users.
The third biggest group, coming in at 20% of all users is the 18-24-year-olds.

Now that we know what Kasidie is all about, let's look a little more into registering for a profile as well as how the site looks and navigates.
Why?
Well, the registration process is a critical part of any dating site.
Many have a simple process for registration that takes mere minutes to complete.
Kasidie, however, does things a little differently than most, however.
That's because, as part of the registration process, Kasidie has users fill in a very detailed questionnaire related to their sexual desires mostly.
You've got the chance to skip it if you want to but it's there for and reason, so you should really take the time to fill it in.
And it's only going to take up a few minutes of your time.
But let's not jump the gun.
For the start of your profile registration on Kasidie, you will need to provide the following information:
A username
Password
Your email address
What you are registering on the site as (single male, single female or couple)
Who referred you (if someone did)
From there, you are taken to your profile page to complete the signing up process.
This is very comprehensive and includes:
What you are looking for (couples or male, female hook ups)
A section to describe yourself
A section to describe the type of hook ups you want
A private text section (which you can grant other users access to)
A comprehensive questionnaire as we discussed above
I want to talk about the questionnaire for a minute.
It includes references to certain sexual themes and your attitude towards them based on a sliding scale.
For example, "Do you like girl on girl play" is one of the questions you are asked.
The sliding scale is as follows:
0 – I don't do that
1 – Maybe, but not likely
2 – Sometimes, it depends
3 – I'm game if you are
4 – I enjoy this ALOT
5 – Essential, absolutely part of my play
As I said, it's comprehensive and there are a range of different questions to go through.
Why I feel it's important to fill them all in (and as honestly as possible) is that it can give a potential hook up partner all the information they need about you.
And surely you want the same information when reading their profile, right?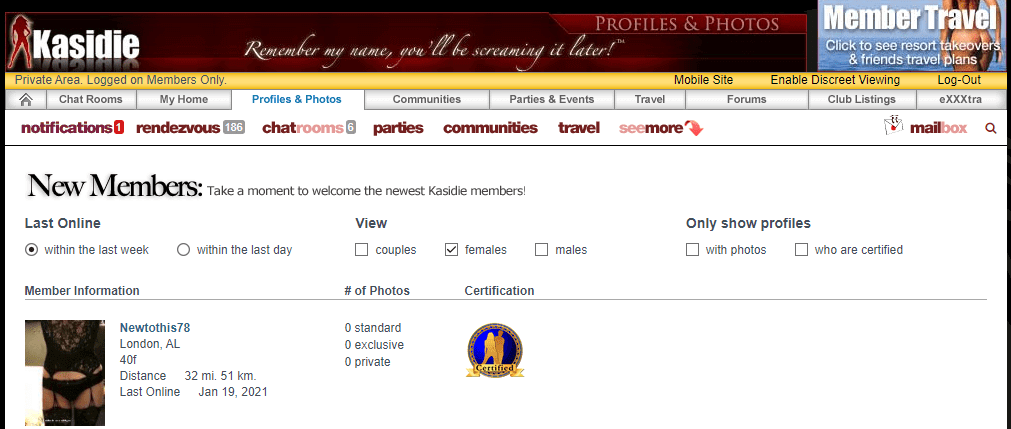 Finding your way around Kasidie
Ok, so the first thing you will notice about the site is that it's pretty busy.
And a little intimidating to begin with, if I am honest.
There are lots of menus at the top of the screen – 18 in total, in fact.
And some of them double up.
A lot of these menus focus on the community side of Kasidie.
For example, you will notice "Rendezvous", "Parties" and "Forum" menus.
It's here where you browse to see information for local swinger parties and even advertising for couple hook ups and more.
The forums are very active and cover a range of topics.
The other menus I feel that are pretty crucial are:
My home: This takes you back to the Kasidie home page
Mailbox: Here you can read any messages you have received on the site and keep a record of those you've sent
Profiles and photos: Here you can search for other users
Communities: Communities are split into a range of topics from sexuality to hobbies, to music. You can even start your own
Chat rooms: You can chat with other users here
There are other menus as well, but you can find out where they lead.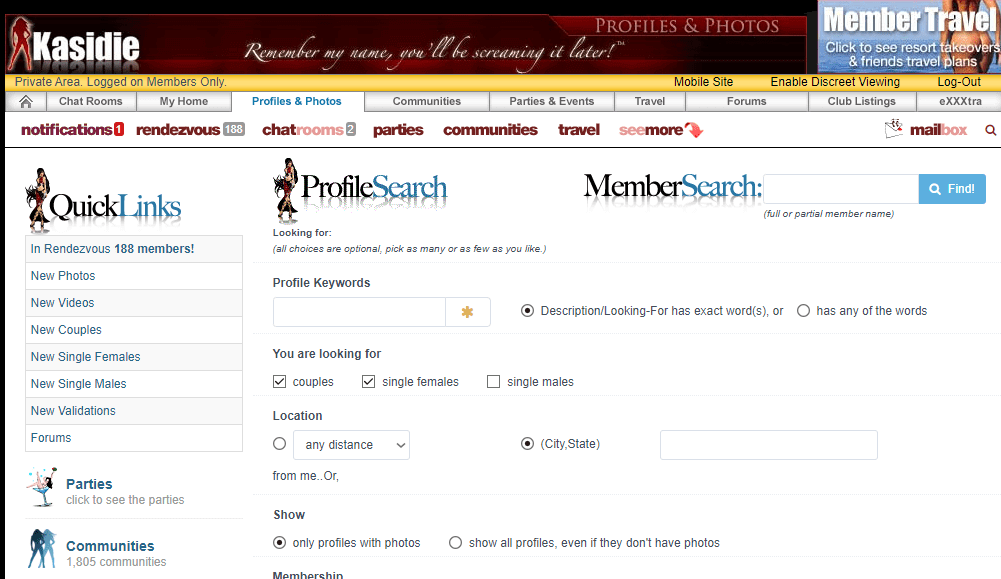 Of course, a big way of finding people to hook up with is by browsing events and getting an invite to them.
But you can also search for other like-minded people using the "Profiles and Photos" menu.
Let's just say that the search options on Kasidie are super impressive.
There are so many parameters that you can select simply by clicking on a checkbox.
Here are a few.
What you are looking for (couple, single male, single female)
Location
If they are members or not
What they are looking for (couple, single male, single female)
Age range
Body type
Sexual preferences
Play comfort zone
That's just the basic search.
There's an advance search option too which adds even more.
These extras start with appearance parameters but also includes all the questions from the questionnaire each user filled in when they first registered.
This allows you, even as a regular user, to fine-tune your searches to perfection.
That's not the only way you can search, however.
There are a number of quick links that you can find on the left-hand side of the screen as well when you access the "Profiles and Pictures" menu.
These allow you to view users by:
Those who have added photos
Those who have added videos
New couples
New single females
New single males
New validations
There are just so many ways that you can find the right type of person or couple for that perfect hook up.
But once you've found them, well, then you have a little problem.
Many dating websites hide profile viewing from regular users.
For the most part, they do this with member profiles.
On Kasidie, it appears that regular user-profiles and member profiles are hidden.
No matter how many profiles I tried to view (and I tried over 100), every time I clicked on one, I was whisked away to the membership sign-up page.
I am not going to lie, that was a little frustrating.
And yes, before I sign up for a membership on a site, I'd like to see the quality of the users frequenting it, right?
Sure, you can see small profile thumbnails for each user but I would prefer profile access.
Making contact on Kasidie
Because it's impossible to view any profiles, making contact with other users on Kasidie is not going to happen if you don't opt to take out a membership package for the site.
So membership is key to getting the best out of Kasidie.
But before we look into all the key features that it brings, let's just recap on the things that a regular user to the site is able to achieve.
As a regular user of Kasidie, you can:
Search for members (including using the advanced search engine)
Browse swinger events
Browse club listing and add your own
Access the Kasidie forums
Access the Kasidie community section
There's certainly a lot for regular users to check out on the site.
Those that sign up for a membership, however, get the following key features added.
Try as I might, as a regular user, I couldn't view any profiles on Kasidie.
I tried viewing member profiles, new user profiles, profiles of users that had undergone validation but none of them worked.
As a paying user, that's not going to be a problem for you as you will get access to all user profiles on-site and the chance to view them as well as the pictures posted by users.
Once you've found someone that you'd like to get to know a little better and then possibly hook up with, you are going to need a message system to help facilitate everything.
As a member of Kasidie, you can send and receive as many messages as you like.
If you'd like to shoot the breeze with other Kasidie users and just have a good all chat, there are a number of chat rooms on the site that you can join as a member.
From what I could see, however, they weren't always very active but they were never empty either.
4. Send friend requests, flirts, and posts statuses
As a member, you can break the ice with a potential hook up by sending them a flirt.
Also, you can send other users friend requests and post profile statuses.
And that's it, really.
There's not a lot of key member features.
There are some other optional extras that the site offers users.
For example, there is the "eXXXtra" section where you can browse a whole bunch of things like clothing, sex toys and the like and buy them online.
This is open to everybody but it's a feature of the site.
Also, there is a "Travel" section where you can post your travel itinerary and use that as a way to find hook ups in other countries.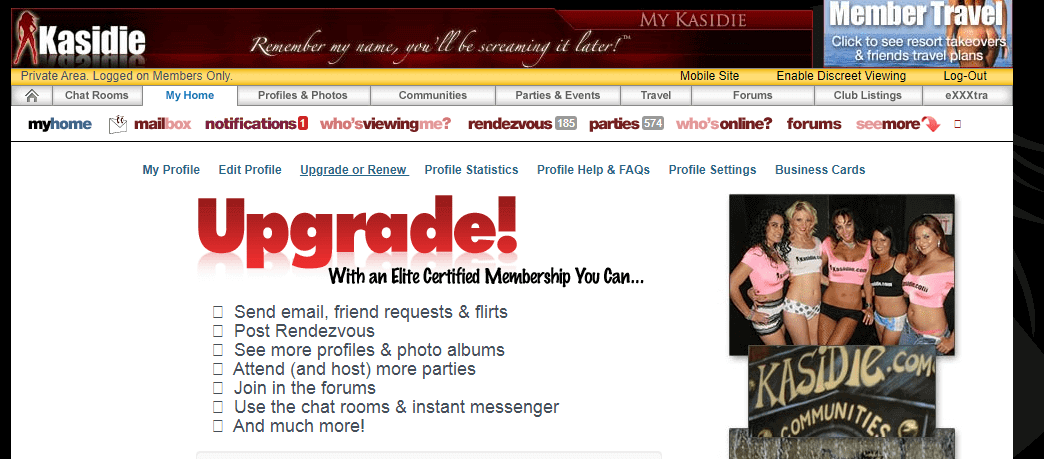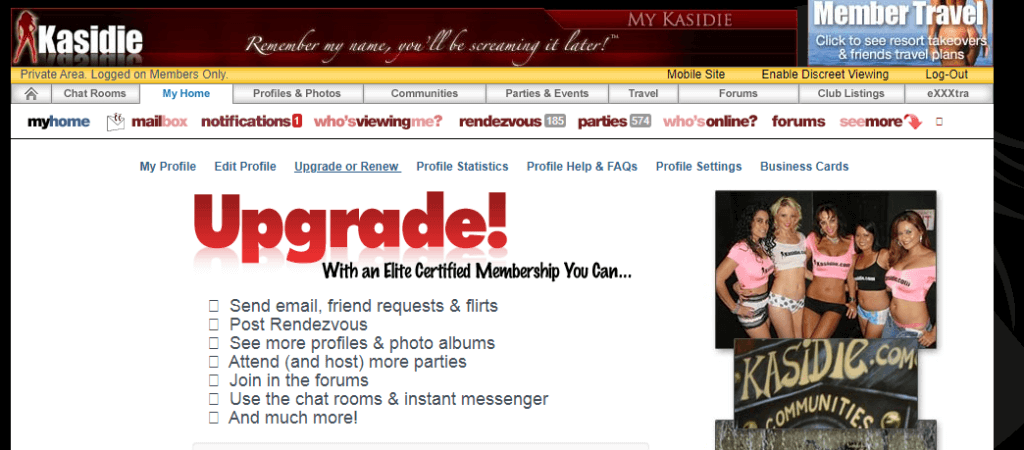 And of course, there are the club listings and swinger parties that you can browse through to find events near your location.
All of these aren't member features, however.
So now that we know just the types of key features that members can expect from Kasidie, it's time to see just how the pricing of the various membership packages offered by the site work.
For their one-month membership package, the pricing plan looks very similar to regular dating sites, as well as Kasidie's direct competitors.
In fact, I would say that on the whole Kasidie is a lot cheaper than most of them.
And for the key features offer, the one-month pricing plan of $19.95 makes complete sense to me.
In fact, I wouldn't have a problem paying that at all to use what Kasidie has to offer.
But what about their longer membership plans?
Does something like that exist?
Yes, they do.
In fact, Kasidie has three other long-term subscriptions for you to consider.
There are 3-month, 6-month and 12-month subscription plans available.
While you have to pay a lump sum upfront should you wish to sign up for any of these plans, they do offer discounts on the month-to-month package.
So if you can afford it and if you intend to use the website for any length of time, this is where I would look to purchase a membership.
Also, with a site like this, you probably will stay active for a longer period as you look for different people to hook up with.
So again, it's logical to look at longer membership options I feel.
Kasidie's pricing breakdown is as follows:
1-month membership: $19.95
3-month membership: $45.00 ($15.00 per month)
6-month membership: $75.00 ($12.50 per month)
12-month membership: $129.95 ($10.82 per month)
Conclusion and Overall Rating
Thanks for taking the time out to read our review of Kasidie.
This is much more than a dating site, so to speak.
In fact, in the traditional sense of the word, it's nothing like other dating sites out there.
While it certainly has aspects of dating sites, in the fact that you can search for users through a search engine where you can adjust parameters, Kasidie is just so much more.
This is a full-blown community, that's for sure and that's reflected in the fact that much of the site revolves around swinger parties and events as well as an active forum that covers a range of subjects.
The site is certainly one for swingers to consider but it also has some aspects that I found a little annoying.
For example, the fact that you cannot view other user profiles just astounds me.
I am sure that if the powers that be allowed that, users converting to members would increase.
Most sites hide messaging behind a paywall as a way to entice people to become members.
Of courses, you cannot message someone here at all either, because you cannot view their profile to do so.
I really don't understand the logic behind this at all.
Having said that, there's plenty going for the site as well.
Over and above the community aspect, I love the search engine.
Couple with the questionnaire users have to fill in when they register, it allows you to really fine-tune your searches to provide you with the exact matchups you are looking for in terms of what you like sexually.
Overall, this is one of the top swinger sites online today, I just feel it could be made a little better by letting all users see profiles.
As for a rating, Kasidie gets 3.25 out of 5.
Frequently Asked Questions
Kasidie is not a new website.
It's a community that's been together for well over a decade.
The dynamic thereof means you are hooking up with other people often.
That means you should take your own personal safety very seriously.
As for your information, data and banking details on the site, Kasidie has all the systems in place to ensure that remains safe at all times.
No, Kasidie is not free.
You are free to register a profile and use the site but aspects like viewing user profiles or trying to message them are firmly locked behind a paywall.
Luckily, Kasidie's membership pricing options are well thought out and certainly not expensive.
Yes, for sure it is.
It also includes a user validation system, where you can be validated on the site.
This helps cut down on fake profiles.
Kasidie was established in 2006.
It's a hook up and swingers site that's one of the most popular on the internet.
But it's also a community with forums, chat rooms and swinger party and event listings.
There is no app for Kasidie.
So to join, you will need to sign up through the registration page.
It takes a bit of time as well as you are encouraged to fill in a comprehensive questionnaire.
You need to first click on your profile picture, then the my profile button.
From there, look for profile settings.
Click on that and then scroll down to find the "Delete My Account" option.
Once you click on that all your personal data related to your account, as well as your account, will be deleted.
The easiest way to contact the team at Kasidie is to email them.
Send your messages to [email protected].
Part of the registration process for Kasidie includes filling in a very comprehensive questionnaire about your sexual preference.
This is a big part of the search engine and the algorithm associated with it as it allows you to search for very specific matchups.
As with all dating sites, the best way to block someone who is harassing you is to open their profile.
There you will find the block button.
Once you click on it, that harassment will stop.
Remember, if their behavior warrants it, you should not rather report them than block them.