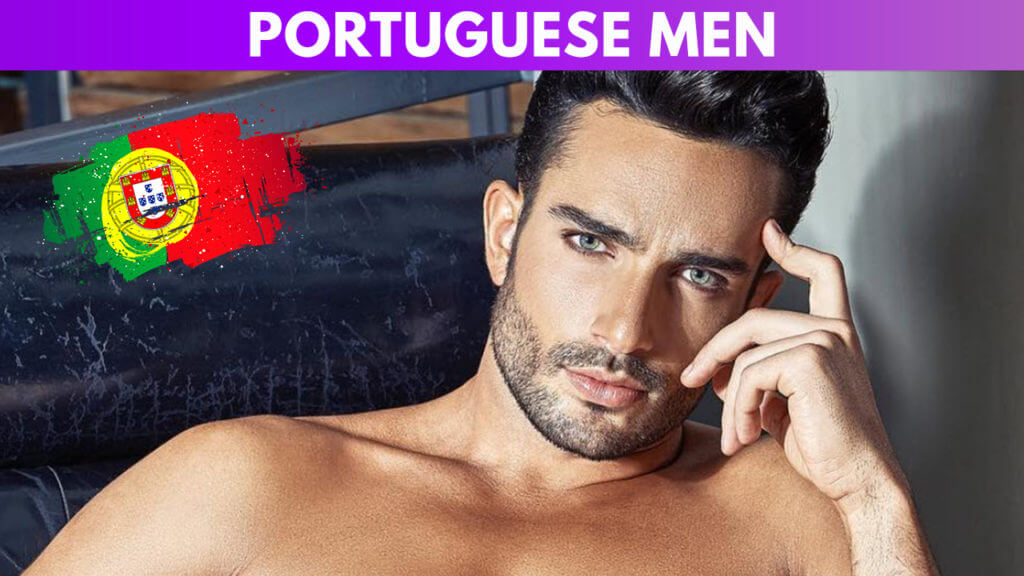 Hello ladies! I have prepared an amazing international dating guide that will help you break all those annoying Portuguese men stereotypes. If you are new here, make sure to check out all the men's country guides to see how Portuguese men compare in all categories.
My idea was to give you a complete insight into a Portuguese dating culture, so I spiced this instruction manual with tons of hot pics and sexy Instagram accounts.
I made sure to cover all the important aspects, so to equip you with the most practical and provenly successful tips for dating a Portuguese man.
Stay with me to feast your eyes and discover what are Portuguese guys like and where to meet Portuguese guys.
Make sure to take our online dating site/app quiz to find out.
People who follow our dating site suggestions have on average 2 more dates per month.
The Most Important Traits of Portuguese Men
Each nation has its own typical traits and characteristics, things like all Asians have almond-shaped eyes, Danish people mostly have blue eyes, Irish girls are full of freckles and so on.
But, when you look closer, you actually see that some of those are nothing but speculations. The only way to be sure what is any person like is to spend some time with him or her.
How about Portuguese guy stereotypes, have you heard any of those?
Has Someone told you that typical Portuguese guys tend to be overly jealous?
Did you hear that they are traditionalists and how may that affect your idea and decisiveness on dating a Portuguese man?
Do you know what are Portuguese men like in relationships?
Let's find out!
What Physical Traits Distinguish Portuguese Men from Other Men
Physical Appearance
What the majority of Mediterranean lands have in common is that adorable sun-tanned look.
Portuguese guys are lucky ones, as they have that too, particularly those who live closer to the cost.
It's actually interesting that being sun-kissed is considered prized value, only because it shows that you have both the money and the time to acquire the fantastically colored tan.
The most prominent features of these hotties are their dark eyes and dark hair, which combined with the tan result in- "OMG, it's so hot that I can't breathe" good-looking guy.
What adds to their overall fantastic look is a full-bodied accent, making them even more irresistible.
Do know that they do not belong to tall people, like people from the Netherlands or Latvia for example.
Their average height is about 5'7 or 172 cm.
So, come to think of what are Portuguese men like, they are indeed hot and sexy, almost perfect, and the only reason it didn't give them 10/10 is because of their outfit.
(At least I wasn't impressed with this part much.)
Style
The simplest word to use to describe how do they dress would be too conservatively.
Unlike Japanese men, for example, who feel an enormous dose of freedom when it comes to what to wear, Portuguese guys opt for the simplest and most basic outfit.
As for every day, they are mainly seen wearing trousers and collared shirts, and on business occasions, it's a suit or sports jacket, and a tie.
And lemme tell you, they are kinda old-fashioned, out-dated, whatever you like, but they see clothes as the indicator of one's social status and overall success.
Therefore, they feel extremely proud when they can afford wearing fancy and quality clothes and won't hesitate to invest money in buying some designer's clothes.
Additional Rating – The Tinder 1000 Swipe Rating
On top of the physical trait ratings for Portuguese men, we have also created our own additional rating from the Portuguese men we see on Tinder. We call it the 1,000 Tinder swipe rating. It is extremely accurate and gives a very good overall picture of the men and how attractive they are.
This is how it works.
We swiped through 1000 different profiles in all of the major cities of Portugal and took note of how many handsome men there are. We jotted down how many 8's, 9's and 10's there are based on their profile pictures. Here is a quick breakdown.
0-100 is poor
100-200 is OK
200-300 is Good
300 – 400 Is Incredible
400 + is Mindblowing (There are only a few of these)
With a Tinder Plus subscription, you can teleport to anywhere in the world and swipe for yourself. Find out more below In the section about how to meet Portuguese men. Also, make sure to check out my other country guides to see how their Tinder scores compare.
What Different Personality Traits Portuguese Men Have from Other Men
So, when talking about what are Portuguese guys like, you surely want to hear much more than just how they look like.
After all, a book is never judged by the covers, which means that a guy, no matter how hot, can be quite different when you get to know him closer.
Describing typical Portuguese men is not so difficult, because the majority of them share some same traits, but keep in mind that there are always exceptions.
1. Gentlemen Rating
Each of us has her own definition of what a gentleman should look like and what is seen as chivalrous behavior, and when it comes to hot Portuguese men, it's kinda tricky to define.
They are generally very kind, and really care about their ladies, but they are not used to expressing emotions so openly.
I wouldn't call them moody, that's for sure, perhaps tough is the better word to describe them.
Even though they are not typically romantic, they still know how to make their girl feel special.
If you happen to be in Denmark, then each of you will pay for his/her dinner, while Portuguese men won't let the girl do so.
2. Integrity
Having in mind that the majority of people living in Portugal come from the Catholic background, they pay lots of attention to integrity.
They value it highly, along with honor and dignity.
The only downside of such a conservative and traditionalistic approach is that they belong to nations that have clearly defined gender roles- men go to work, women raise the family.
Of course, don't get me wrong, when I say downside, I mean it from the perspective of those women who fight for equality.
If your life philosophy fits into this role division, then Portuguese man will be the most ideal partner (and potential husband) you can ever imagine.
3. Honesty
You can be sure that whatever your Portuguese darling has on his mind, he won't hesitate at all.
He will share his opinion even if you initially didn't plan to hear it, or didn't ask for it at all.
His intention is not to hurt you, he will be brutally honest with you because he believes that someone had to tell you that.
Portuguese guys are not bootlickers, trustworthiness and open communication matters to them a lot.
And when it comes to showing how much you mean to him, he will give you a dating commitment ring (aliança de namoro).
Don't confuse it with engagement, because it's not.
It represents a symbolic ring which shows that they are serious about your relationship, and to confirm that things are going in the right direction.
4. Loyalty
The biggest advantage of having a traditional man by your side is that he will truly value all those eternal qualities such as honesty, and loyalty.
He will be truly committed to his partner, particularly his wife and will never cheat on her.
Portuguese people are extremely family-oriented, and it's the center of their life, and it takes the highest place in their lives.
On the other hand, having a traditional and conservative guy by your side has one huge flaw- jealousy.
And Portuguese men are very, very jealous.
5. How Protective are they?
This quality definitely goes hand in hand with chivalry and be sure that you will feel utterly safe when having a Portuguese guy around.
Being traditional, he sees it as a man's role, to protect his beloved lady, and he will make sure you feel that way all the time when having him near you.
What I would like to add at this point is that they are famous for their public expressions of affections, which I also see as some form of protectiveness.
It's like he wants to show it to the whole world, that a certain lady belongs to a certain man, so he won't hesitate to kiss, and hug her, no matter where they are and whoever happens to be around.
6. Are they Resourceful?
Portuguese men belong to the type of people who have very extensive knowledge about…well, pretty much about anything that comes to your mind.
They seem prepared for all sorts of situations and will find the solution to the problem in a matter of minutes.
Moreover, they are raised in families where being hard-working is essential, and the one who has such a reputation is well-respected among family and friends.
Perhaps that's why they learned a bit of everything, to prove that they are capable of handling just about any situation.
There's a sentence by Fernando Pessoa which illustrates this quality the most precise way possible:
"Nunca um português foi português: foi sempre tudo."
The translation would go something along the lines that a Portuguese has never been just a Portuguese, but a bit of everything.
7. Maturity
You probably assumed that they will excel in this field as well.
I mean, someone who was, from the earliest days, taught to be respectful towards the family, to appreciate work and some eternal values such as honesty and loyalty, it's quite natural that such person will be mature as well.
I find this quality to be perfectly combined with their adventurous spirit.
They will take you to the most memorable picknick in the wildest nature, or take you to some unique spot with a breath-taking view, but they will make sure everything's well-prepared and arranged so that you can deeply enjoy the moment.
8. Self-confidence
This is another one that comes as a logical consequence of several of the abovementioned qualities.
Handsome Portuguese men are very self-confident, and that's what makes a lady feel nice and safe when around them.
And you know what, that's exactly the same quality they appreciate in women, so have that in mind when trying to steal his heart.
9. Are they Friendly or Reserved?
When they are in a company of a person they don't know much, they may appear to be slightly reserved.
Knowing that they don't like gesticulating a lot when conversating, you may get the impression that they are cold.
But, as soon as you become a close friend, a person that means something to him, you will have the friendliest human being on Earth right by your side.
In fact, when in a relationship with a Portuguese man, forget private space.
From the very day the two of you officially become a couple, you do everything together.
And I already pointed out how affectionate and open in expressing their feelings they can be, especially in public.
Portuguese men are very handsome and can be found in many places in the world, especially Brazil and the US.
Ladies, you may be shocked to find out that it does not matter where you find these gorgeous men, they behave somewhat alike – protective, chivalrous, and quite nice.
Portuguese men are very traditional as the score shows, so be vary observant of such things.
What else influences their overall score? Read on to find out and see loads of handsome men's pictures.
Where to Meet Portuguese Men
What can I say, my dearies, the best would be to pack your bags and off you go straight to Portugal to find a cutie for yourself.
But, unfortunately, that's not always possible due to immense geographical distance, or who knows what other reason.
So, how to meet a Portuguese guy? Where to look for single Portuguese men?
That's where the online universe saves the day, allowing you to travel wherever you want within several clicks and explore every corner of the world.
For that reason, online dating platforms gained so much popularity among people, so here are some highlights to introduce you to one of the most popular websites where you can meet Portuguese men.
PortugalFriendsDate
Those among you who are new to this whole thing with online matchmaking will deeply appreciate the fact that this site incurs no costs.
It belongs to the widely acclaimed Friends Date Network, which 100% guarantees the services are completely free of charge.
The site is quite simple to use and navigate, as it is not crowded with insufficient details which could distract you from your main mission-discovering single Portuguese guys.
It may not have the fancy looks of some other dating pages, but all the basic and most important elements are available- plenty of members, fantastic pics of hot Portuguese guys and the option to chat.
There's no downloadable app at the time being, but the site looks equally good when launched on any type of device.
This means you will be able to look for your Portuguese boyfriend on your tablet, or smartphone, as long as there's a reliable internet connection.
The website is available in an extensive number of languages, so if you are among American women looking for Portuguese men, Chinese girl interested in sexy Portuguese guys, of German girl willing to explore how does dating a Portuguese guy looks like- have a go!
As I said, the biggest advantage of this dating service is that there are no costs, so even if you hesitate whether this is the right thing to do, it won't cost a penny, so use the chance to find out more.
Pros and Cons of Dating Portuguese Men
Someone may tell you that dating a Russian man will be challenging because they are traditional, the others will believe that dating Greek guys is all cupcakes and rainbows because they look breath-taking, and so on.
There are all individual points of view, and here are my impressions of having a Portuguese guy by your side.
Pros
He cooks fantastically
Many people would say that women should be the ones trying to impress men with their cooking skills, but…
Girls, missing his mouth-watering delicacies would be the greatest mistake you could ever make in your life.
Allow him to seduce you with his amazing delicacies.
It's interesting that their seduction game actually starts in the kitchen, so having in mind how extraordinary those meals are, it's quite expected that Portuguese guys in bed are real fire as well.
His knowledge is versatile and immense
Guys from Portugal can talk about literally anything and everything and you can learn a lot from them.
They may not always be into those small talk conversations, but be sure that there will be not a single boring minute when talking with your Portuguese darling.
He knows priorities
Just about when you believe that you are going to freak out because he is so disorganized, he removes the mask and there you have it- your perfectly scheduled charming prince!
Even if it may seem that he's leaving everything for the last minute, don't panic, he has quite a clear plan of what should be done at that precise moment.
He's extremely adventurous
Some chicks prefer romantic stuff, the others are looking for a way to make the adrenaline go up to the stars.
If you belong to the latter ones, you will undoubtedly enjoy having a Portuguese boyfriend, as he will try his best to make your relationship adventurous and action-packed.
(A small hint- the adventurous part here refers to Portuguese men in bed as well!)
You'll receive tons of messages from him
Having a strong desire to make the girl feel loved, he will send so many messages that you will have the impression he actually by your side all the time.
(Perhaps it's his sweet little trick to occupy your thoughts with him.)
Cons
Beware the jealousy
They are known for being extremely jealous, so you will either have to get used to it or give up.
You can try explaining, or perhaps apply the reverse psychology, but in any case, this is extremely tiring and annoying.
On the other hand, not all of them are like that, and you may be lucky enough to meet the one who's exception to this rule.
Some of them tend to be too traditional
Don't be surprised if you encounter a couple in a pleasant walk where a man is around two steps ahead of his dear one.
Of course, it's not like every Portuguese man will treat his other half this way.
But have in mind that they respect some traditional values and they tend to be slightly dominant over women.
Not in an overly aggressive way, but still it can be noticed.
Being romantic is not among their strongest skills
If you have prepared to hear tons of sweet nonsenses from your Portuguese lover, you will be so disappointed, my ladies.
It's simply not their cup of tea, they don't have those skills, at least not in a way you would expect such hot-looking dudes to have.
Their idea of making a romantic dinner for you will indeed bring you a delicious meal, but no seductive red candles will be around.
Instead, he may bring the green ones. (This color represents hope in Portugal, just so you know.)
But they have plenty of other qualities, that's for sure.
How to Make a Portuguese Man Fall in Love with You
All chicks in the world would die to hear a secret formula which will help them tie a Swedish guy by their side for the rest of their lives, or get an instant recipe how to keep Mexican boyfriend forever, or something similar.
Unfortunately, there aren't such formulas of recipes, but there are always tons of great Portuguese men dating tips and tricks which can boost the chances significantly and show you how to meet Portuguese men.
Here they are:
1. Don't mix them with Spanish
To a poorly informed foreigner, Portuguese and Spanish guys may be the same, but they AREN'T.
There are differences between these two cultures and people, and pretty much rivalry, but they certainly share some similarities as well, so your b-friend will be thrilled if you are aware of that.
2. The MOM test
Some men are closely tied to their families, particularly mothers, and Portuguese fellas belong to the group.
So, don't you dare disrespect any of his family members or close friends, or else you will kill all the chances to conquer him.
Instead, just be polite and pleasant, especially with the mother, and you'll be on the safe territory.
3. Equip yourself with plenty of knowledge about local customs and habits
This one can be extremely helpful, particularly with the previous two points.
It will indicate that you are serious about getting to know the guy closer, and that will score you plenty of positive points in his eyes.
Show that you know who Jose Saramago is, ask him to tell you more about Fado, and be sure that you will take quite a special place in his heart.
(If you are a football fan yourself, that will surely add more positive points.)
And one thing more!
If you are looking for a good place where to meet Portuguese guys, and you decide to look for them in the club, don't go alone.
A girl sitting in a bar or club by herself is not the picture that thrills them, and it may happen that they will have some negative thoughts on that.
You can go out with some friends of yours and then start hunting for the cute guys, but never go alone.
International dating can be challenging, simply because there are so many things that differ from one culture to another.
But, try to look things this way- the better your knowledge, the higher are the chances to grab and keep a handsome Portuguese fella by your side.
4. Don't criticize them in public
Not a single man on Earth like being criticized in public, Portuguese guys are certainly no exception to this.
Just remember what I've told you, they are traditional types of men, which means they stand even bigger chances to get angrier.
Instead, be open but modest in your criticism, just try to find the right words and gesticulation to express what bothers you.
5. Show that you enjoy his attention
He may not be the romantic prince, but he definitely has so many other secret weapons when it comes to expressing his love for you.
So, if you want to keep him by your side, don't be afraid to show how much you enjoy his company.
The more you enjoy, the more you will get, and the higher are the chances for your relationship to last long.
6. Be yourself and natural
Be it China, Australia, Finland, Poland, Ukraine, Africa- every single man on Earth is impressed by women who are natural, self-confident and strong personalities.
Sexy Portuguese guys are by no means exceptions to this.
Don't pretend you are someone who you aren't, and take care of yourself- that's the best starting point for an exciting journey to his heart.
7. Language barrier
The interesting thing here is that you will actually have some sort of mental barrier, not sure how to express myself correctly.
What I'm trying to say is that your Portuguese prince will actually understand a bit if several languages- Spanish, Italian, French and German, being a multi-lingual God comparing to…well, any other guy from other corners of the world!
That's because all these languages are part of Portuguese, so the native speakers can actually easily understand those other languages.
The trickiest part is the pronunciation, whereas some basics of grammar can be easily learnt.
This is the seventh most spoken language in the world, and the fun fact is that actually, only five percent of speakers live in Portugal. The rest is from Brazil.
This will also come as a surprise, but this language is spoken in Africa as well, gathering more than 5 million native speakers.
Hottest Portuguese men on Instagram
The Most Beautiful Portuguese Men
While browsing the web to create this list, I saw, in numerous places, that Portuguese males are referred to as the sexiest, and smartest guys in the world, always ranking among the first five.
So, you can only imagine, my chicks, how difficult was for me to choose only three of them but if nothing I've done my best to give you crème de la crème.
Here's my selection of sexy Portuguese men:
1. Pedro Teixeira
This handsome fella was born in 1980, and his full name is actually Pedro Miguel Ferreira Teixeira.
Besides being an actor, he's also a TV presenter, covering various fields such as film, theatre, television, fashion, and advertising.
His first successful appearance as an actor was in the second series of the Strawberries with Sugar, alongside Claudia Vieira.
The role in TVI soap opera The Scorpio Kiss brought him plenty of popularity, along with The Passion Sea, Love after Love and many others.
In 2010 he got a daughter Maria from a relationship with his movie partner, Claudia Vieira. The couple got separated in 2014.
However, two of them, have an organization Casa de Palmeira, which provides help for children at risk.
2. Cristiano Ronaldo
Okay, let's face it, how on Earth could I ever create a list of handsome Portuguese guys without adding (at least) one footballer to it?
But, admit it, you knew this was gonna happen because he's not just any sportsman, he's THE Cristiano Ronaldo.
His full name is actually Cristiano Ronaldo dos Santos Aveiro and he was born in 1985.
He's the captain of the national team in Portugal and plays on the forward position in Juventus.
Throughout his fulfilled and successful career, he played in numerous clubs, with Manchester United, and Real Madrid being among the highlights.
He's seen as a mature player, capable of making the right decisions at the most accurate moment.
That in combination with his rich experience and top-quality skills make him a complete player.
Ronaldo received a huge number of awards and acknowledgments, which only confirm his status of a living legend.
He grew up in a family with two older sisters and an older brother, all of them sharing the same room. So far, he has four children, some of them born via surrogacy.
His valuable philanthropic donations and contributions placed him among the most charitable sportspersons in the world.
3. Lourenço Ortigão
His full name is Lourenço Osório de Aragão Ortigão Pinto, and he's a famous actor from Portugal, born in 1989. He has two older brothers.
He debuted on TV in 2009, in the seventh season of Strawberries with Sugar, and the film with the same name was an ice-breaker for his movie career.
From 2011 he became part of the cast for the popular soap opera, Remedio Santo, and ever since he appeared in numerous soap operas either as the protagonist of among the main cast.
Lourenço also participated in the Dance with the Stars, where he had a jaw-dropping performance which raised the temperature in the studio and brought him victory.
In 2015 he was invited by the International Academy of Television Arts & Sciences to be the host at International Emmy Awards.
His sexy appearance adorned one of the covers of the globally popular magazine Men's Health.
Final Word
I truly hope that my international dating guide brought you plenty of valuable insights and help you discover what are Portuguese men like in relationships.
If you have some more Portuguese guy dating tips, don't hesitate to share them with me in the comment section below.
Now you can turn over to my ultimate guide to dating men.
I wish you the best of luck in dating Portuguese guys!