Scruff is one of the oldest and most popular dating apps for members of the LGBTQ community and it has gathered a loyal community throughout the years.
People of all different sexual orientations can join and try their luck with like-minded people without ever feeling judged or unwelcome on this platform.
Launched more than 10 years ago, it has managed to become the best LGBTQ dating platform and gather 12 million members of this community worldwide.
As we analyze and explore Scruff, we will look into:
OFL Top Recommendations based on 100,000+ Survey

"Serious Relationships"
"Discreet Hookups"
"Best Course for Men"
"Quick Flings"
"Normal Hookups"
"Our Quiz"
Is your dating app giving you the best chance for success?
Make sure to take our online dating site/app quiz to find out.
It's a fact that people who follow our dating site suggestions have on average 2 extra dates per month.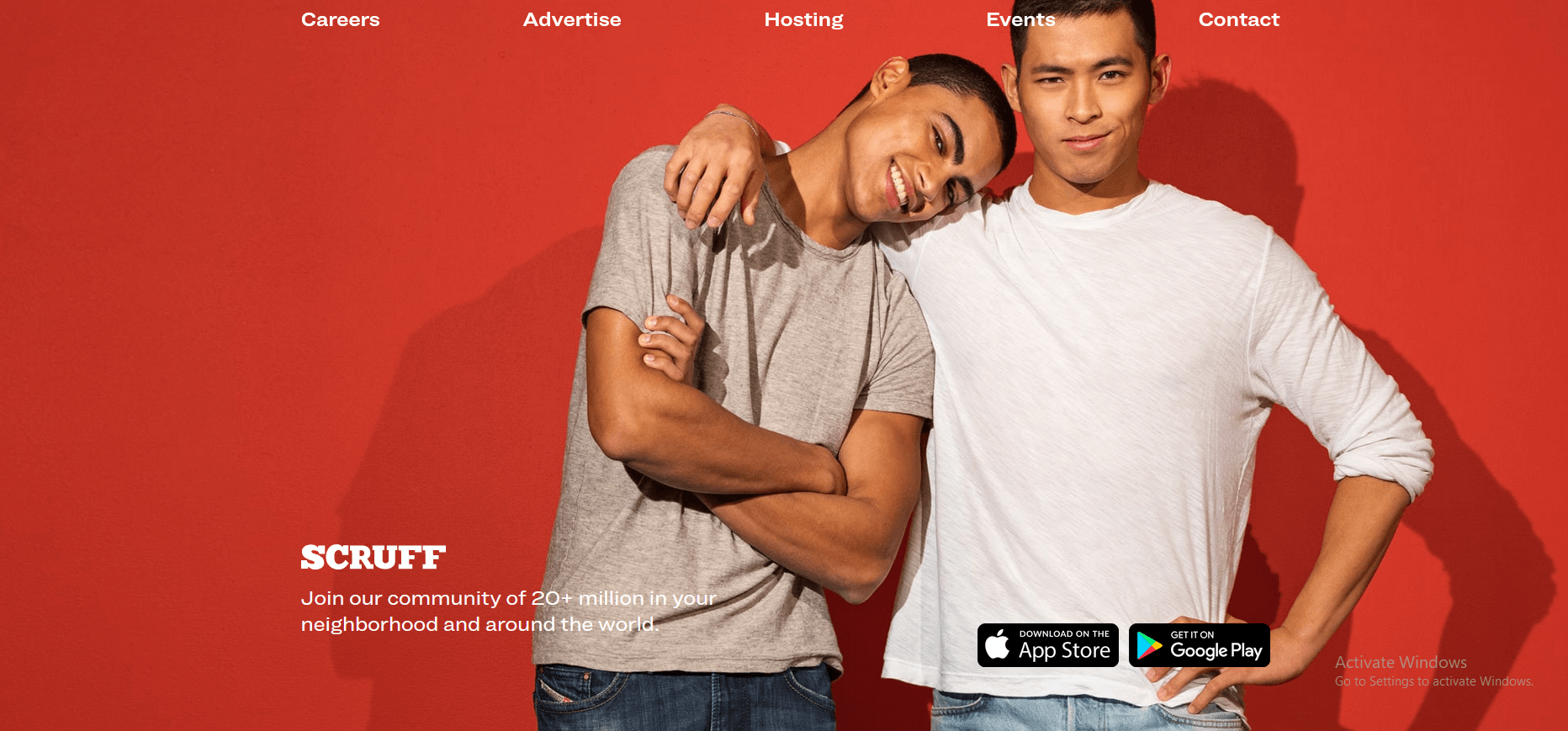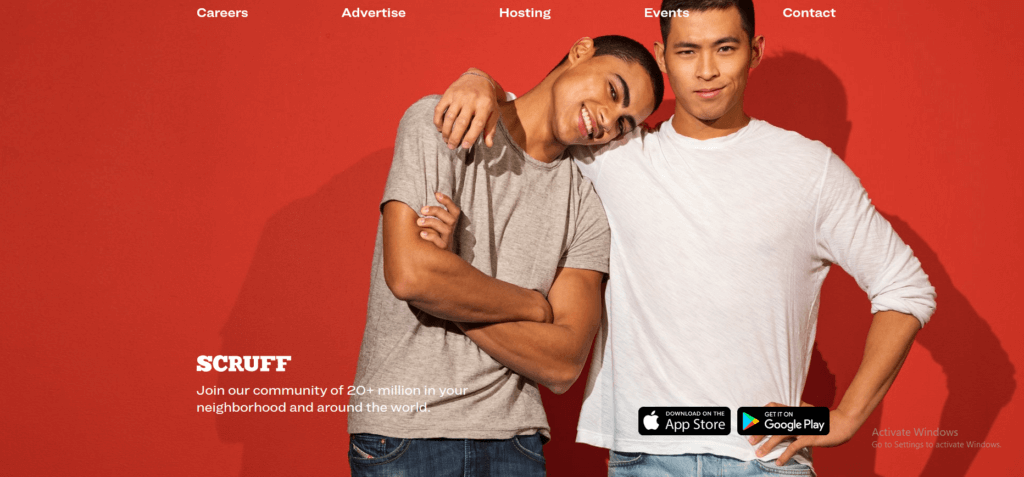 Effectiveness 4/5
Features 5/5
Ease of use 5/5
Pricing 4/5
Welcomes all members of the LGBTQ community
Can be used for free
Easy to navigate through
Affordable membership
12 million users around the whole world
Has special Scruff events
Outdated app
Doesn't have too many users in every country
Very simple dating profiles
You can be 100% sure that all people on the Scruff dating app are members of the LGBTQ community so you can join whether you are gay, lesbian, bisexual, or transsexual and start the search for your potential partner.
With more than 12 million active users, Scruff has a large community throughout the whole world and more than 8 million of them are located outside the USA.
The userbase is quite diverse and you can really find people of all ages and races on this platform, and all of them are looking for different things.
There are a bit more male members than female ones, which tells you that this dating platform has a pretty large gay community, but that shouldn't scare you since I believe you will be able to find your perfect match too.
This isn't a dating site made exclusively for long-term dating (like eHarmony or Tinder) or hookups (like BeNaughty or Ashley Madison), you can find any type of relationship or arrangement you are looking for easily.
Some are not even looking for a real relationship but rather for a valuable friend and someone they can share their experiences with.
Scruff is a dating app that was launched in 2010 and it didn't really change the design much in the past 10 years.
Even though the design is pretty simple and outdated, the app seems to be working just fine like it did when it was just launched.
You can sign up easily and the whole process will last a lot less than on other popular dating platforms.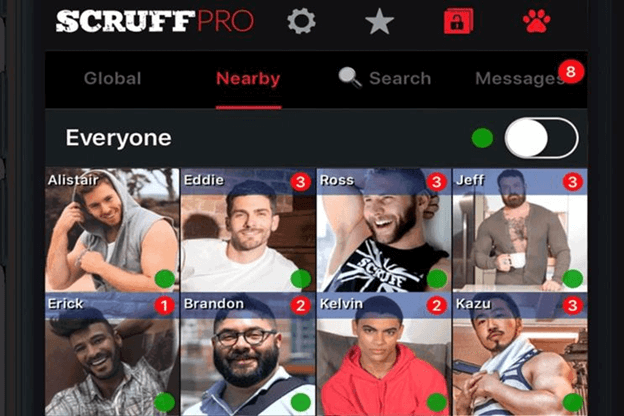 The overall design of the app and the homepage will allow you to browse all active users in your surroundings without having to answer too many questions and you will have a brief look at their profiles before you decide to reach out to them.
The design is pretty dark and there are no colors of the LGBTQ flag, just different shades of black and white which is not bad at all because it makes the app look more put-together.
The Scruff app is really very easy to navigate through and I believe even people who have never used a dating app before in their lives will be able to start dating without any problems.
Unfortunately, users complain that sometimes a bug can occur that can harm their experience for a while, but this is really something that doesn't happen too often.
It is also very functional and you will have all the features the Scruff app has to offer on your homepage and you won't have to spend too much time looking for them.
Ease of Use (Mobile and Desktop version)
As you have already seen, Scruff is a very simple dating app that offers you all the basic features you need in order to get in touch with a potential partner.
However, it can be quite time-consuming for most people to figure out all the app has to offer so we will thoroughly take you through this mobile app and help you get the best dating experience.
The signup process on the Scruff app is a bit different in comparison to other mobile apps like Grindr and Tinder.
The first thing you need to do when you start a signup process is to allow the app to access your location via your mobile device.
Once you have settled this, you will be able to change your location only once every 24 hours, so make sure yours is a real and correct one because based on it you will receive dating recommendations.
After you have successfully shred your location with Scruff, you will have to upload your profile photo, but first, you will have to answer some questions about it.
Before you have uploaded your profile photo, Scruff will ask you will your face be included in this picture.
You will have to give a response and declare whether your face or body will be visible, or you are not even included in the picture.
Now you can see that a profile photo that does not include a face is something that is acceptable on the Scruff app, but you should know that your profile won't be included in the Scruff match unless you are in the photo.
This is done in order to protect all the users and help them find a real potential partner through this platform.
You should also know that profile pictures that include half-naked or even fully naked people are strictly banned from Scruff so in case you try to upload something like this, you will get banned from the app.
The only information you are required to upload to your Scruff profile is your email, password, and birthday, but profiles that have plenty of information are always the ones that get more attention on the app.
Connecting with other users
Scruff is probably the easiest app when it comes to connecting and messaging other users because you are not required to match with them or anything similar to that.
All you have to do is find someone you think is interesting and send them a simple Hello message in order to get in touch with them.
However, Scruff offers a special feature that allows you to send a "Woof" which is actually a Scruff feature for saying "Hello" to someone.
You will see a small paw character in the lower right corner and by clicking on it, you will send a "Woof" to someone.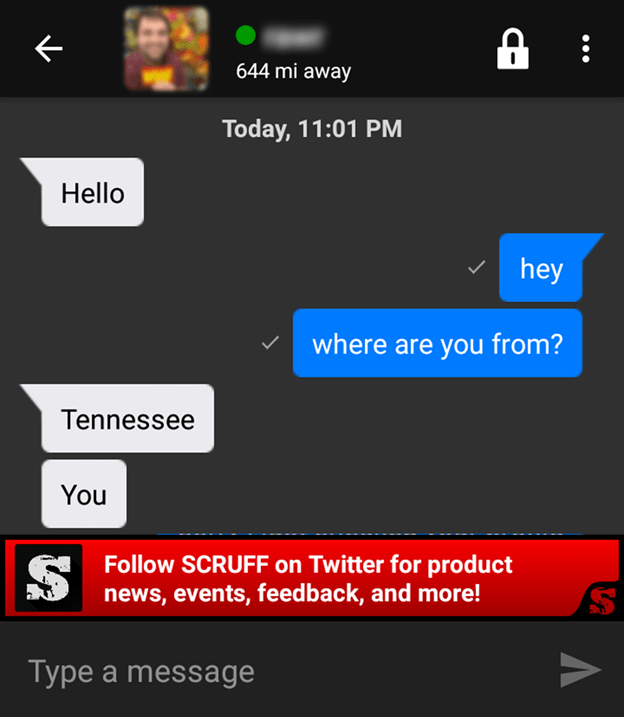 When you send them a "Woof" they will get notified and then decide whether they want to continue the conversation with you or not.
There is also another amazing feature that allows you to tick off the box next to someone's profile and give them a signal that you would enjoy meeting them in real life too.
In case the other person tick off the same box, you will both get notified by Scruff and then you can arrange your real-life meeting.
The Scruff chatbox also provides you with several messaging options so you can send text messages, gifs, different photos or videos, or even share your location.
I believe this is very convenient for getting in touch with others and it can ease the whole dating process and eliminate potentially uncomfortable situations.
Even though Scruff dating profiles don't look too amusing or interesting because the whole app is pretty simple, they are still very informative and make connecting with potential partners really easy.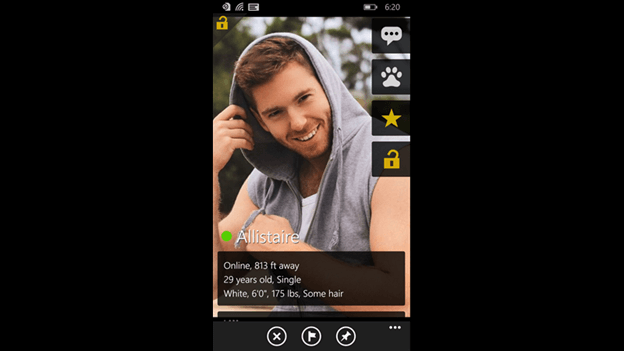 Each user can classify himself in some of the communities and the app will also provide you with information about who is the most popular individual.
There are dozens of different communities and you can classify yourself in whichever you like.
These are all the communities the Scruff app offers you to be a part of:
Bear
Muscle
Guy next door
Geek
Jock
Daddy
Poz
Leather
Discreet
College
Otters
Military
Queer
Chub
Chaser
Twink
Bisexual
Transgender
Drag
All of these communities are available on Scurff so you can't really say that this is a platform for gay dating only.
You can classify yourself as part of any of these communities, and you can actually tick off several of them if you believe you belong there.
When you open someone's profile, Scruff will also provide you with information about how often they respond to other people's messages and how many times they have received a Woof on the platform.
Profiles that appear on your homepage will usually be the ones that are located closest to you and they will be classified into 3 categories – Online, New Members and Most woof'd ones.
Everyone gets the opportunity to create a private album and then choose with whom they want to share it.
Once you have uploaded a private album, a lock icon will appear on your profile and other users can click on it and request to get access to your album.
You are the one who decides who will get access to them and they will receive a notification if your response is positive.
However, sometimes you will receive a notification that another user provided you with access to their private album, usually in order to show they are interested in you.
People who purchase the Scruff Pro membership will also get the opportunity to leave notes and comments on other people's photos.
Even though nudity is strictly forbidden in profile photos on the Scruff app, you should know that this kind of photo is 100% allowed in your private album.
The Scruff app provides its users with several special features that will help them enhance their performance on this dating platform and meet potential partners with ease.
These are some of the best special features the Scruff app offers you really need to try out right now!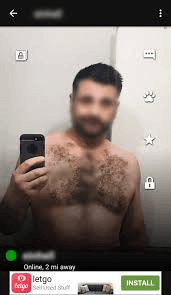 This is a feature that is similar to the Tinder swipe-up option and it allows you to browse fastly through other user's profiles and then open them if you want to find out more information about someone.
Scruff Venture is something users of the app regard as the "Global gay travel companion" because it is a very helpful feature with plenty of information about different countries and cities.
This feature allows you to see active gay or queer members in a specific town you want to visit and it also provides you with plenty of information regarding the LGBTQ community in that place.
You will also be able to see if there are any LGBTQ events coming soon there and who are the gay ambassadors in this town which is pretty interesting and can be helpful to foreign travelers.
There is also a feature that allows you to see LGBTQ-friendly hotels and apartments you can rent while you are in town which is amazing and helps you remain safe while traveling.
Scruff also allows you to see if there are any events hosted by its members or any events that many people on the platform have an RSVP.
This is an amazing feature that allows you to see if there are any interesting LGBTQ events in your city and to see who are the people who will be attending them.
You can use this feature based on your location or popularity, but we always recommend sticking with events that are in your near surroundings.
Even though Scruff Events don't happen too often in smaller cities, there are several pop-up parties in bigger cities like New York and London, so you should definitely follow this feature and see if a party of any kind pops out in your surroundings too.
Unlike most dating sites, Scruff exists only as a mobile app that is available for both Android and iOS users.
You can easily download the app to your Apple or Android device through the App Store or Google Play Store and start using it immediately.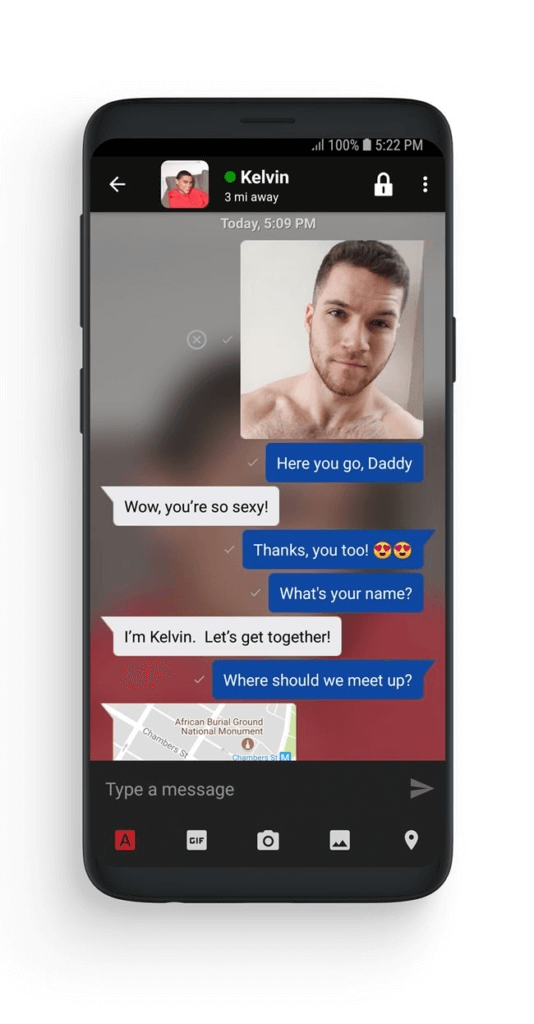 The app is very easy to download and it won't take up too much space on your mobile device, so I really recommend creating a profile on it if you are a member of the LGBT community and don't have much dating success in real life or on other traditional dating apps.
When it comes to the price, Scruff is a pretty affordable app and the cost of its membership is similar to that on other popular dating platforms like Tinder or Badoo.
However, you don't have to be a paid member in order to use Scruff because just like most dating sites, this one also offers some features that are available to free members too.
These are just some of the things free members will be able to do on the app without spending a dime:
Use the platform without even creating the account
Browse active profiles on the app
Create a profile free of charge
Send messages
Receive messages and Woofs from other users
Get an insight into other users responsiveness
Get an insight into other users popularity on the platform
Connect with a limited number of users
As you can see, free members really get access to a lot of features on the platform and they can even manage to meet people and establish a valuable relationship with other gay men or queer users without spending money.
However, if you want to get access to some fancier features and enhance your overall performance on the app, you should definitely invest in a monthly membership.
People who are paid members will get to:
Use the app without any ads popping out
Connect with up to 1000 users
Share their private albums with as many people as they want
Use search filters like location, community, and popularity
Browse the app anonymously
Use special features like Scruff Venture and Scruff Events
As you can see, paid members will get access to other people's private pics and they will have more options for social networking, so I believe this is a really worthy investment for everyone that needs the app in order to meet like-minded people, not just a partner.
A monthly membership is really not too expensive and it will cost you only 15 dollars per month, which is a decent price for most dating platforms, especially for a niche gay dating app like this one.
However, you can also save some money by paying for the membership for 3 or even 6 months upfront.
If you decide to pay 3 months upfront, you will pay 13 dollars per month, and if you pay 6 months upfront, it will only cost you 10 dollars per month which I believe is a great deal.
You can pay for the membership through your credit card or mobile phone, whichever of these options seems to work the best for you.
People claim that the Scruff app is definitely one of the best dating apps for members of the LGBT community and I definitely believe they are 100% right.
This app allows people of the same sexual orientation throughout the whole world to connect and establish valuable relationships with other like-minded people who won't judge them for who they are.
It has a very big number of users so I really believe it can be quite useful, no matter where in the world you are living at the moment.
We really hope you have enjoyed our Scruff review and managed to get all the information you needed about the app in our article.
We hope you will start using this app and manage to establish great relationships and friendships through it!