The life of an executive is a busy one.
And sometimes, there just isn't enough time for the pursuit of love.
We know there are many dating sites for casual hookups (like BeNaughty or Ashley Madison) and others (like eHarmony) that cater to those seeking serious relationships.
But, what if you're an executive and you don't have much free time?.
OFL Top Recommendations based on 100,000+ Survey

"Serious Relationships"
"Discreet Hookups"
"Best Course for Men"
"Quick Flings"
"Normal Hookups"
"Our Quiz"
That's where executive dating sites come in.
These aren't your run-of-the-mill dating sites that regular people use.
No, these sites are where executives can meet other people just like them.
And in today's article, we are going to give a few of these sites a complete rundown.
We will cover:
So if you are an executive looking for love, let us highlight some sites that you should consider.
Best Dating Sites for Executives in Video Form
Audio (podcast) form for those of you on the go
Best Dating Sites for Executives

Signing up – 4/5
Making contact – 3/5
Profile quality – 4/5
Overall quality – 4/5
A very exclusive dating site
Close to 5 million members worldwide
Bland design
Membership is pricey
It doesn't take a rocket scientist to see just who Millionaire Match is aimed at, does it?
The name really says it all.
And when you head on over to the registration page, Millionaire Match quickly tells you that the site is the top-rated millionaire dating site on the web.
But just how big is it?
Well, just as they aren't scared to tell you about their top-rated ranking, Millionaire Match is clearly proud of their user numbers as well.
Because it's emblazoned across their registration page.
Unbelievably, close to 5 million people have registered for the site.
That's a lot of millionaires… or people that want to date them, right?
But those numbers are certainly plausible as Millionaire Match has been around since 2001.
Here are some more figures to consider:
The United States contributes around half of those users
Each year around 2 million conversations take place on the site
3 000 users log in each day
That totals around 84 000 user logins each month
But what about gender ratio splits as well as the most active age ranges on the site.
Well, it seems that when it comes to gender ratios, it's around a 50/50 split between male and female profiles.
The biggest group of users on-site are found in the 45-54-year-old age group.
They makeup around 36% of all users and are split equally among male and female users.
The next biggest group is the 35-44 year-olds, then the 55+ group, the 25-34-year olds and finally, the 18-24-year-olds.

Ease of Use "mobile and desktop version"
So now let's look into registration for the site before we see just how it operates.
The sign-up process for Millionaire Match doesn't take a lot of your time.
Just know that you won't immediately be able to access your profile once you are done.
That's because the admins of the site approve each and every profile before it's allowed online.
To complete your registration on the site, the following information is needed.
Your gender (male or female)
The gender you are looking for (male or female)
Age
Valid email address
Your mobile phone number
Your mobile number is needed for security purposes when you log in for the first time.
Millionaire Match will send you a security code that you need to input.
That unlocks the next part of the registration process which requires:
Your first name
Your user name
A password
Country
Zip/Postal Code
Annual income
Height
Ethnicity
Relationship status
Now you move onto filling out your profile.
For this you will need:
A profile picture
A profile headline
Description of yourself
Description of what you are looking for in a matchup
Then you get a second code that you receive by mail and only once you input this can you access the site for the first time.
Your profile is far from done though, there are so many extras to still complete and it's worth your while doing them before you start your quest for executive love.
You can even verify your income and photo through the site.
This makes you a more attractive prospect for others searching for love, that's for sure.
Your profile on the site is very different from other dating sites in terms of the information it provides.
While there are regular parameters based on appearance and lifestyle, there are lots of unique aspects as well.
For example, you can have a video introduction for your profile or you can upload photos of your luxury items and all your bling.
That's just a few of the unique aspects that Millionaire Match has to offer.
I just want to talk a little about the overall looks and design of the site.
In a word, it just looks dull.
I know that's not the be-all and end-all of a dating site but they really could introduce a little color.
The only real color you get is from the photographs of other users.
Otherwise it just black and white everywhere you look
In terms of functionality, however, Millionaire Match works a treat.
It includes a social networking style feed where you can see other users' updates, for example when they upload a photo.
Finding your way around the site is achieved through a menu system at the top of the screen.
Here you have access to the search engine, your sent and received messages, a community section with user blogs and a roulette-style matchup game called Spark.
You can also use the Connections menu on the left-hand side of the page to see:
Your received messages
People who have liked your profile or photos
People who have favorited your profile
People who have sent you a wink
In terms of the search engine, as a regular user, you can only search with a few parameters although if you sign up for a membership, you have so many more added parameters to fine-tune your searches with.
And you would also need a membership if you want to contact someone that you'd like to get to know a bit better.
Yes, messaging is a member-only feature.
As far as an app goes, it's only available for Android handsets.
For Apple users, you can browse the site on your phone as it is optimized for smartphones.
You've probably guessed already that with a name like Millionaire Match, you are going to have to fork over a little bit more of your money to use some of the features that the site has to offer.
And yes, you would be right.
The thing is, Millionaire Match has lots to offer those who opt to become members.
Over and above extra search parameters and a messaging system to contact others, membership also allows you to:
Bump your profile to feature at the top of other user searches
Access live chat support
See if your messages are read
Manage your privacy settings
Get a millionaire verification
And much more
But what's the pricing like?
Well, here's a breakdown of just what membership of Millionaire Match is going to cost.
1-month membership: $70.00
3-month membership: $170 ($56.67 per month)
6-month membership: $270.00 ($45.00 per month)
Yes, it is expensive but the features probably just make up for those price points.
And really, if I am honest, those prices are but a drop in a very big ocean when you are earning the big bucks, right?
1. Is Millionaire Match a sugar daddy site?
No, not at all.
The people behind the site go to great lengths to stress this and you will see it immediately on their registration page.
It is a site for millionaires to meet attractive people to date, that's for sure.
2. So this website is only for millionaires?
No, it's not.
It's for successful people and those who want to date them.
But you don't need to be a millionaire to register for the site at all.
If you are a successful executive looking for love, it makes complete sense to make use of sites like Millionaire Match.
It has the kinds of people that you would like to meet up with, including other successful people.
Millionaire Match has tons of key features for members although it does take a bit of time to get your profile up and running thanks to a lengthy registration process.
That's not a bad thing, however, because it includes various verifications to ensure that only the right people sign up for profiles on the site.
As for a rating, I am giving Millionaire Match a score of 3.9 out of 5.


Signing up – 5.5
Making contact – 3/5
Profile quality – 5/5
Overall quality – 4/5
Large user base (5 million users)
A large percentage of users have college degrees
Free messaging
You have to upload six photos before your profile is activated
The thing with working professionals is that time is always of the essence.
That's why so many of them don't have significant others.
It's because they don't have the time to play the dating game.
And when they do, they want a dating app to give them an efficient experience that cuts to the chase.
Hinge promises that, but does it deliver?
Before we can answer that question, let's look into what Hinge is all about and the demographics behind it.
Founded in 2012, Hinge underwent major changes in 2015 and today has around 5 million users worldwide.
Around 500 000 of those users are from the United States
90 000 users log in daily
That's around 2.7 million log ins each month
It's an active site, that's for sure.
And when it comes to a gender breakdown, Hinge is pretty even.
55% of the users are male
45% of the users are female
When we look at the age groups of users of Hinge over half the users are from 25 to 44 years old, certainly in the range you'd expect executives to be.
The other critical thing to know about Hinge is that this isn't site for hook ups.
The vast majority of users are looking for long-term relationships and the majority of them are college-educated.
Ease of Use "mobile and desktop version"
So there is no desktop version of Hinge.
If you'd like to try this site out, you are going to need to download the app which is available on the Google Play or Apple store.
When it comes to the signing up process, it takes a bit of time.
That's because Hinge wants to provide users with the best possible matchups so needs all the information from you to be able to do that.
To start the process, you can use a valid email address or use your Facebook account.
There is no email validation at all here but Hinge will send a code to your phone during the registration process.
So I think it's important to understand the process of registration and the kinds of information that you are going to have to provide.
There are three sections that you need to fill out:
My Vitals: This includes your location, your gender, the gender you want to match with, appearance parameters, lifestyle parameters, education and more
My Virtues: Here you get asked questions on a range of subjects including politics, habits and more
My Profile: Here you complete your profile by uploading six pictures. If you don't you cannot continue further
Lastly, you will receive at least one writing prompt to answer.
These are displayed on your profile and are a great way to help you stand out from other users, especially if you get creative.
So once you have your profile up and running, how do you find potential matchups on the site?
Well, as I mentioned, Hinge sends you matchups based on the information you've given them.
This takes the form of a roulette-style match game where you can swipe to move onto the next person.
The thing is, it's not only about the photos here.
When you like someone, you can obviously choose to like their pictures, but also other aspects that interesting you.
Perhaps they gave a witty answer on one of their writing prompts.
Yes, you can like that.
This helps Hinge move away from the typical physical attraction only model that dating apps use and into something where the whole package counts.
And that's pretty cool although as a free user, you only get five likes per day.
Of course, if they like a part of your profile back, then you have a match and it's time to reach out.
The good news is that sending someone a message on Hinge is totally free!
And you can send as many as you want.
There is a slight catch, of course.
And that's the fact that you can only send messages to someone you've matched with.
Remember, you only have five likes a day as a regular user of Hinge.
If you opt to take out membership, however, that becomes unlimited.
So what's the cost of membership of Hinge?
Well, it's pretty competitive.
Before we look into it, here's a reminder of what membership brings.
Unlimited likes
A seperate area where all the profiles of people who like you are listed
The ability to set extra preferences
Pricing is a follows:
1-month – $9.99
3-months – $20.97 ($6.99)
6-months – $29.94 ($4.99)
For what Hinge provides and the fact that it has so many users, that's pricing point is spot on.
Hinge is very safe.
Thanks to its extensive registration process and the fact that you need to get verified by entering a code sent to your phone, there are very few fake profiles on Hinge.
2. Is messaging on Hinge free?
Yes, it is.
There is a catch, however.
You can only message someone who you like and who has liked your profile back.
Hinge is just the perfect site for executives to find long term love.
It's got all the tools you need to do so and if you'd like to become a member, well that's pretty cheap.
Hinge gets a rating of 4.25 out of 5.
It's worth checking out.
Signing up – 4/5
Making contact – 3/5
Profile quality – 4/5
Overall quality – 4/5
An exclusive dating app for executives
No fake profiles
Easy to sign-up for
You have to wait to see if you are accepted for The League
The very small user base
You only receive 5 matches a day, you cannot search for more
An exclusive dating site for executives, The League is relatively new, having first been established in 2015.
And in a few short years, it's become very popular, boasting 50 000 members and a long waiting list of aspiring users trying to get in.
Here are a few other facts and figures worth knowing about The League.
52% of users are female
48% of users are male
Users from 25-34 years old are the biggest users of this exclusive dating site and makeup around 33% of all users on site.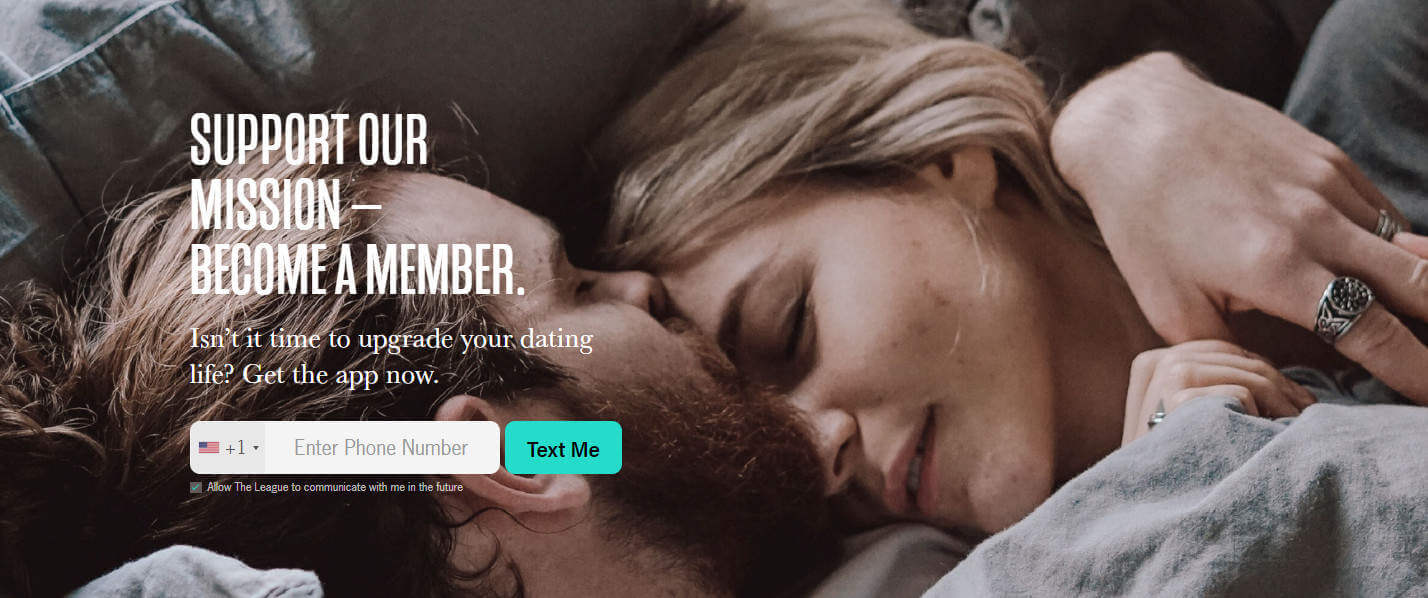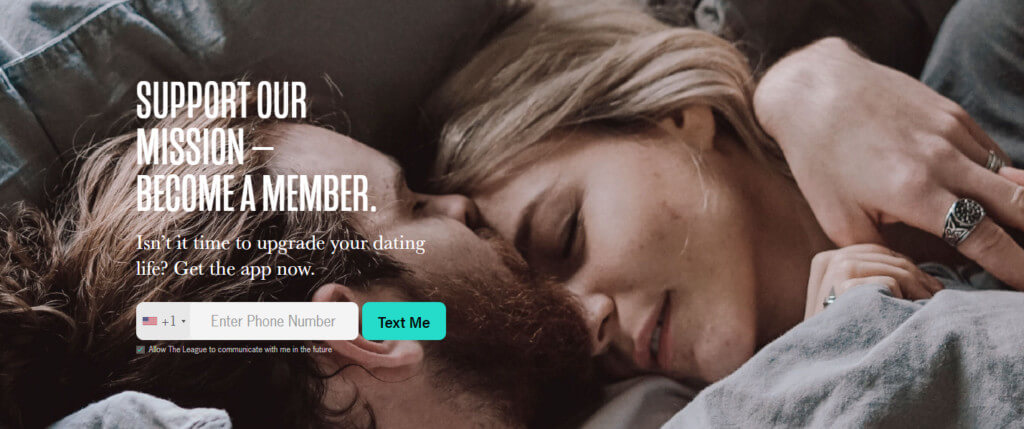 Ease of Use "mobile and desktop version"
Take what you know about dating sites or apps and forget them.
The Leagues does things in its own way.
For a start, you need a Facebook and LinkedIn profile before you can sign up.
If you don't have them, you simply cannot sign up because they are linked to your profile on this dating app.
Also the more friends and connections you have the better your chance of getting accepted.
I did say this was an exclusive dating app, didn't I?
In fact, it's so exclusive that there is a waiting list for approval.
Once you in, however, you will receive five matches a day from the app.
This is all based on your profile and preferences.
The thing is, you only get five matches per day and these are sent to you through the app.
You can purchase more, however.
Your matches are presented in a roulette-style and you swipe through them.
If you swipe left, you aren't interested.
If you like them, then swipe right.
If they like you back, you can start communicating with them.
It's that simple.
Because it's pretty exclusive, membership to The League isn't cheap.
Here's a breakdown:
1-month membership – $99.00
6-month membership – $199.00 ($33.17 per month)
12-month membership – $349.00 ($29.08 per month)
If you see yourself using this app for an extended period of time, it makes sense to go for the extended options as they are so much cheaper.
Membership allows you to:
Contact other users
Purchase League tickets
Customize your profile further
Attend gatherings
1. Will The League post anything on my Facebook account when I am accepted as a user?
While The League wants your Facebook and LinkedIn credentials, it will never post anything on these accounts for others to see
2. Can I use The League on a website?
No, you cannot.
This is an app-only dating service that's available on Apple or Google devices.
With its need for users to have Facebook and LinkedIn profiles and general exclusivity, The League isn't for everyone.
But it is the ideal dating app for executives with little time on their hands.
That's because, when you get accepted, The League does much of the work for you, sending you matches to look through.
Of course, it's difficult to join this exclusive club but it's worth trying.
As for a rating, The League gets a score of 3.75 out of 5.
: