India is the second-most populous country on our planet.
Marriage is huge in all of the various cultures and religions in India, particularly for Hindus, Muslims, and Tamils.
Often, if it's not an individual looking for that perfect match, it's family members, particularly Indian parents trying to find their children a soulmate.
And some have even taken to using assisted services or even other matrimony services, particularly dating sites with matchmaking to find that perfect life partner.
OFL Top Recommendations based on 100,000+ Survey

"Serious Relationships"
"Discreet Hookups"
"Best Course for Men"
"Quick Flings"
"Normal Hookups"
"Our Quiz"
But there are many others like Matrimony.com as well as the one we will look at in this comprehensive review, Tamil Matrimony which is a popular matrimonial website.
Our review on Tamil matrimony will encompass:
So yes, that's a ton of useful information for you to find out by reading this Tamil Matrimony review.
Why don't we get started then?
Is your dating app giving you the best chance for success?
Make sure to take our online dating site/app quiz to find out.
It's a fact that people who follow our dating site suggestions have on average 2 extra dates per month.


Ease of use – 4/5
Effectiveness – 3/5
Key features – 4/5
Pricing – 3/5
Over 5 million users
Excellent search features
Many unique key features for members
A range of membership packages
Only members can send messages
Membership is pricey


Who Is It For/Demographics?
We've covered a fair amount of just who this matrimonial site is for, from Tamil brides and beyond.
Of course, most of the people using this site are based in India, but there are other users outside of the country.
They can be found in countries such as Malaysia and the United States.
OFL Top Recommendations based on 100,000+ Survey

"Serious Relationships"
"Discreet Hookups"
"Best Course for Men"
"Quick Flings"
"Normal Hookups"
"Our Quiz"
This is no fly-by-night Tamil matrimonial site, that's for sure. It is not like the regular dating site (like Tinder or eHarmony), nor is it a hookup site (like BeNaughty or Ashley Madison).
In fact, according to the Limca Book of Records, a respected Indian publication, Tamil Matrimony has the highest recorded number of documented marriages online, more than even a site like Shaadi.com.
Tamil Matrimony

| By the numbers
You'd probably be able to guess that this would be a busy website.
Well, it does serve communities from the second-most populous country in the world, so yes, that's to be expected.
Currently, over 5 million people have started profiles on the site.
Let's break that down a little further:
Over 3 million users from India
800 000 users are from the United States
Around 5 000 new users join each month
The Tamil Matrimony app has been downloaded over a million times
​

Tamil Matrimony

| Gender ratio and age ranges
It's not often that you find dating sites where females outnumber males but that's the case on Tamil Matrimony.
So what do the ratios look like?
61% of all users are female
39% of all users are male
As for age ranges, well over 60% of the users are between 18-34 years old.
These are the prime ages for marrying in India, so it's easy to see why these two groups contribute 64% of the total membership on the site.
The other age ranges are represented as well, but just not with as many users.
Here's a complete breakdown when it comes to age ranges, from most popular to least popular.
25-34 year-olds (37% of all users of which 22% are female and 15% are male)
18-24 year-olds (27% of all users of which 16% are female and 11% are male)
55+ (18% of all users of which 9% are female and 9% are male)
35-44 year-olds (13% of all users of which 8% are female and 5% are male)
45-54 year-olds (8% of all users of which 6% are females and 2% are male)
Now with that insight into site demographics, let's look more into just how the site operates.


You have two choices when it comes to Tamil Matrimony online registration.
You can either use the website landing page to start the process from your laptop, or download the app for either Android or IOS devices and start there.
I prefer to always register through the website first.
It allows me to look at the terms and conditions of the site far more easily.
Once you have your log-in details, if you want to use the app, it's easy enough to just insert them and start.
The registration process via the Tamil Matrimony landing page includes a few steps but it's a little different from regular dating sites.
The most obvious difference is that while you can create a profile for yourself, so can your relatives.
This is a normal part of Bharat Matrimony sites.
Mothers and fathers can create profiles for their sons or daughters, siblings can create profiles for their brothers or sisters and you can even create one for a relative or a friend.
Another difference is that you will need to enter your mobile number during registration.
The rest of the process is super simple as you give the following information:
Date of birth
Religion
Mother tongue
Email address
Password
You will also have to select your caste and a sub-caste which is optional.
Then you will fill in sections of your profile.
This includes sections on your:
Appearance
Family
Education
Employment
You can even compose an introduction to your profile, or if you don't feel up to it, rather select one that's already been composed.
And that's it.
The whole process takes around 10 to 15 minutes in total but at least you know that your profile is complete before you've even begun to use the site.
Note, you will be sent a code to your phone number that will need to be used to activate your profile once you have completed the registration process.
Overall look and site navigation
Tamil Matrimony sure loves the color white.
It dominates the site but certainly gives it a fresh, clean look which is very appealing.
The overall design sees everything where you'd expect it to be on a dating site and it's uncluttered, which is something I like.
Far too many dating sites try to push as much information as they possibly can into a single screen and at the end of the day that gets really messy and is no fun to navigate.
Speaking of navigation on Tamil Matrimony, it's so easy to get around the site using the main navigation menu that you will find at the top of the screen.
These menus are:
My Home: Return to the homepage by clicking on this menu
Search: Launch all your searches here
Matches: The site will provide you with matches which you can access through this menu
Mailbox: All communication, both outgoing and incoming will be found here
There's nothing there at all that I have to explain, it's just so simple, right?
There is another menu that you will see on the far right-hand side of all of these and that is where you can upgrade to become a member of the site.

Profiles on

Tamil Matrimony
So your profile is pretty much done by the time you access the site for the first time.
Let's talk a little about other users' profiles in general.
They have plenty of detail to them and are packed with information about each user.
This includes a prominent profile picture and some information about the user near the top of the page.
You can also see who created it.
Remember it might be a parent, friend or sibling.
I think that's important to know.
Another excellent feature is the fact that you can quickly see if they are online or offline.
Not many dating sites do this and I have never really understood why.
It's just really nice to know if the person you are going to try to contact is currently online or not.
Members that have confirmed their mobile numbers earn a trust badge that will be shown on their profile as well.
So if you are looking to avoid fake profiles or scammers, best to only deal with other users that have this badge.
You have the option of adding a member to your shortlist, which is similar to favorites on other dating sites.
You can also declare your interest in them or message them from their profile, but more on that later.
Yes, as we've already seen, there is an app for this dating site available in both the Google Play Store as well as the Apple Store.
Both versions seem to be pretty popular and have excellent review scores.
While the app works more or less like the website would, it does have some extra features.
For example, you can phone matches using the app and speak to them if you wish.
There is also a video call option if you'd prefer that.
Both apps are free downloads.


So just how do you go about finding a potential love interesting on the site?
Well, there are two ways: matches and searching.
Just like many other sites, Tamil Matrimony will provide you with matches regularly.
These are all based on your profile and the details that you entered during the registration basis.
These matches will be even more if you are prepared to have a relationship across castes.
Matches are easily accessed from the Matches main menu that we spoke about earlier.
On each profile, you will also see just how compatible you are with someone which is an excellent addition and can really help you find the perfect person to get in touch with.
The other way to find someone to have a potential relationship with is by using the search function.
That too is accessed from the main menu.
You have several search options available to you including a basic search, advanced search and a keyword search.
Let's talk about the advance search as this is the one that you will probably use most often.
Advanced searches include a range of parameters that you can set to refine the search to turn up the exact types of profiles that you want.
Before we talk about the parameters, your searches can also be sorted by:
Relevance (as in matchup score related to your profile)
Their last login
The date their profile was created
If they are a premium member or not
But back to those parameters.
First, you can search by profile type.
This means
If they have a photo
If they have a horoscope
If they are currently online
If they are a premium member
You can also filter the search as to who the profile was created by.
That means you can filter out profiles created by parents, siblings or friends if you'd prefer to.
You can also filter by language, marital status, age-range and appearance factors.
There is much for you to chop and change as you wish here and with a dating site with five million members, that means you can get pretty specific if you want to.
But what about messaging someone?
Is that possible as a regular user?
Making contact on

Tamil Matrimony
Well, the simple answer is no.
The only way of showing someone that you are interested in them is through the "Send Interest" button that you will find on their profile.
They will then receive a notification that you are interested.
But sending messages, well that's only for members of the site.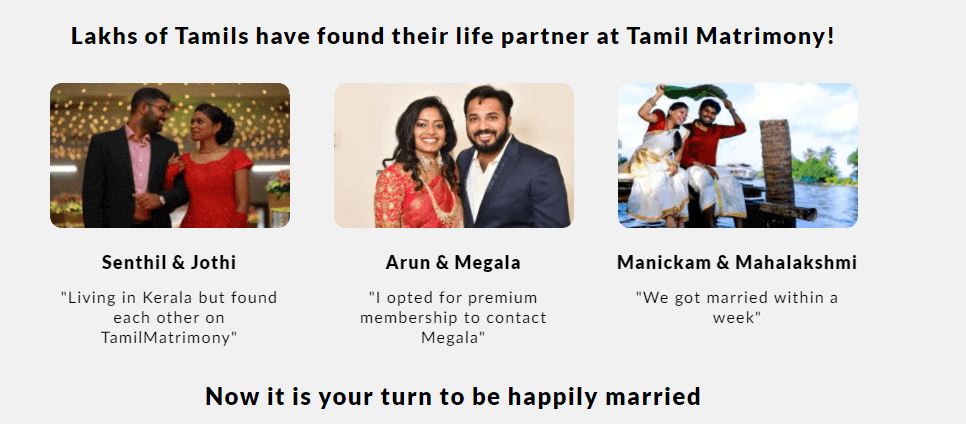 Before we get into the key features that you can expect as a paying user of this dating app, let's take a quick look at what a free user can do:
Register and create a profile
Use the basic and advance search filters
Receive matches from the site based on your profile preferences
Upload photos
Add users to your shortlist
"Send interest" to other users
As a paying user, these are the features that can benefit you.
The most crucial thing about any dating site is the ability to message someone, right?
It's the main source of communication between yourself and other users and the way you will get to know them better.
As a member of Tamil Matrimony, you can send unlimited messages and read those that you receive from others.
If you download the Tamil Matrimony app, you can make use of the in-app calling system to speak directly to other users.
This is a great way to push the relationship forward and get to know someone better by connecting them on a more personal level.
To take that connection even further, the Tamil Matrimony app even allows in-app video calls.
What's better than instead of just speaking to someone on a phone call, but rather getting to see their face and talking to them during a video call.
Yes, there is even a membership package that offers marriage assistance.
This comes in the form of matchmaking from the site itself where an assistant will be tasked with finding you the perfect matchup.
This is designed with people who don't have enough time to browse the site, for example, businessmen and women.
As a member, you can verify your profile to prove that you are who you say you are.
That verification brings with it a trust badge on your profile.
​6. Highlight your profile
Members who opt to have their profiles highlighted will appear at the top of the search returns of other users.
That's provided they meet the requirements, of course.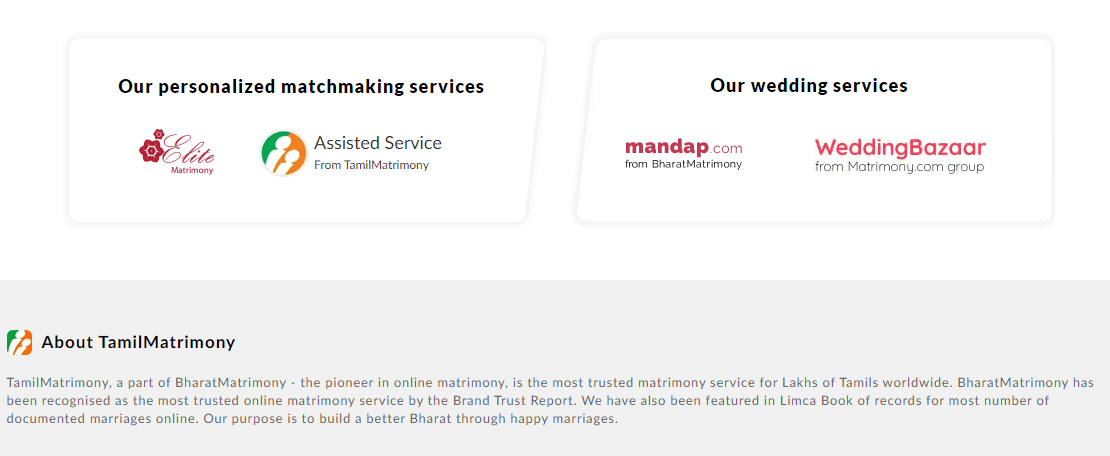 Without a doubt, there are some unique key features to be had on this site.
But what's pricing like.
Well, the first thing you will notice is the sheer amount of packages that Tamil Matrimony has.
Some of these offer only some of the features above and others are special packages, for example, those that are all about assisted matchmaking.
Here's a breakdown of what you can expect.
Classic package: 3 months – $109 (works out at $36.33 per month)
Classic Advantage package: 3 months – $131 (works out at $43.67 per month)
Classic Premium package: 3 months – $164 (works out at $54.67 per month)
Till-U-Marry package: 1 year: $370 (works out at $30.83 per month)
Assisted service: 3 months – $450 (works out at $150 per month)
Assisted service: 6 months – $800 (works out at $133.33 per month)
Assisted service: 12 months – $1 500 (works out at $125 per month)
Yes, there's quite a selection here, that's for sure.
It depends on what you want at the end of the day and which features you feel will help you on the site.
But overall, the pricing is pretty expensive actually.
And I am not a fan of the fact that you will be tied into a contract for three months at a time.
Even if a month-to-month package was a little more expensive, there should be an option of one I feel.

Conclusion and Overall Rating
Thanks for taking the time to read our in-depth review of Tamil Matrimony.
​It's certainly an excellent matchmaking site for people from India, NRIs or those living outside the country to use as a matrimony service.
Not only does it have some excellent key features, but if you use the app, you can find even more.
You can also search by language, caste and religion if you want very specific matches.
I do feel, however, that it is pretty expensive, although there are a range of pricing options to choose from, more so than on a regular dating site.
But yes, this is a matrimonial website that you should be considering if you looking for an online matrimony service.
Let's rate it then.
It gets a score of 3.5 out of 5.
Frequently Asked Questions