If you were ever looking for a dating course that could help you understand men and relationships a bit better, then you have definitely stumbled upon some of the courses created by Evan Marc Katz.
"Why He Disappeared" is one of his oldest and most popular courses that was based on his dating book of the same name.
In case you want to find answers to all of your questions and realize why so many smart and intelligent women like you are neglected by men, you definitely want to give this one a try.
In this review, you'll discover:
OFL Top Recommendations based on 100,000+ Survey

"Serious Relationships"
"Discreet Hookups"
"Best Course for Men"
"Quick Flings"
"Normal Hookups"
"Our Quiz"
Is your dating app giving you the best chance for success?
Make sure to take our online dating site/app quiz to find out.
It's a fact that people who follow our dating site suggestions have on average 2 extra dates per month.
What to expect from the Why He Disappeared course?
I became familiar with this course by Evan years ago when I stumbled upon a book review of "Why He Disappeared" and when I realized how many women were treating it like a dating Bible.
All those smart and successful women around me who seemed to have the absolute worst luck in dating were reading it, and I thought it must be an interesting book.
I wasn't aware that it is focused solely on women and their perspective of dating, but I was willing to give it a try and see what this guy has to offer.
In case you are a woman who doesn't want to waste a large amount of time on men who are not worth it, and you want to realize how their psychology and pedagogy really is, I believe this is an insightful course you should check out.
Evan Marc Katz dives deep into the minds of men, and he is not a regular dating coach who is providing you with cheesy dating tips and tactics that will help you attract any men.
He is focused on providing women with brief know-how that will help them realize what every man out there is thinking and what their moves really mean.
His guide is extremely helpful if you are diving into the world of online dating and you don't have much experience in it because you will be able to start practicing these techniques from the start without any prejudices.
With this new book, you will be able to realize what his actions mean even before you open the notifications box, and you will be 100% prepared to go out with someone for the first time.
You will see how a man perceives the dating pool and different traits in a woman and what is his point of view every time you say something or mess up.
I believe it is quite useful because I realized that all of the knowledge he shares with women in this book and course is pretty much true, and it can be used on any man you meet.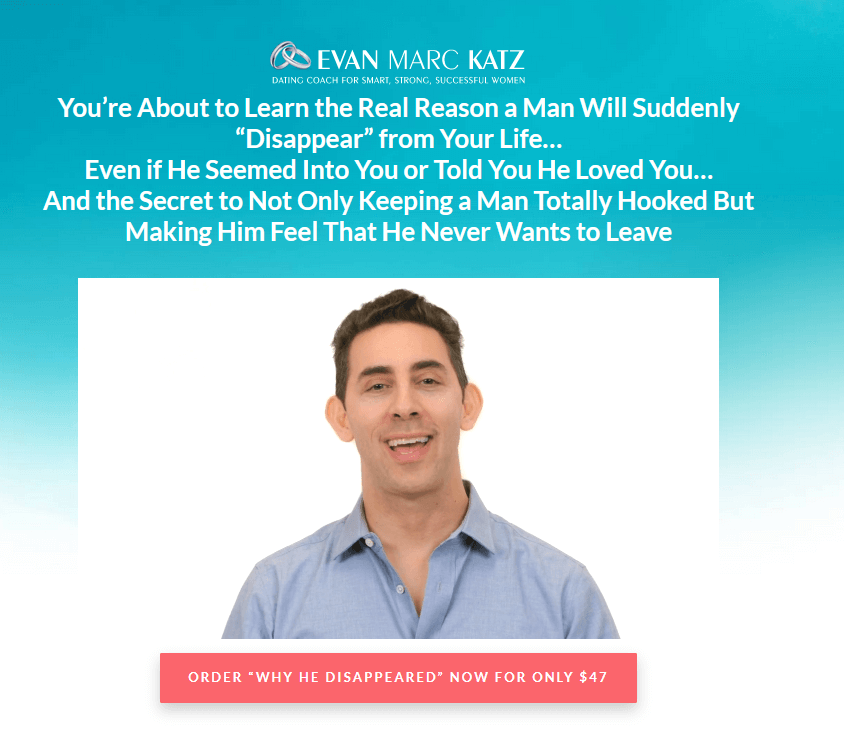 He will also be able to provide you with a few tips and tricks on how you can recognize the right guy for yourself, and overall how a good man acts towards the woman he likes.
There is also a whole chapter about toxic men and toxic masculinity that I, as a man, also enjoyed because it provided me with some much-needed insight and even some things I can use in my own dating life.
I would say Evan knows a man's psychology very well, and he was really able to cover all the topics and parts of romantic relationships.
OFL Top Recommendations based on 100,000+ Survey

"Serious Relationships"
"Discreet Hookups"
"Best Course for Men"
"Quick Flings"
"Normal Hookups"
"Our Quiz"
In my opinion, all of the questions I have ever been asked by a woman are answered in this one, and it really depicts real-life dating to the core.
It will also help you understand the meaning behind your previous relationships, breakups, and even the way your ex-boyfriend acted because it really goes in-depth.
Ever since the pandemic started, more and more people have been rediscovering this book and course, and you will see that it is quite popular on Kindle too.
Even though you can find some pretty detailed reviews and even summaries of the book and course on GoodReads, I would still recommend you to read it and discover all of these things by yourself.
Overall the book and the course can feel quite personal from time to time, so if you are really looking for a good dating book you can read in this new year, let this be the one.
This course is aimed at successful and smart women who want to improve their dating life and even prepare themselves for marriage.
Many women these days simply don't know how to act in relationships, even though they are successful CEOs, faculty members, writers, and many more things.
Evan came up with this course solely for them and to help them find the right guy, establish the relationship they like and stop acting needy.
It will also provide them with a brief insight into how a man's mind works and what are the things that keep him interested in a woman, and what are the things that will make him run away as fast as he can.
In my opinion, this is one of the best dating courses for women, especially those who have already succeeded in different areas of life and that are sick of one-night stands (like BeNaughty or Ashley Madison). They are just looking for a way to make things work romantically too (like eHarmony or Tinder).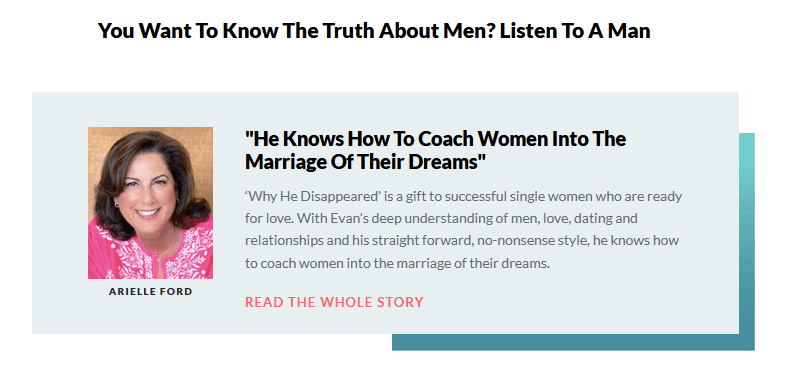 If you find yourself to be a successful woman who has it all but simply can't find the love of her life, then I 100% feel you, and I believe you will be grateful if you purchase and complete this course.
Pros And Cons From The Experts?
Deep dive into male psychology
Provides you with great tips and dating techniques
Allows you to realize how men think and why they do some things
It helps you gain confidence in romantic relationships
Not really a course for beginners in dating
Some tips may seem to be too harsh
Only for women who know what they want
There is no way you won't see a result after completing a dating course by Evan Marc because all of his courses are simply amazing.
However, if you want to make sure you will have success, I would recommend you to go through the whole course briefly and really read every single chapter, tip, and trick.
The workbook that comes with the course is really amazing, and it will help you practice all of the knowledge he has shared in the book, and it will also help you remember some of the things that may have slipped you while reading.
There is also a lot of bonus materials that can be very useful in specific situations, and that should always be read after you complete the course.
You need to make sure you understand and adopt all the suggested behaviors and techniques from this course; otherwise, there is not too much hope that you will be able to ace the dating game.
Especially keep an eye on the chapters that explore male psychology because they are very detailed, and if you don't pay enough attention, you may miss out on some amazing and extremely important insight.
Since this is not really present as a regular course and there are millions of women across the world that have read the book, the success rate was never really measured.
However, women who have engaged in the course and those who have read to book from page to page were extremely satisfied with it and they are big fans of Evan Marc Katz and the knowledge he shares.
This type of content is not even focused on helping you meet the right one but rather on providing women with enough practical knowledge that will help them make smarter decisions in the future and start seeing people who only have their best interests in mind.
If you keep on following all the pieces of advice that are shared in Evans's book and course, I believe you will definitely have a lot of success in the dating world – it may not happen instantly, but once you start applying that in real life, the right man will definitely appear.

Women were bragging about this one changing their whole outlook on dating so if you are really eager to explore new things and find out new ways to love, I believe you should give it a try.
You can purchase the whole "Why He Disappeared" course and the book for only 47 dollars which makes it one of the most affordable dating courses on the market.
In case you are looking for an even cheaper option, you can just purchase the original book and take insight from it.
This book was sold out so many times and it was even featured in New York Times, so you can easily get it in any bookstore across the country and most of the knowledge he shares on his courses is available in this piece.
If you are really eager to learn as much as you can about men and step up not only your dating game but also your knowledge of men's psychology, this is my sincere recommendation.
The course has plenty of questionnaires, additional questions, answers, and videos and it is really a great guide on everything you need to know about men.
As you have seen in our review, the "Why He Disappeared" course by Evan Marc Katz is one of his best courses, and it is a real treasure for all women who want to prosper in love and get any man they want.
It will help you understand not only how the dating pool works but also how you can manipulate any man into loving you and what are the secret motives behind his behavior.
If you want to understand men a lot better but also step up your dating game and catch the right guy, this is a course you must try.