A niche dating site for people of Arab descent, ArabLounge is no stranger to the dating world.
In fact, it's not only aimed at people of Arab descent either but those who would like to date them.
So if this is a site that's been on your radar for a while and you want to find out more information about it, you've come to the right place.
That's because this in-depth review of ArabLounge covers:
OFL Top Recommendations based on 100,000+ Survey

"Serious Relationships"
"Discreet Hookups"
"Best Course for Men"
"Quick Flings"
"Normal Hookups"
"Our Quiz"
So take your time in reading this review an afterwards, you have all the information you need in deciding if ArabLounge is where you should be looking for love.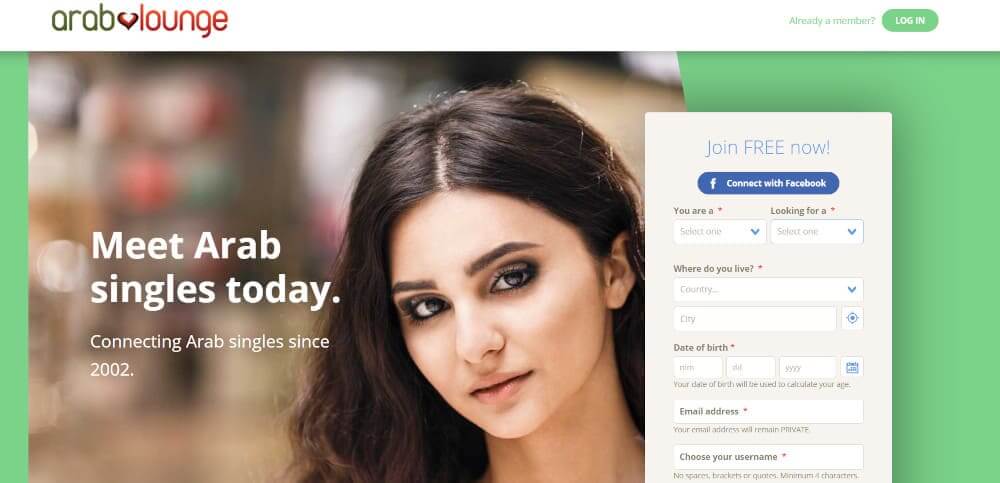 Is your dating app giving you the best chance for success?
Make sure to take our online dating site/app quiz to find out.
People who follow our dating site suggestions have on average 2 more dates per month.
Arab Lounge Review in Video Form
Audio (podcast) form for those of you on the go
Ease of use – 5/5
Effectiveness – 3/5
Key Features – 3/5
Pricing – 3/5
A site for people of Arab descent with over 1 million users
Many users are from the United States
A well laid out site that's easy on the eye and simple to navigate
No mobile app
Not that many key features
A little pricey considering a lack of key features

Who Is It For/Demographics?
So we've already established that ArabLounge is not only for people of Arab descent that are looking for love but also those who want to date them.
It is not really a hookup site (like BeNaughty or Ashley Madison) but rather one where you can find a serious relationship (like eHarmony) most likely with an Arab partner.
But because it is such a niche site, just how many people would be using it and where in the world would you find the majority of them.
A niche site, that's for sure but the number of users that ArabLounge claims to have is very impressive indeed.
Not only that but many users come from the United States as well.
Let's look at some of the critical numbers related to ArabLounge.
ArabLounge has over 1 million users
Close to 500 000 of them come from the United State while the rest are spread all over the globe
Each day, close to 1 800 people log into the site
That's almost 55 000 people each month making use of the site.
Now you are probably saying that those numbers aren't that impressive but you must remember this is a very niche site catering to a relatively small group when it comes to online dating.
And while the numbers aren't the same as other niche sites, they are impressive none-the-less and will help you find potential matchups if you live in a large urban area.
You might struggle when you live outside of one, however.
But that goes with all niche sites at the end of the day.
Gender breakdown and age ranges
When it comes to a gender breakdown of ArabLounge, it's pretty much close to 50/50.
The age ranges also fall within what I would expect to see for a website like this.
The most popular age ranges are from 25-44 but here's a full breakdown.
25-34 years old
35-44 years old
45-54 years old
18-24 years old
55 +
Both the 25 to 34 and 35 to 44 age groups make up 60% of the users found on ArabLounge.
The 45 to 54-year-old group makes up another 20% while the final 20% is split between the youngest and oldest age groups.
It's an interesting breakdown of user ages but there's plenty for you to work with, no matter what ages you might be looking for.
Most of us when we use sites like this will search in a 10-year age band anyway and yes, ArabLounge will return potential matchups for you, that's for sure.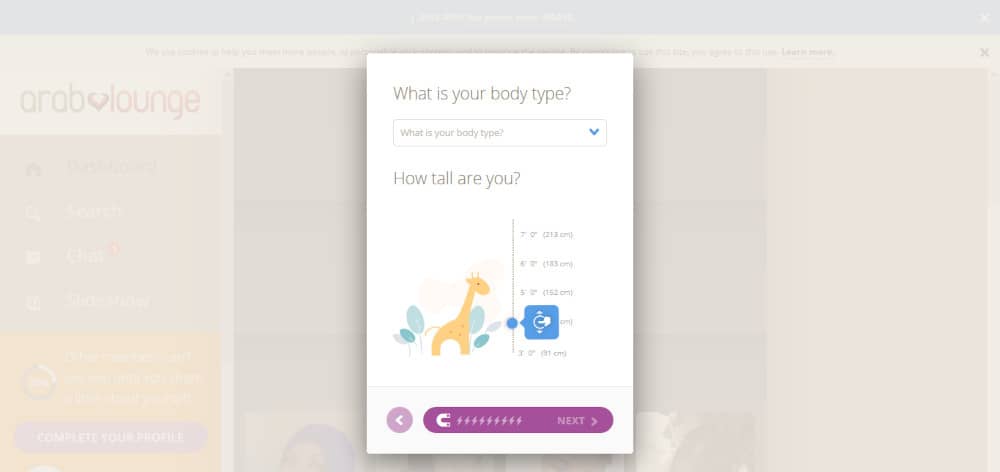 Dating websites like to get you online in the quickest manner possible and with ArabLounge, that's exactly what they aim at too.
It's even quicker if you use their social media account option to sign in, Facebook in this case.
If you don't use Facebook but the regular way, there are few things you are going to need to fill in on the ArabLounge registration page.
For example, you will need to:
Give your gender
Provide the gender you are searching for
Give your location (country and city)
Your date of birth
Your valid email address
Your username
Your password
And while it takes a few seconds, you are still not quite done at this point.
ArabLounge needs some more information from you to flesh out your profile, so you will have to provide the following:
Body type
Height
Eye and hair color
Your occupation (you can select "I will tell you later")
Income
Education
Whether you drink or smoke
Marital status
Religion
If you have kids
If you want kids
Where your family comes from
Your ethnicity
Languages you speak (optional)
The music you listen to (optional)
Your profile picture
While you might want to get on the site and start browsing, filling in the above details takes less than a couple of minutes.
And that's your profile sorted as well, which is an added bonus.
Note, you cannot skip the above steps.
Once you've completed filling in those details, you are taken straight to the site.
There is no verification email to confirm your profile either, so you can start finding your way around.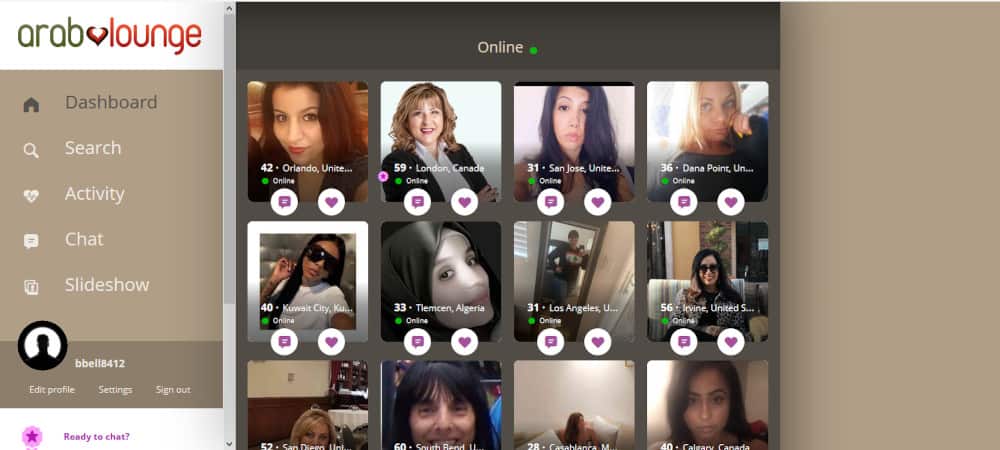 One of the first things you will notice about ArabLounge is the overall design.
It's stunning!
Not only does the site look good but everything you need to navigate the site is where you'd expect it to be.
A menu bar at the left of the page gives you quick easy access to your messages, profile and more.
In fact, you will find six different menu options here.
They are:
Dashboard: Takes you back to the home screen of ArabLounge
Search: Here you can launch searches for potential matchups based on the parameters you set
Activity: This shows you any connections you've made, who has liked you, who has viewed you, who you have liked, who you have viewed and who you have blocked.
Chat: This is where you will receive all your messages
Slideshow: Here you are presented with a Tinder-style swiping option where you can move through profile pictures and either like them or move on.
Profile: Here you can access your profile and make changes to it as you see fit.
In general, that's a few more menu options than some other dating sites have but I like how everything is put out in front of you.
You won't spend any time having to find something you are looking for tucked away on the site.
Everything you need to adjust your profile, search for matchups and more is readily available.
I also like how the menu is placed to the left.
That's pretty unique as all other dating sites generally seem to keep all the menu options you would use towards the top of the screen.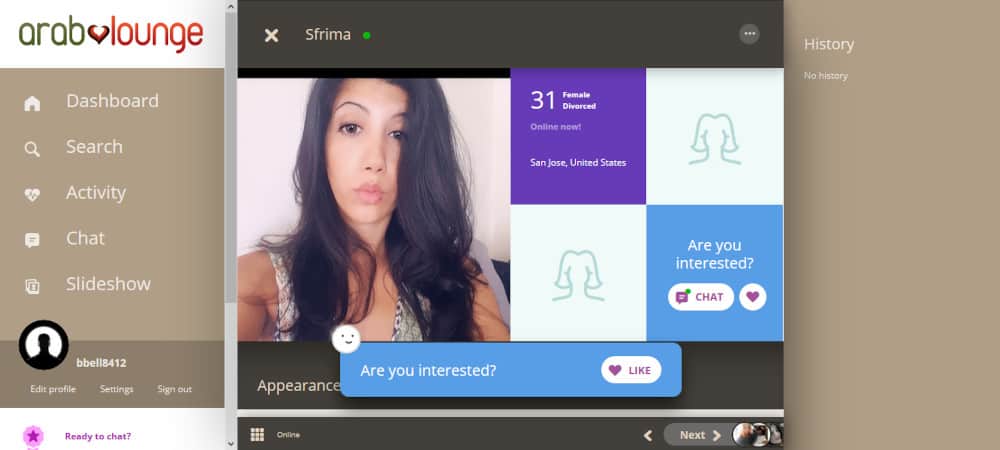 While it's nice to navigate around a well-designed website, that all means nothing if you cannot find someone that meets your requirements when you launch a matchup search, right?
And we've already established that with some impressive user numbers, the right kind of person should be out there waiting in the ArabLounge user base.
Well, hopefully.
But finding them means making use of the ArabLounge search engine.
And how does that stack up?
The basic search engine on ArabLounge has the parameters that all other dating sites have.
So that's age range and location.
But if you'd liked to add parameters, you can do so by using the advanced search options such as their family origins, their physique, race and religion.
These are enough to turn up a load of matchups, that's for sure but if you'd like even more parameters, you have options.
That's because there are even more available to members.
And they have to do with all the questions users would have answered when filling in their profile after they just registered.
But I am not going to talk about them now.
They will be covered under key features because essentially, that's what they are.
Lastly, you could search through potential matchups using the slideshow menu option.
This presents profiles to you where you can just see the person's picture.
You can like them or move onto the next one.
To view their profile in more detail, you can click on the profile picture.
Unless you take out membership, there is no way that you can get into contact with a potential matchup on ArabLounge.
You can like or favorite their profile and they will receive a notification that you have done so, but that's all you can do.
Unlike some dating sites, who at least allow you to send messages or receive them, ArabLounge has cut all types of communication until you sign up for a membership.
Of course, that's not the only advantage you get out of membership to the site.
Let's look at some of the other key features.
Without a doubt, the most important thing that signing up for a membership on ArabLounge brings is the fact that you can message a potential matchup.
We've already seen that with membership, there is no form of communication between users whatsoever.
With membership, however, you can message whoever you like with as many messages as you'd like to send.
It's important to note, however, that they too need to be a member to message you back.
But showing interest in someone that's not a member might see them also take out a membership to return your messages so don't be afraid to try.
2. Advanced search filters
As a member, you have a range of advanced search parameters that you can use to help you find that perfect matchup.
These include the following:
Best attribute
If they drink or smoke
If they exercise
Their education
Their eye and hair color
If they have children
If they want children
Height
Income
Languages
Marital status
What music they like
Occupation
All of these would have been filled on their profile when they first made their ArabLounge account.
ArabLounge isn't the first dating website to put certain search parameters behind a paywall and it won't be the last either.
3. Make your profile more visible
As a member of ArabLounge, if you meet the parameters of other user searches, your profile will feature at the top of their search returns.
This is a pretty useful tool, especially if you want people to message you and not only rely on your search for matchups.
As a member of ArabLounge, all adverts from the site will be removed.
While this is useful, if I am honest, during my time on the site, I don't even remember seeing any adverts, that's how limited they were anyway.
And that's the extra features that membership brings.
To be honest, they aren't really that impressive, but ultimately, if you want to make a success of your time on the site, you are going to need the ability to message other people.
So how much is membership going to cost then?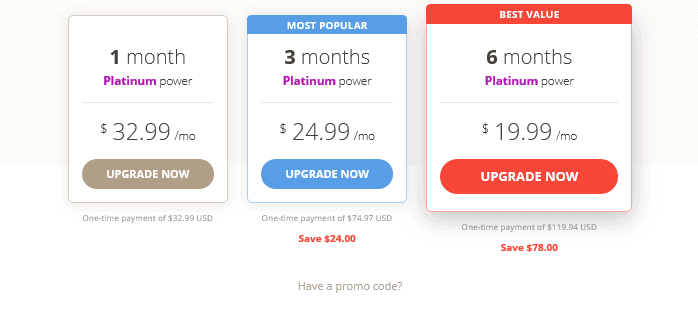 When it comes to pricing, ArabLounge isn't that cheap.
You can choose from three membership payment packages: one-month, three-months and sixth-months.
There is no option to try the site for a couple of days or a week.
I really do think that so many dating sites miss out on signing up even more members by not offering something like this.
Anyway, the breakdown of the three packages offered by ArabLounge is as follows
1-month membership – $32.99
3-month membership – $74.97 ($24.99 per month)
6-month membership – $199.94 ($19.99 per month)
Again, like many other dating sites, there's value to be had in taking out an extended contract.
But you've got to ask yourself the question as to whether you would make use of the site for three or six months.
And of course, you'd need a lump sum to pay for it.
What you could do is keep a lookout for specials that ArabLounge often runs on their membership packages.
Then you can pick up the one-month membership for around $19.99.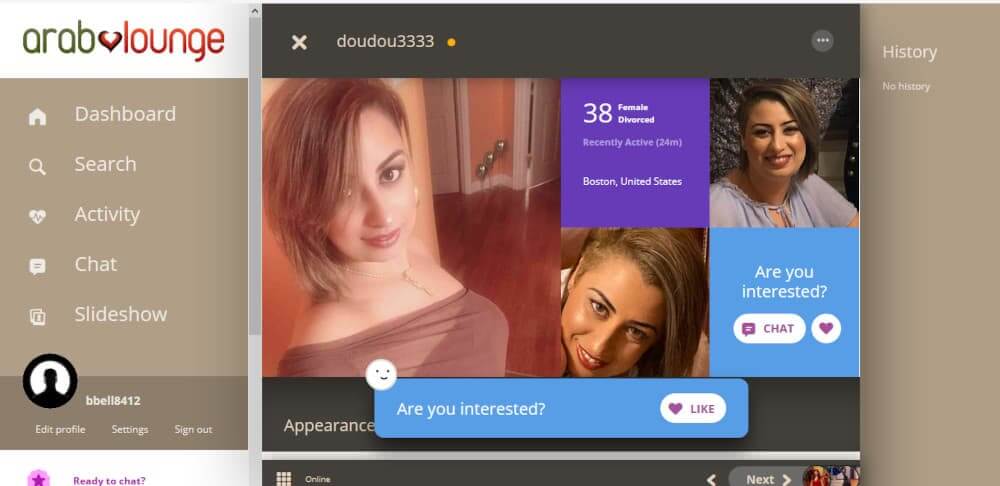 Conclusion and Overall Rating
Without a doubt, in terms of design and overall look as well as ease of navigation, ArabLounge is one of the best dating sites that I have come across on the web.
Excellent design and ease of use, however, don't find you love, do they?
So how does ArabLounge stack up when it comes to user base, quality of profiles and helping you to find that someone special?
Pretty well, actually.
While it is a niche site, in this review we've established that ArabLounge has over 1 million users and is growing by the day.
In fact, close to 55 000 people join the site each month.
Those are some impressive numbers, that's for sure.
To find your potential match, ArabLounge has excellent search capabilities, even for a non-paying user.
You get even more if you become a member of the site, along with the ability to be able to message people.
You cannot do this if you aren't a member.
But it's not all positive signs for ArabLounge.
Overall, I feel the key features offered to members are lacking and there should be more.
Essentially you are paying for the privilege to message people.
Coupled to that is the fact that their membership packages are too expensive.
$32.99 per month is too much for what's on offer to members.
It should be $24.99 or perhaps even less.
You can always hold out for a special on membership which ArabLounge runs from time to time.
But if you are looking to date people of Arab descent, this is an excellent dating website to start a profile on.
It scores a very solid 3.5 as an overall rating.
Have you tried ArabLounge?
What was your experience like?
If you haven't tried it yet, will you at some point in the future?
Let us know in the comments below.
Frequently Asked Questions