You've undoubtedly heard of the Ashley Madison dating site, and it has crossed your mind to sign up.
Still, you've also heard some bad things, such as that some Ashley Madison scammers are using the vulnerability of users to exploit them, and now you are having doubts about trying this helpful app.
I agree, it can be scary to navigate the virtual world and to look for a connection and instead get scammed, but it can also be an exciting new opportunity to meet people and hook up, and there are ways to protect yourself and get the most out of this experience.
Keep reading to find out more about scams and scammers on Ashley Madison and is this site worth joining in spite of these? Spoiler: it definitely is.
You'll learn:
About potential issues
How to recognize bots and scammers
How to keep safe
Bonus tip: we have found that you can save a lot on Ashley Madison by signing up on the website (not the app) using this special link.
Also, make sure to check out our full Ashley Madison review here.
Issues with Ashley Madison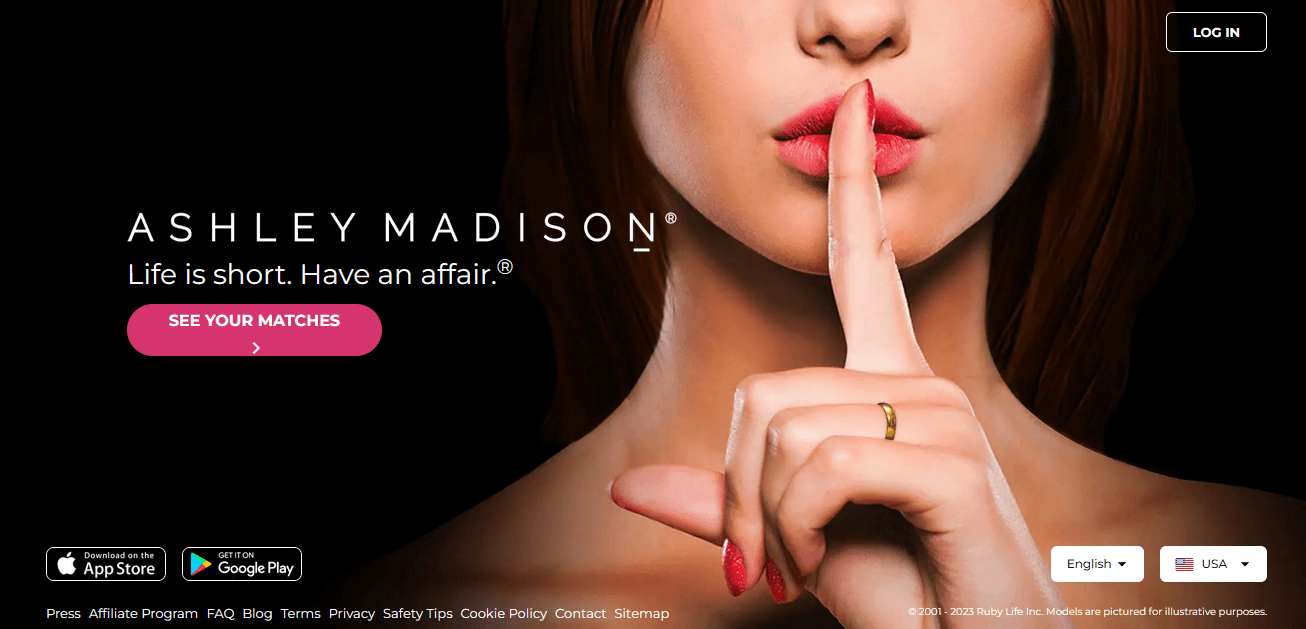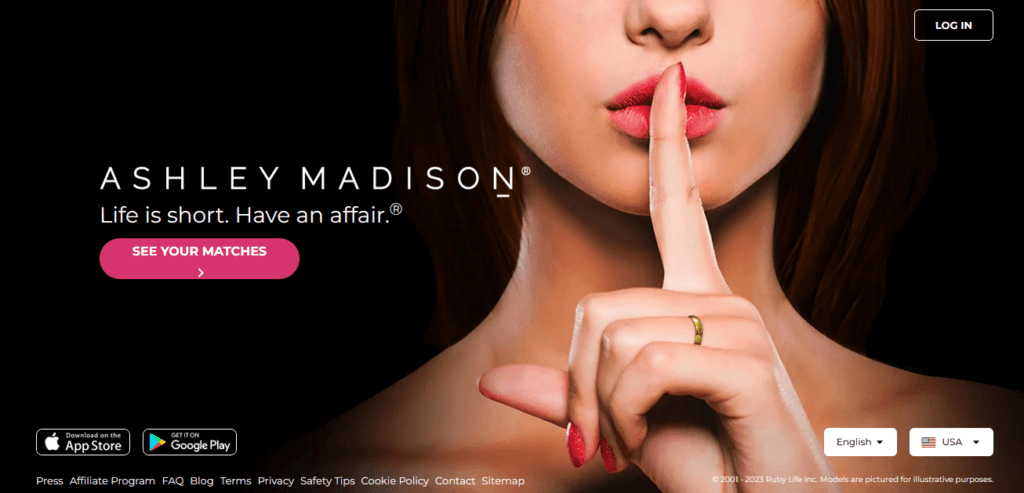 Ashley Madison is currently the most famous dating site targeted toward people looking for extramarital affairs.
There are a few similar pages, but Ashley Madison has a mobile app and offers a variety of options for non-binary people too, which makes it the most interesting site of its kind.
In the beginning, Ashley Madison had its fair share of problems regarding the website and its security.
The most infamous incident was the one in 2015 when a data breach occurred and hackers who called themselves the "Impact Team" published a list of names of people using the site and demanded a ransom of one million bitcoins to keep the other personal info of the cheaters safe.
Another incident was also in 2015 when many people suggested that Ashley Madison is using bots to engage people in conversations, as there weren't many women using the page at the time, and the men-to-women ratio wasn't equal, so there was a doubt that some of the female profiles were not real user profiles.
However, this was not officially confirmed, and if this was the case, it most certainly isn't now, as there are plenty of women actively using this site.
Fortunately, this site has learned its lesson and after the Ashley Madison data breach, is now one of the most secure dating sites there is.
The sign-up process is fairly easy, to create a profile, you enter your personal info such as username, mail address, location, the password you'll be using, etc.
After this, you will have to select your relationship status so the website will know what kind of men or women to match you up with.
To stand out more, you should put up your picture, and then you are presented with profiles of other potential prospective matches.
OFL Top Recommendations based on 100,000+ Survey

"Serious Relationships"
"Discreet Hookups"
"Best Course for Men"
"Quick Flings"
"Normal Hookups"
"Our Quiz"
Considering the fact that this is a site for extramarital affairs, it is understandable that many people are hesitant to share their photos and show their faces, but this fact also helps scammers to deceive more people.
Bots and scammers on Ashley Madison
Most people often think that the terms like bots and scammers mean the same thing, but they are actually two different terms that have the same main goal.
Bots are automated programs made to look as if a real person is speaking to you. There can be variations of bots, they can be more or less advanced, and the most advanced ones are almost impossible to recognize as they sound like real people and are actively participating in a conversation.
Scammers are real people who may be using fake profiles or even real ones, to engage in a conversation with you with the purpose of gaining some monetary value from you. Scammers can work in lots of different ways and have different goals.
They are trying to find vulnerable people across online dating sites and exploit them, using your kind nature, or in worse cases methods of sextortion.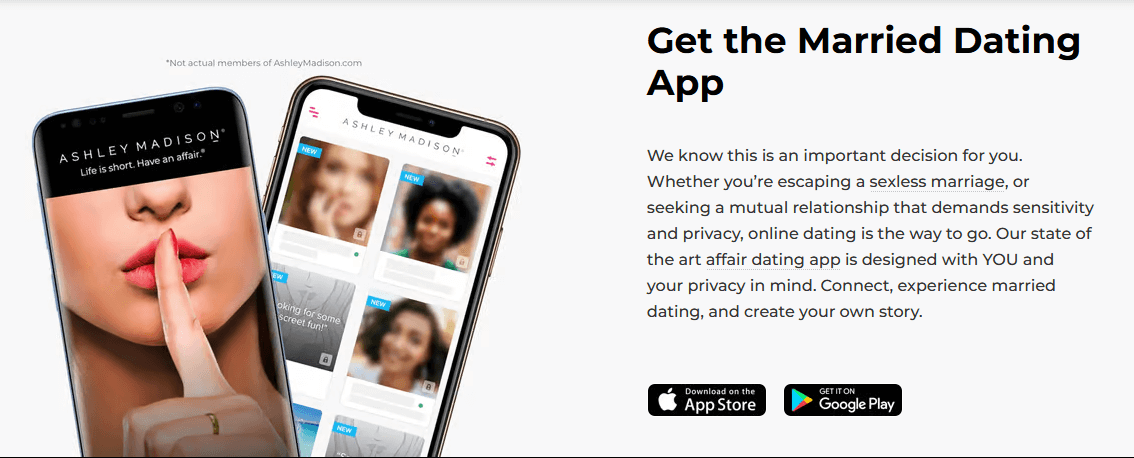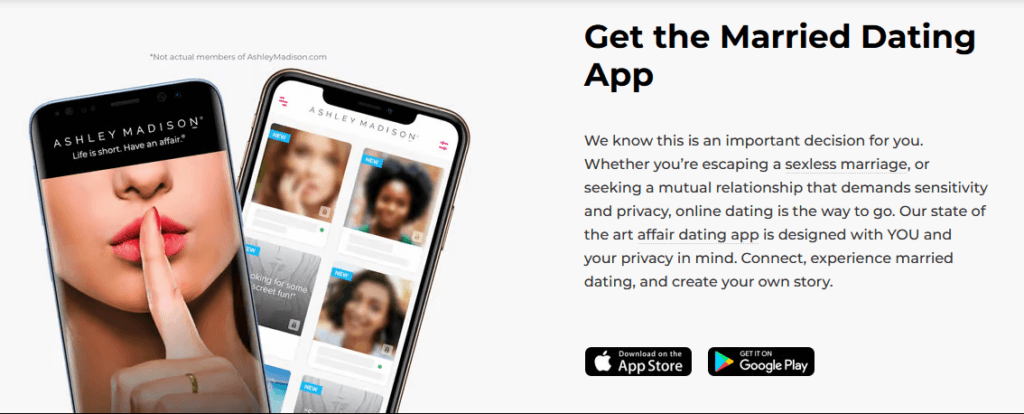 Some of them just want you to send them money, and some of them want to launder money without raising suspicion and some of them might try to blackmail you into doing whatever they want with extortion scams, and what better platform to do that than the one full of people trying to hide their affairs.
How to recognize bots?
Because being on Ashley Madison costs money if you are a man, you don't want to spend your precious time and money talking to a bot.
While most websites have automated programs that take care of the bots, bots get more and more advanced and are not easy to spot immediately, until they don't have much interaction with people, so you might run into one from time to time.
Here are some things you should check if you have a suspicion that the person you are talking to is a bot, and even if you don't it's always safer to check:
1. Check the profile pictures
Of course, on a site like this, it's not too weird that a person is reluctant to share their photos on the profile, but once the conversation has started, a person looking for an affair would probably send you pictures of themselves.
If you've sent a picture or two, and haven't received any back, even after asking for them, consider this a red flag.
Also, if a person has any pictures on their profile, check them out. Many fake accounts have only one picture of a person.
Also, they mostly use stock photos and it's easy to recognize them as they don't really look like photos that real people would take spontaneously.
Real people of a certain age usually have lots of selfies and not-so-high-quality photos, so check for that.
Also, check if all the pictures have the same person on them, as sometimes they find similar-looking people when lacking photos.
One thing you should also pay attention to is the scenery.
As you will mostly match with people which are nearby, those are the people that should have their photos in familiar surroundings, so if you see pictures of people in parks and in front of buildings that don't look like the buildings in your area, the chances are that the profile is fake.
The good thing about photos is that most of the time you can do a reverse image search and check for their authenticity.
To do this, simply use the right click on the photo and select the "Search Google for image" option. The results will show you where the photo is from.
2. Bios are important
Biography on a dating site profile tells you a little bit more about the person, it gives you an insight into their head, are they funny, serious, and intelligent?
Those are all the things you may find out when reading their profile description, but you can also find out if this is a real person or not.
On the bot profile, the description will be generic, short, and may sound unnatural.
If you have seen the same description on a few different profiles, the chances are that those are bot profiles. Except for the live-love-laugh ones, they are mostly just examples of bad taste.
If a description does not match the pics shown on the profile, that should also raise some suspicion.
3. Check the tone of the conversation
While bots are developing fast and getting better day by day, it's still impossible to imitate a real human communicating and responding to texts.
If you are having a conversation, think about the texts, do they look like texts from other real women and men you know? If not, they are probably written by a bot.
Also, bots develop over time and the longer you talk to them, the harder it is to recognize these things, so you should pay attention to the beginning of the conversation.
Were their messages coherent and did they make sense? When starting a conversation keep an eye out for awkward responses and ones that have no relation to the subject.
If a bot can't participate in a conversation, it will try to shift the subject, so insist on staying on the subject until it becomes clear.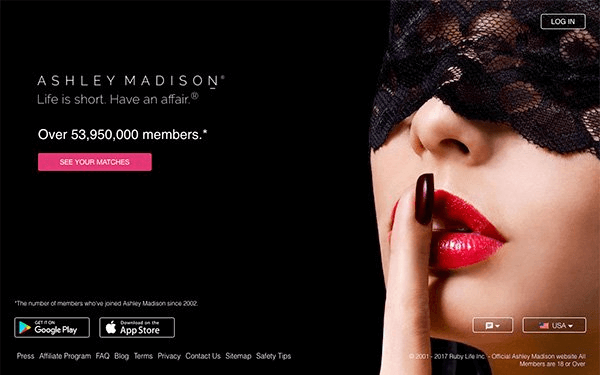 4. Ask some questions
While you might feel uneasy to engage in deeper conversations on a hookup site, it's sometimes necessary so you can rule out the bots.
Ask some questions about the person, you can get the idea from their bio if they have it, and use it as an inspiration for your questions.
If a person's replies don't have anything to do with the info in their bio, they are most likely bots.
Also, remember what you talked about and watch out for any discrepancies, such as mentioning some other places, people, and hobbies than those they previously mentioned.
If It sounds like you're talking to a different person, it is probably because the bot is losing track of things you talked about.
They will also be reluctant to meet with you in real life.
5. Block and report
If you've tried all these methods and still suspect that you're talking to a bot, you probably are.
It can be sad and disappointing but it's better to find out sooner than later. Block the profile and report it to Ashley Madison support. This way you'll help them weed out the bots and make the site better for you and other users.
How to deal with scammers?
Scammers are more malicious than bots, as they are real people talking to you and pretending to be somebody else.
It's more difficult to recognize scammers as they sound genuine and when you confront them, they have answers to your accusations.
Scammers are cybercriminals lurking on dating websites, sometimes they use bots, and sometimes they really engage in conversations with you.
They can be anywhere, from social media, free dating sites such as Tinder, and especially on dating services such as this one, where every Ashley Madison account is a potential candidate for extortion or even sextortion.
They are presenting themselves as Ashley Madison users, while phishing for personal info, such as your credit card number, phone numbers, etc.
Scammers will not attack immediately, as they will first make you believe that you're talking to a real person which has shown interest in you, and will use people's feelings against them.
If you give them your personal details, they can send you malware and find out sensitive information on their own.
Scams like these are a big threat to email security and can be very dangerous and lead to unpleasant situations.
To deal with them you should follow a few steps:
1. Never share your personal info
A real person interested in you won't ask for your credit card number, email, or anything else that would make you feel uncomfortable.
There isn't any valid reason for someone to see your credit card number, ID documents, social security number, or anything you wouldn't share with most the people
2. Don't send gifts
It's understandable that if you are infatuated with somebody new in your life, you want to treat them with nice things, and it's a powerful tool of seduction nonetheless.
But still, refrain from doing so until you meet the person in real life.
Beware of people asking you to buy them something before you've even met, or asking for virtual gifts such as amazon gift cards, coupons, and prepaid cards.
3. Ask to meet in real life
Taking into consideration that Ashley Madison works as a hookup site, it is weird when the person you matched with wants to talk to you but doesn't want to meet in person.
Of course, the person may be cautious and shy, but if this situation lasts longer, it's probably because it's a scam.
To be sure, insist on meeting in person after some time.
The Ashley Madison breach has had long-term effects, as even now, as Vade secure company reports, years after the scandal, scammers are using that info to create scam emails with victims' info. This was first discovered two years ago by Adrien Gendre from Vade secure.
This only proves that you should be careful as there can be scams everywhere, but generally speaking, Ashley Madison is a legit site with people that work day and night to make it a safe place so mistakes wouldn't happen again.
So buy credits and spend them wisely! Good luck!
FAQ
1. Can Ashley Madison be trusted?
Yes, Ashley Madison is a reputable site that has had its fair share of issues in the past but has since then worked on them to give its users the best possible experience and to keep their privacy, enabling them the safe use of the site.
2. Are there bots on Ashley Madison?
Like on any other dating website and social media site, there are bots and fake profiles on Ashley Madison too, but it is not a great amount of them, as the site takes these concerns very seriously and works on authentication of its members to keep their privacy and to give them the best possible user experience.
3. Does Ashley Madison delete the accounts of scammers?
Yes, every suspicious account goes under a review, and if it's proven that it's a scam account, actions are taken immediately and the account gets deleted so other members don't get bothered by it.