Out of many variations of online dating, everybody is free to choose at their sole discretion.
This Blendr review will give you a full insight into what is Blendr dating and how does Blendr dating work.
It is here that you will find one of the most useful Blendr dating reviews and get the answer to the question Is Blendr dating good?
Here we go!
OFL Top Recommendations based on 100,000+ Survey

"Serious Relationships"
"Discreet Hookups"
"Best Course for Men"
"Quick Flings"
"Normal Hookups"
"Our Quiz"
Is your dating app giving you the best chance for success?
Make sure to take our online dating site/app quiz to find out.
People who follow our dating site suggestions have on average 2 more dates per month.
Blendr Review in Video Form
Audio (podcast) form for those of you on the go
Ratings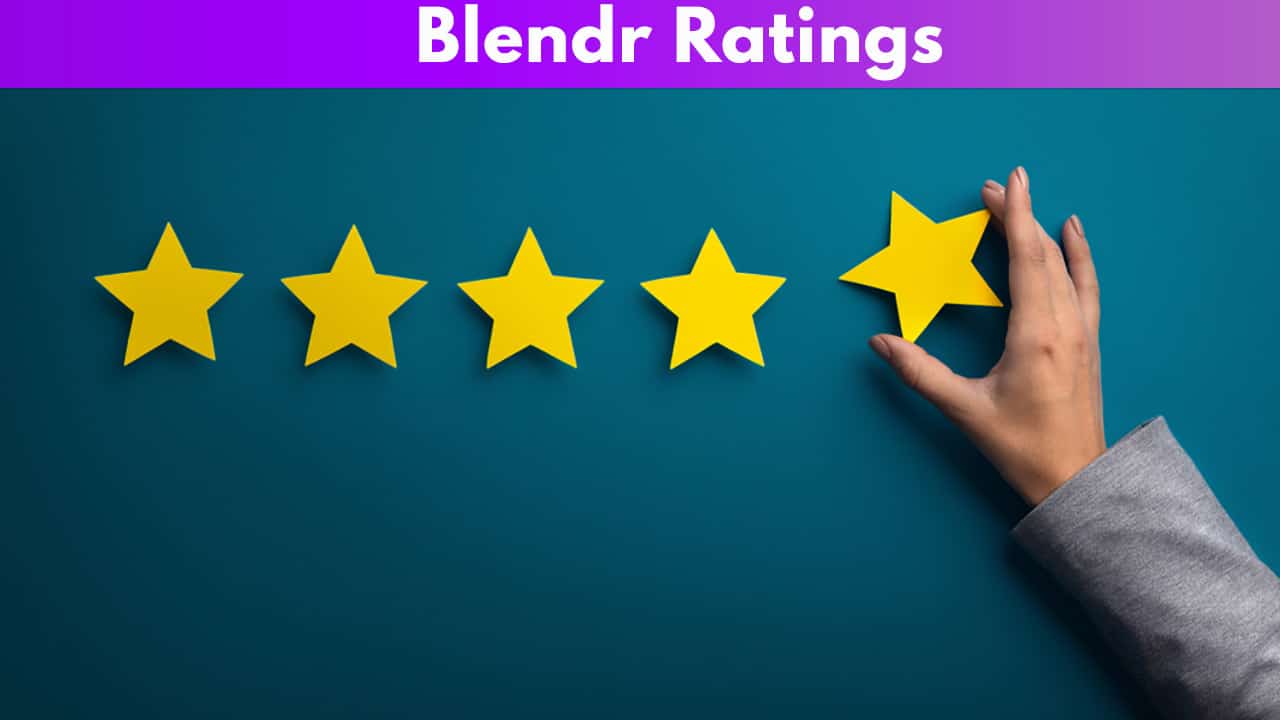 Effectiveness – 4/5
Features – 3/5
Ease-of-use – 4/5
Price – 4/4
Pros
A substantial user base
All major functions are free
It yields quick results
Cons
Uninformative profiles
The search is not so reliable
Who is it For/Demographic Make-up?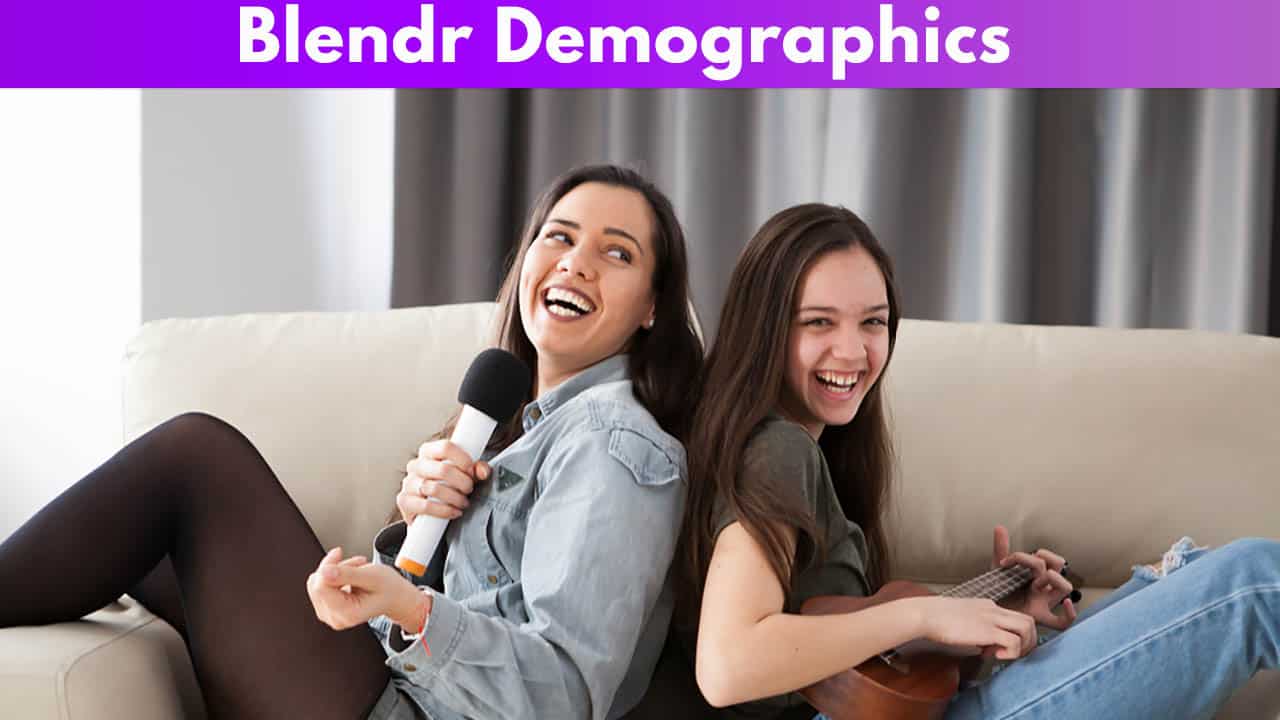 This online dating service, powered by Badoo was primarily designed to help individuals find like-minded people sharing the same interests.
The focus with Blends does not have to necessarily be on dating. This is a site where you will be able to enjoy exchanging ideas and thoughts with someone who feels the same.
There is a bit more to it than the straightforward "Hey, wanna meet later tonight?" The focus here is to discover your interests and "blend" you together with all those who share the same values or opinions.
All the users must be above 18 so there is no worry of making a sexual move (if you decide to) towards minors.
Although it was founded by the same company behind Grindr, Blendr aims at straight people with less focus on sexual encounters and more on the establishing a meaningful contact.
Due to the fact that ladies were the ones asking for an app similar to Grindr, but for straight people, there is a higher women to men ratio.
Anyhow, if you decide to give a chance to this dating site, you will be dealing with 300 million members in the user base and 150 million of these are active on a monthly basis.
Effectiveness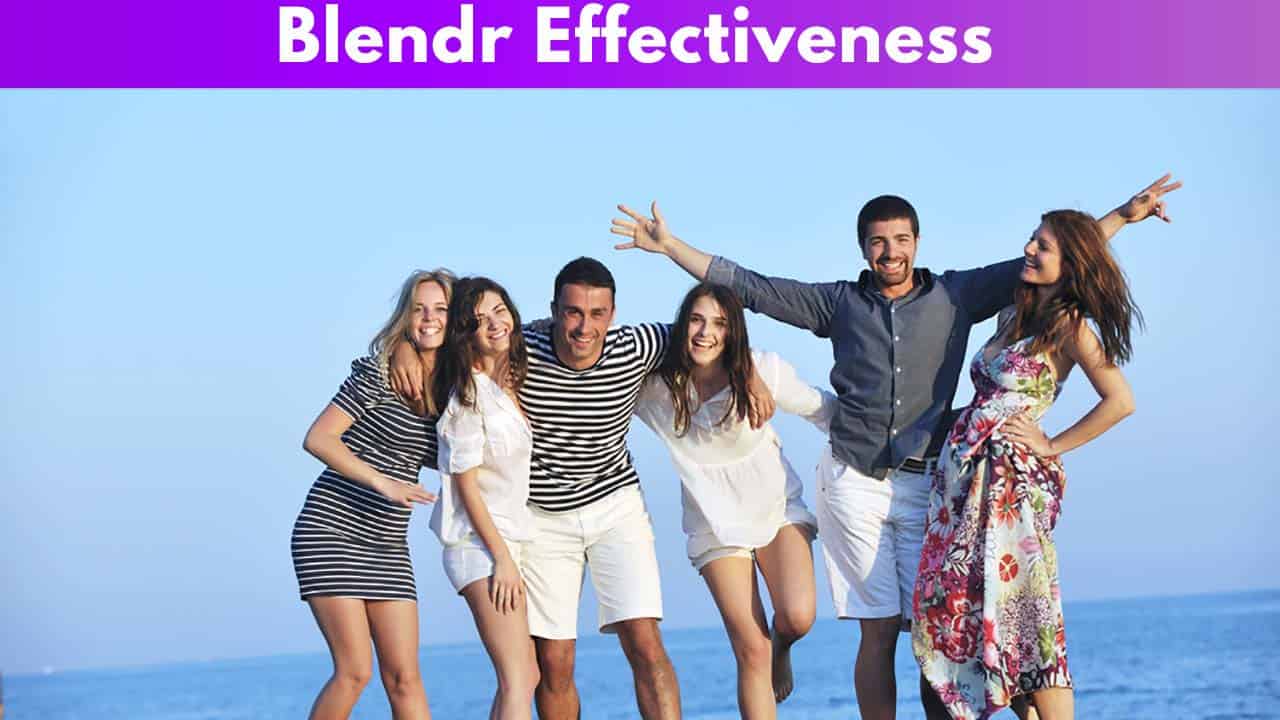 The idea behind Blendr dating is to bring like-minded people together. So, let us see how this works in practice.
1. How does it work for your target group?
First of all, you need to know that Blendr is a geosocial dating app. In practice, this means that the app shows people nearby and filters them according to similarities you share.
OFL Top Recommendations based on 100,000+ Survey

"Serious Relationships"
"Discreet Hookups"
"Best Course for Men"
"Quick Flings"
"Normal Hookups"
"Our Quiz"
Having this in mind, it won't be a problem for users to quickly find someone they want to practice their Spanish with or arrange for a museum visit on short notice.
2. How to make contacts?
Making contacts with people through Blendr is made much easier than one would think.
For example, you can let someone know you are interested in them by hitting like on their profile picture. Or even better, you can simply send them a message.
For the latter, you won't need a paid upgrade since sending messages is free.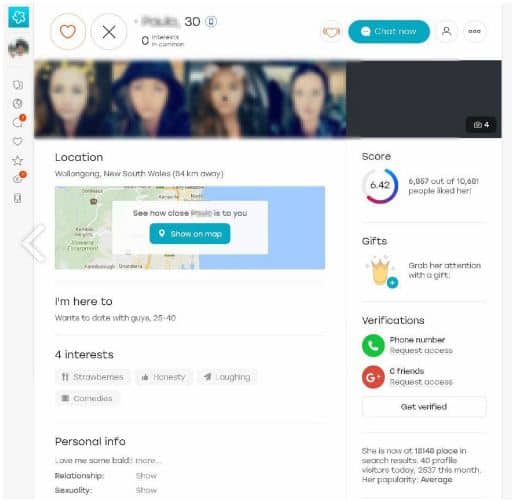 3. Chances of Success
The success rate with Blendr has shown to be rather high. The reason behind is that people are there to find companionship whether for meaningful conversation or casual chat.
This is why members needn't worry about being rejected or ignored.
Key Features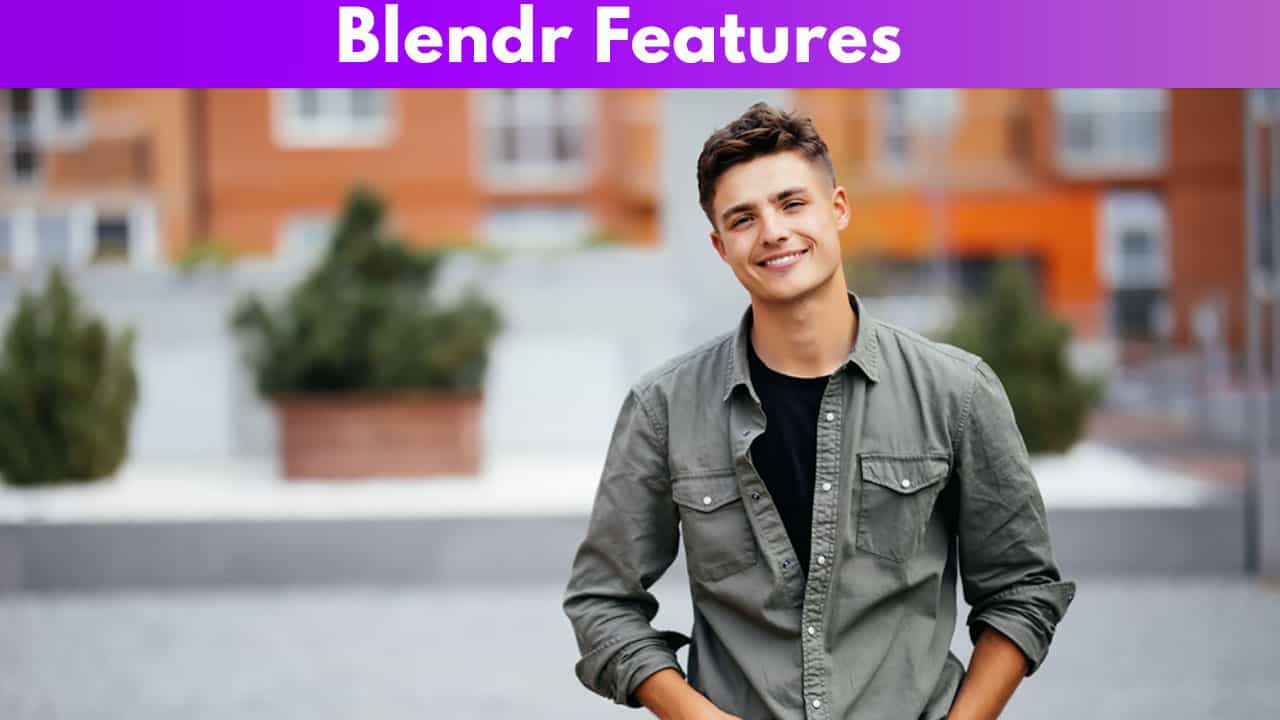 If we talk about the functionality of an app, then the key features are what gives credit to it. These features need to be the perfect tool that makes your quest worthwhile.
In the case of Blendr, the most prominent features will definitely help you in your endeavours to find someone to hang out with.
Maybe they are not as sounding as the ones you'll find with other online dating sites, but Blendr dating features are most certainly interesting.
These are the key feature that Blendr has to offer.
1. People Nearby
This feature enables for a search of potential matches and is a blend of free search and matches recommended by the app.
This is where you will find a list of all the people nearby that meet specific criteria you need.
Speaking of which, Blendr will let you filter your results according to location and age of the potential matches.
Although this may seem a bit limiting at first, still, the number of potential matches is quite substantial and it's entirely up to you who you want to get in touch with.
2. Encounters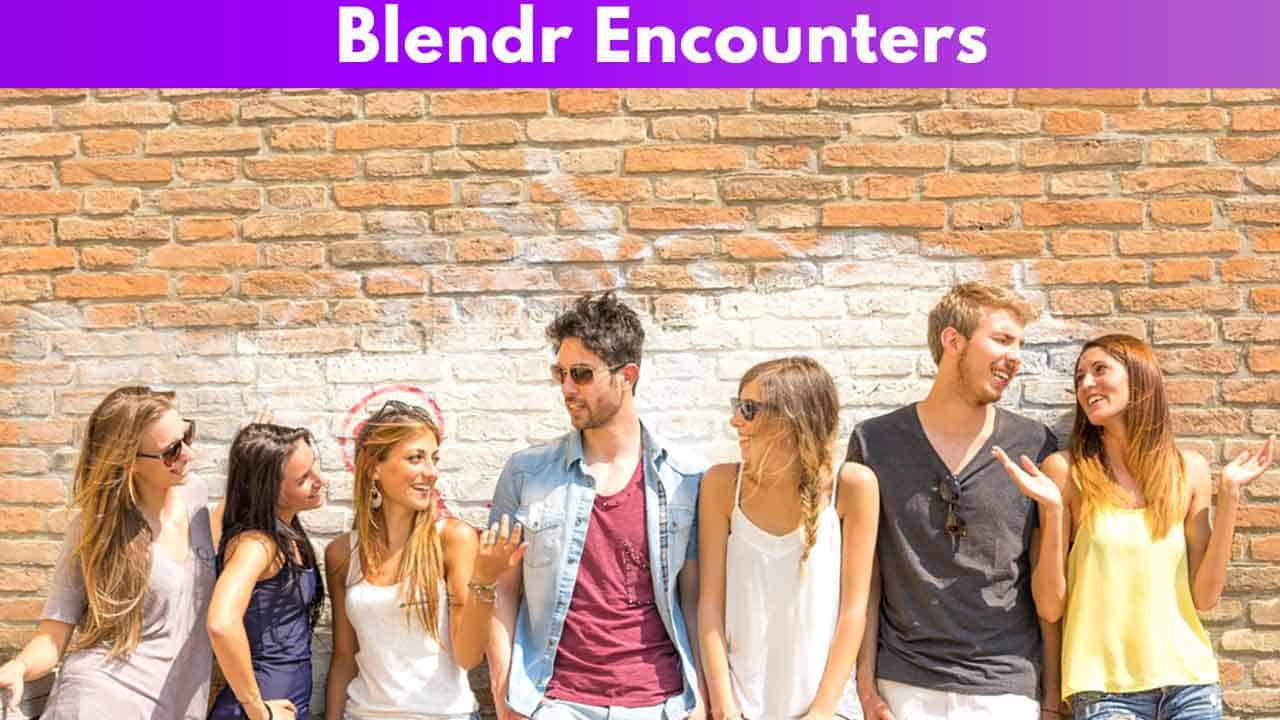 The second feature that makes Blendr interesting is a kind of a quick game that you play with the suggestions made by the app.
Namely, in this feature, Blendr will show just one photo at a time and the users can either hit Like or Pass button.
After this, a new person will show up.
Obviously, People Nearby and Encounters enable a two-way search – play the Encounter lottery and see what you get or search the people yourself.
3. Virtual Gifts
These come as images and emojis that you can purchase for 100 credits.
After the purchase, you can send them to other members and thus show your interest in a funny way.
Ease-of-Use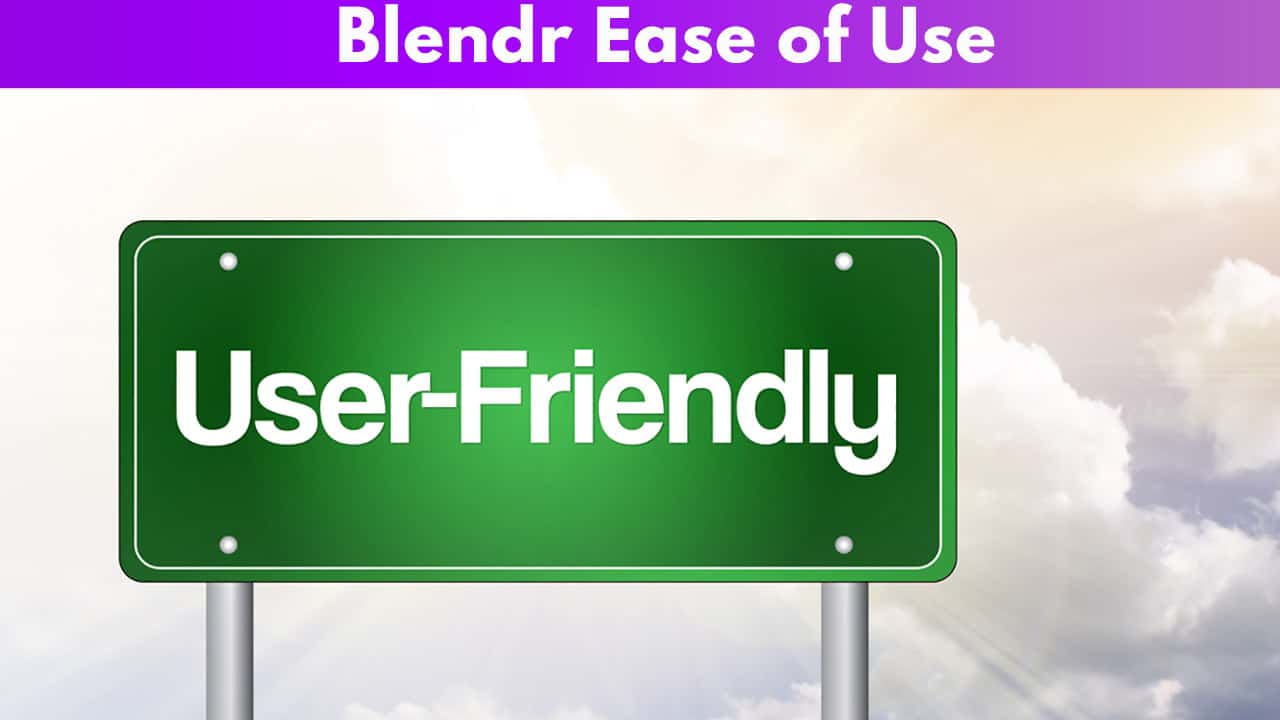 Simplicity is a very important factor to consider when deciding whether to use any site, not just the dating ones.
If it's complicated and you can't find immediately what you're looking for, then it's easier just to drop it.
Let's now see how things are with Blendr.
Becoming a Member
Before we go to some other aspects, let's first answer the question of how to access Blendr dating?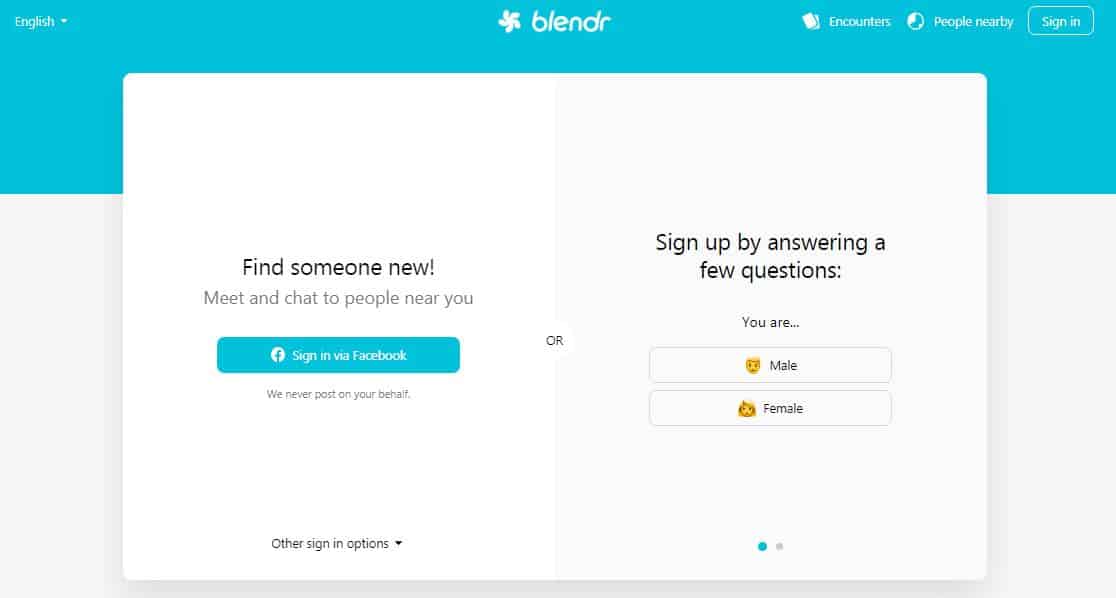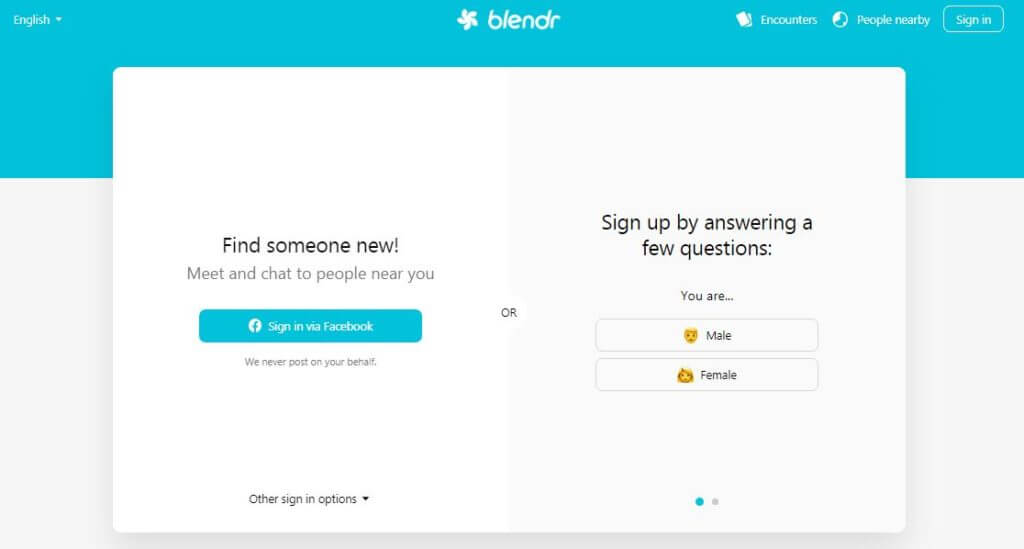 The users are given two options.
1. Sign-up with Facebook
As is the case with most of the sites, you can sign up with your Facebook account. In this case, Blendr will automatically upload your details from Facebook, such as photos, name, etc.
2. E-mail Sign-up
The second sign-up option is a bit more detailed than the first but it still takes only a minute or two.
Here you will find a registration form that starts by telling if you are male or female.
After that, you proceed to enter your first name, date of birth, location, e-mail, and password.
With this, your profile will be successfully created.
Whichever way that you register, afterwards you can move on to giving more detailed information about yourself and writing a freestyle intro.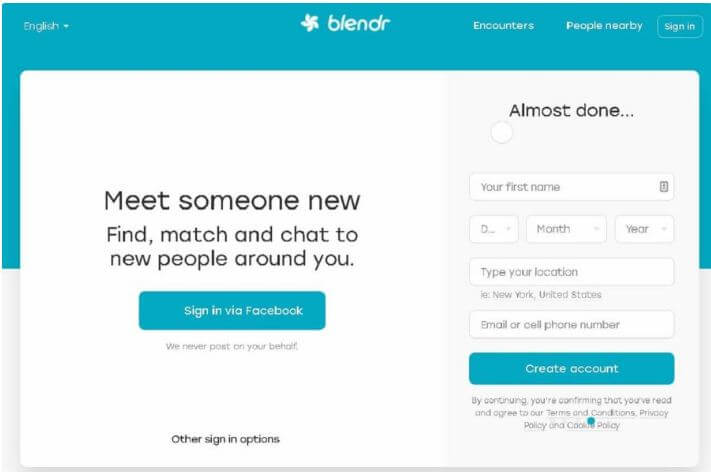 The more info you provide, the higher ranking you'll get among the members.
Note that you can update your info at any given moment later on.
Site Navigation
Navigating through Blendr site is made simple since the point of it all is to find someone similar to you and then move the conversation to the real world.
Once you've gone through the registering process, you will see a very clear distribution of all the features you need.
For example, the top bar will include the logo and the separate sections for All, Blendr, Favourites, and Recent.
On the same bar, just a little bit to the right, you will see a special section including three more options and that is Interests, Profile, and Settings.
As for the rest, you will find all other options clearly distributed over the left and right side of the pane so you will be able to find everything easily at any given time.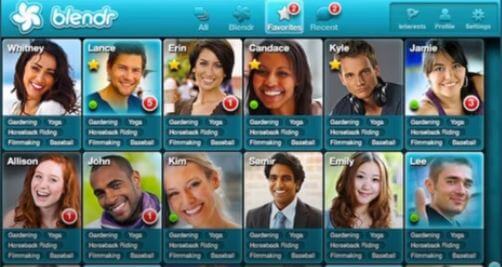 Blendr App
Being a location-based dating engine, Blendr also comes as an app option.
The download is free and the app is supported by both iOS and Android.
In such a form, the site is fully adapted to your device's screen and it includes all the same features as the desktop version. Besides, you can access these in just a swipe or two.
This means that with the app you can make matches as you go since the whole point is to find a good match quickly.
Pricing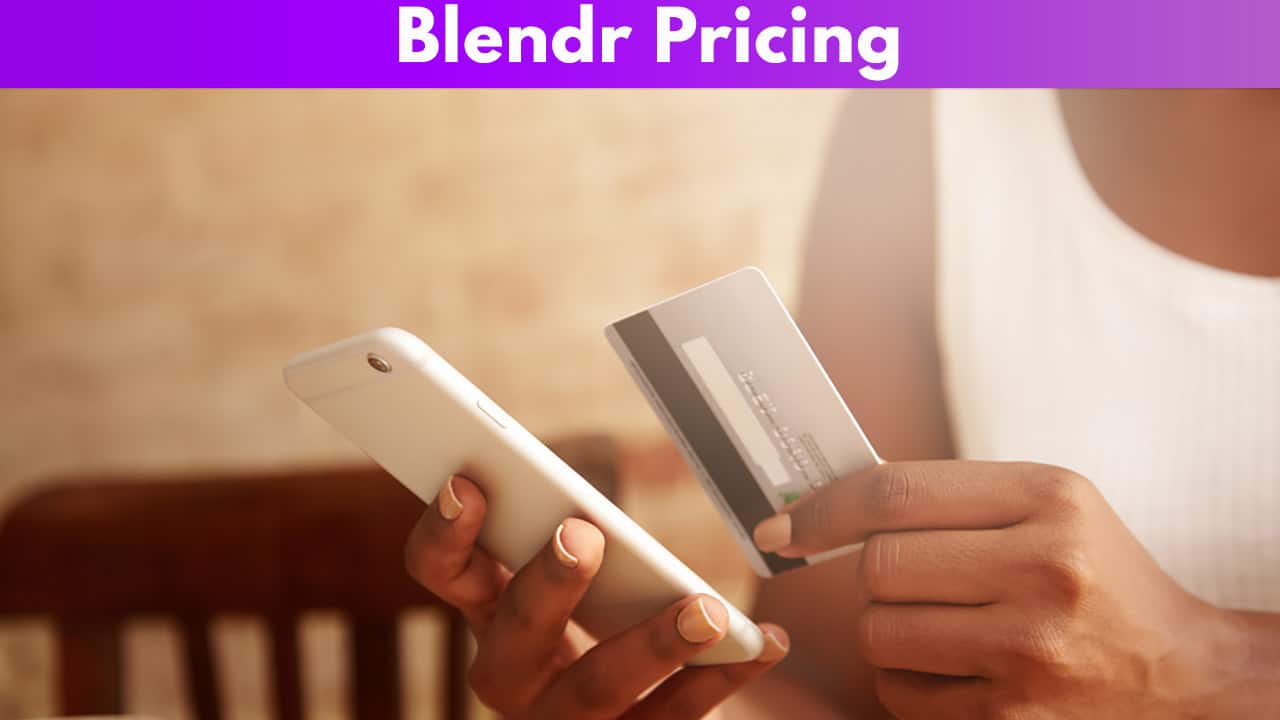 We have already established that Blendr is completely functional even without the paid plan. With the free version, you will be able to search for matches, send messages and view profiles of other members.
Let's see where Blendr stands with pricing.
1. Blendr Credits
2,750 Coins 0.02 USD / Coin 49.99 USD
Besides the premium version, Blendr developed their own monetary system, i.e. credits that you can use for multiple purposes.
Just as an example, you can use these to "buy" gifts and images and emojis mentioned previously. Next, with these, you will be able to inform users about your active status or be more prominent in the Encounters.
2. Premium Membership
1 Week 3.99 USD / Week 3.99 USD
1 Month 12.99 USD / Month 12.99 USD
3 Months 10.33 USD / Month 30.99 USD
As for the premium version, this paid plan just brings some extra perks that people who are truly committed to finding someone like this want to try.
The most important options that you get with a paid membership is to find out who put you on their list of favourite people or reverse the "Pass" you made in Encounters.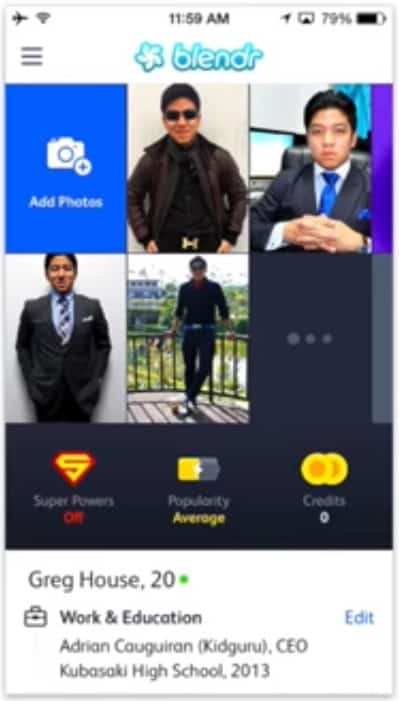 In addition, you will also get a notification when somebody likes you. Maybe still the coolest feature in the paid plan is that you will be able to search for other people's profiles in complete anonymity.
As we can see, the price range is a bit below average for the options above. However, if you can't be bothered with constant payments, there is another option.
3. Lifetime Membership
This means that you pay only once and your work with payments is done. The price for such a plan is USD79.99.
Final Word
Online dating has never been easier. Nowadays, everybody is equipped with a PC or mobile device and proper connections so we can roam freely searching for a good love /sex match.
The dating sites are many and everybody goes to the one they are most comfortable with. Here, you got the Blendr dating review and learned about what is Blendr dating so this was a great opportunity to introduce yourself to it.
If you haven't had the chance to try it so far, once you decide to do it let us know your impressions in the comments section.
Frequently Asked Questions
It is in human nature to have all sorts of questions about either this or that.
Nothing less is true when it comes to online dating and how it all works. By extension, it's only natural to come up with all sorts of questions regarding the specific online dating site/app you were presented with here.
Below you will find some of the most typical and frequent questions regarding Blendr.