When choosing the right dating app for themselves, most people don't care that much about the quality of profiles, the number of active users in their surroundings, and similar things.
The most important thing for all people joining an online dating platform is their safety and security, and they tend to inspect the privacy policies of the app long before they decide to create a profile on them.
These things are pretty often overlooked, and these days when all platforms seem to be trying to get as much information as they can from us, I believe it is best to stay safe at all costs.
Location is one of the most important things you may be sharing with your dating app, so we will try to answer all the questions related to it.
Here you will find out:
Is your dating app giving you the best chance for success?
Make sure to take our online dating site/app quiz to find out.
It's a fact that people who follow our dating site suggestions have on average 2 extra dates per month.
How Can I Upload My Bumble Location?
When joining the Bumble app, you will be asked whether you want to provide the app with access to your exact location or not.
Most people accept all the questions and requirements that come up on their homepage without even thinking twice, but I would recommend you to always be extra careful.
You can choose to give access to your current location to Bumble at all times, and based on your GPS location; the app will be suggesting people that can be a good potential match for you and you can start looking for hookups (like BeNaughty or Ashley Madison) or serious relationships (like eHarmony or Tinder).
However, if you are not really sure about these location services and you don't feel comfortable sharing your GPS data, you can always choose to deny the app access and upload your location all by yourself.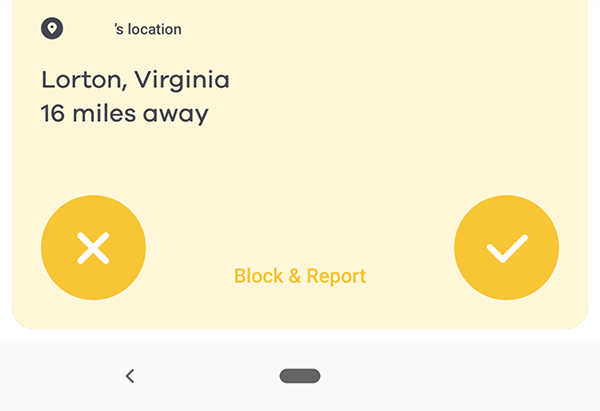 Many people are not aware of this option, so even if they don't feel comfortable with these account settings, they allow Bumble access over all of their location information.
Even though this is quite a safe app, and you shouldn't worry that someone will hack and find your current location the moment you open Bumble, I believe it is always important to be cautious and stay away from troubles as much as you can.
Bumble will allow you to manually upload your location every time you are moving around, and you will be able to do that whether you have an Android or iOs mobile phone.
You will be able to write in the exact address, house number, city, and state, so your match recommendations will definitely be quite good, and you don't have to worry about fake GPS information.
The only thing that is important is that you have downloaded the app from the official Play Store or App Store; otherwise, you will not get access to all the location tracking notifications and options.
How Accurate Is Bumble Location?
In comparison to other dating apps, Bumble users will always have pretty precise information about someone's location.
OFL Top Recommendations based on 100,000+ Survey

"Serious Relationships"
"Discreet Hookups"
"Best Course for Men"
"Quick Flings"
"Normal Hookups"
"Our Quiz"
The Bumble GPS rarely misses, and it is very precise on iOS devices that tend to have better settings for geolocation and are able to share the phone's GPS easily.
However, mistakes tend to happen, and some people tend to choose to upload their location manually because they don't want it o be wrong.
Mistakes tend to happen because of the problems with wi-fi connection or because of your new location.
When you go offline, the only location settings and GPS they will have access to are the ones that were accurate at the moment you were last seen on the internet.
In case your location changes from the last time you visited the platform, you will either have to inform your new match about it yourself or upload the location manually when you get back to the platform.
When people move around frequently, Bumble may have some problems catching up with their new location and IP address, so in these cases, it is always best to do it yourself.
However, there is another option that can help you if you are constantly on the go and you don't have the will to change location every single day in the app.
How Does Bumble Location Change?
In case you have allowed the app to have access to your current location and have information about your IP address, then Bumble will update your location every time you get online.
No matter what phone you may have, whether that is iPhone or Samsung, your location will always get updated immediately, and you won't have to worry too much about it.
However, in case you are frequently traveling, or you are on the go and visiting several cities every single week, then you will definitely enjoy the Bumble Travel Mode option.
This feature allows you to set up your new location for a week or 10 days or even schedule days on which you will be active in each of the cities.
It is a great option for everyone who is frequently on the go, and it is a completely free feature, so I believe you should get use out of it for sure.
Other than that, you can always change your location manually, and you won't need any Bumble coins for that either.
Can I Hide My Location On Bumble?
Yes, Bumble allows you to hide your location, but not like you would expect it to do.
Your location will not be shown directly on your dating profile, but as long as you keep on popping out on other people's homepages, they will know you are living in the same city or area as them.
The app also never shared your complete location information, like your address and apartment number, so in general, there is no need for hiding the location.
No matter the GPS app or even mock location app someone may try to use in order to find out your real location, they will not be able to do it.
If you want to be extra safe, you can always use some sort of VPN service that can easily be installed both on iOs and Android devices.
However, this app may affect your real location and mess up with your recommendation, so I wouldn't recommend using them.
Some people tend to threaten other users with this sort of apps, but don't worry, they can't get on hold of your personal information, especially because Bumble is quite a protected platform, and there is no way they can leak into your personal information.
For that reason, whether you decide to hide it or not, there is not much difference because Bumble will keep you protected either way, and you don't have to feel too stressed about it for no reason.
How To Update Location On Bumble?
Updating your location manually is quite an easy task, and you will be able to finish it within seconds while using your app.
This is how you can finish everything quickly:
Open the gear icon that leads to Settings
Find your Location settings
Use the search menu to find the city
Select the city
Click "Save"
As you can see, this whole process will not take you more than 30 seconds, and it will help you set the right location without any problems.
Frequently Asked Questions