As you get older, meeting new people and dating becomes harder.
Modern dating websites, their design and features aren't quite designed for dating over 60 and seniors often find them quite overwhelming.
In this article, we'll review these sites based on:
OFL Top Recommendations based on 100,000+ Survey

"Serious Relationships"
"Discreet Hookups"
"Best Course for Men"
"Quick Flings"
"Normal Hookups"
"Our Quiz"
Luckily for you, we have created a list of the best dating sites for seniors over 60 – they feature a simple design and have plenty of senior singles.
Let's begin!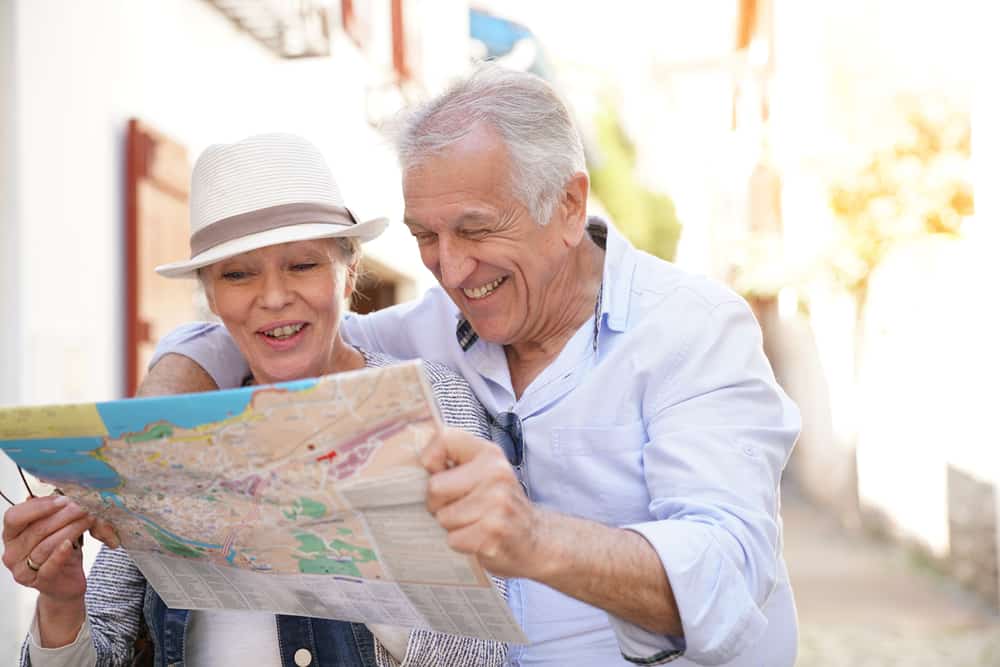 Is your dating app giving you the best chance for success?
Make sure to take our online dating site/app quiz to find out.
People who follow our dating site suggestions have on average 2 more dates per month.
Best Dating Sites for over 60
Best Dating Sites for 60s in Video Form
Audio (podcast) form for those of you on the go
Signing up – 4/5
Making Contact – 3/5
Profile Quality – 3/5
Affiliate Program – 3.5/5
Overall Quality: 3.4/5
Only singles over 50 can join, so only seniors are present
Offers different ways to initiate contact
Free members can add 27 photos to their profile
Simple sign-up process
Blog with helpful posts for online dating and staying safe
OFL Top Recommendations based on 100,000+ Survey

"Serious Relationships"
"Discreet Hookups"
"Best Course for Men"
"Quick Flings"
"Normal Hookups"
"Our Quiz"
Quite pricy
Many users complained about the website's design
As you can probably conclude from the website's name, it is designed for dating after 60.
Creators understand the struggles of a single over 60 men (and women) and made a website that will bring seniors together.
Since it was established in 2001, the website attracted over 3 million users. It is available all around the world and most of the members are from Europe, the USA, Canada and New Zealand.
Also, users have to be over 50 years old to join, so it is entirely dedicated to seniors.
Ease of Use "mobile and desktop version"
The website also offers simplicity which is just important for over 60 dating.
Singles over 60 aren't drawn to the website only because of its large, senior audience.
To join the website, all you have to do is fill a simple form.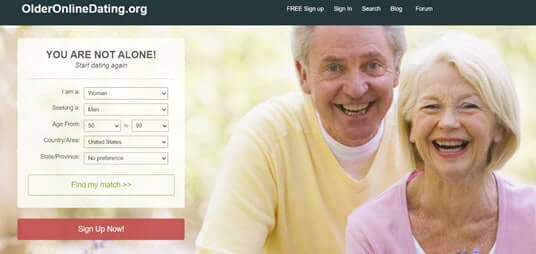 It consists of some basic information such as age, gender, location and preferences.
You can state whether you are looking for a man or woman.
After this form is filled, your profile is created and you can start browsing!
Even though the process of signing up is super easy and simple, many users found the website a bit confusing.
Still, after a few days, they got used to the design and were able to find what they need without any troubles.
As said, olderonlinedating.com is about simplicity – basic features include browsing and uploading photos.
With a free account, members can upload up to 27 photos.
For initiating contact, you can send winks. If you want to start a conversation (by message or an email), you will have to upgrade your account first.
Here are some of the features you can try out:
Need dating over 60 advice?
Then check out their blog – there you can find plenty of tips for senior dating, so you can improve your online dating game.
The blog also has plenty of tips on staying safe online, and users are encouraged to read them before they start browsing.
With this feature, you can find out who viewed your profile.
Also, there is an "interested in me" list as well, which can help with finding new people and getting more matches.
If you don't find blog tips helpful and aren't happy with the number of matches, you can seek the help of a counselor.
Dating advisors can tell you if you are making a mistake when talking with other users, or propose a new strategy for online dating.
Joining the website is free, but not every feature is available to free members.
To unlock additional features, you can purchase a gold membership.
The gold membership unlocks emails, messages, counseling, and can help users get 20 times more matches.
Still, it is a bit pricier website, so you can subscribe for a shorter period to try out the new features and then decide whether it is worth the cost.
The prices are:
1 month – $29.95
3-month – $59.95
6-month – $99.95.
1. Is olderonlinedating.com free?
Yes, anyone can join the website as long as they are older than 50, since this is a dating website for seniors.
2. Is olderonlinedating.com safe?
This is a legit dating website. It is a part of Senior Match – another dating website for seniors, so it is safe.
However, since email or any other form of verification isn't required, there are numerous fake profiles and users are encouraged to read safety tips before they start messaging other members.
With an overall score of 3.4/5, this dating website is a great choice for seniors that ready to meet their soul mates.
Somewhat bad design doesn't affect the dating, and the simple sign-up process is making up for it.
Signing up – 4/5
Making contact – 3.5/5
Profile quality – 4/5
Affiliate program – 3.5/5
Overall quality – 3.75

Large database, active members, and great gender distribution
Only members over 45 can join
Instant messages are free
Only subscribers can send messages
With SeniorMatch, you will learn that love doesn't know age.
Most of the users on SeniorMatch are widowed or divorced seniors hoping to find their next romance and someone to spend the rest of their lives with.
Since members are 60 plus mature, they are mostly interested in long-term relationships and chatting.
This website is one of the largest senior dating sites over 60 – it has about a million users.
Almost a quarter of the members are from the USA, and with 10 thousand weekly logins, the users are quite active.
The lower age limit for creating an account is 45 years, which makes this the exclusive senior dating website.
Women are slightly outnumbering men on the website – the ratio is 60 to 40, so you can meet plenty of sexy women over 60.
Ease of use "mobile and desktop version"
As many seniors have grasped only the internet basics, the registration process is simple.
You can join via Facebook or provide a valid email.
Signing up by linking social media account is a bit faster because all basic information is automatically filled and photos are added as well.
If you choose to sign up via email, you will have to manually fill the forms and wait for photo approval. Once the profile is verified by administrators, you will be able to start browsing.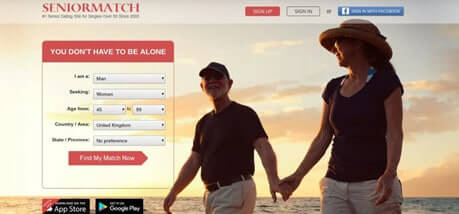 After your profile is created, you will have an option to add more information.
Since most profiles on SeniorMatch are quite detailed, it is recommended to take time when creating an account.
Most questions are choice-questions, so you don't have to worry about creative answers. Just choose one of the choices that best describes your preferences, habits and interests.
Keep in mind that administrators are constantly checking the profiles – if they catch you breaking one of the rules, you could get banned.
When it comes to making contact, it is just as easy as signing up.
Wink is the easiest way to show interest and each member has 50 daily winks.
Free members aren't allowed to send messages, but they can respond to the ones they have received.
Besides these basic features, SeniorMatch has a few unique, special features to help their members connect:
If you don't know where to go on a first date, check out the members' recommendations.
Users can post about their first date, name the places and share some creative first date ideas with others.
Forums are a great way to find people with similar interests.
When someone asks a question, join the discussion. Later you can wink at or contact someone with a similar view on the given topic.
Not everyone has patience for scrolling through profiles.
If you are the same, try the reversed matches feature – only profiles with interests the same as yours will pop up, which makes searching for the right one much easier.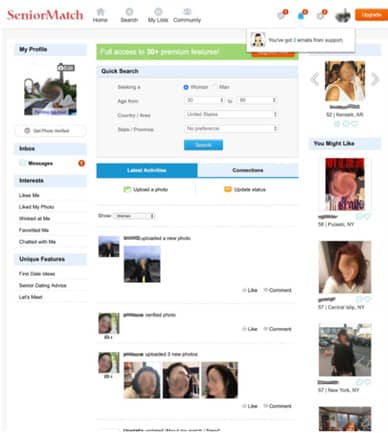 A list of available features for free members is quite long – you can add multiple photos, send 50 winks a day, use different search filters, post on forums, and share first-date ideas.
Still, some of the best features such as messaging, reverse matches and online list only subscribers can enjoy.
If you want to upgrade your account, get to know the subscription plans:
Premium subscription:
1-month – $29.95
3-month – $59.95
6-month – $95.95.
1. How to cancel a membership?
This can be done in just a few steps. Open the website and go to Settings.
Then find the Membership Settings and click on the Subscription Status. By turning it off, you are canceling the subscription and preventing the auto-renew.
2. What is an Account Manager?
Account Manager is there to guide you through all of the site's features. It also checks on your success on the website. Keep in mind that only premium members can turn on this feature.
3. How long does the verification process last?
Typically, an uploaded profile photo is approved in one or two days. When it is approved, it automatically becomes visible to all members.
SeniorMatch has a simple sign-up process and design, yet offers plenty of different features to both free and premium members. With its large audience and age limit for signing up, it deserves a score of 3.75/5.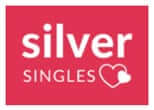 Signing up – 4.5/5
Making contact – 2.5/5
Profile quality – 5/5
Affiliate program – 4/5
Overall quality – 4 /5
Highly educated users, most with university degrees
Great design of both app and desktop version
There are no fake profiles
Profiles are quite informative
The Messaging feature is available only to premium users
Among free senior dating sites over 60, Silver Singles is one of the best.
Its users are all about commitment – only long-term relationships and friendships are created via the website.
Silver Singles has quite active users and counts over 5 thousand daily logins. Most of the members come from the USA (about 100 000 users are Americans), but it is available in twenty countries, so you have a pretty good shot at finding love wherever you are located.
Even though the website is for over 60 dating, younger people are present on the website as well.
People under 35 are barely present, while most members are over 55 years old.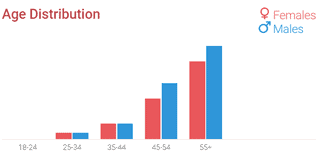 When it comes to gender distribution, women are more active – over half of users are single women.
One interesting thing is that members are well-educated and about 80 percent of them claim to have a college degree.
Ease of use "mobile and desktop version"
The sign-up process is quite simple and takes only a few minutes.
Firstly, you should provide gender and preferred gender. Then give an email address and choose a strong password.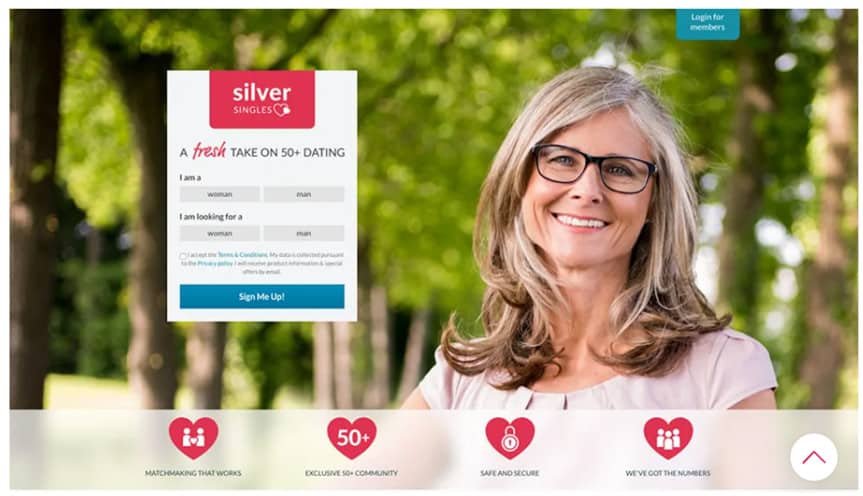 Once this is completed, you will have to do a personality test. It consists of questions regarding your preferences, hobbies, interests and personality traits.
All questions are multiple-choice, so completing the test doesn't take too much time.
Besides these multiple-choice questions, there are seven written questions. These are shown on your profile, so choose your words wisely.
In the end, you will have to upload a photo.
The sign-up process might seem lengthy but thanks to detailed profiles, the match and success rate of the website are quite high. Also, there are almost zero fake profiles.
When you start browsing, you will be amazed by the design and how easy it is to navigate through different tabs. All matches are placed in one tab and you can see the percentage of compatibility with each member.
If you aren't pleased with displayed profiles, you can choose different filters – location, age, gender, height are just some of them.
The app has a great design as well.
All features available on the desktop version are included in the app.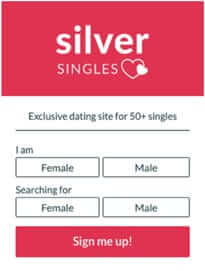 So if you want to scroll through profiles, match and chat while on the go, just download the app from Play or App Store.
Unfortunately, this website doesn't have any unique features, so we will cover some basic ones:
Since chatting isn't available to everyone, creators came up with smiles – if someone's profile catches your eye, you can send a smile and wait for their reaction.
By chatting with other users, you can get to know them better. However, this action is available only to subscribers.
Whenever you receive a message, you will be notified. Also, you can choose where you would like to receive these notifications – email or phone.
Registration and app are both entirely free, and since there is no age limit, everyone can join the app.
However, the number of features available to free users are limited, so upgrading an account is highly recommended.
Premium members have access to wildcard matches, messages, visitors and full personality profiles.
Here are some available plans:
Premium Light – 3-month – $113.85
Premium Classis – 1 month – $54.95
Premium Comfort – 6-month – $167.70
1. Do I get a refund after cancellation?
Refunds are granted only during the first three days. Once this period passes, you won't be able to get your money back.
2. How can I manage notifications?
Silver Singles will notify you about matches, messages and other activities through email or phone.
If you want to manage notifications, you can go to My Account and find the Notifications button.
Then you can choose the preferred notification type.
3. Is email verification required?
Yes, when you register, you will have to verify the provided email address.
Also, other background verifications are done by the administrators.
Wondering what is the best dating site for over 60?
With an overall rating of 4/5, it is definitely Silver Singles.
The website is simple, yet has highly detailed profiles and zero fake ones.
The only con of the website is a low number of features for free users.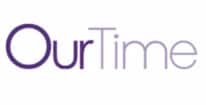 Signing up – 4/5
Making contact – 2/5
Profile quality – 3.5/5
Affiliate program – 3.5/5
Overall Rating – 3.25/5
Over eight million monthly visits
Almost equal women to men ratio
Straightforward design for easier navigation
Variety of search filters
Scammers are present on the website
We will conclude this list for over 60 dating websites with OurTime.
This site was created back in 2011 and recently it merged with SeniorPeopleMeet – the result is a great website for seniors.
OurTime is one of the most popular dating websites.
It is available all over the world and has over eight million logins each month.
Out of 8 million monthly logins, 7 million are from the USA, so Americans have the best chances of finding love via this website.
As you can see members are active, and women are outnumbering men.
Still, the difference between the number of female and male users is small (the percentage of female users is 55), so both genders have equal chances for finding love.
Ease of use "mobile and desktop version"
Moving on, let's talk more about the sign-up process and site navigation.
When it comes to registration, it has to be done via email. Do not worry, you do not have to be tech-savvy – everything is designed to suit the age of the users.
Username and password are required, as well as some basic information. The entire process takes less than five minutes.
If you do not want to disclose some information immediately, you can do it later when you get more comfortable with online dating.
The only thing you have to provide is a profile picture – it is public, so be careful what you are posting. Besides the profile picture, each member is allowed to upload up to thirty pictures.
Since OurTime doesn't request too much information, profiles are not very detailed. Also, email verification or any other identity check isn't mandatory, so you might stumble upon a few fake profiles.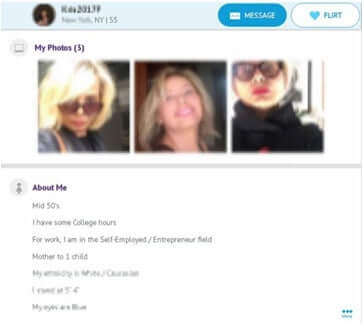 The overall design of the website is easy on the eyes.
You can switch between the tabs and find what you want without any hassle.
Thanks to the app, you can enjoy online dating even on the go.
OurTime is like Tinder over 60!
The app isn't modern, but the design is suitable for seniors.
All icons are large enough, and the font is clear.
Basic features, such as messages, are present but they aren't available to everyone.
Flirts, which are similar to likes, everyone can try out.
Some of the unique features are:
With Promote Me, your profile pops up on top of the queue, so your visibility is higher.
This will result in more matches and dates.
Since answers to many questions are multiple-choice, you do not get a chance to really show your personality.
This feature allows you to unlock extra questions that require written answers.
If you aren't so creative, you can ask one of the professional writers on the website to provide a good response.
Most users are talking with several people simultaneously, so it is often hard to stand out.
By sending virtual presents, you can grab someone's attention more easily and get a response quicker.
OurTime can provide you a virtual phone number that can be used for chatting with other users. There is no need to give away the personal number and your privacy stays protected.
The free account has several restrictions, and upgrading can help you get more matches.
OurTime offers three different subscription plans and prices are based on duration.
Here are they:
Standard Subscription
1 month – $34.96
6-month – $95.76
Value Subscription
Besides subscription, tokens can be purchased as well. These are used for virtual presents and boosts such as Promote Me. Prices are:
55 credits – $2.99
110 credits – $5.99
280 credits – $9.99
Yes, the website is safe. Creators are making temporary profiles to test the usability and improve it. Fake profiles are present, but they can be reported.
2. Are SinglePeopleMeet and OurTime the same websites?
No. Up until 2019, these were separate websites dedicated to senior dating. Recently, they have joined and members of SinglePeopleMeet have access to OurTime.
3. Are there young adults present on the website?
Even though this isn't the target group of the website, younger people are using the website as well. However, most of the younger audiences are looking for material support.
We gave OurTime an overall rating of 3.25/5. The large audience, active members, and website simplicity are all major pros, however, there are scammers on the website, and email or other forms of verification should be present.