If you are a frequent user of dating apps or dating sites, whether it's Tinder, Bumble, or Hinge, you've probably been in the situation where you took a screenshot of someone's profile on your iPhone, but only remembering that dating apps can send the other person a notification when it's too late.
The reasons for getting a Hinge screenshot are endless – you might found someone you know or the person you stumbled upon happens to be insanely hot – we understand! 
The situation was absolutely valid and of course, you had to share your Hinge profile with your friends.
An even more pressing situation would be having a screenshot of chat that needs to be shared immediately in case you are experiencing something unpleasant – even abuse.
It's of the crucial matter to show someone from real life what happened in the chat and also screenshot their profile.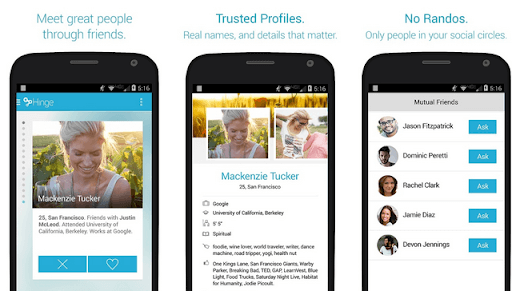 Because there are many reasons why screenshotting some actions on Hinge is important, you will be pleased to know that there are no Hinge notifications when someone screenshots something.
So, you won't be needing any screenshot hack and you can stop searching the Google Play Store for an app that will help you take secret screenshots of someone's Hinge account because they have been secret all along.
In this article, you will learn all about:
Is your dating app giving you the best chance for success?
Make sure to take our online dating site/app quiz to find out.
It's a fact that people who follow our dating site suggestions have on average 2 extra dates per month.
Does Hinge Notify Screenshots of Messages?
You might be wondering does Hinge shows screenshots and pushes notifications if you take a screenshot of the conversation, and the answer is also negative.
Taking screenshots in your Hinge conversations will go completely unnoticed, whether you use it on Android or iOS.
When you're in the world of online dating, whether you are looking for serious relationships (like eHarmony or Tinder) or hookups (like BeNaughty or Ashley Madison), a lot of bizarre situations happen, you get way more cringe-worthy anecdotes instead of hookups, and most of them deserve to be shared with the masses.
If they made Hinge work differently, there wouldn't be so many trending and viral memes on social media based on these memorable conversations, right?
Why Do People Think Dating Apps Notify People When You Take Screenshots?
The panic surrounding the topic of do dating apps notify screenshots has been present on the internet for a long time now, and it always seems like no one really has the correct answer.
When you ask people, they are never sure about what is true, and it's always better to be safe and sorry.
People find new and improved ways to take screenshots even if they are not sure can you tell if someone screenshots your text on Hinge or any other dating app, even though it's not needed in the first place.
OFL Top Recommendations based on 100,000+ Survey

"Serious Relationships"
"Discreet Hookups"
"Best Course for Men"
"Quick Flings"
"Normal Hookups"
"Our Quiz"
The reason for this is because apps like Snapchat do send out notifications if someone takes a screenshot, so it's very understandable why people would be concerned about the same thing happening on dating apps.
Also, if someone sends you a photo on Instagram and you take a screenshot of it, they will get a notification.
From time to time people will say that some apps are going to add this feature, however, it doesn't seem likely that that will happen any time soon with Hinge.
The definite answer to the "can Hinge see if you screenshot and notify the other person" question will be a solid no.
Why Do People Take Screenshots on Dating Apps?
To you, it might seem a bit weird or unfair that people have a habit of screenshotting things on Hinge and sharing them with their friends. It was supposed to be a private conversation between two consenting adults, right?
Well, that might work as a good argument in some situations, especially when those screenshots become a base for bullying or similar things, but there are quite a few reasons why people take screenshots of flirty conversations.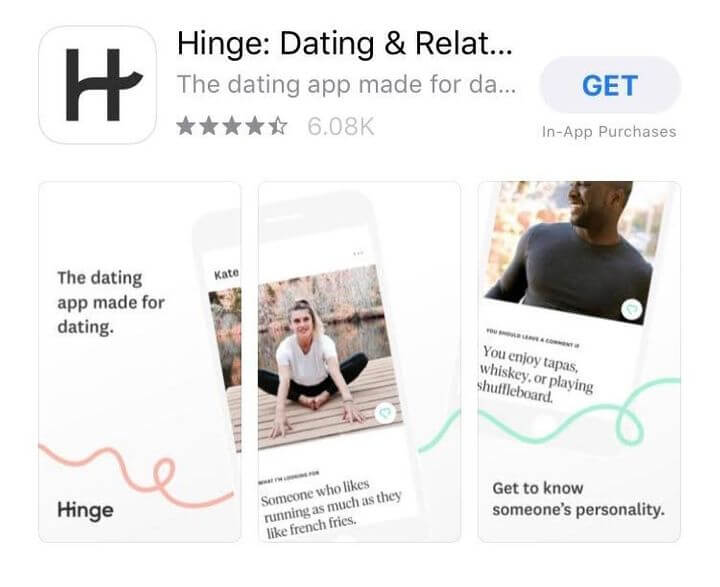 Of course, some are going to be a bit more light-hearted and all in the name of a good laugh, but a lot of the time the reasons can get a bit more serious or even a lot more serious.
As in real life, there are all kinds of people to be found on Hinge, and just like you could have some really concerning or bizarre interactions when you go to a bar or a party and try to flirt, the same can occur on Hinge.
Here are some of the main reasons why people take screenshots on Hinge.
1. They ran into someone they know
You probably had this happen to you – you were browsing people on Hinge and suddenly you recognize a person.
You ask yourself, when have we met?
And you remember it's the weird nerdy boy from your middle school math class! Puberty hit as all but it seems like his puberty came with a side order of a six-pack.
Of course, the first thing you will want to do (after liking his profile, obviously) is to share your discovery with your WhatsApp group chat.
His getting a notification would probably feel quite embarrassing to you.
This is probably the least serious situation that can occur with finding someone you know on Hinge.
What can be more serious if you end up finding someone you know?
It's not uncommon that people find out that they are being cheated on because someone from their environment found their partner on Hinge.
Some people might say that if you found a friend's partner on Hinge, you should turn a blind eye and pretend that you do not see it because it's none of your business and you shouldn't get yourself involved. And in a way, they do have a point.
But, just try to put yourself in their shoes.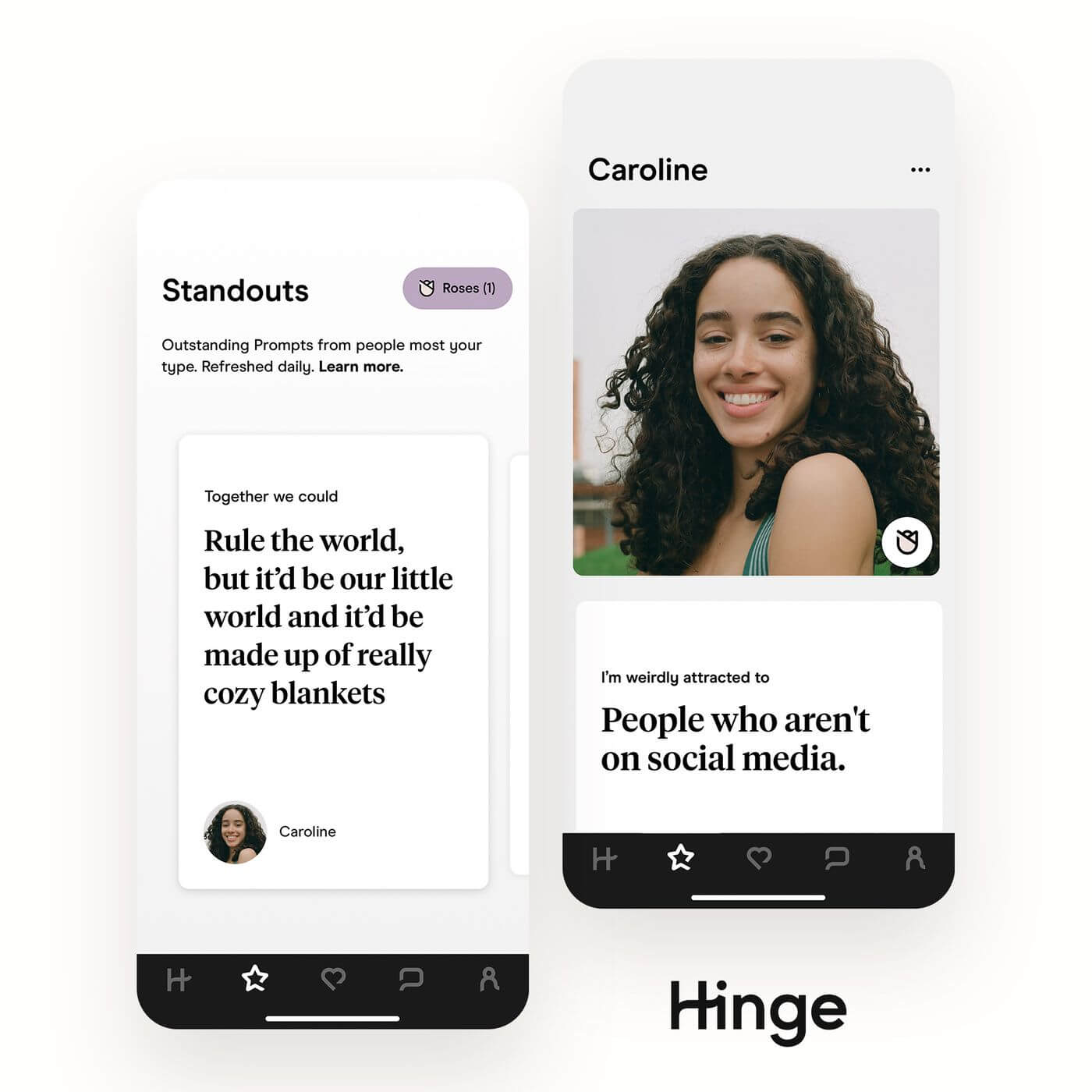 If you had a cheating partner, you would probably want your friends to notify you of that, right?
2. They need help with the conversation
The role of a wingman is a crucial role when it comes to interpersonal and romantic interactions in our society.
A lot of people reading this at this very moment probably wouldn't have been born if someone wasn't a wingman to their parents.
So, is it much different when you get stuck in a conversation with your Hinge crush and you need a little push? Of course, the first place you'll go to is the group chat.
Maybe someone wants to get things to another level and ask for the other person's phone number but is too anxious to shoot their shot directly.
There are a lot of small situations like this one where all you need is just a little push, and showing your friends what's going on is usually a good thing to do.
But, just like in the previous example, interactions might not be so innocent, and maybe someone needs help to get themselves out of a sticky situation.
Maybe the person they connected with is being really weird and is asking them some inappropriate things. That can leave people confused at the least.
Of course, there's the possibility to unmatch, and also since Hinge is being promoted as one of the best dating apps that are "designed to be deleted" it seems like it's very easy to just pack everything and leave the conversation.
But, sometimes the messages aren't very clear and maybe someone isn't sure how they should interpret the messages they are getting. Asking a friend could be more than helpful in a situation like that.
3. They want to report abuse
This case is more than simple – if you want to report someone to the authorities because you've experienced abuse, you will need to have proof of that abuse.
Every day, we hear a lot of horror stories surrounding dating apps, everything ranging from reoccurring unsolicited nude images to serious death threats.
Things like that will make you feel unsafe and worried for your life, so it's best to have on record everything that happened.
Also, if the person can be identified, you will be doing a lot of people a service if you document who they are and what they do.
If the person is stopped sooner rather than later, there will be fewer victims.
Stories like that are important and should be shared as much as possible because they remind us that we should be careful about dating apps, and not truest everyone with our personal information.
Don't make plans too soon after the first message and when you do feel confident enough to arrange a meeting always do it in a public space, and never go to someone's place to hook up as a first date. There's a good chance that the people you're talking to are normal and harmless, but that doesn't mean that you should ignore the slight chance that they might not be.