As the number of online dating sites rises, creators are constantly looking to improve their algorithm to promote the number and quality of matches, and Hinge is not different.
Since it has a quite similar design as Bumble and Tinder (the most popular apps for hookups), Hinge has to work extra to distinguish itself from them and gather people willing to settle down and start a long-term relationship (like eHarmony).
With the Hinge Standout feed, they are definitely on the right track!
In this short Hinge guide, I would like to get into details about this new feature, how it can help you gain more daters and potential matches, and improve your experience on the Hinge app.
OFL exclusive offers - Check all of them

"Serious Relationships"
"Discreet Hookups"
"Best Course"
"Quick Flings"
"Normal Hookups"
"Our Quiz"
Here, I'll tell you all about:
So, without further ado, let's get started!
Is your dating app giving you the best chance for success?
Make sure to take our online dating site/app quiz to find out.
It's a fact that people who follow our dating site suggestions have on average 2 extra dates per month.
The best Hinge users can be found on the new Standouts feature, so it is time to get familiar with the Standouts tab and how it works.
You can easily access this tab by clicking the star icon, but firstly, let's briefly explain how this new feature works.
Every time you use Hinge, its algorithm collects valuable data – you go to Discover feed, browse through a few profiles, swipe right, and Hinge tracks the traits of Hinge users you've liked.
After some time, its super-smart algorithm starts noticing a pattern. For example, if you mostly hit the like button when you see a pretty blond girl or a guy, Hinge will remember this preference and other traits of these profiles.
Then when you open the Standouts, it will list the most compatible dating profiles based on your previous likes.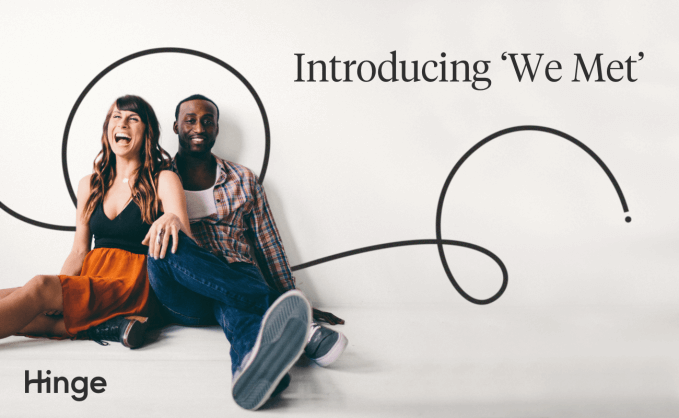 However, while scrolling through Hinge Standouts, you only browse through the Hinge prompt list, not the entire profile.
If you like someone's answer, simply tap on their name to view the complete Hinge profile.
These likes will be tracked, so Hinge can determine which type of personality you prefer to avoid matches based solely on appearance and physical attraction since this isn't a hookup app (like BeNaughty or Ashley Madison).
Features Available on Hinge Standouts
Hinge Standouts algorithm is excellent but useless if you don't have a way to interact with shown members.
Well, luckily, Hinge incorporated a few extra features to make scrolling through Standouts even more entertaining, one of which is Hinge rose.
Hinge rose is quite similar to super like on Tinder, and nowadays, dating apps all feature something similar. Creators were probably inspired by the famous The Bachelor when they were brainstorming which new feature to implement.
The purpose of sending roses is to increase Hinge profile visibility and get your profile featured on the "Likes you" tab.
At the beginning of each week, users get one free rose, and they can spend it on whoever they want.
This option is right next to the Like button, and sending a rose along with a short and sweet comment can significantly help you get more matches and first dates.
In case you've used your free rose and stumbled upon an attractive profile, you can purchase additional roses in a virtual flower shop.
Considering the prices, it is better to buy a larger bundle, as smaller have a higher price: 12 roses will cost you $29.99, while one is $4.99.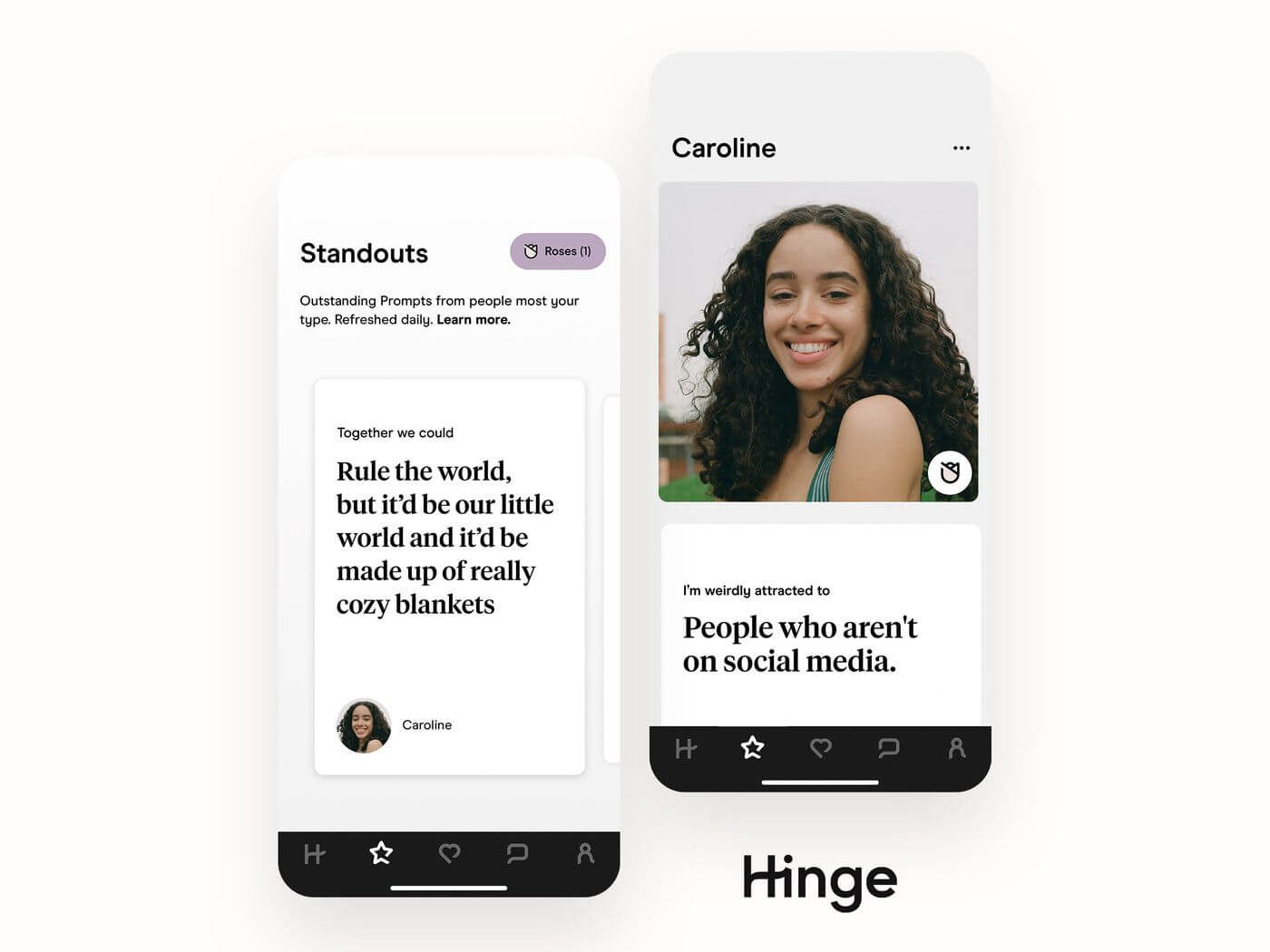 Remember that the roses cannot be collected – if you don't use your free rose, it will automatically refresh, so you will still be stuck on just one rose at the beginning of the following week.
The only way to use the send rose Hinge feature more than once a week is by purchasing extra flowers.
What about regular likes?
Unfortunately, Hinge Standouts doesn't feature regular likes, so you have to send a rose if you want to interact with another user.
Even becoming a subscriber doesn't unlock additional roses or the like feature, as Hinge is trying to persuade its users to spend money on roses while promising better results.
So, be careful about how you are spending it.
Most users wonder when is the right time to use Hinge send rose, as they don't want to waste the one they have.
Well, this mainly depends on you.
Users that have good self-control will probably wait a bit, scroll through numerous profiles, and take a closer look at the most interesting ones to make sure that their one rose is not being wasted.
That strategy is probably the best one.
Just one prompt answer isn't enough to determine whether someone is a good match or not. Maybe that one answer was amusing and smart, but other things should be taken into account as well, including their appearance and different answers.
So, when you see an excellent prompt answer, check out their Standout picture and other information to ensure that it will be a good potential match.
Do Hinge Standouts Show Up in Regular Feed?
Unfortunately, the answer is no!
Users featured in the Standouts tab are considered your best potential matches; thus, Hinge wants you to put in extra effort to get in touch with them (and get a few bucks from those extra roses).
Each day you will get ten recommendations in Standouts, and if you skip them, they won't show up in other feeds.
However, keep in mind that they are placed in the Standouts tab only for you.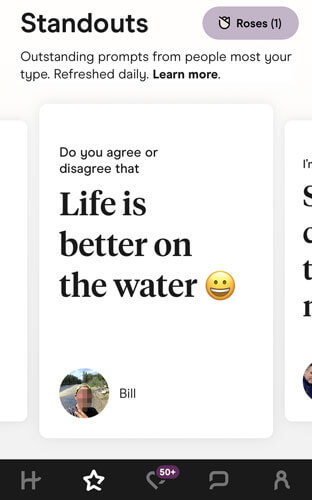 Hinge standout is different from the Boost feature that shows your profile to more people without putting in a "word" on your behalf.
However, if your friend is scrolling through Hinge, they might see one of your Standouts recommendations in the Discover feed, as Hinge probably doesn't consider that user as their best match.
That is a wrap on Hinge Standouts! This feed is full of interesting matches, and the free rose feature has taken dating on Hinge to another level. It guarantees high-quality matches and helps you create better connections.
Hopefully, this short guide answered some of your questions and helped you better understand this new feature.
You can find some additional Hinge dating tips in the FAQ below.