Are you on Hinge yet?
No? Why such a self-deprecating shrug?
Are you gonna stay single for the rest of your days?
Yeah, that's what I thought.
Seriously, of all the dating apps out there, Hinge may easily be one of the coolest ones.
A whole package, I should say.
And, this whole package includes certain thingies called hinge prompts that will make your dating life so much easier.
Let's check out these and see:
Is your dating app giving you the best chance for success?
Make sure to take our online dating site/app quiz to find out.
It's a fact that people who follow our dating site suggestions have on average 2 extra dates per month.
They say that good communication is key to a good relationship.
But, that relationship has to start from somewhere.
I'll assume that you're no stranger to countless dating apps and sites lurking from each digital corner and that you've already given a shot to tinder and/or bumble, as these are often dubbed as the best dating apps.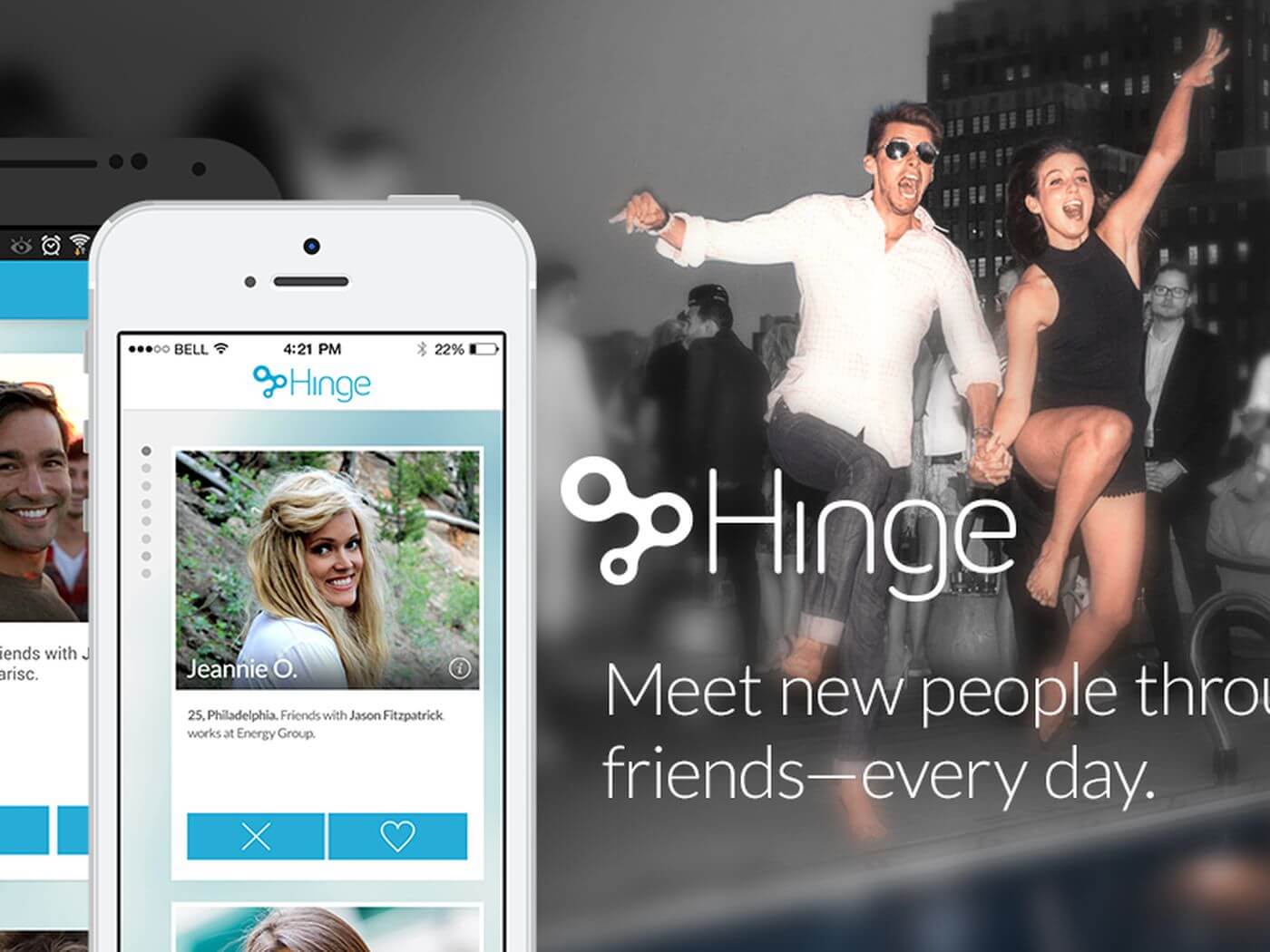 And, I also believe you may not have found what you were looking for.
One of the reasons is that they are oriented towards instant and short-term solutions (like BeNaughty or Ashley Madison), while you are more likely interested in something long-term (like eHarmony or Tinder).
This is where Hinge enters the stage, as an app meant to be deleted.
Yeah, they claim to be THAT good.
And, this is not so far from the truth.
OFL Top Recommendations based on 100,000+ Survey

"Serious Relationships"
"Discreet Hookups"
"Best Course for Men"
"Quick Flings"
"Normal Hookups"
"Our Quiz"
What makes the difference with H is that it is dedicated to creating meaningful bonds between users by prompting them to get creative.
How so?
Well, with one feature they incorporated called Hinge prompts.
These are the predesigned questions, fragments that prompt you to give answers, but not just any answers.
Your response to these has to be clever and creative so other users can spot your hinge profile right away.
The whole point is that you're as honest as possible and avoid cliche answers.
For example, we have a prompt "I want someone who…". If your response to this is "brings me breakfast in bed", I'm afraid you won't get far.
Don't get me wrong – it's not wrong to want this. I want this.
But, such things don't draw too much attention.
Instead, if you say "I want someone who can drink coffee with me quietly in the morning, cause I'm a grumpy old bat (but, only in the mornings, I promise)", you're on the right track.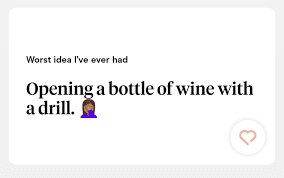 Obviously, the answers you give need to display your sense of humor. And, is there a better way to display this than to make a joke at your own expense?
How Do Prompts Work on Hinge?
Ok, we have established that these little helpers are here to make someone fall for you faster.
Of course, you would get there eventually, but this is just to speed things up.
Accordingly, when setting up your dating profile on H, instead of writing boring summaries, bios, and stuff, as the majority of other dating sites will ask you to, you get these pre-set questions/fragments and you need to answer/finish the sentence.
The funnier, the better.
With so much negativity in the world, nobody wants to read sad stories. Instead, we need comic relief.
So, the more creative an answer to a prompt, the faster the reaction from other users.
Seeing how these are excellent conversation starters, soon there will be the first message, then the second, and the rest will be history, even if you're not a great texter.
What Prompts Should You Pick on Hinge?
As we can see, the whole idea behind these prompts is to prompt you to write a witty answer that will in return prompt someone else to comment on that.
Now, as the prompts are offered to you in the profile setting stage, bear in mind that you don't have to answer all of them.
Don't be a show-off!
Instead, as a minimum, you can choose 3 out of 80 (and more).
Or, if you're feeling super amused, choose 5-10. This is ideal.
Choose wisely, not to say choose those that you can answer honestly and wittily, thus giving creative hinge answers.
Even if you are the type of person that does not consider him/herself funny you can always rely on your experience.
There is no chance that you haven't had a funny situation to share with others.
If you can't put it in a few words, I am sure you can find someone to help you out.
What is important is that you keep the focus on creating clever hinge answers.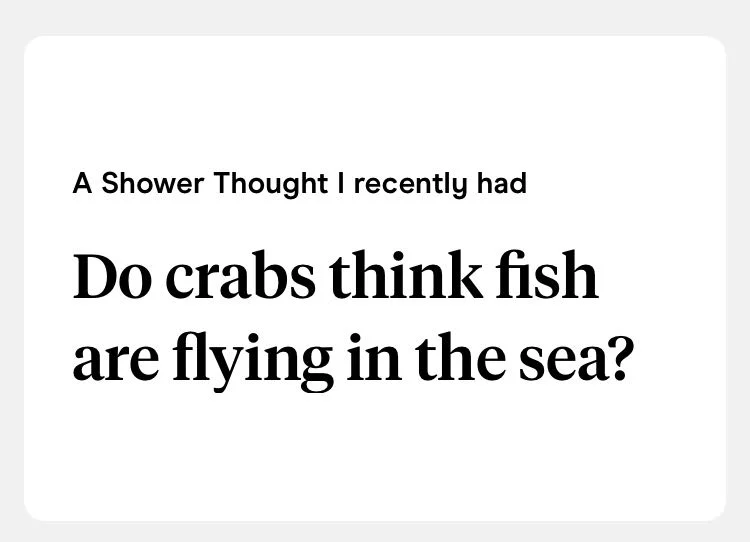 For example, the best hinge tactic when replying to these is to stand out from the crowd.
Let me explain.
When choosing which prompts to answer, everybody typically goes for the first ones they see.
No-no!
Check the ratings for each prompt.
If they are overused, just skip them.
Cause, no matter how witty and clever your answer may be, users will probably skip it since they've already seen multiple answers to it.
It's pure statistics.
This is why you need to stick to those underused prompts that everybody just passes by.
These will make you give the best hinge answers without much effort.
If you think why, well, just imagine 1,000 people replying to the same question. There's no chance in hell that some of the answers will not get repeated.
So, stick to the underused ones.
The Benefits of Using Hinge Prompts
Hmm, maybe there aren't many, but providing that you write witty hinge answers, you will soon realize that these work better than you think.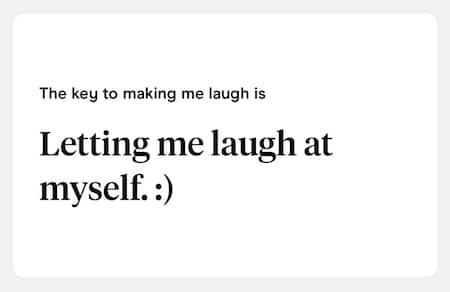 When you see some of the hinge screenshots, you can't but think it's gotta work, and it does.
And, believe it or not, Hinge Prompts contribute quite so much.
How so?
The first benefit of Hinge Prompts is that they save your time. Instead of writing a short intro about yourself, you just follow the pattern and answer honestly the first that crosses your mind.
You follow a pre-designed pattern and you're done before you know it.
You will want to sound as funny and witty as possible.
So, sometimes consciously and sometimes unconsciously, you might yet create the best hinge prompt.
Although this one may be a bit tricky to pin down.
In any case, checking the answers from other users will spark new ideas so you will make a great first impression with other hinge users.
3. Sharpening Your Sense of Humor
Besides creativity, you can also expect the quest for funny answers to dating questions to be an easy one.
The reason is that you are prompt to be different and yet within the common-sense boundaries.
And, as you create some of the funniest hinge answers, you will figure out how easy and natural it is to avoid fake dating prompts.
The greatest benefit of hinge prompts is that they will lead to success.
Simply, when you write a good hinge joke or funny hinge prompts, people will be prompted to react.
It is just like with other social networks – somebody writes something funny, and you simply have to respond.
With these prompts, more people will react and you will be able to choose your favorite correspondent.
With answers.
Finally!
I know you've come here with a single idea – to get the best hinge prompt answers.
So, if you thought I won't give you the satisfaction and the know-how you are SOOOO wrong, my friend!
What comes next is the list of the best profile prompts and best hinge lines you will see circulating Hinge and of course, the answer to these.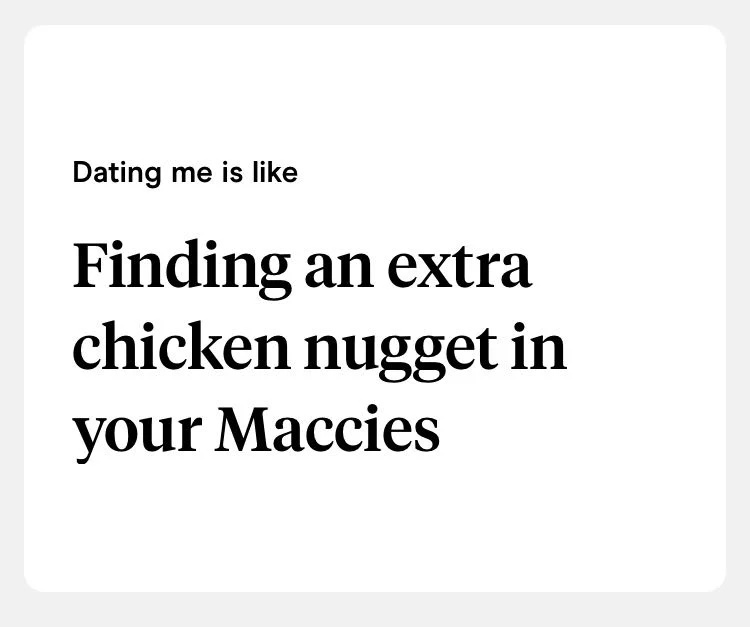 I know you will be expecting the list of the best hinge prompts for girls or of the best hinge prompts for guys, but I do not want to be exclusive.
The reason is simple – some of these works both ways.
So, if you are fishing for the hinge prompt ideas, check out the hinge questions list (with the answers later on) to cause a significant number of hinge reactions.
1. All I Ask is that you…
…please, just please, invite me to parties I didn't want to go to in the first place.
Yeah, we know the feeling.
And, of course, we'll say hello to someone who had the courage to say it out loud.
about me is having sat in the first row back at college so I could talk to my crush.
To be honest, a (male) classmate of mine did that for my college (girl) bestie and it was god damn too cute.
If you are a girl who writes something like this, then you are the lady boss.
…is waking up on a Friday morning and going to work holding tears back.
And, if this one is followed-up with a matching pic, you're on a roll here.
While this one may not be so hilarious, it will for sure cause a genuine reaction – cause, we've all been there.
…I have been quitting my job and going back to my parents' place. Never went through, though!
Ha-ha!
Again, we've all been there!
If you're seeking good hinge answers for girls, this may be one of them.
Cause, you tell guys you're independent and they know they can't mess with you.
Moreover, you also say you are not afraid to say you're tired of all that adult life.
…out in nature, or having a relaxed brunch with friends and family…yeah, right, staying home wishing it was Friday afternoon.
This one works both ways, for boys and girls too, everybody can find themselves here.
Also, I am not sure whether to call it grumpily funny, or funnily grumpy, but it will do the trick.
After that, you can proceed to compare all the levels of how much a Sunday sucks.
6. A fact about me that surprises people
…is I have an MA degree, 'cause most of the time I seem illiterate.
Yeah, making a joke at your own expense always works.
7. Most Spontaneous Thing I've Done
…is fall down the stairs this morning. So damn spontaneous!
Ok, we all see what you did there.
And, oh, people will laugh.
And, most of all, people will react!
….that Ross and Rachel were on a break.
Ok, everybody knows what and who you're talking about, and get ready for some serious ranting here.
On the other hand, there are many people who agree with you, so your next soul mate might be among these.
Or, speaking of F.R.I.E.N.D.S., try this…
…the character of Emily is an abomination.
Or literally, anything from the show is debatable.
I mean, Rachel and Joey? Come on!
9. My Most Irrational Fear
…is that I might wake up one day and do something utterly stupid – Benioff and Weiss like stupid.
Oh, burrrrn!
Cause, we all know what these two did. They massacred our once-favorite show.
As 99% of Hinge users will agree with you and will laugh at such a kind of humor, this prompt will get you paired up in no time.
Or,
…is waking up and realizing it's not 3 a.m. and I do not have the extra 3 hours of sleep.
Some might say sleep is overrated, but if you're up early every day, then you simply disagree.
Accordingly, waking up at 3 a.m. and realizing you still have hours before the alarm is priceless.
In the same streak, going to bed thinking you will wake up just a couple of minutes before the alarm indeed is scary.
I must admit, though, that this comes under the funny irrational fears we have, but it's still a great prompt answer.
…well, having an adult child. Oh, crap, nobody told me we need to lie here.
Dating me is like answers are often the most difficult ones to answer.
You need to be honest and funny at the same time, and sometimes these two just don't mix.
11. Weirdest gift I have given or received
A potato masher and salt shaker. I ain't joking. It was a birthday gift I received from my brother.
This level of honesty will cause a reaction from the others, if nothing, at least to ask if are you serious.
…was being anxious for a date not being able to see him for a few months; finally went out – and it was like having a cup of coffee with my brother. Anyone else?
Uff, so sorry for you!
There is no way that other people haven't come across something similar.
This may yet be one of the most interesting of all the questions to ask on Hinge, that is, to answer since it says so much about you.
By choosing this specific prompt to answer, you are indirectly saying what the other party should avoid when dating you.
Or,
It was a blind date. And, it was my ex.
Such an unfortunate turn of events!
If this one doesn't cause any reaction, I don't know what will.
13. Give Me Travel Tips For
…the trip from my bedroom to the kitchen without rampaging the fridge.
Food is a vice, and a sweet one!
It is always an inspiration no matter in which context you use it.
Once you write this down, get ready for the whole bunch of funny and creative prompt answers you will find on the hinge app.
When you finally select your favorite, offer the contributor to take them on a first date to get the instructions first hand.
…include singing in the car from the top of my lungs, whether you're in the car with me or not.
What you are saying here is that you are a relaxed person who is not afraid of getting yourself embarrassed.
And, you're also saying that you like music without saying I like music.
That would be the definition of creativity.
Of course, these are not all the prompts you can choose to answer. There are many more and there are also new prompts coming out every now and then.
If you would google search example hinge profiles or hinge profile examples, you would see that "I bet you…", "the best way to ask me out is by…" or, "a shower thought I recently had…" are among the most commonly answered prompts.
However, I will skip them seeing how answering them is rather easy.
Moreover, when you go to the prompts section you will see that you can also create hinge photo prompts. It's sort of memes that you can create, but are, sadly, only available for iOS users currently.
And, now that we have gone through the List, let's just check a few more details.
That is…
Regardless of the previous writing, let's finally pin down so of these doubts you may still have on Hinge prompts and how they work.
That is, how they can help you succeed faster.
And, by succeed, I mean find a hinge date.
I know dating isn't easy; online dating even less.
There are so many things to think about – who's on the other side, whether they will like your sense of humor, etc.
Still, we have to struggle as best as we can, cause it's worth it.
One of the good things is that Hinge, one of the hype dating apps helps us reach the goal faster by incorporating hinge prompts in their app.
With these, you are guaranteed to bond with other users fasters and this article serves to help you use them in the right way.
So, write that funny line down that just crossed your mind and use it as a Hinge prompt.
Make somebody's day by prompting a smile on their face.