If you have used a dating app before, you definitely know how sketchy it can be to find a match and reach out to someone, especially if you are not sure whether they like you or not.
Hinge is one of the online dating platforms that has easily become the go-to place for finding a potential partner, and people try to do their best when swiping for their soulmate.
Since it is a bit more serious platform, it can be harder to start the conversation and keep the conversation going, so many people have no idea what are good conversation starters and topics they should keep their eye on.
For that reason, we will try to help you and provide you with some great opening lines and ideas on what you should say to a Hinge match.
OFL exclusive offers - Check all of them

"Serious Relationships"
"Discreet Hookups"
"Best Course"
"Quick Flings"
"Normal Hookups"
"Our Quiz"
Well, that's what we want to explore in this review, along with::
Is your dating app giving you the best chance for success?
Make sure to take our online dating site/app quiz to find out.
It's a fact that people who follow our dating site suggestions have on average 2 extra dates per month.
How Do You Start A Hinge Conversation?
Every Hinge conversation should start casually, with a simple Hi or Hello, and even though many people believe it is extremely important to make a crazy interesting conversation opener, it is definitely not something that will guarantee you success.
OFL exclusive offers - Check all of them

"Serious Relationships"
"Discreet Hookups"
"Best Course"
"Quick Flings"
"Normal Hookups"
"Our Quiz"
You should be aware that Hinge is nothing like Tinder or Bumble because it is a serious relationship app where people looking for casual hookups and sex are not really welcome.
For that reason, everyone will be just fine with you sending something simple and unoriginal in order to start a conversation, and if they match you back, it means that you already stand out among other users for them.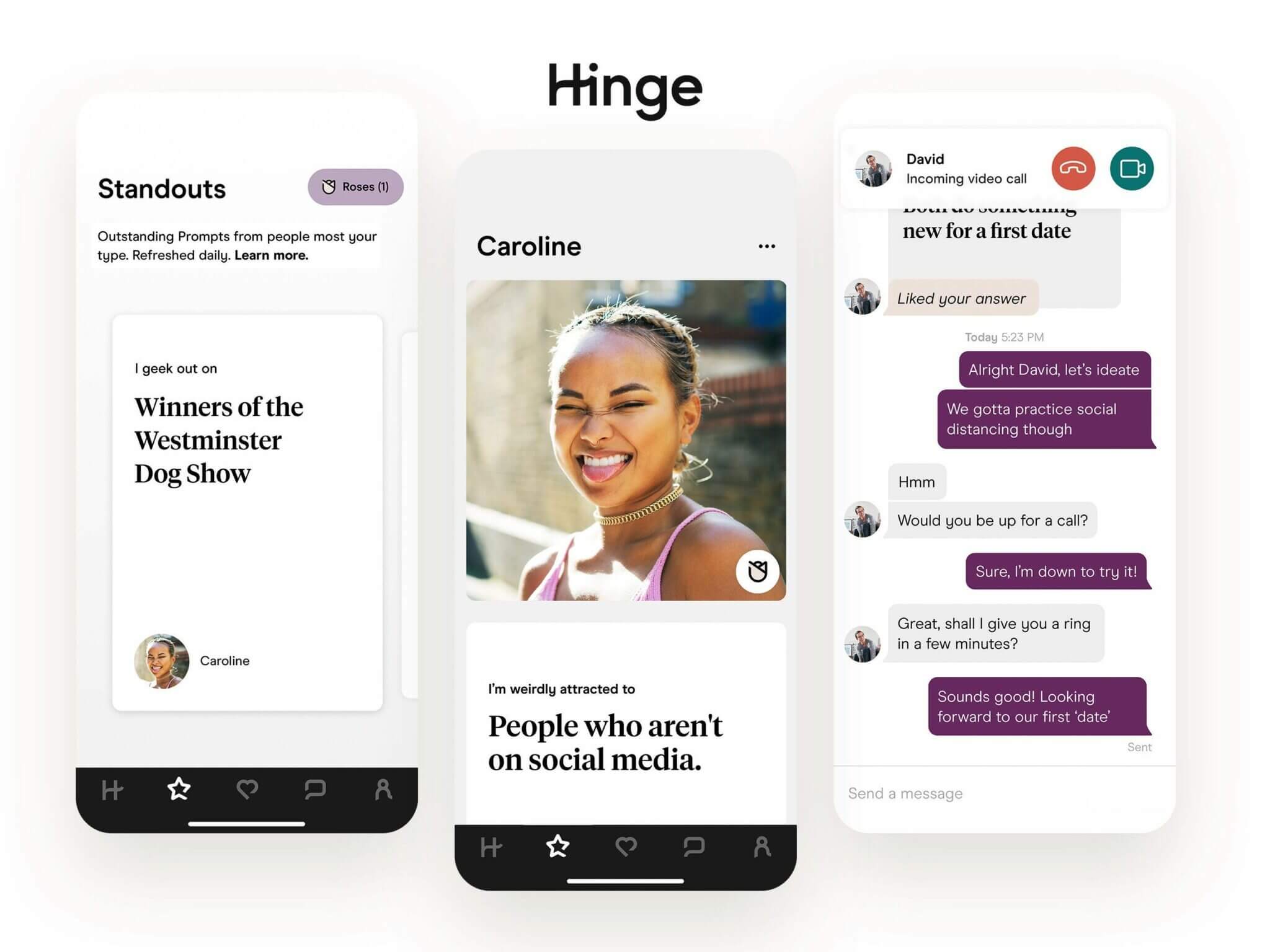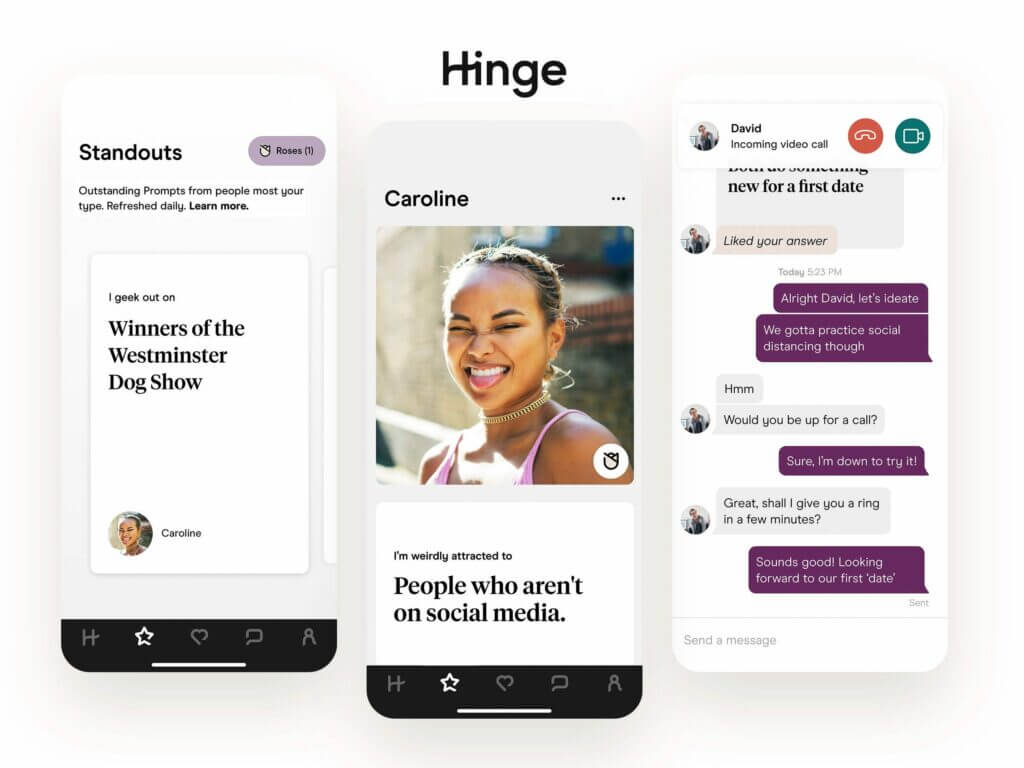 Your dating profile and Hinge prompt answers will already tell a lot about your interests and humor, so the icebreaker doesn't have to be something you spend hours coming up with.
You can be sure that no one would swipe you right if they already didn't find you to be interesting, so when texting them for the first time, you can keep it cool and approach them with a simple message, just like you would greet them in real life.
It is best to stay in your comfort zone when texting a new Hinge profile for the first time, so don't push yourself too much to come up with original conversation starters for dating on platforms like this.
Plenty of those online dating conversation starters examples are not even good, and they can just make you embarrass yourself in front of the girl or guy you wish to impress.
What Are The Best Online Dating Conversation Topics?
However, even though we can't guarantee you that one specific initial message or conversation starter will make people swipe right when they see your profile, we can help you with the choice of topics.
If you have used online dating sites before, then you definitely know there are some things you should never be talking about with a girl or guy who you find to be attractive because they can be quite sketchy and put you into plenty of uncomfortable situations,
Good and interesting things you can share with other people on the platform are your bucket list ideas, goals you have in life, convo about music, movies, school or job, or in general, something the two of you have in common.
If you are eager to come up with the best conversations starters with a girl or a guy, you can always come up with something original that is connected to her favorite movie, show, or book she has left on her profile.
I always advise you to read all the profile prompts because they can really tell you a lot about a person, and you can even unmatch them on time if you think that there is no way you can be together because of something.
Everyday topics about regular things, culture, and showbiz are definitely something you can use as Hinge openers, but there is a list of things you should avoid.
First messages on Hinge, and even those after you have already chatted for a while, should never be something related to politics or social issues, and you need to be aware that you should never express your opinions about things like this in the beginning.
The same also goes for things regarding religion and specific cultures because it can make the conversation to get ended before it has even started, which is definitely something you don't want.
Questions to ask on Hinge should always be personal and funny, which also requires funny Hinge answers but never related to serious and controversial topics like this.
For that reason, I also don't recommend being open about your political beliefs either or stating who you are voting for because it can get you into a lot of trouble.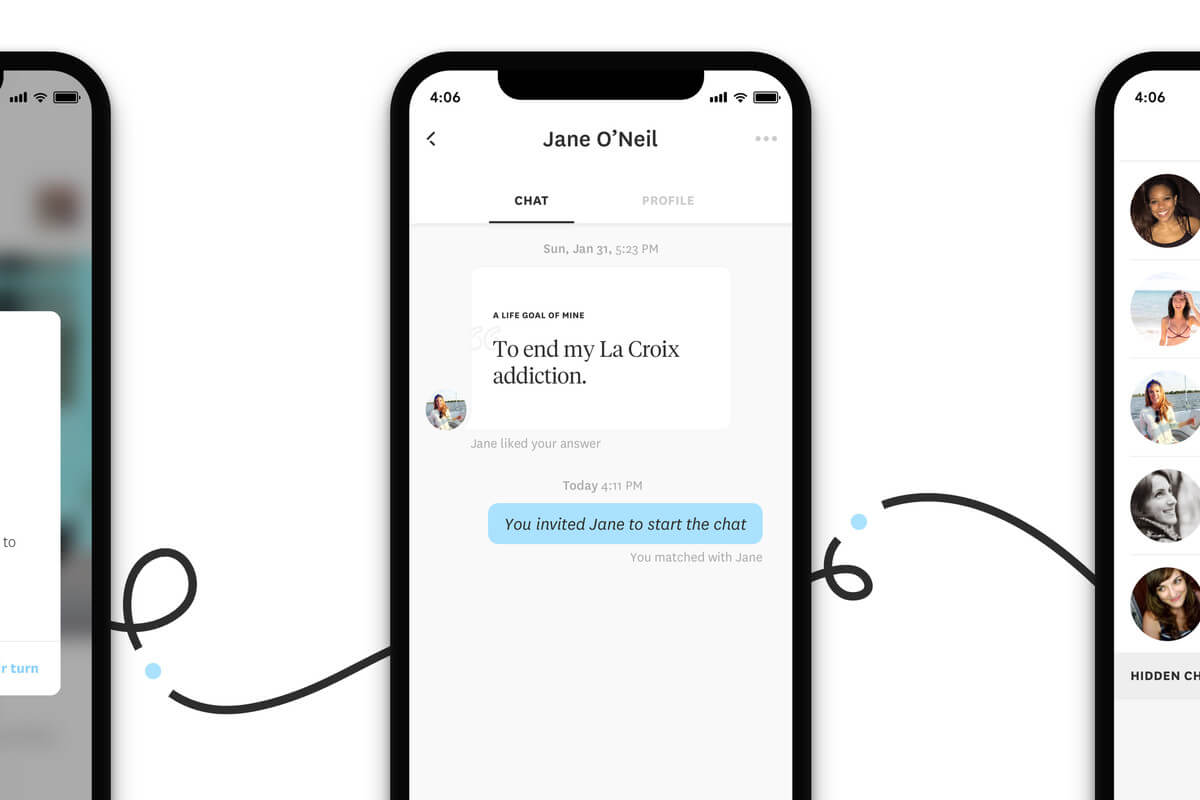 The dating app conversation topics should always be light, so make sure you don't go to the dark side when talking to someone.
How To Start A Conversation On Hinge With A Girl?
If you want to pick up one specific girl from this platform, you will need to inspect her profile carefully before you decide on the best conversation starter and come up with unique date ideas you believe she would like.
However, these are some of the best ways and techniques you should use when looking for a way how to message girls on Hinge.
Even though it may not be the first thing on your mind, you can come up with several interesting conversation openers after you have seen all the pictures on this girl's profile.
If all of her pictures are from mountains and hikes, you can always approach her with a joke regarding this, or maybe send her a compliment regarding her lifestyle.
In case there are some pictures from her university, you can always send her something related to her studies or ask her something from her niche.
Pictures are not always showcasing only her beauty but rather showing you this person in another light too.
The Hinge allows its users to leave comments on other people's prompt answers or pictures, which is also a great way to kickstart a conversation with an interesting girl.
Leave a funny comment and wait to see whether she will come back to you or not.
3. Start with a compliment
If a girl reminds you of Vanessa Hudgens or some other celebrity, it is always a great way to reach out to her by sending her a pic of this celebrity and telling her you to believe she resembles it a lot.
This will boost her ego and make you look more attractive in her eyes immediately.
How To Start A Conversation On Hinge With A Guy?
Even though most of the bets Hinge advice are usually aimed at guys who want to seduce girls, you can be sure that many girls have a lot of trouble with dating app conversation starters.
These are some of the best Hinge ways and topics you can use to reach out to the guy you like and maybe even be the one who proposes the first date.
1. Ask them about their work
All men love working, and some of the best Hinge openers for guys are questions related to their jobs and their success in this field.
They love to brag and share things they have succeeded at in life, so this is a great thing you will be able to talk about for ages.
It can also be one of the great smooth first messages, so if you really want to play it like this, make sure you are 100% sure what they do for a living and that they like and enjoy their job.
If they have shared some information about their hobbies that don't include Netflix and chill, then this can be a great conversation starter and something you can build an interesting bond over.
Men really dedicate a lot of their free time to different hobbies, and they will really appreciate girls who are interested in that.
If you see a quote or intriguing prompt answer on their dating profile, don't feel afraid to ask them a bit more about it.
Men love women who are curious and want to find out everything about a person they like, so they will definitely appreciate a random message in which you will ask them about their hobby or one specific photo on their profiles.
It will also show that you are not afraid to reach out for the things you want and that you are confident enough, which is always a good sign for men.
What Are Some Online Dating Messaging Tips?
No matter whether you are a girl or a boy, these are some of the most important online dating messaging tips you should always keep in mind, whether you are dating through Hinge or some other online dating platform.
One thing you should always avoid on dating apps, whether it is Hinge or something else, I ghosting people.
If you don't like someone, be open about it and tell them straightforward; otherwise, you can gain a pretty bad reputation on this platform.
I believe you wouldn't want to get ghosted by someone either, so it is always best to treat others the way you too want to be treated.
2. Don't screenshot other people's profiles
If you find someone's profile or prompt answer is stupid, you should keep it to yourself and don't share it with other people you are chatting with on Hinge.
In case you share other peoples profiles with other Hinge users and gossip about them, you should be aware that things like this may get to them, and it can really make you look like a and person and cause a lot of bad reviews and rumors about you, which is really not good on dating apps.
Once you gain a bad reputation among users on one platform, it can be very hard to get rid of it.
3. Don't talk about hooking up
As we have already mentioned, Hinge is a dating app made for people who are looking for serious relationships (like eHarmony or Tinder), so if you don't want to engage in this sort of dating but rather to have some fun (like BeNaughty or Ashley Madison), then you should never mention it to users on this platform.
It is not good to use people and then leave them, so if you're not interested in something serious and you don't manage to grow feelings for a person after some time, just leave them.