Hinge is the dating app launched in 2012, and the first version of the app resembled Tinder and Bumble quite a lot.
As creators' idea wasn't to make another dating site for hookups (like BeNaughty or Ashley Madison), they've decided to relaunch the app in 2015 with a new motto, "Designed to be deleted," and turn it into the best dating app for people looking for long-term relationships (like eHarmony).
So, if you are tired of swiping and ghosting common for Tinder, the Hinge app could be the right choice!
But, does Hinge cost money? In this guide, I would like to discuss:
OFL Top Recommendations based on 100,000+ Survey

"Serious Relationships"
"Discreet Hookups"
"Best Course for Men"
"Quick Flings"
"Normal Hookups"
"Our Quiz"
So, without further ado, let's dive in!
Is your dating app giving you the best chance for success?
Make sure to take our online dating site/app quiz to find out.
It's a fact that people who follow our dating site suggestions have on average 2 extra dates per month.
Do I Have to Pay For Hinge?
Nowadays, online dating websites and apps make a fortune on subscription plans – in many cases, users are obligated to pay to enjoy even the simplest features, such as looking at the profile or liking it.
However, Hinge is different because everybody can use Hinge and enjoy most of its features without paying a dime. The app is free, along with messaging, swiping, and other options.
Keep in mind that as a free user, you will have a limited number of likes per day, and the algorithm may not fully work in your favor, but you can still meet the one through Hinge even without becoming a Hinge preferred member.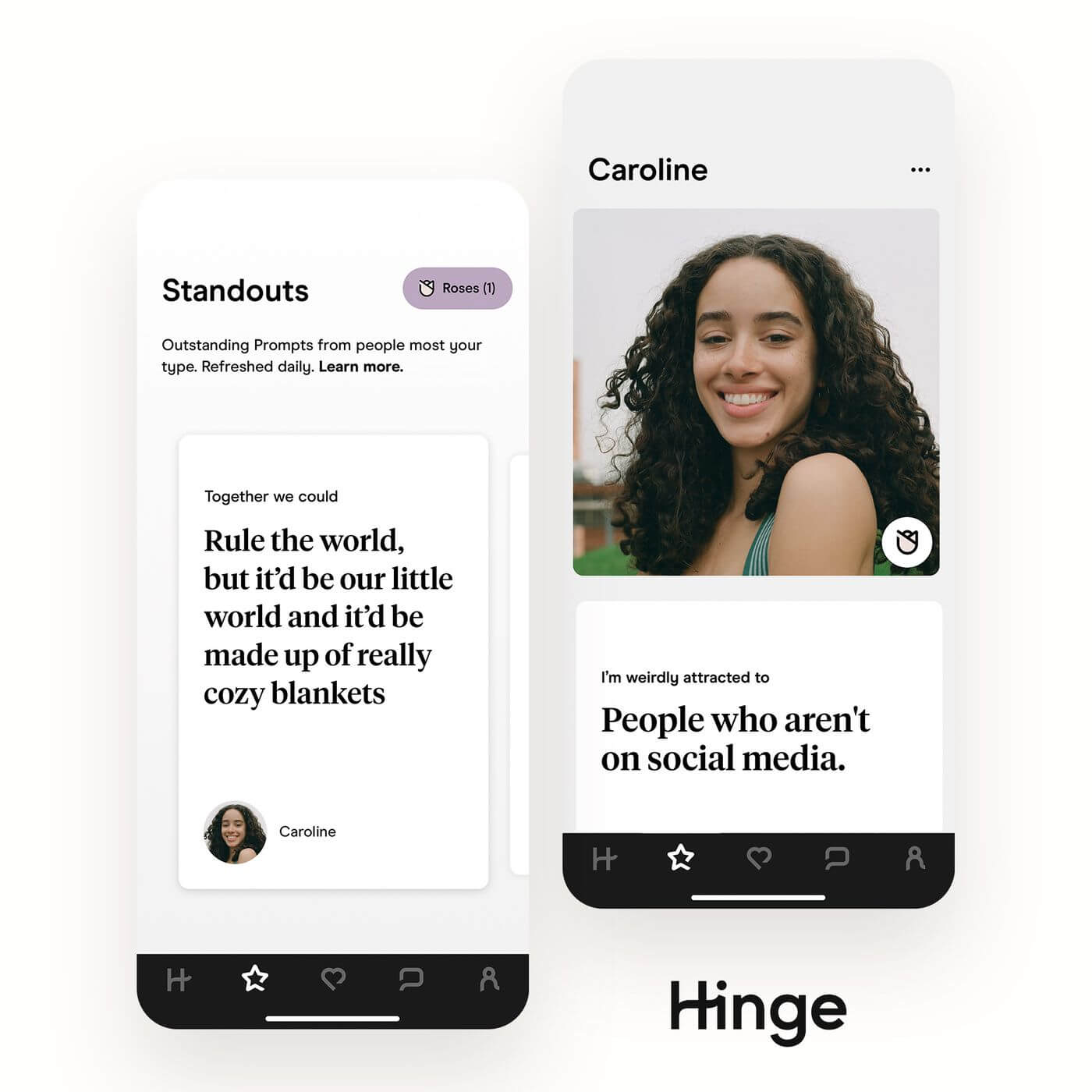 At the end of the day, the choice is yours, and in case you are willing to invest a few dollars in your dating life, you should get familiar with Hinge prices.
What Do You Get With Hinge Preferred?
When it comes to the subscription and upgrades you get with it, Hinge is not that different from Tinder, OkCupid, and other popular dating apps you might have tried.
Mostly, it is about specific small changes that boost the profile visibility, which could help you get more potential matches, but you are still the one that has to do the work. Let's see whether these upgrades will convince you they are worth spending those few bucks.
Matching is significantly easier if you already know who liked you – shy users might feel encouraged to like them back and start a conversation, as they already know the other side is interested.
On Hinge, free members can see only the last person that liked their profile, while other profiles are blurred. The subscription gives you access to the complete list, and who knows – maybe your soulmate is on it.
One of the best things about Hinge is that it features a wide range of search filters – ethnicity, education, work, height, religion, family plans, and other traits people find as dealbreakers.
Hinge members using the free version are limited to only basic search filters, such as location, and distance of your potential match isn't such a dealbreaker.
Well, that is why choosing one of the Hinge subscription plans isn't such a bad idea. Hinge premium unlocks advanced preferences, which means additional filters, improved performance of the algorithm, and higher quality of matches.
As you may already know, Hinge Standouts is based on your previous likes and matches, so those additional filters might improve the quality of Hinge profiles displayed on the Standouts feed.
OFL Top Recommendations based on 100,000+ Survey

"Serious Relationships"
"Discreet Hookups"
"Best Course for Men"
"Quick Flings"
"Normal Hookups"
"Our Quiz"
With the free version, the number of likes per day is limited to only ten – considering there are millions of Hinge users worldwide, only ten swipes and likes maybe won't be enough for you to meet your soulmate.
The premium plan gives you unlimited likes, so you can swipe right and left, match, and chat all day long.
While Hinge has numerous features that can help your love life, some people need more guidance and specific Hinge advice on setting up their profile and approaching someone online.
That is when the membership comes in handy!
One of the biggest perks of Hinge preferred is a feature called Dating Experts – Hinge has a team of people who can help you create the best Hinge profile, share great conversation starters, and offer other types of dating advice, as navigating dating services is not always an easy task.
So, in case you haven't had much success on Hinge, upgrading your profile and chatting with experts might resolve your issue.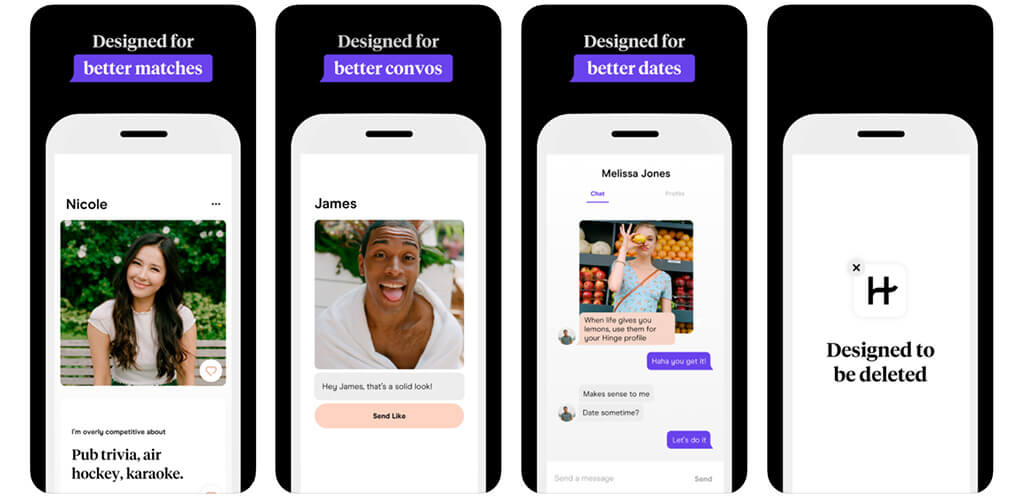 How Much Is Preferred Membership?
As on most dating services, such as Match.com and eHarmony, the cost of a subscription is based on its duration – the longer you are paying for it, the lower is the monthly price.
Here is a price list:
1 month – $29.99
3 months – $19.99/month
6 months – $14.99/month.
Each time you run out of ten free likes, Hinge will ask you to upgrade your account to Hinge premium. You can also subscribe by opening the Settings page and tapping on the box for Preferred Membership.
Officially, Hinge doesn't offer a free trial, as almost all of its features are available to free users.
However, some Hinge members have reported that they got a 3-month free trial upon signing up. This could vary from country to country, and Hinge could offer such promotion in your country to increase the number of users in that region.
The only way to check whether there is one is by downloading the dating app from Play or App Store and checking it yourself.
Even if a free trial isn't offered, remember that you can test all of the features for free and later decide whether you need those few perks or not.
Is Hinge subscription auto-renewed?
Hinge has an auto-renew feature, so you will be automatically charged for the next one after the subscription ends.
Of course, you can turn off this option in the settings or unsubscribe while your subscription is still valid to avoid restarting it.
Is It Worth It to Pay For Hinge?
Determining whether is Hinge worth it or not is quite hard, as it mostly depends on you and your goals
There are numerous Hinge success stories because of its carefully crafted algorithm to bring link-minded people together.
Now, let's check out how Hinge works and what does Hinge has to offer.
As stated, Hinge was created in 2012, around the same time as Tinder, but went through a huge rebrand as their team didn't want it to be another hookup app.
Now, it counts millions of users globally, the gender distribution is almost equal (55% of users are males), and most of the users are young adults in their twenties and thirties.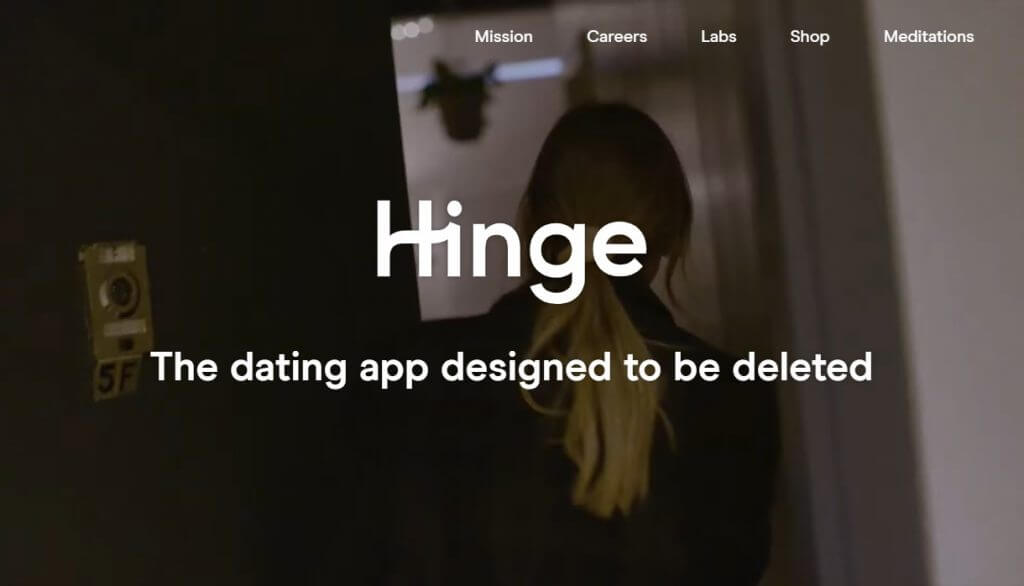 You can join either through your phone number or Facebook. Currently, only the mobile app is available for Apple and Android phones.
1. My vitals, my virtues, my profile
During the sign-up process, you will have to complete a quite lengthy questionnaire divided into three sections: vitals, virtues, and profile.
Some of the questions are related to your appearance (for example, your height), while others are about your education, work, family plans, ethnicity, religion, etc. Some of this information will be pulled from your Facebook account if you register your Hinge with Facebook.
Hinge gives you an option to video chat and go on a virtual date with one of your matches.
You and your match can play a small game – answer Video Prompts to keep the conversation going.
This feature is quite simple, but it significantly improves the search results in the Discover feed.
When you choose the filters, you can set any of them as a dealbreaker – that means that all displayed profiles have that trait.
However, a wrong choice of a dealbreaker might do more harm than good. For example, you choose a distance of 5 km as a dealbreaker, and profiles on the Discover feed do not seem interesting.
Well, it might be a good idea to reconsider your dealbreaker – is the distance that important, or should you focus on something else, such as educational background or work?
When you are setting dealbreakers, keep in mind that feature should be something truly important to you that will help you bond with another member, not height or distance.
Standouts is another feed, marked by a star icon on the bottom bar – it features users that are most compatible with you, and to some extent, it is related to your previous matches.
You cannot like someone's profile on Standouts, but you can send a rose and let them know that you are interested. Users get one free rose per week, with an option to buy more in a virtual flower shop (six roses will cost you $19.99).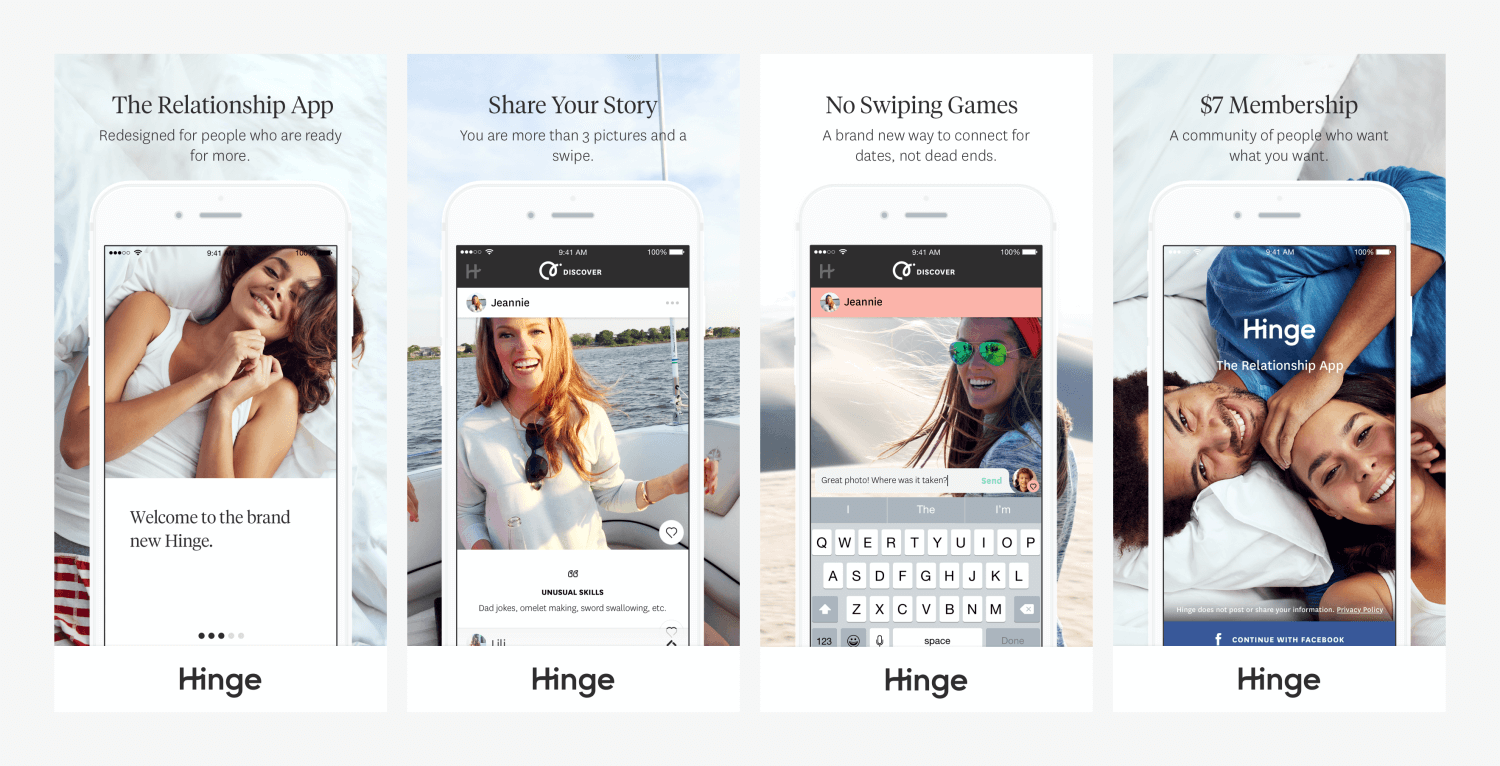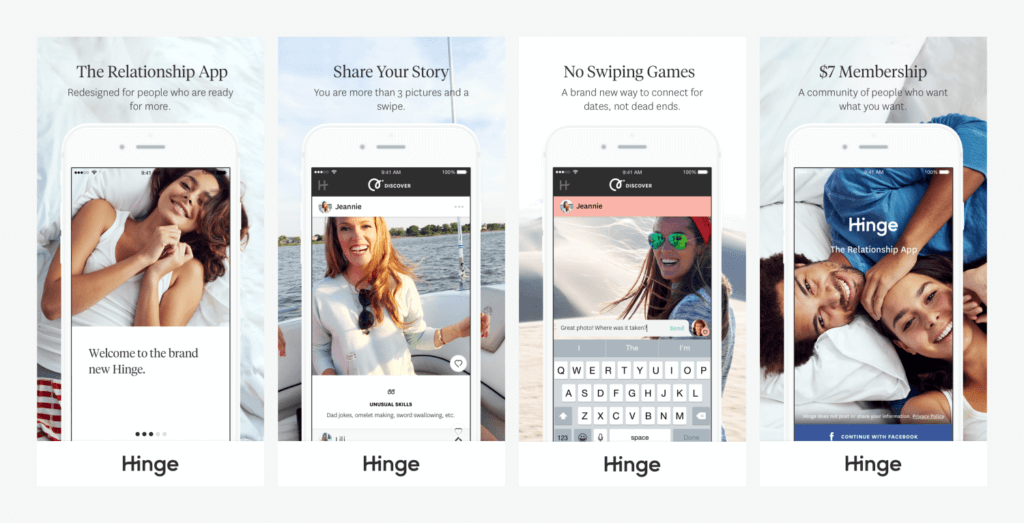 The other side will receive a notification, and rose will boost your profile visibility on their "Likes you" feed.
Hinge relies on the feedback of its users about their dates and matches, so they know which problems need to be tackled and how to improve their app. You can share your experience about specific Hinge dates through We Met.
All you have to do is complete a short questionnaire and write your thoughts. Hinge may even ask you if the date was virtual or offline and whether you have exchanged phone numbers.
Hinge has its flaws like any other dating app, so before you click on the "Sign up" button, you should be aware of some problems you may encounter.
Many profiles are inactive, which can lower your chances of matching.
Hinge doesn't have any profile verification, so some users are posting fake photos.
Information pulled from the Facebook accounts isn't always correctly displayed.
Customer support isn't responsive.
Hopefully, this article answered most of your questions and helped you determine whether the Hinge app price is justified or not.
Millions of people globally trust this app and use it to connect with same-minded people.
Feel free to share your experience with us, whether it is good or bad, and if you are just getting started on Hinge, I wish you the best of luck!