Dating apps are a challenge for everyone, no matter how old or young they may be, and in general, it will take you a lot of time before you are able to see through it and realize how all of them work.
Hinge is one of the online dating platforms that can make you get a headache because you are not sure of the things you should be doing and the ways you should be looking for a match.
You will need some time to sort things out, but once you get familiar with this platform, you will spend all of your free time looking for potential matches and enjoying everything the Hinge algorithm has to offer.
Here you will find out:
Is your dating app giving you the best chance for success?
Make sure to take our online dating site/app quiz to find out.
It's a fact that people who follow our dating site suggestions have on average 2 extra dates per month.
Hinge Matching Guide in Video Form
Audio (podcast) form for those of you on the go
How Do You Look For Someone On Hinge?
When joining Hinge, many people are not aware that this platform is nothing like Tinder or Bumble, and they tend to have problems with finding Hinge profiles of other users.
You should know that daters don't really have too much impact on who they will connect with, and the main strategy behind Hinge suggesting someone's profile to you is in your likes interests and prompt answers.
Since its users are not really able to look for others by searching for their name, surname, or location, you should get used to this kind of dating and welcome this new concept.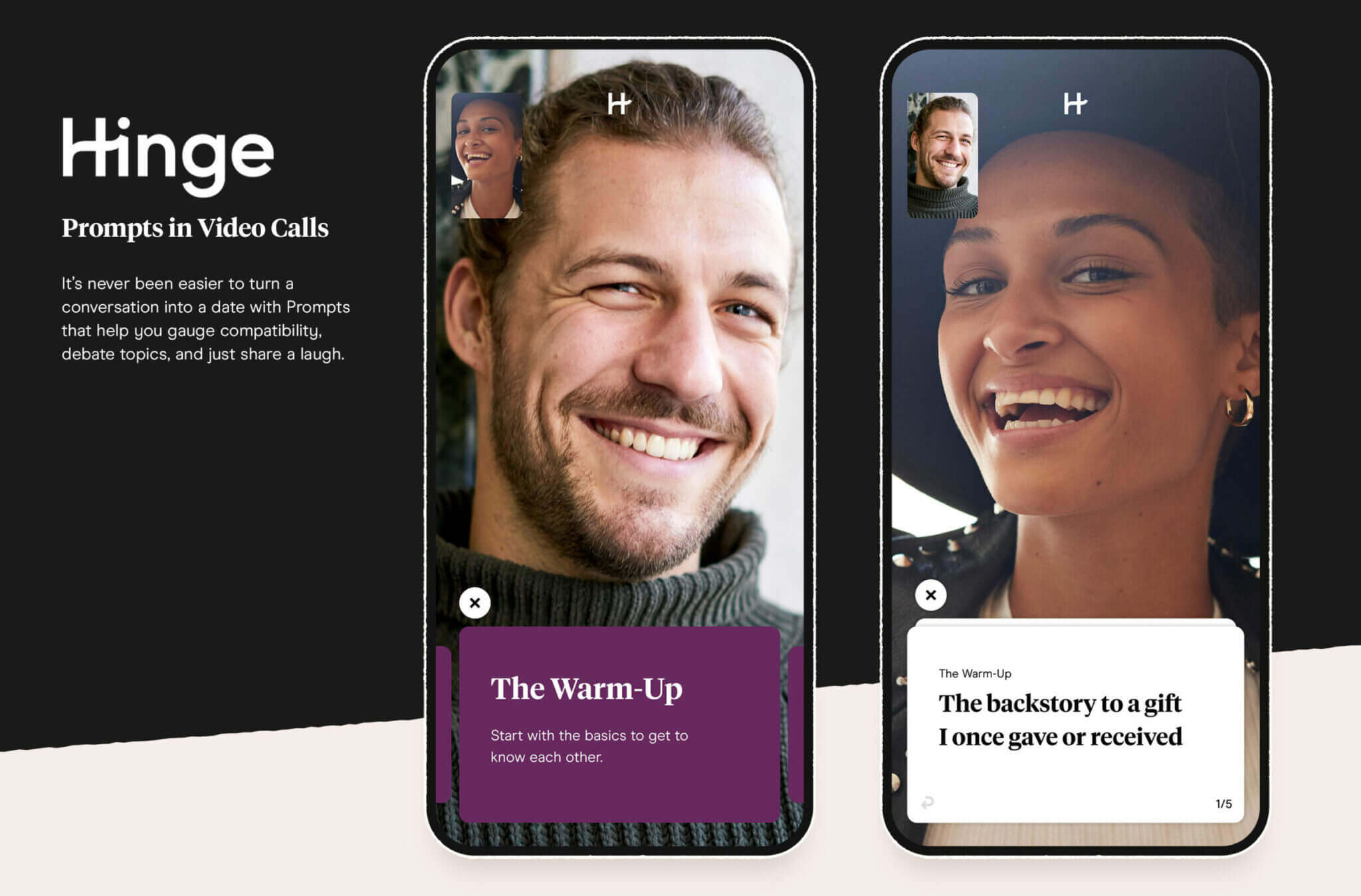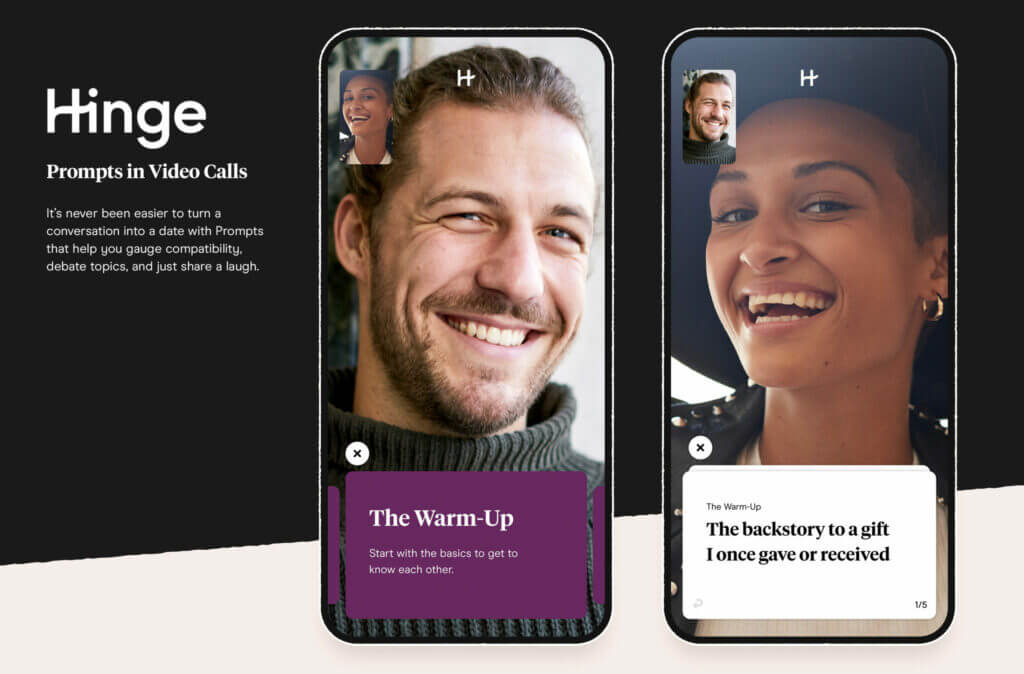 If you want to look for someone who also wants to engage in a long-term relationship (like eHarmony or Tinder) and will be the most compatible partner for you, all you will need to do is leave as much information about yourself as you can while registering and let the algorithm handle everything else.
Hinge users really need to feel relaxed and let things go slowly, so I believe this is not the best dating app for people who always want to rush everything and are in desperate need of a relationship.
Once you get a list of compatible matches, the best thing you can do is scroll through all of their profiles and try to realize how the algorithm works.
If you believe none of the people that have appeared on your Hinge app homepage fit your idea of a perfect partner, then you should definitely update your dating profile and see whether you have made a mistake with some of the information you have left on it.
Hinge questions and algorithms are usually able to connect you with your preferred member perfectly, but in case this doesn't seem to be happening, then maybe some of the vital information on your account was wrong, or you worded it badly.
This is a serious relationship app, so when it is your turn to swipe right, the offered profiles should not differ too much from your idea of a perfect partner.
In case something like that happens, then there was sure some sort of mistake, whether on your or on behalf of the Hinge app.
The only way you can look for someone on Hinge and how does Hinge works, in general, is by swiping left or right – everything else is reserved for other dating platforms like Match.com, Bumble, or Tinder.
How to use Hinge is really not that hard, but it will definitely take you some time to get accustomed to its algorithm and software, especially if you have been a loyal user of some of the other dating platforms before.
OFL Top Recommendations based on 100,000+ Survey

"Serious Relationships"
"Discreet Hookups"
"Best Course for Men"
"Quick Flings"
"Normal Hookups"
"Our Quiz"
How To Get Matches On Hinge?
There is not really a guaranteed way or strategy that will help you get hundreds of matches on Hinge, but there are definitely some ways that will make you more visible on the platform and help you get more Hinge comments.
How many users on Hinge likes you is something that mostly depends on your answers and likes that you have shared on your dating profile, and no one can predict how many matches you will be able to get.
Of course, the more interests and good vibes you share on your profile, the higher the chances that you will get hundreds of matches.
However, this also doesn't have to mean anything because there are plenty of people who keep it simple or those who have pretty niche interests who also manage to attract similar people almost instantly.
The easiest way to get someone to click the Hinge match button is to make sure you are interested in plenty of different things which you know will connect you with a large number of people.
Even though this is a good technique, always make sure you don't list things you know nothing about just for the sake of securing yourself hundreds of matches.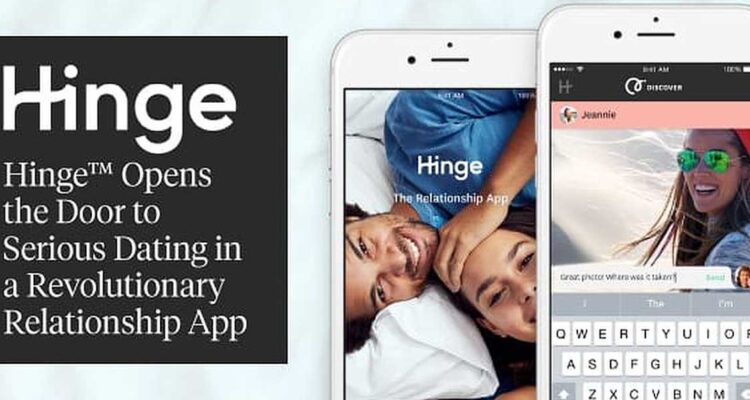 You may get unlimited likes this way, but it will also make people feel very disappointed if they start talking to you and realize you are nothing like the person you pretended to be on Hinge.
This is not a platform made for hookups (like BeNaughty or Ashley Madison), so always keep in mind that you shouldn't be acting like someone you are not because it can get you in way too much trouble if you decide to start seeing someone in real life seriously.
How Does Hinge Matching Work?
As we have already mentioned, Hinge is not a regular Android or iOS dating app that will connect you with whoever seems to be closest to you.
It is, in fact, an amazing dating platform that allows you to check your Dealbreakers, list all the things you want to see in a partner and even modify the location.
You should be aware that the treatment of users with a free version and those with a Hinge preferred membership is almost the same, and both of them will get access to the hinge algorithm.
But only the preferred members can get access to the hinge standout feature.
When you see someone in your standout queue, you can send them a rose to be noticed on their profile.
Hinge uses all the information you have left while registering in order to create the profile of a person you would want to be in a relationship with, and it does its best job in trying to connect you with those who fit the description.
If you log in through Facebook, it also takes information about your Facebook friends and downloads all the information from your Facebook profile with a mission to find out even more about you.
Even though people may feel like this is way too intrusive, it is definitely the easiest way Hinge can find out all the information it needs about you and create a person's profile that is precise and realistic.
In case you don't feel comfortable with that, you should share only information you would want other people to know, but you should be aware that in this case, Hinge definitely won't be able to provide you with that great match.
Once you click the Heart icon and checkmark next to their profile, you will send them a signal that you like them, and in case you believe this suggestion is completely wrong, you can just swipe left and ignore it,
Hinge matching always focuses on connecting people who have a lot of things in common, and it first shows you people who seem to be the most similar to you and then lists other users, also based on the compatibility.
Their matching is usually impeccable, so if you ate experiencing some troubles or you believe that your matches are quite bad, you should definitely reach out to customer support or scan your profile to see if there is a problem with something.
How does Hinge match you is something you will be able to realize quite quickly, and when you see the people who keep on popping out on your homepage, you will realize that all of them are someone you would reach out to by yourself to?
How To Use The Hinge Dating App?
How to use the Hinge dating app is quite easy, especially if you are honest about your wishes and intentions and you have really created a profile with a desire to meet a significant other.
Even though plenty of people tend to lose themselves on Hinge and, in the end, go back to traditional dating apps like Tinder, OkCupid, or Match.com, I believe that you can have a much bigger success on this one, especially if you learn how to utilize all of its features.
The way you should use the Hinge dating app is by uploading as much information as you can about yourself and staying true to your character when filling out prompts and description boxes.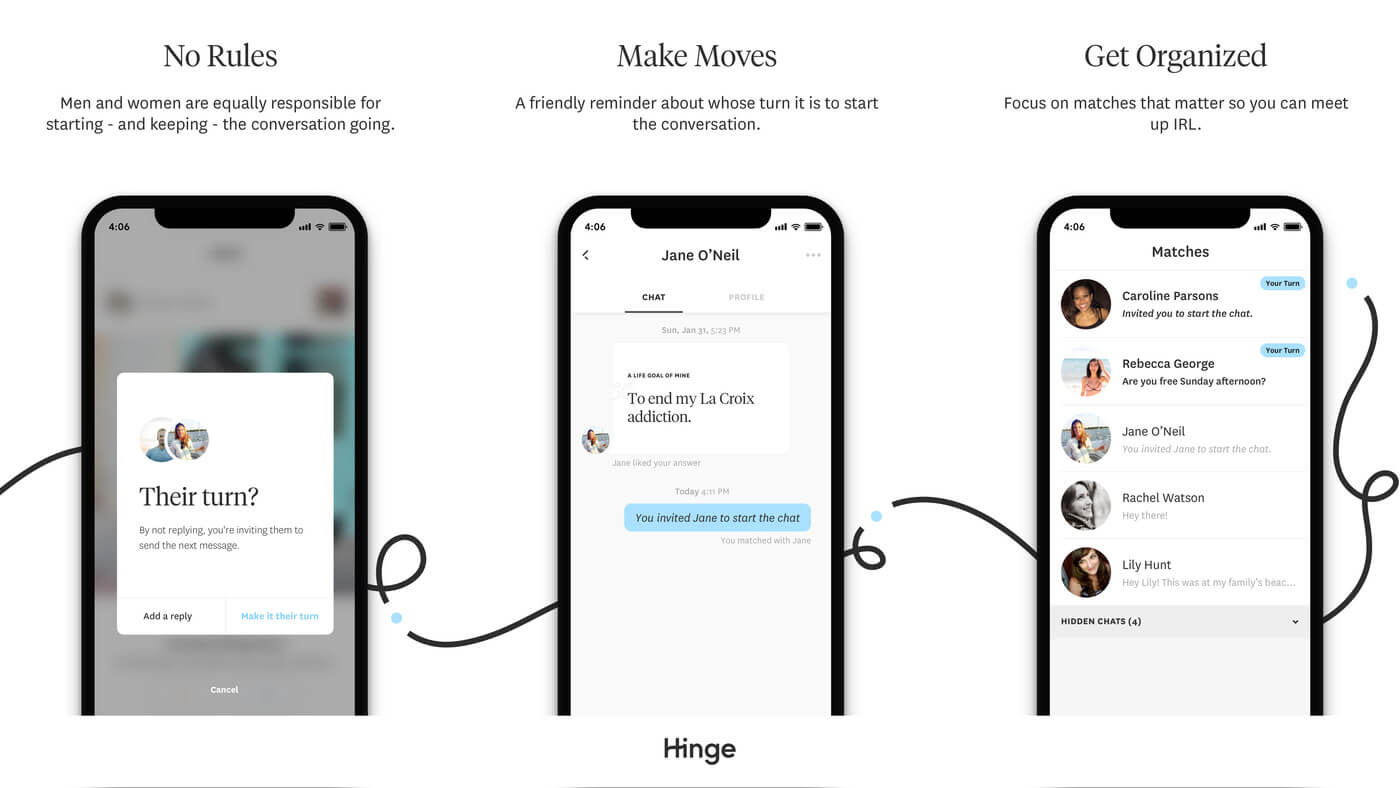 This is the best way to attract the attention of like-minded people, but also the easiest way to get plenty of matches because the more information you share about yourself, the more people will want to engage in a conversation with you.
There is also the Hinge share profile which can be very useful too because in case someone believes you may be the right choice for their friend, they will easily send it to them.
I would recommend being as open as you can and swiping right only on the people you really believe you would be a great match with; otherwise, some people may find you to be rude or even report you to customer service.
Just like on all other dating apps, always be careful, and never leave too much personal information like your phone number somewhere where every stranger can see it,
As you probably already know, Hinge is a dating app with the highest success rate, and you will definitely be able to find your date just a few days after creating your profile.