If you are a newbie to Hinge and want to make sure this dating app will provide you with much success, then you will for sure need to find the right way to handle both your profile and attract the attention of other users.
Hinge app questions are the best way to do that because they were created with a mission to make you find out what type of person someone is and find out a thing or two about them before you decide to send them a message.
You have definitely come across several profile examples from many different dating sites, but you probably never came across something similar to these Hinge questions that are also great conversation starters.
That is why we are going to tell you all about:
If you want to come up with the perfect funny answer to your Hinge question, then just follow our pieces of advice!
OFL exclusive offers - Check all of them

"Serious Relationships"
"Discreet Hookups"
"Best Course"
"Quick Flings"
"Normal Hookups"
"Our Quiz"
Is your dating app giving you the best chance for success?
Make sure to take our online dating site/app quiz to find out.
People who follow our dating site suggestions have on average 2 more dates per month.
What Are Hinge Questions?
Hinge dating questions or Hinge prompts are some of the most popular features on Hinge, and you have probably come across several Hinge questions examples.
These questions are a part of every Hinge profile, and when creating your own account, you will have to give answers to several questions prompts.
Some of them are funny questions like what are your unusual skills, worst idea you have ever had or two truths and a lie, while others are a bit more serious where you will have to talk about your ultimate life goal, greatest strength, or biggest hardship you have experienced in life.
There is a whole list of Hinge prompts, and even though many people want to give an answer to just a few specific questions, you can't really choose when creating your Hinge account.
You can't always use only fun profile questions or only serious ones – Hinge creates the perfect balance between your prompts and allows you to come up with an original answer for five completely different questions.
That is also the reason why the app won't allow you to choose specific questions or change your prompts all the time – it can have a large impact in creating a fake persona that is in no way standing behind that account, which completely harms the whole Hinge experience and enjoyment of their users.
You will see plenty of Hinge profile examples with quite cheesy and outdated answers to these questions, and I would always recommend you completely ignore them if you want to find a partner for yourself.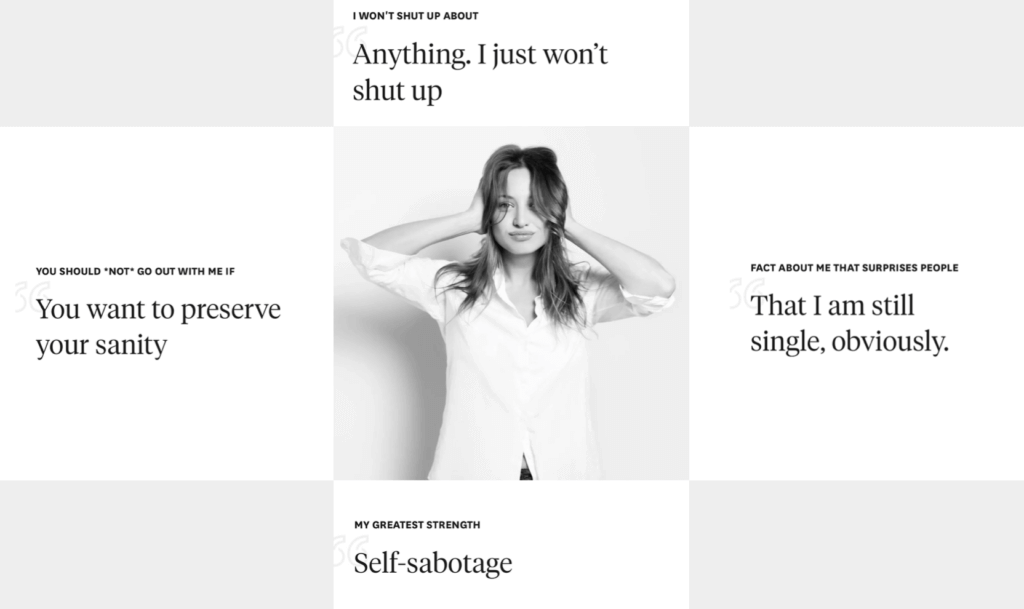 The key to giving a good answer to these prompts is saying something you are 100% sure of and is actually a part of your personality.
Many people think that "fake it till you make it" is the right way, but in general, it is always best to be brutally honest and write things that you would have said in real life, too, at some point.
An honest answer surprises people much more than a made-up story or a fake internet persona, so make sure your answers are a spontaneous thing because online dating will become a real-life first date at some point.
Are Hinge Prompt Answers Important?
These Hinge prompt answers are probably the most important part of your dating profile because they will allow you to express your personality and attract people to yourself.
If you manage to attract people with good Hinge openers and stories, then you will definitely be able to find your potential match for a serious relationship (like eHarmony or Tinder) or a casual hookup (like BeNaughty or Ashley Madison).
They are very important, and so is how to answer Hinge questions because it seems like way too many people struggle with that.
Since the people on the app will see first your picture and
What Are The Best Questions To Ask On Hinge?
If you have already explored the Hinge platform, then you have probably realized it is in no way similar to Tinder or Bumble, which are mostly focused on casual hookups and don't really encourage deeper relationships among people.
Hinge prompts are very interesting and creative, and they stimulate meaningful conversations between complete strangers, which is probably the reason why this platform became so popular in the first place.
Even though you can make a first impression of a person by reading through their profile description and looking at their question prompts, you will be able to get a real picture of them after you exchange just a message or two.
For that reason, I would never suggest reaching out to a potential match on Hinge with a simple Hi or Hello because you can easily get ignored.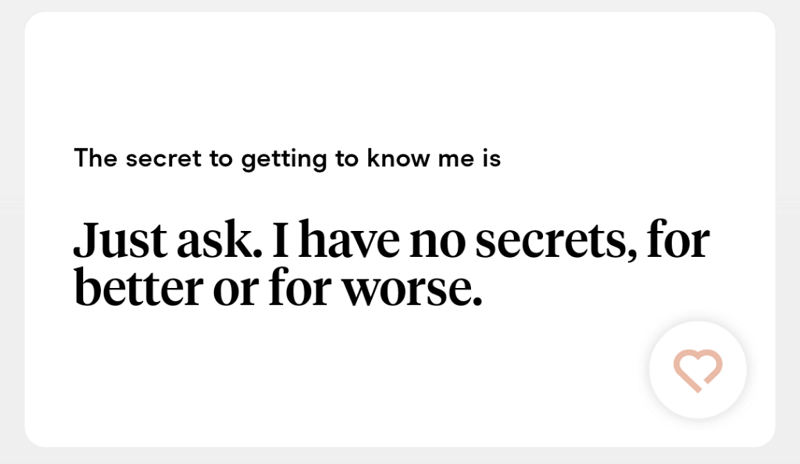 People send messages like this all the time, and they are really not entertaining nor stimulating, so you can't really expect your potential partner to feel flattered because you sent them something as simple as this.
Good opening questions on Hinge are always a bit more different and stimulating, and they can help you spark a conversation that is very deep and meaningful to both people.
Here I will offer you a few options which I believe are the best openers for Hinge and which have brought me, personally, a lot of success:
1. How would you describe yourself in three emojis?
Even though people will think this is a way too funny question and that you will in no way be able to build a serious conversation after this, it can actually be a very deep question.
You can find out a lot about people by the emojis they use to describe themselves, and you can always see how they perceive their life and what is their outlook on it.
I bet you would never come up with this sort of question, and it is really a genuine and interesting conversation opener, which can provide you with a great intro to someone's character.
Believe it or not, it has worked for me several times, so I would encourage you to try it out, especially if you are reaching out to a person who seems to be similar to you.
2. What album do you have on repeat? Why?
If you are someone who hates cliche conversations but wants to find out a thing or two about other people's preferences and tastes, then this is definitely a great starter for you.
Many girls will fall for you if you have similar taste in music or cinema, so this is always a great conversation starter, and it can help you share your opinions on many different things.
Even though it can sound pretty basic, a podcast or TV show you may have in common can make you even closer than you can really think.
You can ask them similar questions like "What is your favorite movie of all time" or "What was the best thing you watched on Netflix."
The way to win me over is in having similar interests and being able to discuss different things with me, so I would always be very happy to talk with someone who has the same favorite album or movie.
However, even if you are completely opposite and you can't agree on anything, it can also be a very interesting convo, and even things like this can lead to a first or even second date.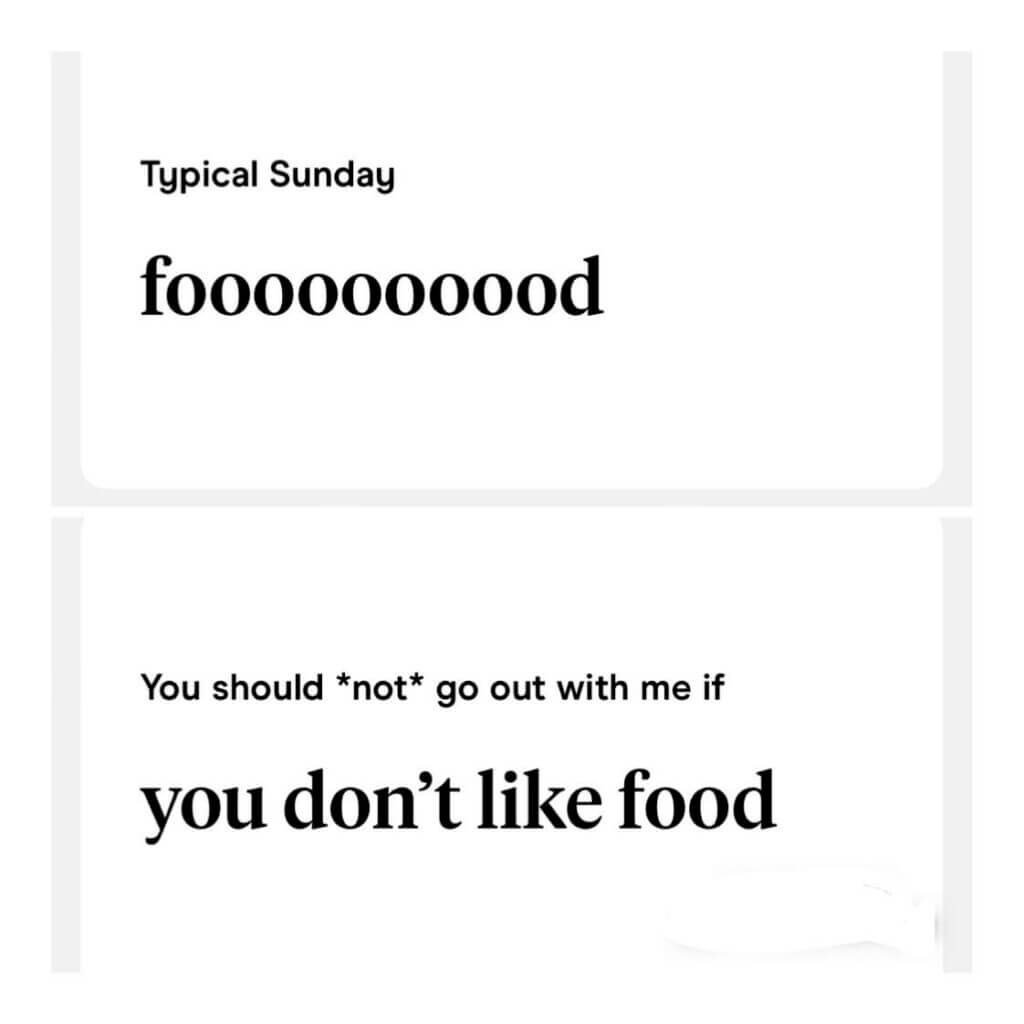 Opposites do attract at the end of the day.
3. Is there some food you hated as a kid but simply can't get enough of now?
Many guys believe that food questions to ask a girl are the go-to formula for a successful conversation, and in fact, it seems like many girls like that.
A question like this is both funny and will provide you with a random fact about the girl you like and will also help you kickstart a funny conversation.
All I ask is that you stay in her comfort zone and don't overdo it with some questions that are too personal or insist on finding out everything about her childhood.
Prolong the conversation for as long as she is interested in it, and if you see that she is really not feeling it that much, switch the topic.
4. If you could fly anywhere in the world right now, where would you go?
This is also a pretty simple and regular question you would probably ask your friend and yourself too, but it is a great way to start a conversation with someone too.
It is also one of the mysterious questions to ask because the other person will not be sure of what do you want to hear, why you are reaching out to her, and where the conversation will go.
If the person ends up being a travel enthusiast too, you will definitely be able to get into an interesting conversation and even exchange some travel tips and experiences.
Not too many people prefer this kind of traveling lifestyle, so it can be very hard to find someone who is as enthusiastic about it as you, so I believe this can be a great conversation starter.
5. What is your most irrational fear?
This shouldn't be an uncomfortable question, but I would understand why you would skip it if you don't really feel like talking about it with other people.
If you have an irrational fear of sharks, even though you have never swum in the ocean or you have never encountered one, it can be a great and funny story that will help you start an interesting talk.
However, if your match starts talking about something much deeper or darker, you can choose whether you will keep on listening and discussing the matter, or you will try to keep everything light and funny and ignore the whole thing.
It can be quite a sketchy topic, but some people are naturally very open and don't mind discussing things like this with strangers, so do what you believe is the best thing.
6. What would you do if you won the lottery?
OFL exclusive offers - Check all of them

"Serious Relationships"
"Discreet Hookups"
"Best Course"
"Quick Flings"
"Normal Hookups"
"Our Quiz"
This is also quite a fun and interesting question because it will really make the girl think and set her priorities in life straight.
If you see that she is driven to succeed and that she cares for things that are not material, then you will probably be able to start a nice and motivating conversation with her.
You will also see what her goals really are, and in case the two of you agree and wish for similar things, this can even grow into something much bigger.
This question has led to me a few very deep relationships and friendships, so I would sincerely recommend it, especially if you are looking for something more serious.
7. What is the thing you treasure the most in life?
This is also the best conversation starter for people who are looking for long-term and serious relationships, and it can teach me something about the person I am interested in.
Depending on the answer of your match, you will see what it is that they strive for in life, and you will be able to discuss your future plans.
In case you believe the two of you want the exact same thing in life, then you can always meet up for the first date and see can go anywhere.
This is also a great topic for the first date, so if you think that someone is similar to you, you should definitely ask them this.
How to start a conversation on Hinge is already hard enough, and I believe that a bit deeper questions like these are a much better conversation starter than those cheesy lines you can find online or hear about from so-called dating experts.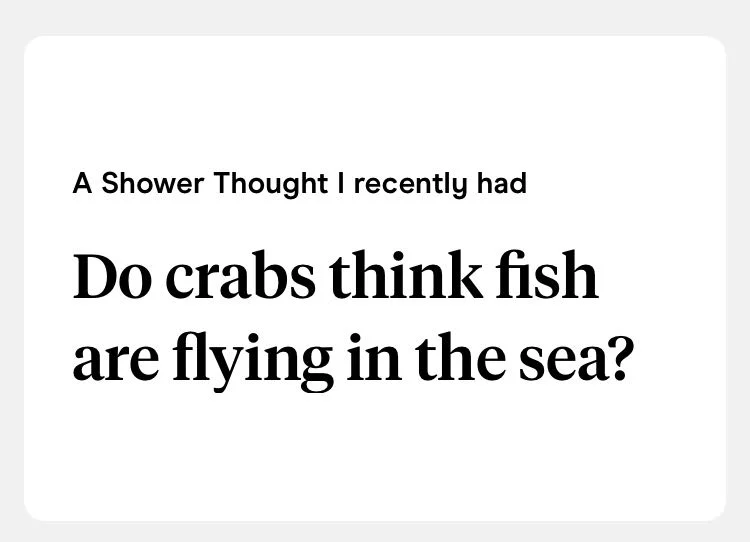 This is a way more genuine way to get to meet someone and even if nothing emotional happens, you can always build a meaningful friendship with someone that will continue to develop offline.
What Are Flirty Questions To Ask A Girl On Hinge?
However, if you are not a texter who is confident with asking questions that may be too personal or way out of their comfort zone, you can always stick with flirty questions that will work on any sort of platform.
Many people feel like personal questions are too big of a step to make for someone you don't know, so they decide to stick with some cheesier openers that are hit or miss.
It can also provide you with some of the funniest Hinge answers and can be very interesting, so you don't need to lose your hopes too soon.
1. What's your go-to coffee order?
This may not sound like too much of a flirty question, but it definitely implies that you want to take this woman out on a date and that you are interested in her.
It is quite cheesy but still cute, and the girl won't feel threatened by you, so I recommend using this conversation starter.
My simple pleasures are quite simple, and I love sharing a short and sweet talk about coffee with someone even when I am sure this won't develop into something more meaningful.
2. What's your favorite thing to do on a Friday night?
This is also a subtle way to ask someone out on a date or invite them to town for a dinner or cinema.
If she says that she likes going to the movies or hitting themed parties, and it appears that you are a big fan of that too, then it can be a great way to meet a potential soulmate.
However, don't be too pushy and don't force the girl to agree on a date immediately, these things take time, and she for sure won't say yes the moment you ask her, so try to keep the conversation going and then propose a date.
3. What is the best way to ask you out?
While this is not really a question you would find suitable for reaching out to someone; it is certainly a great way to make your match laugh and show her that you would do anything in order to get on a date with her.
Women love men who take the initiative and if she sees that you are really willing to do whatever in order to make her happy, there is no way she will decline your offer.
The best way to ask me out is by being the one who takes the first step and I would be very surprised but also delighted that a woman has decided to reach out to me.
4. How are you still single?
This is a classic cliche phrase that you can use on all sorts of different dating platforms, but it has worked quite well for me several times, so I would always recommend it.
Some girls may not be delighted to see a message like this in their inbox, while others will be honored to answer it and see what it is that the two of you can agree on.
It may be cheesy, but it 9 out of 10 times it works and it can help you start a conversation, so why not try.
However, if she declines or ignores it, don't try to force her into something and don't spam her inbox with messages, it is definitely not worth it, and other people will hear about your bad manners.