As a general rule, there are very few bots on Ashley Madison as this dating site does its best to remove any fake profiles that may show up in order to prevent scammers from posing as real women or men.
That being said, every now and then some Ashley Madison users may encounter fake profiles on this dating service.
Knowing this, I have compiled a list of ways how to spot them based on my own and the experiences of others on this dating website.
Here is everything you need to know about spotting fembots, credit card scammers, and all other fake profiles you may encounter on Ashleymadison.com.
You will learn:
How to spot a bot
What kind of bots are there on Ashley Madison
How to prevent getting matched with a bot
What to do if you do get matched with a bot
Bonus tip: we have found that you can save a lot on Ashley Madison by signing up on the website (not the app) using this special link.
Also, make sure to check out our full Ashley Madison review here.
What kind of bots are there on Ashley Madison?
Before you can start looking for bots on this dating platform, you will first need to know what types of bots exist. Each of these botting models differs from the others in some way, but what they all have in common is that they pretend to be real people, often using private photos of someone else to do so.
Here is a list of different types of fake profiles that can be found when online dating.
1. Gender fakes
This type of bot lies about their gender to other users. Usually, it is male users behind female profiles looking to target other men because they want to hide their sexuality, but there are a lot of female users pretending to be men as well.
2. Pretending to be someone else
Sometimes, hackers and cheaters will pretend to be someone else in order to get more attention. This behavior is mostly present on tinder, but it can show up on Ashley Madison as well. The main goal of these scammers it to use the hook-up site to boost their self-image or hide their body type and shape.
You are unlikely to lose any money from this kind of bot, just make sure not to share any payment methods with them or send them any gifts.
3. Romance scammers
Married people are generally more experienced than unmarried when it comes to relationships and are thus far less likely to fall victim to this kind of scam, making this type of bot far rarer on Ashley Madison than it is on other social media and dating apps.
Still, be warned that if someone is trying to woo you and then ask you to send them money to pay bills or heal a sick relative, they are most likely a scam.
Ashley Madison is not a sugar daddy website; therefore, you should be wary of such behavior. These are most commonly fake female profiles with very appealing profile photos, but there are male ones as well.
4. Affiliate scheme bots
This type of bot is mostly aimed at earning money from user profiles it engages with. They will procure pics of an attractive female, then try to use them to lure their victims to a different website where additional content can be found, sometimes via monthly subscription.
This type of bots is exceedingly rare on Ashley Madison for several reasons. First, people interested in married dating are rarely interested in webcam shows, and second, Ahsley madison algorithm is very efficient and finding and rooting out these bots. This is why they can usually be found on places such as newitz and gizmodo instead.
OFL Top Recommendations based on 100,000+ Survey

"Serious Relationships"
"Discreet Hookups"
"Best Course for Men"
"Quick Flings"
"Normal Hookups"
"Our Quiz"
5. Extortion bots
These are the most dangerous bots as they will attempt to blackmail you, usually by exploiting a data breach or using videos that you shared with them in order to get money. They will then begin a chain of escalating threats, ranging from telling your spouse about your account to posting videos online or even threatening your physical safety.

What are the signs that an Ashley Madison user is in fact a bot?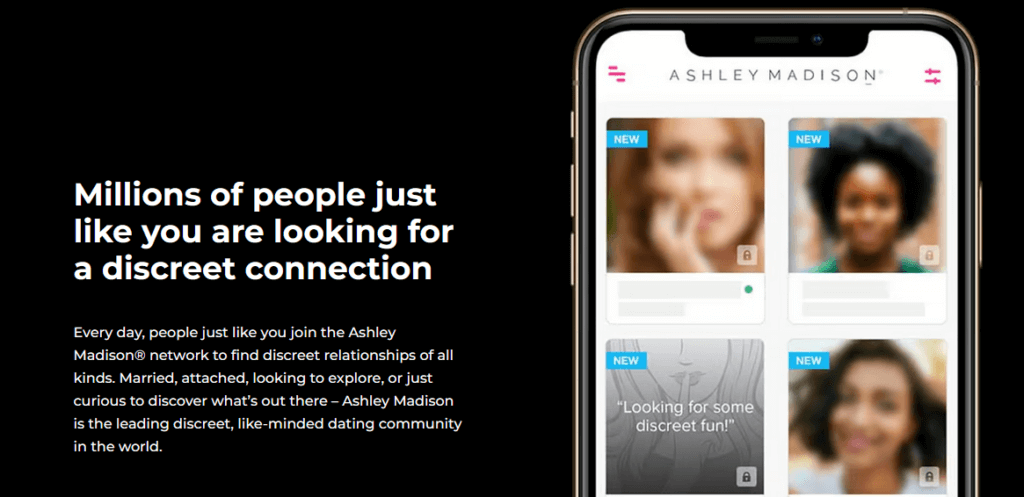 Now that I explained what sorts of bots are usually present on online dating sites, and can thus be encountered on Ashley Madison as well, I will give you all the tools to spot them immediately and save yourself the trouble of losing time or even money on someone who is pretending to be a real person.
1. A limited or obviously fake set of photos
Obviously, the scammer hiding behind a fake user profile is only going to have a limited set of photos they can work with, usually obtained in some illegitimate or even illegal way.
In addition to that, these photos will look especially attractive, chosen to appeal to the target's libido and override any reservations they might have.

2. An overexaggerated profile and bio
If someone's profile is full of very sexual, scantily dressed photos or has quotes such as "life is short", "you only live once", etc, it may be possible that they are a bot.
A huge part of the botting strategy on a dating website is to try and get as much out of a match as quickly as you can, to avoid being found out as the other side asks for more photos and/or a video call.
3. Avoiding sending more photos
If someone continuously avoids sharing more photos of themselves, especially casual ones, they may be a bot disguised as a real person. They will usually claim they are shy or not dressed properly, but let's face it. How many women would refuse to send more photos after they already showed their bikini in their profile picture?
4. Avoiding a voice or a video call
Just like with photos, bots will often avoid to go on a call with the person they are trying to scam to avoid being found out. If this happens once or twice it's no big deal, but repeated refusals to go on a call might mean that they are actually a bot.
5. Asking for money
As I already discussed, earning money, whether through affiliates or extortion, is one of the most common reasons for someone to use a bot on a dating website.
It's one thing if the person asks for you to pay cab fare for them to visit you or go to a certain location to meet them. But if they start asking you to cover their living expenses, or try to blackmail you with the information you shared with them, don't do it.
In case of blackmail, the best thing to do is call the police.
That being said, this kind of scams is extremely rare, especially on Ashley Madison due to its superior algorithm.
6. Avoiding your questions
While some botters and scammers will have an extremely well-developed background story for their online persona, others not so much. If they continuously avoid your questions or give short and unsatisfying replies that seem fake, they probably really are.
As a result, paying attention to what the other person says can be a great way to spot a bot on Ashley Madison.
7. Avoiding meeting in person
Finally, one sure-proof way to spot a bot on Ashley Madison is by asking them to meet up in real life. If they seem to suddenly shift their behavior even if the conversation has been going well up until that point or start giving you a variety of excuses, they are probably being a bot.
8. Lack of genuine interaction
Most bots are scripted; therefore, they only have a limited repertoire of replies they can use. As a result, if you talk to them long enough, they will get confused and lose the ability to maintain the charade. Thus, if you think you may be dealing with a bot, talk to them a little longer and look for any inconsistencies.
How to avoid getting matched with bots on Ashley Madison?
Obviously, the previous steps only work after you have already matched with someone and started talking. But how to avoid liking bot profiles in the first place? There are a few ways, which I will now explain.
1. They may sound too good to be true
If a person looks overly attractive, or has chosen exclusively high-res, professional photos to put in their user profile, it is probably a bot. This is because hackers and scammers will take photos of professional models to get as many likes as possible in order to have a higher chance of scamming someone.
2. Low quality or generic bio
A lot of botters don't pay enough attention to their bio. If the bio looks generic or states nothing but the details of their physical appearance, it may be because they haven't thought out the fake personality well enough.
What to do if you encounter a bot on Ashley Madison
As I just explained, while the presence of bots on this extramarital affairs website is quite scarce, they do appear from time to time. If you encounter one, the best thing to do is report it to the moderators of the website.
They might take a few days to react and ban the bot, but they will do it. In the meantime, stop the conversation and ignore any future messages from the fake profile.
Conclusion
Bots are a very rare occurrence on the website, a fact that almost every Ashley Madison review states quite clearly. Still, scammers do attempt to use the website for their own nefarious purposes from time to time, either to get money out of their victims or to simply boost their self-confidence.
Spotting these bots can be done by carefully analyzing how their profile and interactions, and you can also report them to the authorities in charge to remove them from the platform, making it a safer place for both you and other real users.
FAQ
1. Is Ashley Madison safe?
Ashley Madison is a safe, international platform geared towards married users that want to add some spice to their love life. Bots are extremely rare, and when they do appear, they get promptly banned. Thus, you don't have to worry about being a victim of a data dump performed by a hacker.
2. Is it possible to fall victim to an Ashley Madison hack?
No, Ashley Madison is a safe platform, with a powerful algorithm designed to keep its users safe from any illegal actions of a third party. Fembots do appear from time to time, but they are generally rare and easy to spot and report.
3. Should I send money to other Ashley Madison users?
No. The only monetization Ashley Madison has is in form of credits that can be used for winks and other premium content. Anyone asking you to give them money through the chat is either a bot or a scammer, and you should immediately block and report them in order to keep yourself safe.