If you are a fan and loyal user of Bumble, then you are definitely aware of the new modes they introduced to this app.
Bumble decided to become much more than a regular dating app, which is the reason why they opted for incorporating Bumble Bff and Bumble Bizz into their interface.
Nowadays, you can use Bumble for a lot of different things, and one of them is looking for new friends.
You should pay attention to our article if you are curious to find out:
OFL Top Recommendations based on 100,000+ Survey

"Serious Relationships"
"Discreet Hookups"
"Best Course for Men"
"Quick Flings"
"Normal Hookups"
"Our Quiz"
Is your dating app giving you the best chance for success?
Make sure to take our online dating site/app quiz to find out.
It's a fact that people who follow our dating site suggestions have on average 2 extra dates per month.
Bumble Bff is a special mode you will find on Bumble that is made in order to connect you with your new besties.
Many people were not even aware of can you use Bumble for friends, so this is an amazing feature that will definitely help you meet plenty of amazing Bumble Bff men and women.
Once you create a Bumble account, you will be able to create a separate Bumble date and Bumble Bff profile which you will use for completely different purposes.
If you are looking for a friend date, this is the best place and certainly the safest place for finding it.
Once you activate the Bff mode on your Bumble app, you will be able to scroll through your homepage and look at other people's profiles, read about their likes, interests, and things they are seeking in a friend.
Since you will have a separate Bumble Bff and Bumble dating profile, you will be able to write completely different things on them, and don't stress whether they will be good and interesting enough when you are using Bumble this way or another.
The recommendations of your potential friends will always be based on the information you have already uploaded to your Bumble Bff profile, so you can be sure that all of your new friends groups will also be people who have a lot in common with you.
If you want to make sure you will get connected to people who can really be a great friend match for you, you want to make sure you upload as much information as you can and describe your perfect friend in detail.
This way you will really meet people who would attract you in real life too, and you won't have to stress too much about whether they will fit your usual friend groups or not.
The Bumble Bff mode is a great option for all people who have recently moved to a new city and don't really feel comfortable reaching out to people they meet on the street or in their neighbourhood.
It is also a great option for everyone who was harshly affected by the pandemic and the fact that it is almost impossible to go out and meet new people.
In case you didn't have the opportunity to meet many new people for the past year or two, then using Bumble Bff can really be a great solution for that.
Big cities like New York or Los Angeles have millions of active Bumble users who are looking for a potential date with friends, so if you are living in these cities and you feel lonely, then you should definitely turn to Bumble Bff for help.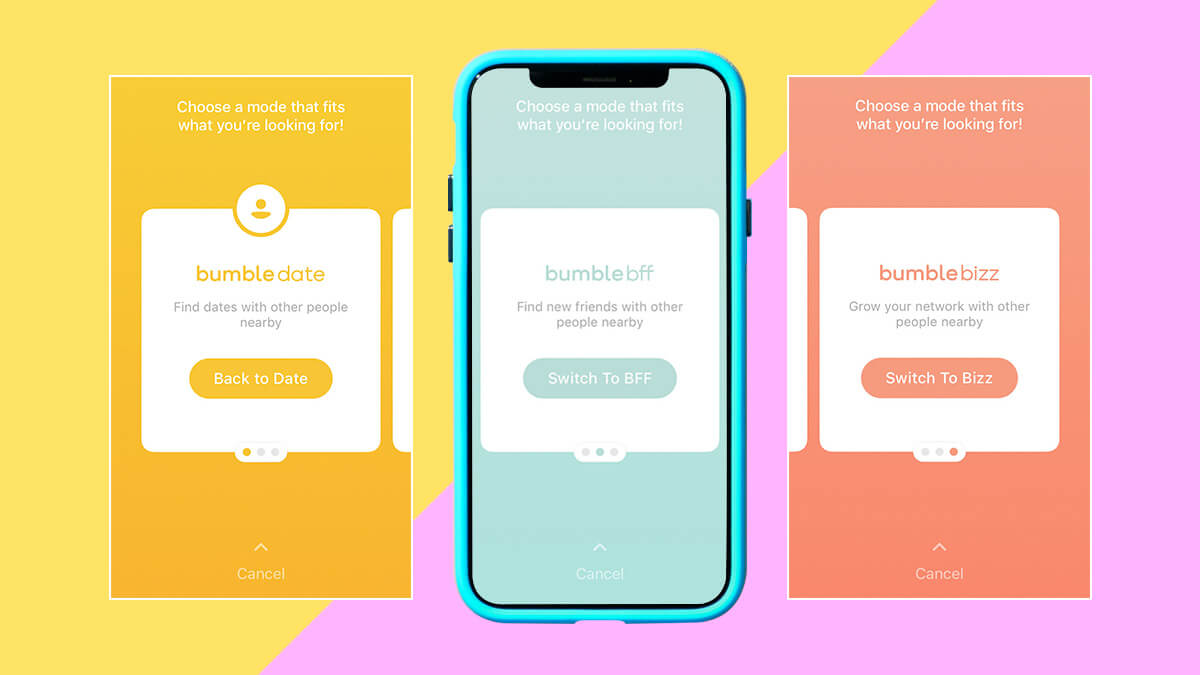 Often times, these online dating platforms can really be a great place to meet new people, and even if you use the Date mode, you still may be able to swipe right on someone who turns out to become a great and close friend.
OFL Top Recommendations based on 100,000+ Survey

"Serious Relationships"
"Discreet Hookups"
"Best Course for Men"
"Quick Flings"
"Normal Hookups"
"Our Quiz"
Since women are always the ones who need to make the first move, this rule is active on the Bumble Bff part of the platform, so don't feel surprised if you are not able to send a specific girl a message, even if you want to be just friends with her.
You are not limited to a specific gender on the Bumble Bff part of the app, and men can look for female friends too, so everyone can connect with everyone basically.
However, women will still be the ones who need to send the first message, so whether the two of you will start talking and meet up in real life pretty much depends solely on her.
I believe Bumble Bff is really amazing addition to the app that was focused on romantic relationships (like eHarmony or Tinder) and hookups (like BeNaughty or Ashley Madison) because it provides you with enough space to meet new and like-minded people and form strong bonds with someone you maybe wouldn't ever meet in real life.
It is also a lot better option for meeting new people than regular social media because everyone is verified, and only people who really have a lot of things in common with you will be popping up on your home screen.
You can avoid small talk and focus on topics you have in common from the start, so you will also save up a lot of time you would have otherwise spent trying to understand the vibes of the other person.
The Bumble Bff app has really been trending during the past year, and it seems like many people are joining Bumble just because of this feature.
Since regular dating apps like Tinder never offer them an opportunity like this, Bumble is the best option for everyone who is eager to meet new people and find individuals they will spend time with IRL too.
If you have read Bumble Bff reviews, then you have definitely heard how much people praise it, and I believe it is not for no reason.
Bumble modes are one of the best additions to the dating apps we have ever seen, and I believe Bumble Bff will grow even more in the future and maybe attract more users than a regular Bumble dating app.
Do You Have To Pay To Use Bumble Bff?
If you were asking does Bumble Bff work if you only have a free version of Bumble, the answer is yes.
Both Bumble Bff and Bumble Bizz modes are available to people who have a free membership, too, and you don't need to spend a dime in order to gain access to it.
All you will have to do is choose the Bumble Bff mode, update your special Bumble Bff profile and start the search for your new friends.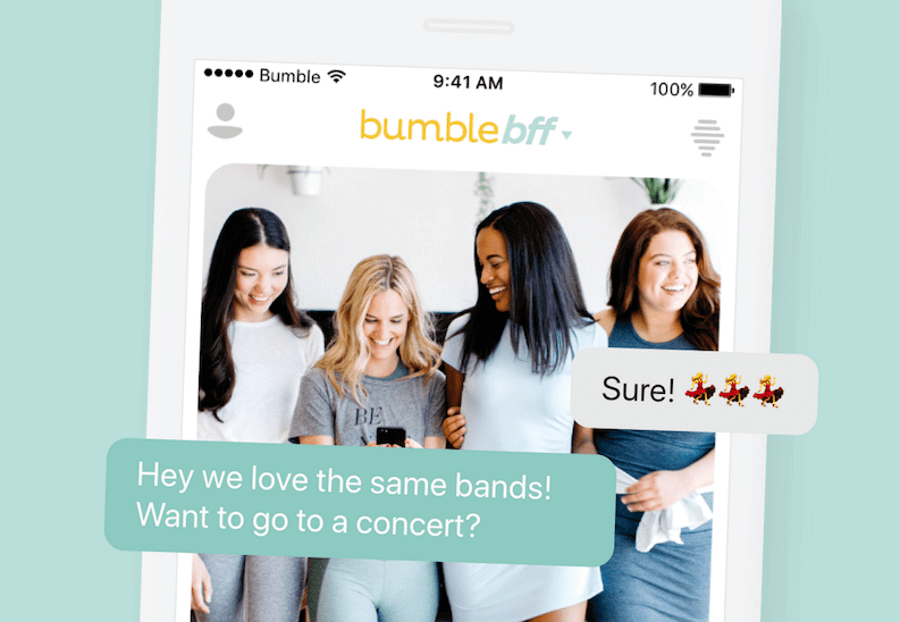 Both Bumble girls and guys will have access to the same features, and they will be able to upload the same things on their accounts, so don't think that other people will have a better profile than yours.
The Bumble friend app is quite simple, and even if you have a premium membership and paid features, you will only be able to write things in your profile and upload a selfie or two.
How to get Bumble Bff is quite easy because all you need is to create a regular Bumble account and then switch right to this mode.
Superswipes and Bumble Boosts can be used on Bumble Bff too, but you definitely won't need them because people tend to connect easily on these apps.
Can You Use Bumble Date And Bff At The Same Time?
Both Bumble Bff and Bumble Date mode can be used at the same time without any obstacles, and no one will even know that you are using them all at once.
You will have separate profiles both for Bumble Date and Bumble Bff, and you will even be able to upload completely different descriptions and pictures to each one of them.
As long as your Bumble profile is verified and active, there will be no obstacles for you, and you can even switch between these two modes every few minutes.
The swiping and connecting rules are absolutely the same on both modes, and the algorithm will connect you with people who have the most things in common with you on both of these modes.
In general, there are really not too many differences among them, except the fact that one is used for friends, while the other is reserved for daters.