If you have been using the Bumble dating app, then you have definitely heard about their premium memberships and options.
Those Bumble users who are not 100% satisfied with their experience and believe that they can have a lot more success if they have had access to some other features often tend to purchase Bumble Boost or similar additions.
Even though Bumble Boost has been a really popular type of Bumble premium membership, it seems like people are not very sure if it is worth the money or not.
If you are one of them and you want to make sure you are not wasting your money on something that doesn't seem to be working at all, then this is definitely the article you need to read.
Here, we will tell you all about:
Is your dating app giving you the best chance for success?
Make sure to take our online dating site/app quiz to find out.
It's a fact that people who follow our dating site suggestions have on average 2 extra dates per month.
Bumble Boost is one of the features that became extremely popular in a really short period of time because it allowed its users to purchase a boost that will last them for 30 minutes or a few hours and help them get more recognition on the app.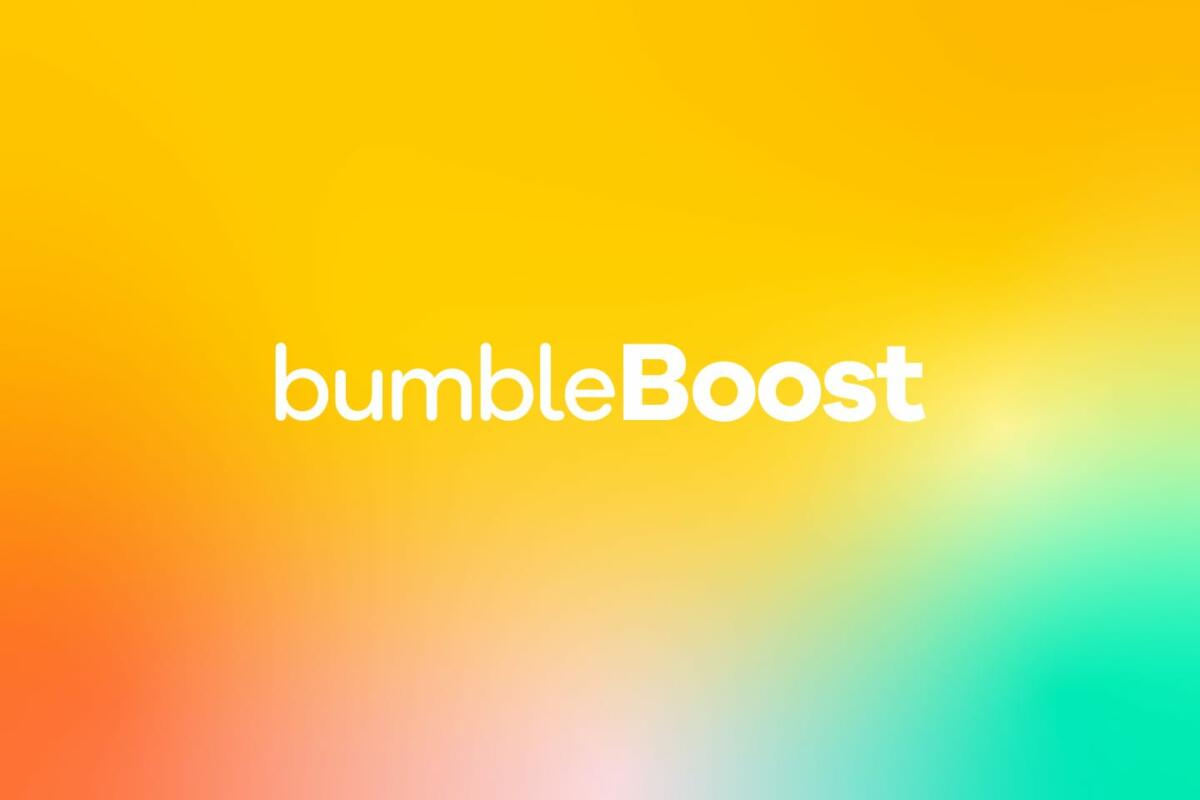 Once you open this online dating app, you will be able to purchase a regular premium membership you will be paying on a monthly basis, or you can opt for a Bumble Boost subscription that even though it lasts for a really short period of time is able to provide you with a lot of success and help you become the star of the algorithm.
However, when using Bumble Boost, you will be appearing in people's potential matches all the time, but that doesn't mean that you will always be connected only with people who seem to be the perfect match for you.
Since the goal of this paid version is to help you gain more recognition on this dating platform, you will be popping up on everyone's homepages with no particular order, just like you would do on Tinder.
Unlike people who have a free version of the app, you will always be in top recommendations to everyone in your surroundings, and you will get a lot more right swipes than regular users.
You can choose for how long you will use this feature, so you can get a short 30-minute boost, or invest a bit more money into this popular dating app and get a boost that will last you for a few hours.
There is no option of purchasing a daily or weekly boost on the Bumble app, so you have to get along with the term of the platform and choose how long your boost will last.
Since it tends to give amazing results and is considered to be the best premium feature for a reason, even a 30-minute boost will help you become a busy bee and gain a lot of valuable connections on the app.
The Bumble algorithm will do its best in promoting you during that Boost period, but you will still have to act according to regular Bumble users, and the woman will still be the one who needs to make the first move in order to start a conversation.
You also don't really get access to any other sort of unlimited filters or options, which does come with a regular premium subscription, so if you are actually looking for a way to gain access to your expired matches, match queue, or get super likes, then you will have to invest in a regular premium subscription, not Bumble Boost.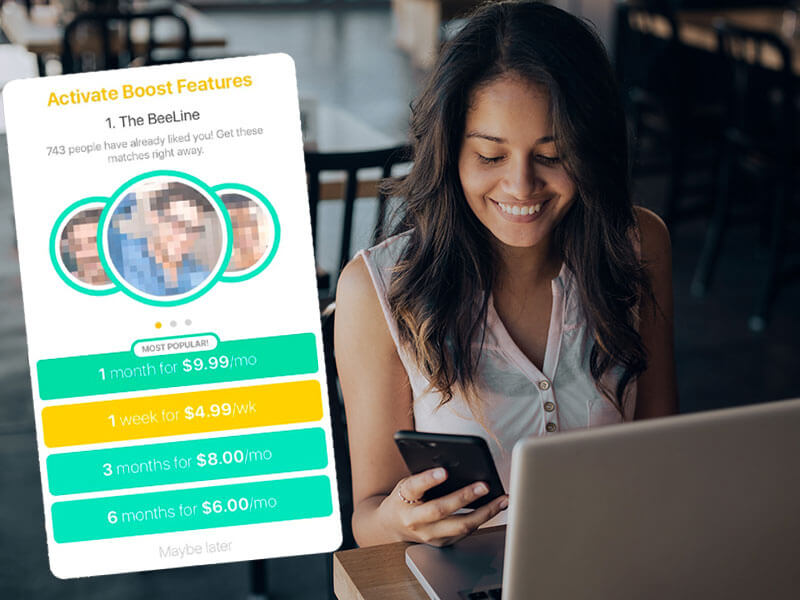 However, if you are just looking for a hookup and you want this to still be a free dating app for you, but you want to have the opportunity to boost our performance from time to time on it, then you should definitely opt for a paid feature like Bumble Boost.
OFL Top Recommendations based on 100,000+ Survey

"Serious Relationships"
"Discreet Hookups"
"Best Course for Men"
"Quick Flings"
"Normal Hookups"
"Our Quiz"
People who use it simply for hookups (like BeNaughty or Ashley Madison) and are not interested in long-term relationships (like eHarmony or Tinder), are usually the ones who get Bumble Boost the most so if this is the type of arrangement you are seeking at the moment, then it is definitely the best option for you both in terms of success and functionality.
How Much Does Bumble Boost Cost?
Bumble Boost is a special paid feature on Bumble, just like Tinder Boost is on this app, and you can only get it for a limited period of time.
There is no option of getting a lifetime subscription for Bumble Boost and you also can't get a monthly subscription for this feature because it is meant to last only for a few hours.
A lot of people are not aware of this, and they transfer a lot of Bumble coins to their account without realizing that Bumble Boost features can only work for a set period of time.
For that reason, Bumble Boost is also quite affordable and the Bumble boost price is 3 dollars.
This is a price for 30 minutes, which can really sound like a lot of money, but this feature really has a lot of perks, and its users tend to have a lot of success, so these 30 minutes can really change your whole experience on the platform.
Most people tend to purchase only a 30 minute or one hour-long boost, which is definitely a great tool for people who want to find a quick hookup or just speed up their dating process a little bit.
However, these days, Bumble is testing the option of adding a longer membership which is quite similar to Bumble Boost that will cost around 8 dollars.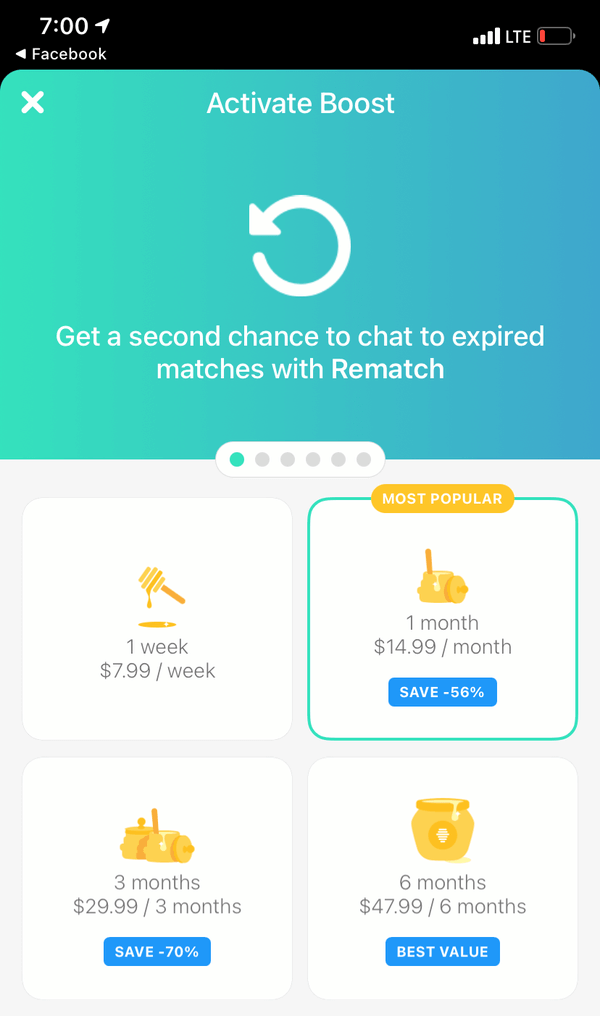 With this sort of membership, you will be able to gain more recognition on the app and you will get an unlimited number of likes, so it is in fact an extended version of Bumble Boost and it can be a great one-time investment for free users.
This sort of Bumble subscription may replace Bumble Boost in the future, and if you are thinking is Bumble worth it, then I would definitely say it is, especially for those sorts of memberships that can really completely transform your whole experience on this app.
Is Bumble Boost Worth The Money?
Many people are skeptical about the Bumble Boost membership but it is actually one of the best features this dating app tends to offer.
One of the most frequently asked questions is "Is it worth buying Bumble Boost?" and if you are one of the users thinking about this, I would definitely say it is.
In case you joined Bumble in order to look for your potential partner or soulmate and you seem to be struggling with gaining matches, then maybe you weren't really recognized by the algorithm or you didn't manage to become very popular because you didn't have unlimited swipes and you didn't manage to use Bumble the right way.
When things like this tend to happen, I would say the best thing you can do in order to extend your Beeline and get a lot more matches is purchase a short-term Bumble Boost and become the star of the algorithm at least for an hour.
Even though you won't get access to superswipes and you won't really be able to rematch with your previous recommendations, you will still reach many new and different people and you will definitely get a swipe right for many new people.
The Bumble Boost Beeline outcome can really be unpredictable, and some people were able to get almost 100 new matches for just an hour of boost.
It is also a great option for guys and girls who are just looking for a hookup or casual dating, and if you are alone on a Friday night and you need a quick fix, then using Bumble Boost may be the right decision because it will help you find a new match pretty fast.
However, some people who are looking for a serious relationship don't tend to be big fans of this feature because it can connect them to people who would never be their first option and in general, it makes their profiles exposed to different profiles of personalities that are pretty far away from their ideas of a perfect partner.
In general, I would say that this is an amazing feature and in case you are not that eager to meet the man or the woman of your dreams and you just want to get in touch with as many people as you can, then this is definitely a great option for you.