If you want to learn more about mennation.com, then you've come to the right place!
This website is entirely dedicated to homosexual men – you can meet plenty of sexy singles from your area.
The goal of the website is to enable gays across the globe to find new hookups more easily.
In this mennation review, I will tell you everything you need to know about mennation dating site/app.
OFL Top Recommendations based on 100,000+ Survey

"Serious Relationships"
"Discreet Hookups"
"Best Course for Men"
"Quick Flings"
"Normal Hookups"
"Our Quiz"
We shall cover:
Let's get started!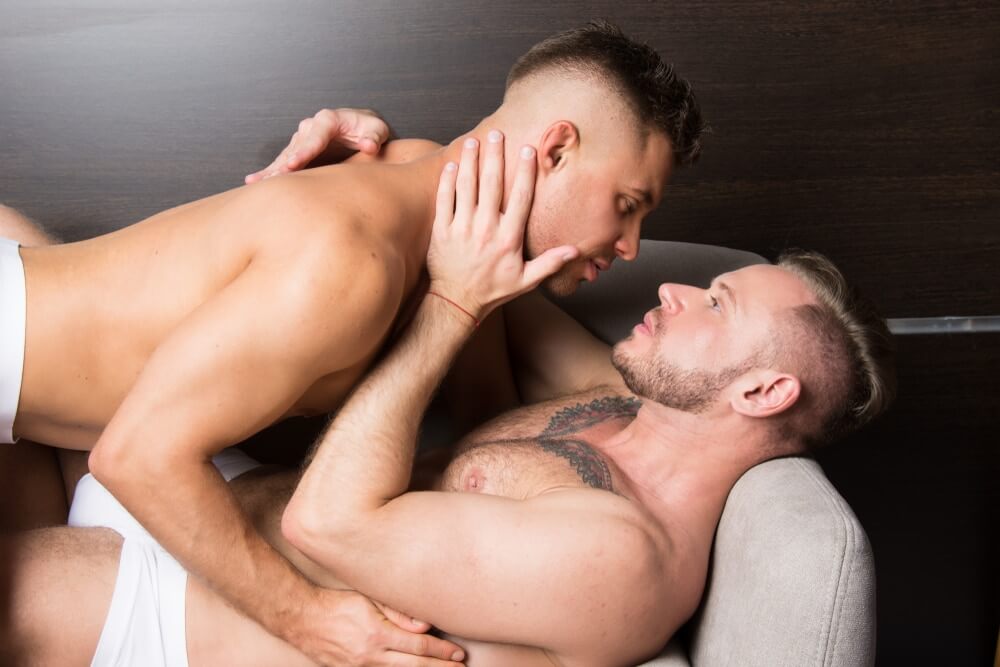 Men Nation Review in Video Form
Audio (podcast) form for those of you on the go
First, the ratings.
Effectiveness – 3.5/5
Features – 4/5
Ease-of-use – 3/5
Price – 3/5
Large member base, available internationally
Many features that allow members to express their sexual fantasies and get excited
Variety of ways to show interest and appreciation – gifts, tips, flowers
Privacy of users is protected
Instant messenger and full profile access are paid-features
The official mobile app hasn't been made yet

Who is it for/ Demographic Makeup
Firstly, let's get acquainted with the website's audience.
It is obviously not your everyday hookup site (like BeNaughty or Ashley Madison) and definitely not for serious relationships (like eHarmony).
As stated, this is a website dedicated to gays.
You can log in as a single homosexual man, bisexual male, or even as a gay couple that is looking for someone to break the monotony of their everyday life.
Since this is one of the oldest gay dating websites, it has a quite large pool of members – millions of gays are already on the website and love its design and features.
OFL Top Recommendations based on 100,000+ Survey

"Serious Relationships"
"Discreet Hookups"
"Best Course for Men"
"Quick Flings"
"Normal Hookups"
"Our Quiz"
No matter where you are in the world, you can find sexy single gays with Mennation.
Out of 97 million users, 61 million users are from the USA.
Other members are Europeans, Canadians, and Australians.
Also, the number of members is constantly increasing and the website claims that 900 000 men join every month, so you do not have to worry about running out of new people to meet.
Furthermore, 76% of users are single gays.
These men are mostly interested in hooking up and nothing more, so if you are looking for love, this website probably isn't the right spot for you.
24% of users are couples – if threesomes are your thing, then find a gay couple from your area on mennation.
When it comes to age distribution, you will notice that many seniors are present.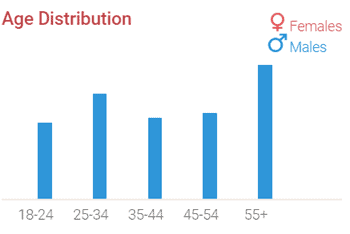 Over one-quarter of users are gay seniors – these are men that weren't ready to come out of the closet until later in life and now use dating websites for meeting like-minded people.
Keep in mind that even seniors on mennation aren't ready to settle down – they want to explore their sexuality with as many different men now that they feel brave enough to do so.
Fewer than 40% of users are in their twenties and forties, and from these members, you can expect more explicit content and willingness to meet offline.
Mennation was created by the same company that created the AdultFriendFinder – since a quite popular company is behind the website, you shouldn't doubt its effectiveness.
There is a variety of ways to make contact, and since it is a hookup website, you will notice that online connections often lead to offline dates.
Let's talk in detail about how the website works!
How well it works for the target group?
Because only men can join, the website works great for gays.
However, couples might struggle a bit to find someone willing to join them for a threesome or interact with them in general.
Mennation.com is welcoming towards all races, ethnicities, and people from anywhere in the world.
In such a large member pool, it might be a bit harder to find someone who meets all of your criteria.
To meet like-minded people, use search filters – there are basic and advanced search filters available.
When it comes to basic ones, these include only location – people from your area are displayed and then you choose to contact them or not.
Advanced search filters can help you to narrow down the search and find members with the qualities you are looking for.
One of the advanced search filters is distance – you can narrow down the location even further.
Other filters include age, race, and height or body type.
On every profile, you can see the compatibility rate – the website uses provided information to calculate the compatibility, and this information can be quite helpful to users that are unsure about initiating contact.
Found what you were looking for?
Now it is time to contact them!
How to make contact on MenNation?
One of the biggest cons of MenNation is limited access to communication features – only premium members can send and replay to messages, or start video calls.
Once you upgrade your account, you will see how effective this website is.
There are multiple ways to start a conversation with someone.
Instant messenger is probably the fastest – you can exchange short messages with other members, and also send photos or start a video chat.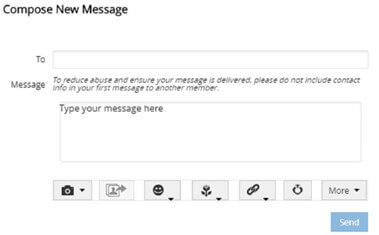 If your inbox ever gets flooded with messages and you are losing the important ones, then organize them by adding more folders.
Here are other options for initiating contact:
Email – as said, many seniors are using MenNation. The 55+ age group is the one with the highest percentage of members, so creators had to make a feature that people in their 50s are already familiar with. Email is an old-fashioned way of communicating – type an intriguing subject, write a message, and click on the "Send" button.
Wink – winks are a great way to encourage the other side to send you a message, so if you are feeling shy, send a wink and wait for them to contact you.
Gifts – if you want to impress another member, surprise them with a virtual gift. Who knows, maybe they will thank you by sending you a sexy photo 😉
Tips – tips are similar to gifts. These are used for showing admiration and appreciation.
So, is it that easy to find a new hookup with the mannation gay website?
Yes!
Of course, you have to put in some of the work, but the chances of meeting someone new are great.
The website encourages its users to stay open-minded and get excited.
With so many horny men and couples in one spot, you shouldn't have any trouble with finding someone.
Even if you do not move past online communication, at least you can enjoy some sexy content and intimate conversations.
Keep in mind that most features are fee-based. That means that for chatting or video calls, you will have to upgrade your account.
Your chance of success on the website does come with a price – to meet more guys, invest money and the outcome won't be disappointing.
Also, many new users are worried about potential scammers, and meeting offline causes discomfort.
Out of 97 million users, there must be plenty of fake accounts. However, mennation has a great way of dealing with them.
All reports usually lead to a ban, so fake profiles are quickly removed from the website.
Also, by using the advanced filters, you can separate authentic accounts from spam, and know that you are only communicating with verified members.
In the previous section, I have presented some of the basic features such as instant messenger, and email.
Mennation has a lot more to offer – all special features are designed to make members even more excited, so more conversations are started.
Even though basic features are locked for free members, many special ones aren't so everyone can use them.
Check them out:
Joining these groups isn't mandatory.
There are plenty of them, and if you are particularly interested in one, you can ask to join.
For joining, there are several criteria that have to be met – they are set by admin and if you fit into the group's criteria, you can chat with other members of the group via chat rooms.
Also, if you cannot find any interesting groups, you can create your own, set the rules and requirements and wait for other members to join them.
On the MenNation Blog, you can find plenty of interesting blog posts – about gay dating in general, dating tips and tricks, sex-related topics, etc.
All content is made by members, and you can share your own thoughts by creating posts.
By joining discussions on the blog, you can meet someone new.
MenNation can be used for earning money – you won't make a fortune, but you can earn a few bucks on the side.
Since not everyone feels comfortable with modeling on the camera, you can just sit back and enjoy the shows – to show interest in someone, or reward the best-looking model, send tips or press the buzzer.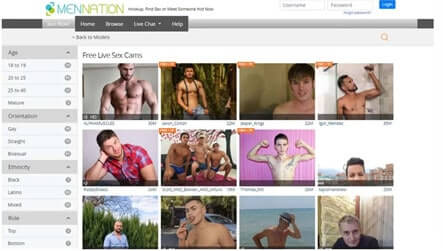 To meet more people, create a video and share it – your friends can comment on it by entering the chat room.
When the broadcasts end, they can use the Buzzmode – this will increase your popularity, so make sure that the content is something exciting that will intrigue the viewers.
Besides earning money via live shows, you can win prizes by entering the contest.
All you have to do is submit the photo and other members choose the winner.
6. FriendFinder Messenger
As said, the company behind FriendFinder has created MenNation.
Besides instant messenger on MenNation, you get access to FriendFinder Messenger, so you can meet people outside MenNation as well.
By sending points to members, you can become their top fan – if you send enough points, you will earn a badge.
How much effort will joining MenNation take – is the registration process lengthy and what information is required?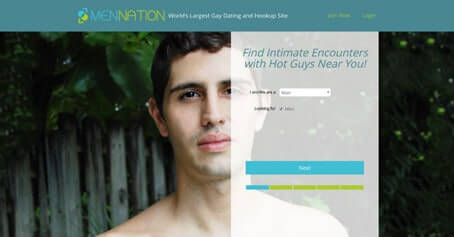 Let's go through it step-by-step and talk about the profile quality.
Joining is fast and easy, and most important entirely free.
There are five steps, so let's see what you need to do to become a MenNation member.
1. State the relationship status
You can join MenNation as a couple or as a single gay man.
If you are signing up as a couple, choose the option "2 men".
Also, in this step, you have to state what you are looking for.
Because the website is only for homosexual males, there is only one option available – "male".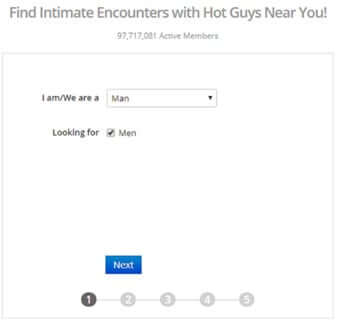 MenNation uses location as the basic filter, so you will have to enter your ZIP code – this doesn't have to be entered manually and you can find yours on the drop-down list.
In this step, you also have to enter your date of birth.
To set up an account, you will have to choose a username and password.
The username can't contain any spaces or characters besides letters and numbers.
The email address is required as well.
This step is optional – if you do not want to specify what type of guy you are interested in, then skip this step and come back to it later.
If you choose to complete it upon registration, there are several different fields: body type, height, race, relationship status, sexual preferences, etc.
Answers are multiple choice so choose the option that describes your ideal guy the best from the drop-down list.
The final step consists of writing a few short sentences about yourself – it should be something exciting and fun, so members feel motivated to message you when they stumble upon your account.
The sentences do not have to be lengthy, and sometimes even one clever sentence is enough.
When all steps are completed, you will receive the verification email.
This profile verification doesn't include any background check, but giving any false information isn't recommended since these scams are easy to recognize and lead to a ban.
When it comes to sharing photos, you can upload one profile picture and sort out other photos by creating folders.
Even though the website promotes casual dating, and nudity isn't forbidden, displaying nudes on the profile isn't recommended – your privacy and safety could be endangered in this way, so keep the nudes for private chats and chat rooms.
If you want to add additional info to your profile, check out other profile sections – you can share more about your kinks, sex courses, or testimonials.
As you can see, the profiles are quite detailed, but profile information is not available to everyone – only premium members have full access.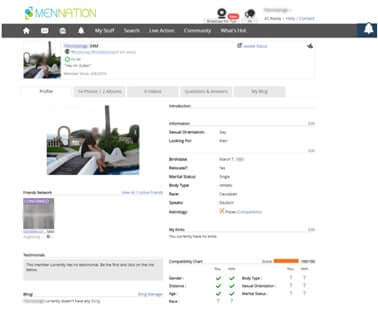 The one way to access MenNation is via a computer browser.
At first, the home page might be a bit overwhelming – all features, options, and other information are placed on the home page.
However, since the percent of senior members is quite high, the layout of the MenNation website is super simple.
Even if you aren't a computer geek, you will quickly learn where to find which feature and how to use search filters efficiently.
It has a black and white theme, and it resembles Facebook quite a lot.
The website is quite responsive, and hoping from one page to another, matching, and chatting can be done effortlessly.
The only downside of the website are pop-up ads – these are the ads for other dating websites from the same network.
Unfortunately, there isn't a way to turn them off, so just be careful where you are clicking.
The younger audience prefers the mennation mobile version over the desktop one, so let's take a look at some of the pros and cons of this version.
Firstly, I should state that the official MenNation app doesn't exist – if you want to access the website via phone, you can do it through Safari, Google Chrome, or any other mobile browser.
When it comes to usability, this version has a similar layout and features.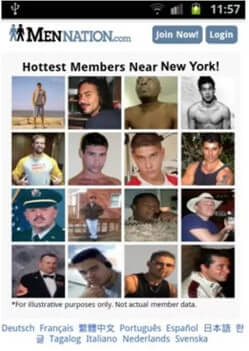 However, many cannot navigate the site well through mobile because of the smaller icons.
Because all features and options are placed on the home page, via mobile version finding what you need might be a bit more difficult.
For searching, a desktop is recommended, since you will see all of the pictures and information clearly.
Use your mobile for chatting, winking, or emails, so you can stay in touch with your matches when you are away from your computer.
So, what features are available with a free account and what will you get if you decide to upgrade it?
Also, how much will all of this cost you?
Let's compare the free and premium membership.
Unfortunately, options with a free membership are limited – you only get some of the basic features, and you can't do much on the website.
Free membership includes registration, access to the blog, broadcasts, and buzz mode, as well as live shows.
You will also be able to do the browsing and see who viewed your profile.
Premium members have access to a lot more features – some of them are basic ones, such as contacting members via email or instant messenger.
FriendFinder Instant messenger is also unlocked, so you can contact people from other websites as well.
You will be able to view members' profiles and become a top fan.
The tipping feature is unlocked as well, so when you are watching the live show, you can show your admiration.
How much will all of these features cost? Here are the prices:
Gold membership
1 month – $34.95
3-month – $59.85
12-month – $179.40.
MenNation is one of the pricier websites, and memberships are automatically renewed. Payments via credit card and Cheque are accepted.
Overall Rating – 3.375/5
If you are a single, gay male, looking for some fun, then MenNation is an ideal place for you – you can meet both younger and older gays, and even an attractive gay couple.
However, if you do not plan on upgrading an account, you might not be too satisfied with the website – many features are only for premium members, and free profiles have quite limited access to the website.
Also, staying in touch with matches on-the-go is a bit difficult, since there isn't an official mennation app, and the mobile version isn't so easy to navigate.
Have any more questions? Ask me anything you want in the comments.
But firstly, check out the FAQ!
Yes, even though there is plenty of nudity on the website, MenNation is safe.
Your real name and last name aren't displayed on your profile, and you set the preferences and choose to see semi-nude content or everything.
Creating the profile is free, and you can use the website without paying any fee, but access will be limited.
For sending messages, viewing other profiles, and sending gifts, tips, or flowers, you have to be a subscriber.
MenNation is a legit website, dedicated to gays and gay couples looking for their next hookup.
It is available worldwide, and males of all ages are welcome.
4. About MenNation company?
MenNation exists since 1996.
The company Various Inc is behind MenNation, AdultFriendFinder, and Cams.
Currently, the website has 97 million users and 1 million monthly logins.
1. How do I join MenNation?
Joining is super easy – the process consists of five steps, and only general information is required.
In the end, you have to verify your email address and upload a profile picture and a few other photos.
2. How to delete MenNation?
If you no longer want to be a MenNation member, go to "My Account" – there you will find the button to delete your profile.
3. How to cancel MenNation?
To cancel your membership, or turn off the auto-renew, visit the Billing history page – there you will find the auto-renew option.
4. How to contact MenNation?
MenNation has a great customer support service that is available 24/7.
You can contact the support service via the website.
1. How does the MenNation algorithm works?
MenNation uses standard and advanced filters – you can view members from your area or expand the search.
When someone catches your eye, there is an option to wink or send a message.
2. How do I block people on MenNation?
The only way to block another member is via message – the form is available on the help page, so fill it out and administrators will resolve the problem.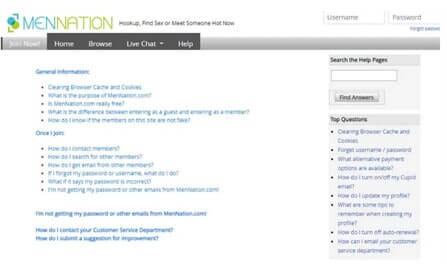 3. How do I report people on MenNation?
If one of the members is insulting you or being abusive, go to the help page and fill the form to report them.