The purpose of this review is to explain what Tagged is, the site's demographics, how to use it, and also show its unique features.
By comparing many different dating sites, I'm hoping to introduce my audience to the world of online dating and show them the best of the best dating sites.
Tagged Review is it!
So without further ado, let's begin!
OFL Top Recommendations based on 100,000+ Survey

"Serious Relationships"
"Discreet Hookups"
"Best Course for Men"
"Quick Flings"
"Normal Hookups"
"Our Quiz"
Is your dating app giving you the best chance for success?
Make sure to take our online dating site/app quiz to find out.
People who follow our dating site suggestions have on average 2 more dates per month.
Tagged Review in Video Form
Audio (podcast) form for those of you on the go
Ratings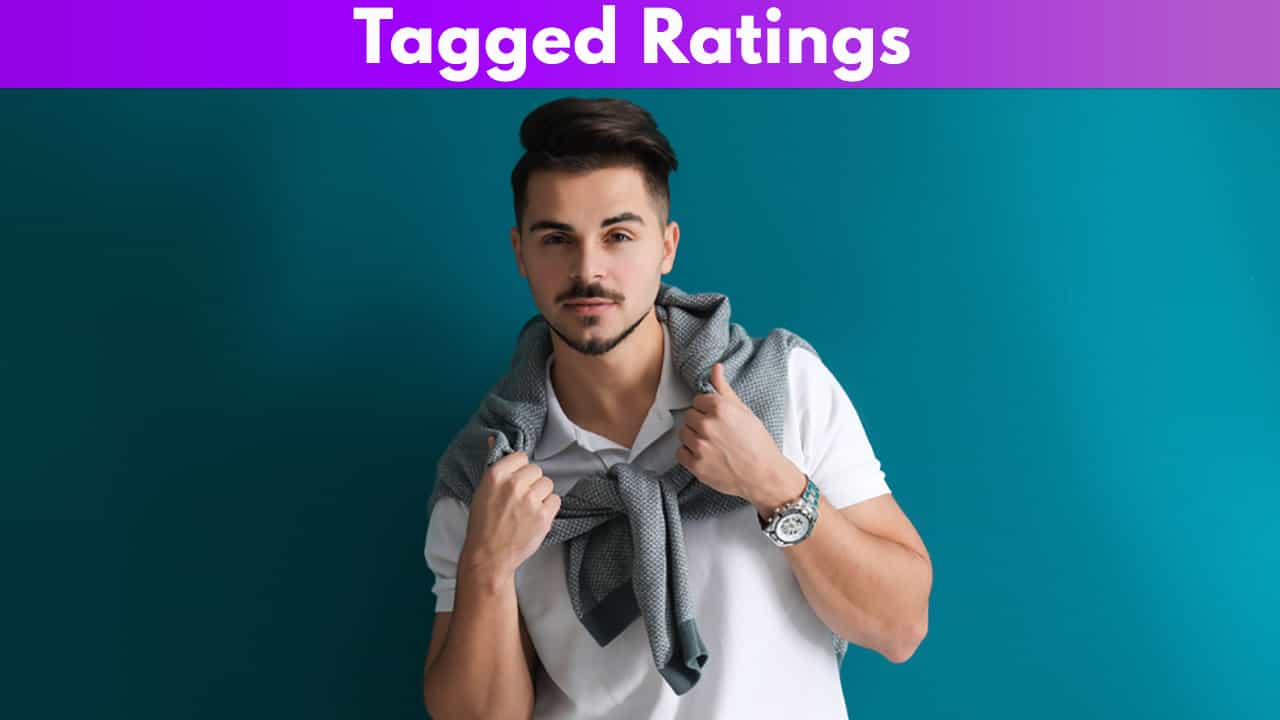 Effectiveness – 4/5
Features – 4/5
Easy-of-Use – 3/5
Price – 3/5
Pros
Signing-up via Google, Facebook or your Apple account
Has a mobile app which is more "user-friendly" than the desktop version
Has over 300 million users
Unlimited number of messages
Lots of features, especially the "Pets" game
Cons
The profiles aren't very detailed
The desktop version is difficult to navigate through
With so many users, there are bound to be many fake profiles
More of a social media than a dating site
Who is it for/Demographic Makeup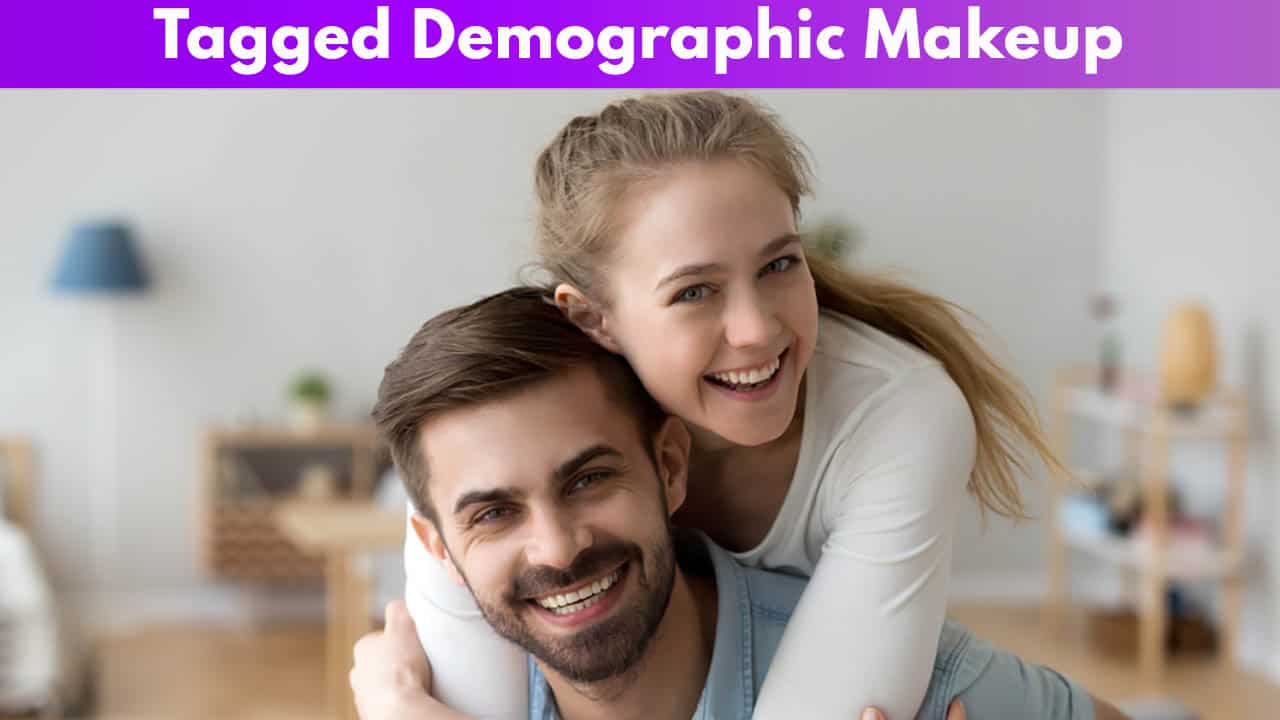 Tagged has over 300 million users, most of which are from the USA (120 million) and it also has users predominantly in the UK, France, Latin America, etc.
Of that 300 million, 83% of users are male and only 17% are women so it appears that Tagged is dominated by the male population.
When it comes to the age distribution, Tagged has a rather colorful demographic.
The highest percentage of users (19%) is between 35 and 44, followed by the 45-54 group, which makes up nearly 18%.
Millennials (18-24) make up for 17% and the 25-34 group makes up for 13%.
Quick note: because Tagged was first a teen app, many teens still use the app (11%) so I put them in the "millennials" bracket.
What do we have left?
Well, the 55+ group makes up for 12% of all users which is quite strange considering that the site is marketed more towards younger people.
As far as ethnicity is concerned, African-Americans are the biggest users (42%), followed by Caucasians (41%) and Hispanics (12%).
Knowing this, it is safe to say that Tagged is quite racially diverse, and because it is LGBTQ+ tolerant, it's a place where you can meet people of any preference.
Overall, it is hard to say who Tagged is for mainly because it was once a "teen-only" app and now has become another type of social media.
The users are quite diverse and there seems to be no indication that the site is marketed specifically towards one age group or gender.
The truth of the matter is that Tagged is for anyone who wants to chat with other people, share experiences and photos with others, or just want to play the "Pets" game.
OFL Top Recommendations based on 100,000+ Survey

"Serious Relationships"
"Discreet Hookups"
"Best Course for Men"
"Quick Flings"
"Normal Hookups"
"Our Quiz"
Effectiveness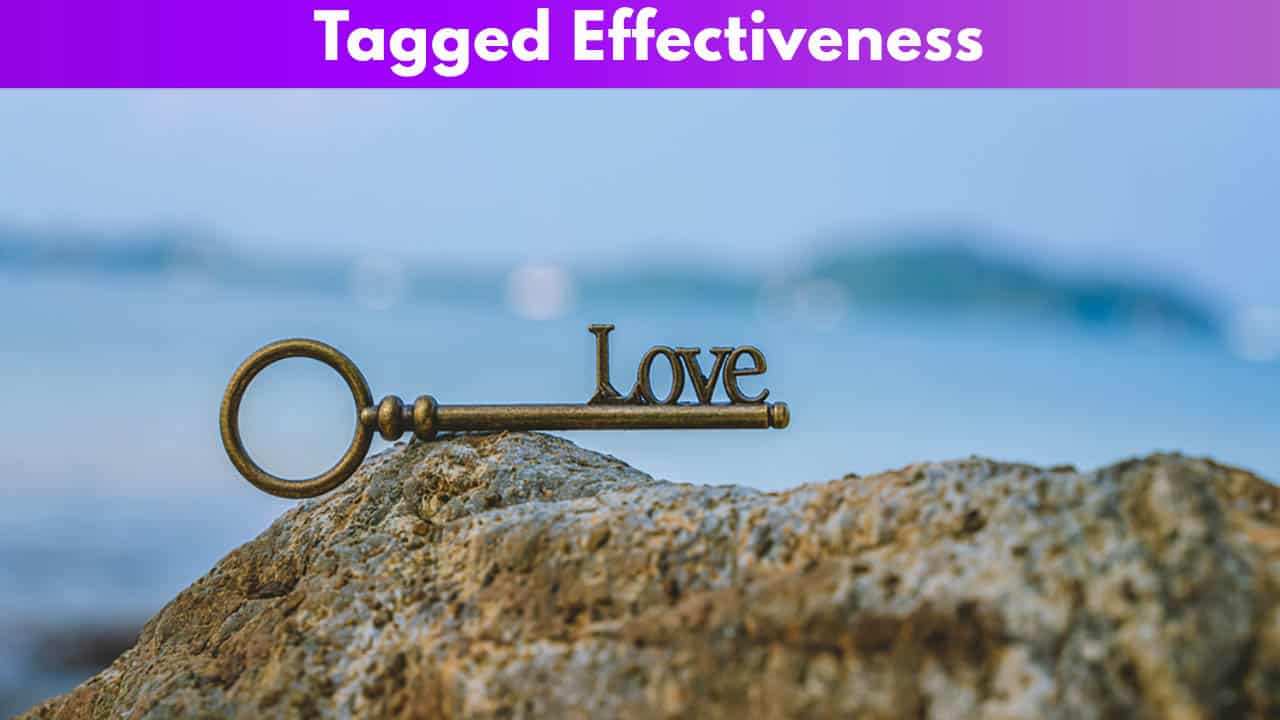 Since Tagged has more than 300 million users, the odds of you getting a date with someone are quite high.
Yes, there are a lot of inactive users and even fake profiles which are completely normal considering the user count, but Tagged is a good place to find casual dates.
Because the site is overall free and you can send unlimited messages, it makes making contact much easier than other more known dating sites such as Match.com or OkCupid.
Remember, this was once a teen-only site so the general theme of the site clearly stayed the same as the developers transitioned to market the site to older people as well.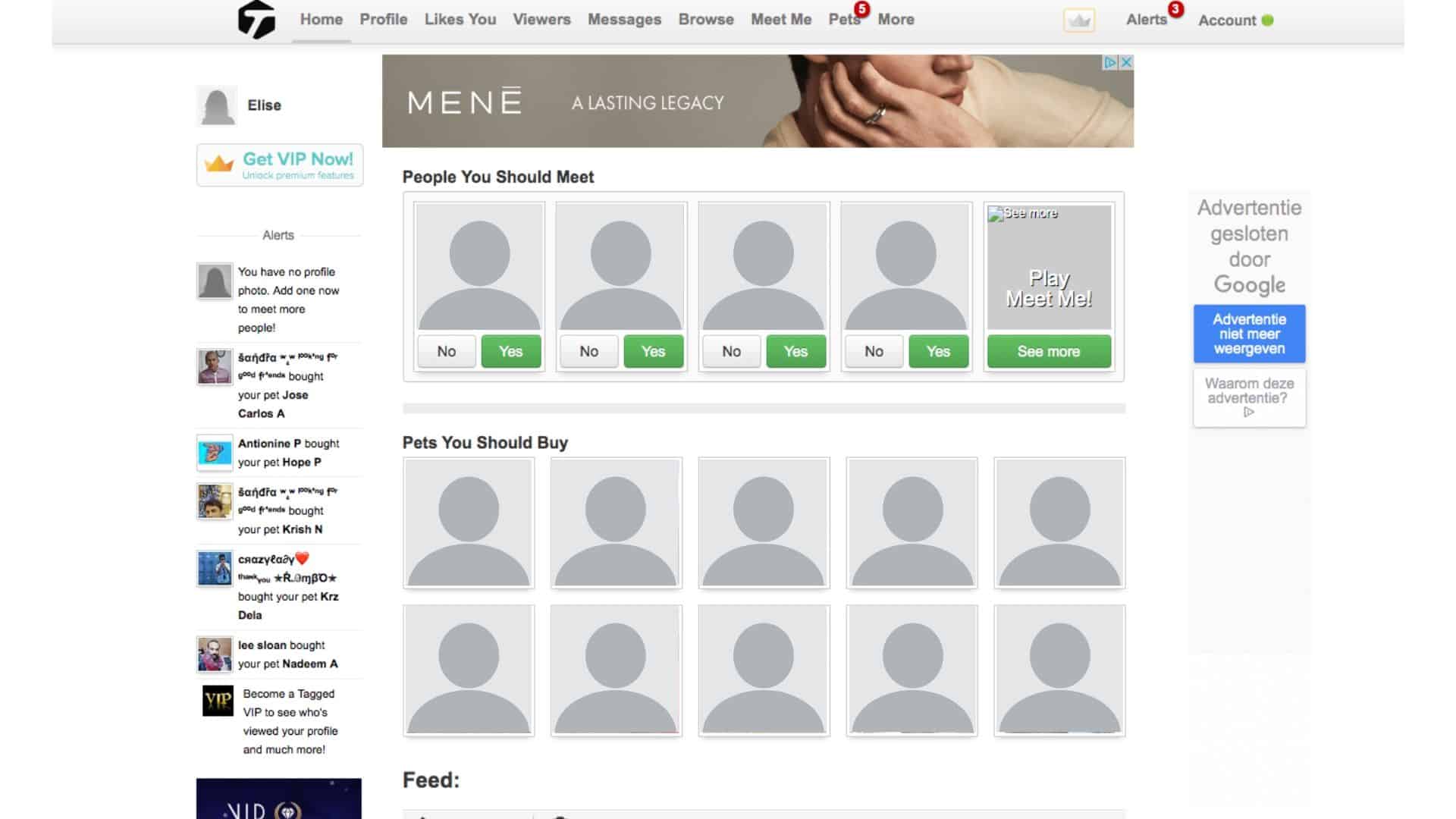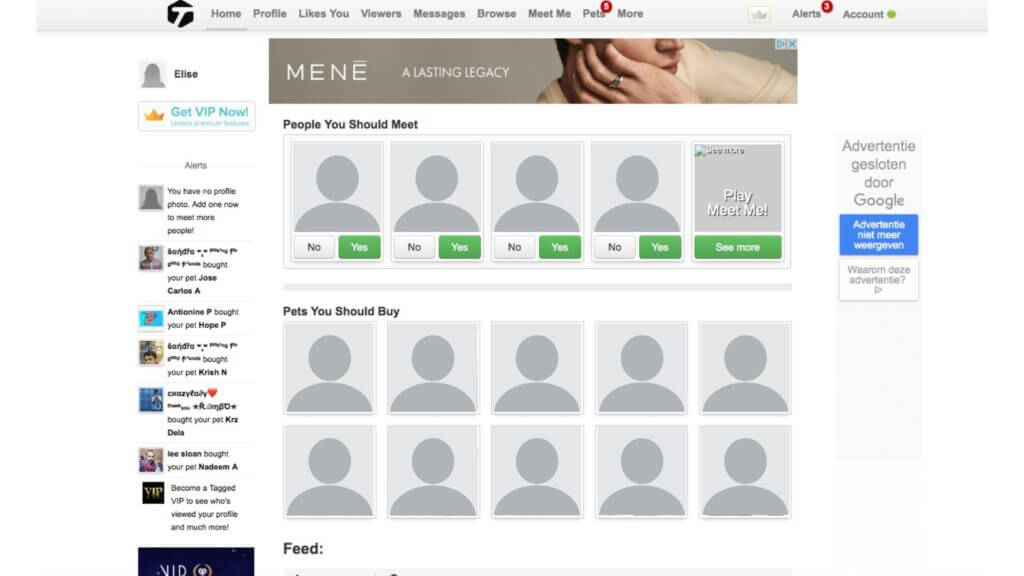 Being active on the feed, browsing through and liking profiles on "Meet Me" and also playing the "Pets" game will significantly increase your chances of scoring a date.
Of course, with any dating site, you will have to do some "digging" before you find the right person but there have been millions of users who started dating thanks to Tagged since it was launched in 2004.
And it's quite odd that a 16-year-old dating site is still relevant and that there are tons of active users using it every day.
I guess most of them just log in to play "Pets", but still, you can't run-out of users as you can on Tinder when you've swiped everyone near your location.
Perhaps, if you're new to online dating, Tagged is a good place to start but the only thing that bugs not only me but also other active users as well as the chaotic interface.
But that chaotic interface also gives you tons of features that I will be covering next.
So overall, Tagged is definitely a good dating site and quite fun when you get used to the way that the Tagged community and the site itself function.
Features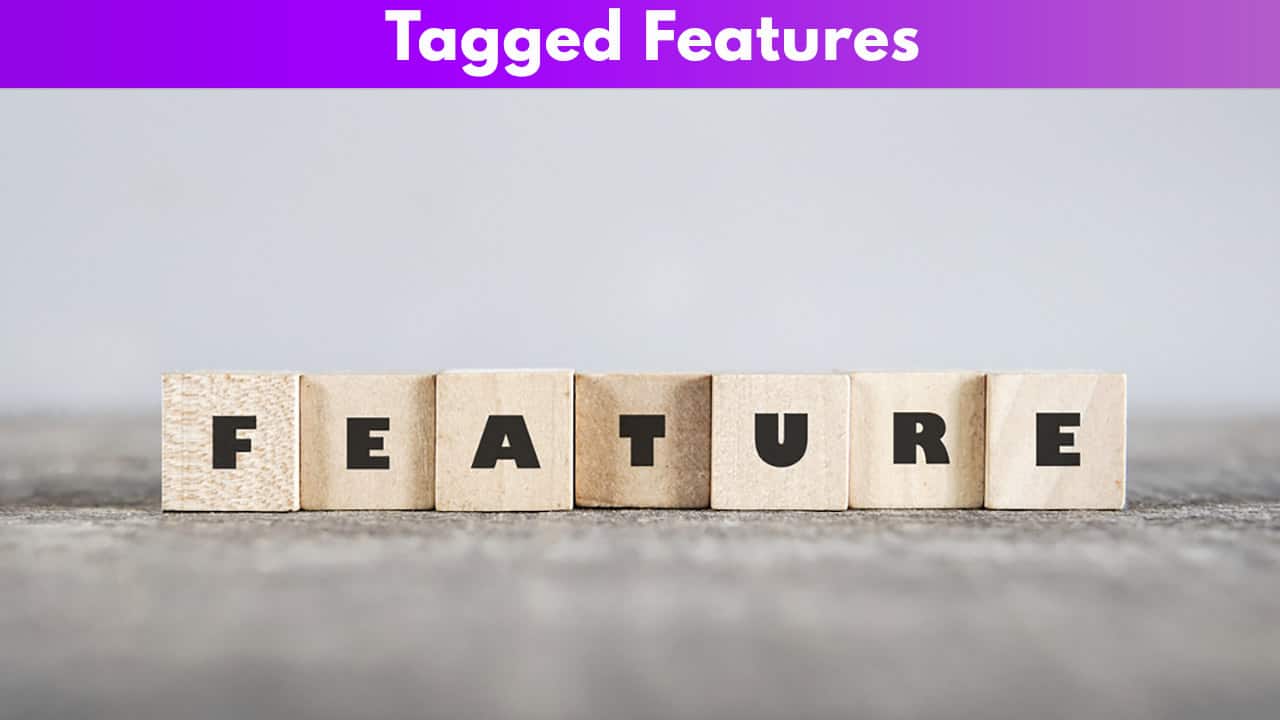 You never know where to begin with Tagged as far as its features are concerned.
First, let's divide the site's features into 4 categories and then I'll explain each one separately:
Browse – This feature lets you search for other members based on limited preferences
Meet Me – Tinder copycat
Live – Sort of like the "live" you have on Instagram
Pets – You buy other members (not really) and increase your bank account (not really)
So now that you have a basic overview of the features, let's check out each one!
1. Browse
This is the classical feature on most dating sites.
When you click on browse, it will display some profiles which Tagged thinks you might be interested in.
You can click on the filter icon as seen in the picture below and set your preferences by gender, age, country, location, and proximity in regards to your own location.


The advanced search isn't that advanced at all.
It just lets you choose the ethnicity and relationship status of the users you're searching for.
Once you're done setting up your preferences you can start browsing the profiles.
You can send friend requests and also message any profile you like, so sort of like Facebook dating.
How does Facebook dating work? – You might ask.
Well, before its fall in popularity, Facebook was used by many people as a non-conventional dating app and people would just send friend requests to one another and start chatting.
Of course, this is the main idea of most dating sites, but Facebook has so many users that the name stuck.
So overall, the "Browse" feature is the most direct one and will give you the best chances to score a date.
2. Meet Me
Since Tinder was launched in 2012 and introduced into the world of online dating the "Swipe", many dating sites took up the same approach.
So the point is the same as with Tinder.
You can like or skip someone's profile and you can also super-like them.
You get one super-like every 12 hours unlike on Tinder where you get one every 24 hours.
It also has a "reverse" button similar to Badoo, but this is a premium feature so you'll need a paid subscription.
Another feature that comes with the paid subscription is viewing who liked you
You can also view the user's profile to send them a friend request and if they accept it, you can start messaging them and skip the swiping part altogether.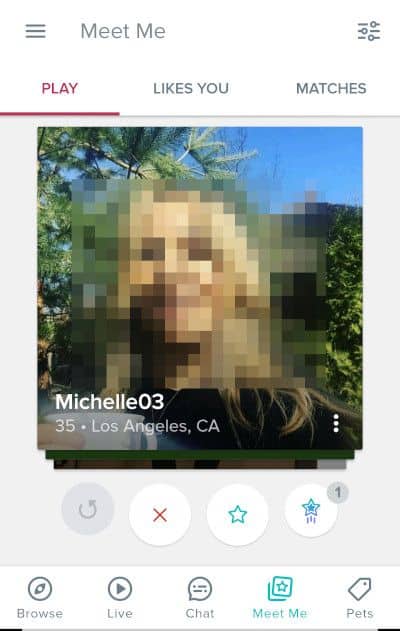 One good thing is that you don't have limited likes so you can swipe away as much as you like and then play the waiting game until someone likes you back so it's a match.
When you match someone, you can send them automatic messages such as "What's up?" or "How's it going?" or you can write a custom message which is always a safer option.
Even though this feature isn't as engaging as simply browsing through profiles and sending messages, it's still a good place to start getting the feel of the site.
3. Live
Live is pretty much the same thing as the "live" on Instagram.
Other members can start a video stream and you can join as a viewer and send them messages in the live chat or send them hearts and also send them a gift.
When you click the "Live" icon, you will be presented with 5 options:
Trending – currently the members with the most views
Nearby – members that are live-streaming near you
New – live-streams of new members
Favorites – your favorite live-streamers that you added
Award – when clicked, this option allows you to see the best-ranking live-streamers of all time, the ones that are "live" right now and also the weekly best live-streamers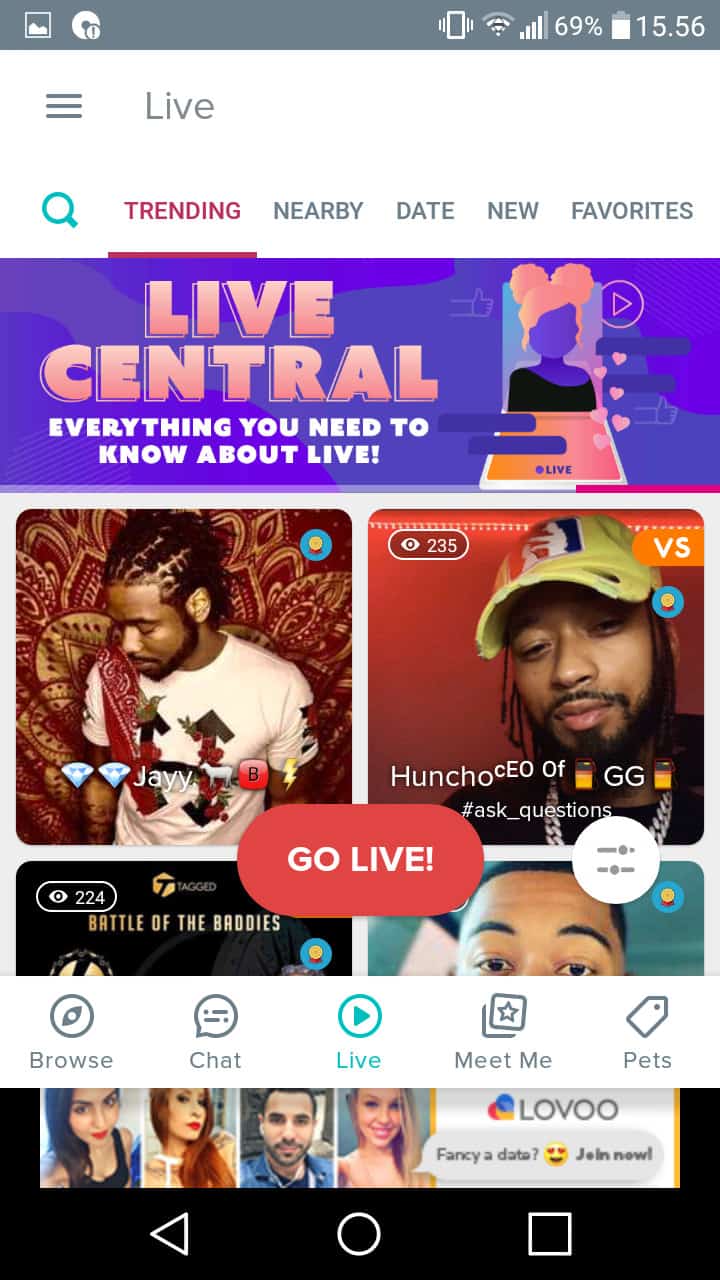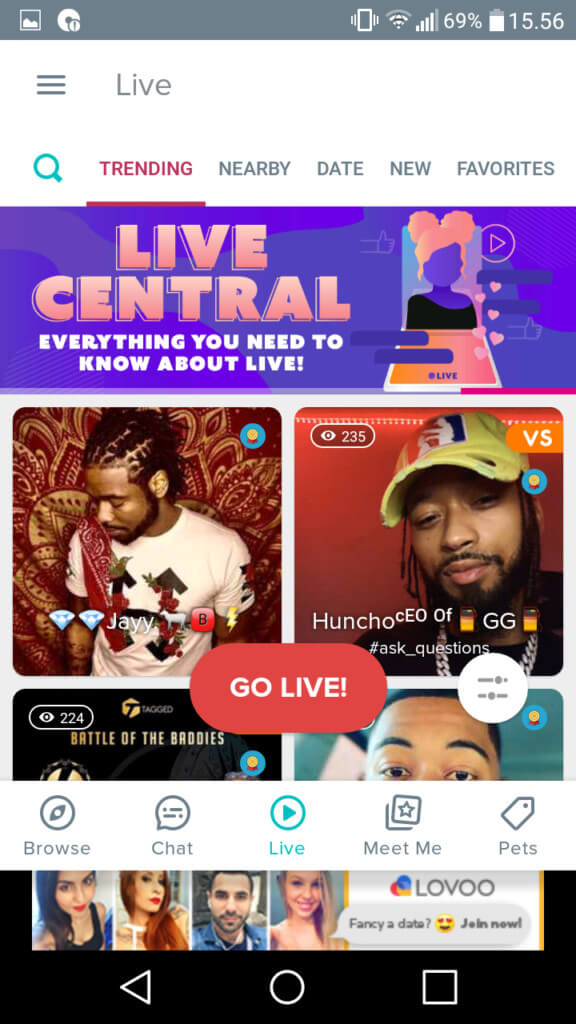 When you enter a stream, you can see how many people are watching it, the top fans (the ones who sent gifts), and also see what people are typing in the live chat.
Of course, if you want you can also start your own stream and get a small following increasing the chances of maybe getting a date.
Why do people stream you may ask.
Well, because streamers get "Diamonds" when their viewers send them gifts and these "Diamonds" can be exchanged for cash or "Gold" when they get enough.
If you're a streamer, you'll need at least 80,000 diamonds to get $200, 200,000 for $500, and 400,000 for $1000.
Not a bad deal considering that you're just talking to your fans through your camera.
And okay, even if this feature isn't as engaging as the previous two, it's still quite fun and if you like Instagram live, you'll get to love this "live" as well.
One thing I should add is that feature is only available on the mobile version.
And when you do get the mobile app, you'll notice that the "live" sometimes pops-up in the middle of your screen which is annoying but you can turn it off in the settings.
4. Pets
The last, but certainly not the least is the Pets game.
Many people believe, I included, that this is the sole reason why Tagged has so many users.
"Pets" is a game where you buy other members, well not really, and when you buy someone you increase your profit by 10% and you become the owner of your "pet".
When someone else buys your "pet", you get half the profit.
Other people can buy you as a "pet" as well.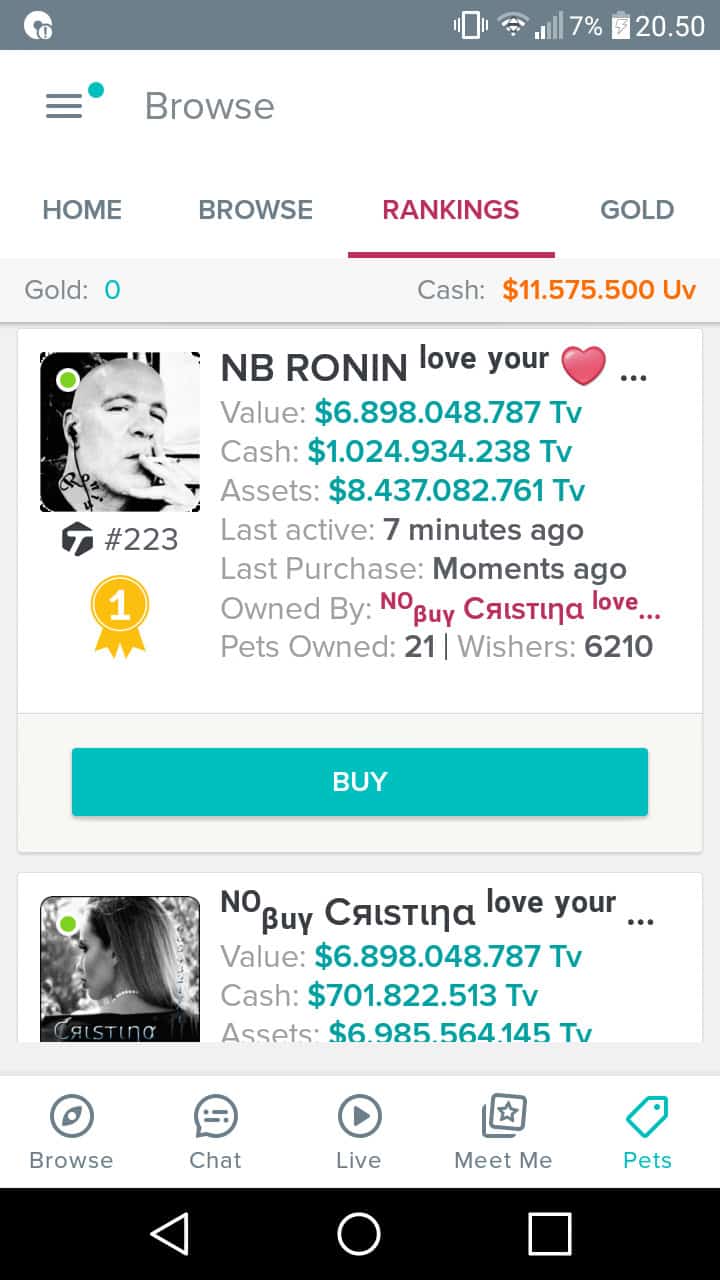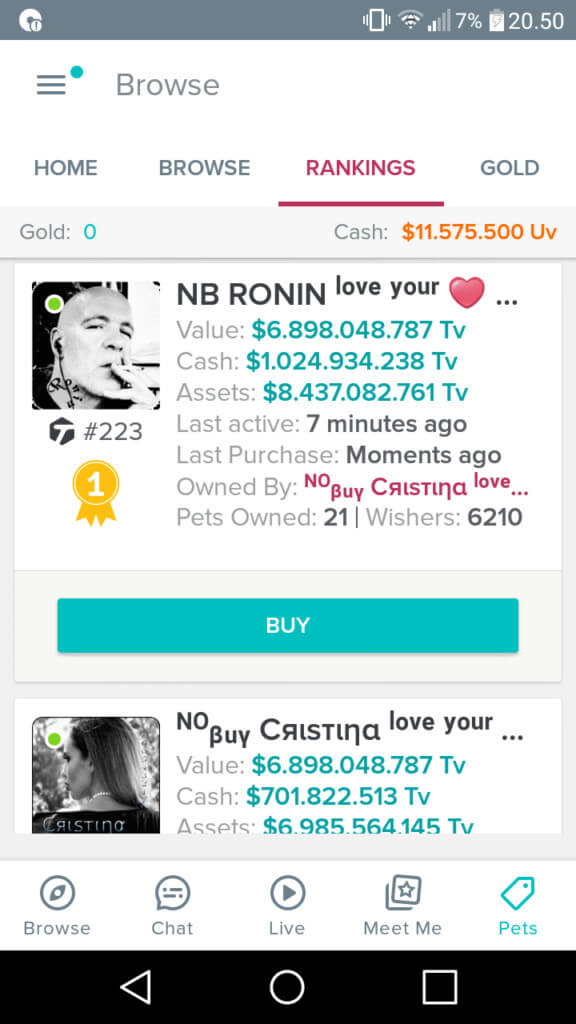 So the point of the game is to have the highest profit which is displayed in the "Uv" – "Pets" currency.
You can also buy "gold points" for real money and spend them to increase your value.
So the more pets you own, the higher your value, and the better you rank globally.
You can also browse pets by using a filter that lets you set their age, location, and value range.
This game is of course endless and if you don't want to become bankrupt and spend vast amounts of cash, you can just enjoy buying other profiles and maybe even start a conversation with your "pets".
Ease-of-use
The signing-up process is quite simple.
You can sign-up using your Facebook, Gmail, or Apple account, and the whole process only takes minutes.
After you select the account you want to sign-up with, you'll have to state your name, gender, birthday, ethnicity, and location.
For some countries, such as the US, you'll have to enter the Zip code, rather than the name of the city.
Once you fill all of those out, you'll receive a verification e-mail and when you click on the link, you're done.
Now even though Tagged isn't a bad dating site, it seriously lacks an update on the desktop site.
Once you sign-up, you'll first be overwhelmed by all the buttons, icons, and features that are all hard to navigate through especially if you're new to online dating.
It'll take some time for you to get used to the whole flow of the site.
That's why I recommend using the mobile app because it's a lot more convenient.
The app is a much simpler version of the site and when you log-in, you are automatically in the "Browse" section.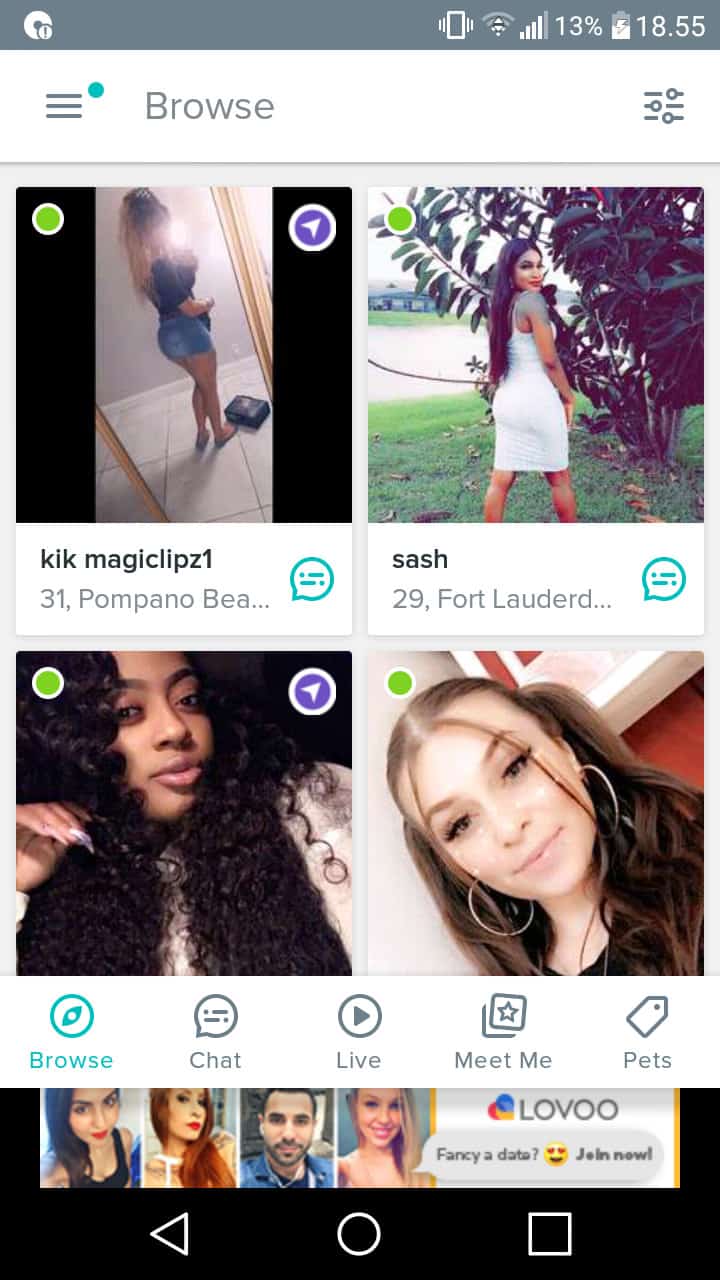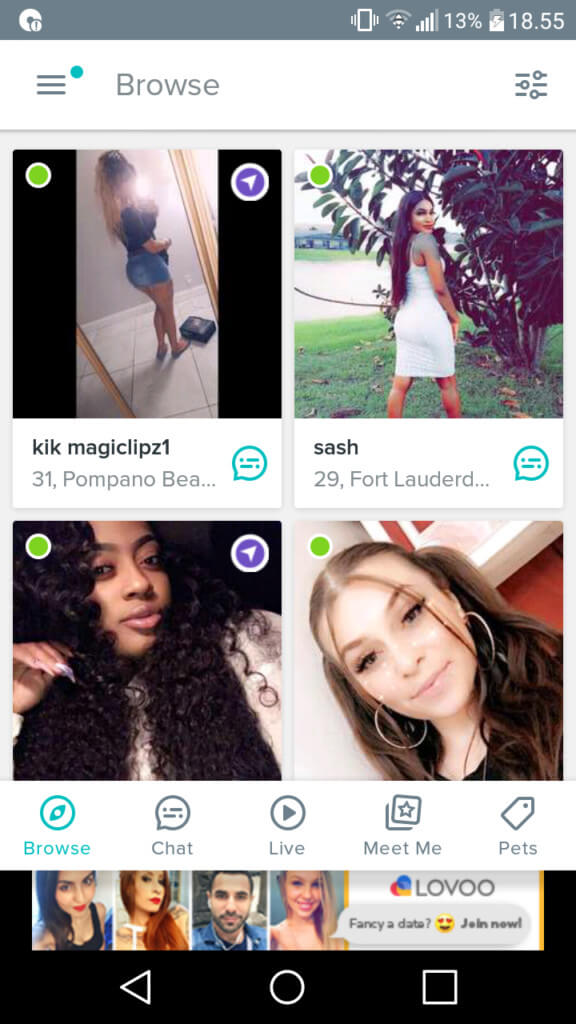 As you can see in the picture above, below are your other features that are much easier to find than on the site.
The green dot on the profile indicates that the members are online now and the purple arrow means that they're near your location.
The app is overall great, but what bugs me is the number of ads that constantly pop-up just like they do in the desktop version.
This can sometimes be quite frustrating and there's no other way to avoid them unless you go premium.
And since we're talking premium, let's see the price list.
Pricing
Tagged isn't the cheapest of dating sites but it also isn't the priciest.
A month on Tagged will cost you about $10.
If you get the 3-month subscription, that'll be around $21 or $7 per month.
And lastly, the 6-month subscription is $30 or $5 per month.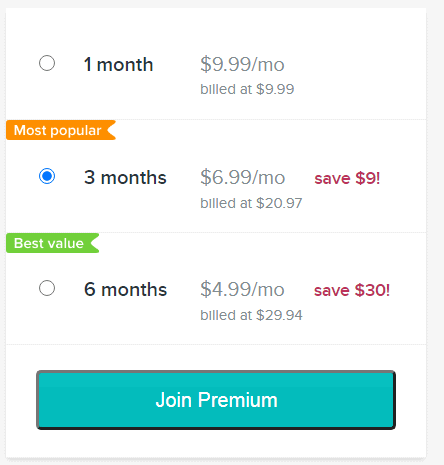 The subscriptions are auto-generated every month so be careful and cancel your subscription when you're done which you can do at any moment.
Now, let's see what you get for your premium subscription:
No more ads
See who liked you on "Meet Me" and also an undo button
See your profile viewers
A "seen" receipt in chat
An "Attractiveness" preference on "Browse"
Be the first one to see new users
Premium customer service
Also, you can purchase "Gold" and with which you can buy more pets, send super-likes, gifts and so on.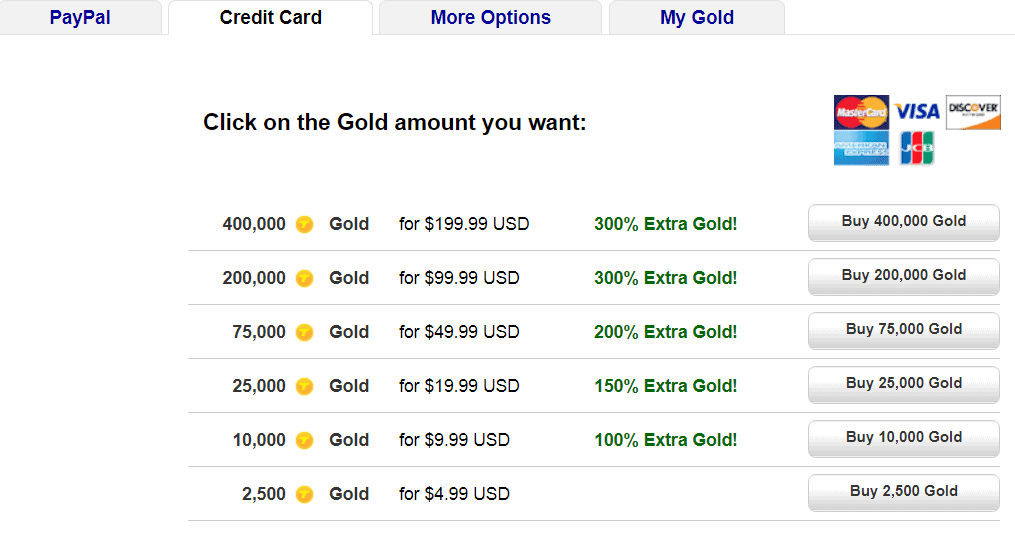 And yeah, you can make any purchase by either credit card or PayPal.
Conclusion, Overall Rating and CTA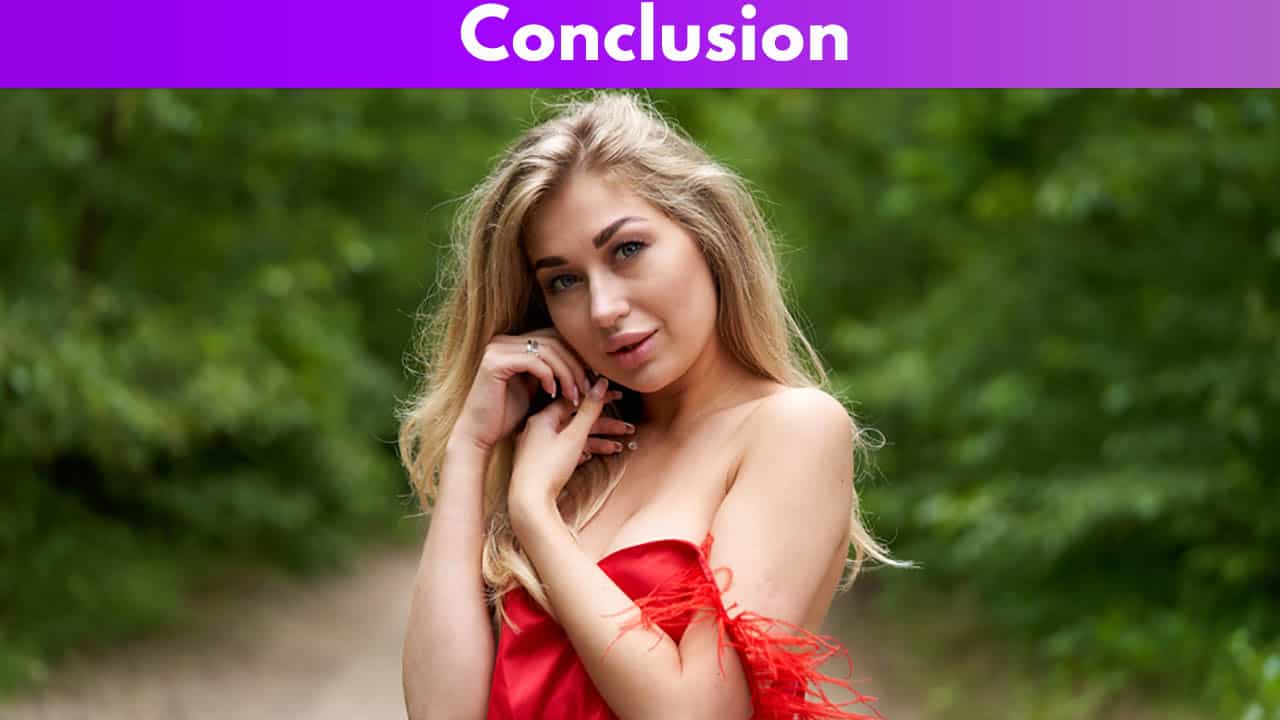 Well, that's it, folks!
You now know pretty much everything you need about Tagged before you actually check it out for yourself.
Considering all of the features of the site with all of its pros and cons, I would rate this site somewhere around 3.5/5.
Tagged are quite a popular site and the user count proves it, without doubt, however, I think that the features aren't used to their fullest potential.
In my opinion, the developers should improve user interaction and focus more on getting people to date than on the games because the site feels more of a social media than a dating site.
Also, the desktop version is well over-due a huge update because it looks archaic compared to most modern dating sites.
What do you like most about the site and would you consider using it?
Please let me know in the comments down below, and while you're there, feel free to share with all of us any suggestions or success stories.
Also, a share would be much appreciated!
Frequently Asked Questions