The foundation of thousands of dating sites lies within the goal of connecting millions of people, regardless of distance, and helps them connect with kindred souls.
Despite the stereotypes that online dating is exclusive to younger folk, it is far from the truth.
Many services are becoming more specialized in providing dating sites for older men whilst giving out the industry-standard quality in all online dating aspects, regardless of the target audience.
This review will focus on:
OFL Top Recommendations based on 100,000+ Survey

"Serious Relationships"
"Discreet Hookups"
"Best Course for Men"
"Quick Flings"
"Normal Hookups"
"Our Quiz"
With so much to cover within such a large roster of available choices, let's get down to it and see what we can expect from some of the most popular options on the internet!
Is your dating app giving you the best chance for success?
Make sure to take our online dating site/app quiz to find out.
People who follow our dating site suggestions have on average 2 more dates per month.
Best Dating sites for older men
Best Older Men Dating Sites in Video Form
Audio (podcast) form for those of you on the go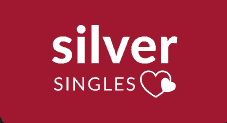 Signing up – 4.5/5
Making Contact – 3/5
Profile Quality – 4/5
Overall Quality – 4/5
OFL Top Recommendations based on 100,000+ Survey

"Serious Relationships"
"Discreet Hookups"
"Best Course for Men"
"Quick Flings"
"Normal Hookups"
"Our Quiz"
A huge user base which is mainly consisted of singles who are 50 and above
Your photos will only be seen by those who pay for their membership
The main driving point for connection is based on compatible personalities
You are given a detailed test upon finishing your registration that will help in finding your ideal mate
Simple and clutter-free app
Unlimited communication for paid members
Affordable paid plans
Includes a 3- day cancelation option which will refund you in case you opt-out of a subscription plan
Much of the features are restricted to a paid membership
Geared towards the audience exclusively within the USA, as well as an international component, Silver Singles aced the test of time by providing fruitful relationships among its user base with numbers scoring over 2000 real-life connections a month.
The largest number of people you find here will be over 50 yet it is not uncommon to find those who are under 30 finding their place within the website.
Despite being, first and foremost, designed to fit the role of older men dating site, it brings numerous features to level the playing field for anyone who comes looking for their piece of the happiness and companionship.
The overall status of the demographic can be viewed through the following:

To put it plainly- It is open to everyone but the service markets itself towards the senior population.
Here is a representation of the latest gender presentation gap: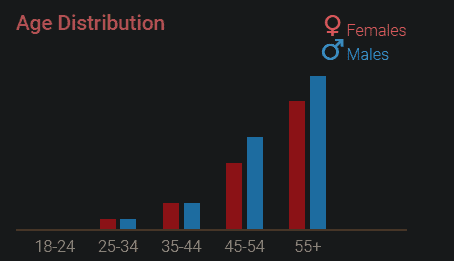 It has seen a steady increase in activity over time while the gender gap remains slightly in favor of the male population as there is a higher percentage of younger women on the website in total.
As for the profile interface: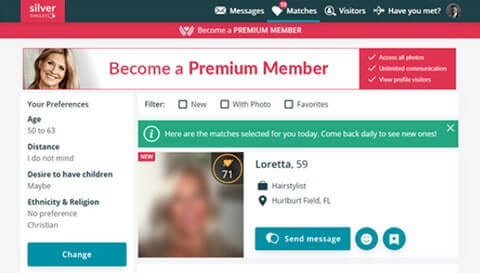 You are provided filters and can customize basic information such as ethnicity, location, religion, a wish(or lack of one) for children, age, occupation, etc…
The richness of detail provides for a great and easy chance for people of advanced age to find like-minded partners without any troubles whatsoever.
This platform makes the extra step with the end-goal of providing an accessible experience anywhere and anytime.
The moment you sign-up, you will be taken to an interface that will serve all the necessary information right in front of you, fitting the bill of a website that opens its door to everyone who wishes to participate.
1. Can I join SilverSingles for free?
Absolutely.
But, keep in mind that you are severely limited within the freemium range.
Most of the "good stuff" such as viewing photos, communication, seeing all the details, and receiving wildcard matches are strictly within the confines of the paid membership plan.
Here is a quick preview of the price list:

Subscriptions plans can be canceled and refunded 3 days after their purchase, so you can rest easy if you decide to pull back your decision to become a paid member.
2. Is SilverSingles legit app for seniors?
No doubt about the fact that it is proclaimed to be one of the top "old man dating sites" which revolves around both a browser and mobile version.
The hands-on functionality is further bolstered with exceptionally efficient customer support which is always ready to lend a helping hand no matter the nature of the issue.
3. Which features are available on SilverSingles?
Staying true to the utilitarian idea, it provides a clean interface that encompasses most of the functions neatly and efficiently.
Members can match with one another by sending likes and messages to anyone they have taken a fancy to whilst the algorithm of the website itself will give from 3-7 potential matches each day as recommendations.
Filtering options can narrow your search down to the most likely candidate with a wide range of possible matches.
Additionally, the "Have you met" function will encourage communication between members based on the likelihood of a possible positive connection.
Taking into account the popularity, targeted population, features, and overall functionality, we would rate this a 4/5
It is clean, responsive, offers a lot of potential candidates while not sacrificing for speed nor ingenuity.
Another great plus is how flawlessly responsive and accurate the service is.
The main issues revolve around the lack of richness within the feature section and the restrictive nature of the freemium plan.
Heck, it is not crawling with fake profiles so that by itself gives it another large plus but the interaction between members is indeed limited but, if it works, it can indeed turn into a worthwhile experience.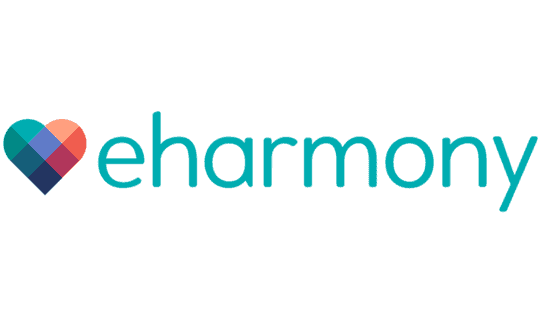 Signing up – 3/5
Making Contact – 3.5/5
Profile Quality – 4/5
Overall Quality – 3.5/5
Excellent security protocols implemented
Enables full-on video communication
Excellent platform stability
Android and iOS compatibility
Many within the large user base have connected and the site has stood the test of time nicely
Prioritizes personal compatibility
Quite pricey, especially for the service rendered
Entirely subscription-based without the chance of canceling
You are limited in your selection of potential mates by what you are provided by the algorithm
Scams are not so uncommon here
eharmony, ever since starting out in 2000, has placed a lot of its resources in employing both psychology, experience, and innovation with the end-goal of giving its user base a modern take on internet dating.
It has seen widespread success with pretty much all demographic make-ups yet it keeps up as one of the leaders when it comes to both older dating sites in terms of history and a dating site for older guys and women in general.
It is mainly centered around users in the United States yet it has grown to encompass a world-wide following, thus leading to eharmony being categorized within different categories (local dating, international dating, Hispanic dating, Asian dating, eharmony Australia, etc…)
It is mainly intended for people who wish to engage in casual or serious dating within their demographic classification yet it offers much more within the large number of options that follow it through ( the golden saying goes "every 14 minutes someone connects on eharmony).
It sports a psychology test-based algorithm that holds more than 100 questions which will determine how compatible a select number of people (who will be paired to you, respectively) are compared to you, with daily matches included to help allow you to meet new people daily.
To be fair, the only lengthy and somewhat tiring process of the entire services lies within the sign-up process which will include the famous "personality test" which will be used for matching you with members who fit your psychological profile, which can take from 5 to 20 minutes, based on your completion speed.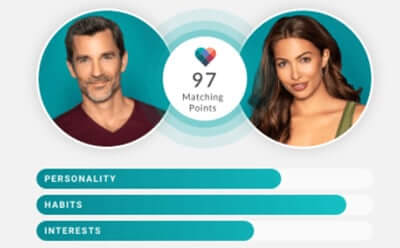 Details that you would expect (age, location, gender) play a role in determining your potential match mates (you don't have to completely fill out your profile with personal info if you don't want to).
Completing all of the personality tests and quizzes increases the chance of being paired up with a like-minded mate.
1. Can I join eharmony for free?
Of course, you can enjoy the matching features and the personality test all free of charge.
You can only respond to messages of paying members or those special "perfect" matches.
2.Is eharmony a legit app for seniors?
It has a dedicated user base that falls into the elderly population, making it one of the prime older men dating sites when it comes to overall numbers and usability.
3. Which features are available on eharmony?
The basic functionality of matches and daily options allow for a pleasant experience, minus the lack of search functionality that is present in most other dating sites.
This is indeed a hard one as you are restricted within the choices that the algorithm gives while the subscription prices are indeed very high for the services rendered.
With the overall levels of satisfaction and performance, it gets a 3.5.
It does get the job done and there are improvements on the way to make it an altogether faster and more enjoyable experience so the verdict is not a definitive one.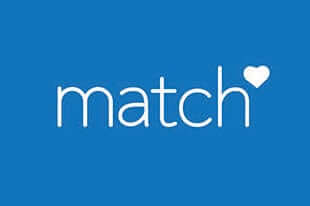 Signing up- 4/5
Making Contact- 4/5
Profile Quality-3.5/5
Overall Quality-4.5/5
A wide range of events increase the likelihood of users connecting
There is an active developing environment that focuses on increasing user-satisfaction
Wide range of features and opportunities
Flexible membership plans
One of the largest user bases within the dating industry
A lot of room for presenting yourself on your profile
It is ideal for the senior audience
Paid membership plans are required for the core functionality, such as messaging, to be unlocked
You know those moments where you walk into a bar and see thousands of faces, all of different ages, nationalities, and backgrounds?
That is how it feels like to join Match.com yet it is this exact strength that gives it an edge over the competition.
The wide variety of filters will easily allow you to get to your desired demographic and there is no shortage of seniors (who make up a large part of the user base) who are looking for soulmates and companions.
Needless to say, the general consensus proclaims it as a universal option for anyone, but that does not cut the population count:
It has 25% that are under 30, 48.6% are within the ages of 30-49 and 26.5% are constituted of the ages of 50+ (the fastest-growing group consists of members who are over 50).
All of this gives us pretty good pointers towards the potential expectations that are more in favor of the older population, further solidifying the position of match.com as a great older men and woman dating site.
There is a mobile app available for smartphone devices that stylizes itself after Tinder.
It stands out thanks to the "story" feature which functions akin to Snapchat and Facebook's version of a similar feature.
You are given daily matches that you rate based on your perceived compatibility, while the daily matches that you get are given to you based on the algorithm's compatibility percentage (never less than 80%).
The nicely-organized interface does wonders for even those who aren't familiar with using dating websites.
It is also really affordable, offering great benefits for a modest price:

1. Can I join Match.com for free?
You can join and enjoy a limited amount of the features but hey, it is free right?
The flip side is that, if you do wish to enjoy the entirety of the site's features, you will have to upgrade to a paid plan
2. Is Match.com a legit app for seniors?
You bet, the population of seniors contributes immensely to keeping the demographic stable for middle-aged to seniors quite nicely, making it a de facto leader within that dating community which is still seeing growth.
3. Which features are available on Match.com?
Since the user base is more serious here than on most other dating sites it comes as no surprise that about 40% of the matches that do come to life and meet up commit to a serious relationship.
It relies on a matching system (just as the name of the services implies) and gives its members 7 matches automatically.
This feature can be further enriched with a subscription that adds many features such as being able to see who has winked or liked your profile, messages in your inbox, etc..
Holding back on this dating service for a long-established success that did bring about a large wave of motivation for many other dating sites which did base themselves on this very formula would not do the honor that it deserves, so we will be giving it a 4/5.
The subscription plans are not very expensive and the huge amount of potential members really allows for the near-endless potential for absolutely anyone to find their partner with relative ease.

Signing up- 5/5
Making Contact- 4/5
Profile Quality- 4/5
Overall Quality – 4.5/5
A large and dedicated user base
Geared towards seniors
Offers a variety of modern dating features
You get a selection of carefully picked matches that are very likely to be compatible with you
It has a very friendly community
There are very few fake profiles as most people who use this platform are among the senior population
While there are many great features you can take advantage of, they do require add-on purchases
Before others can see your profile, you are required to upload at least one picture
It can be difficult for people unfamiliar with dating services to navigate and use the platform
The "beau monde" of OurTime's user base hails mainly from the United Kingdom and goes around the age of 50+, which can be seen in the following graph: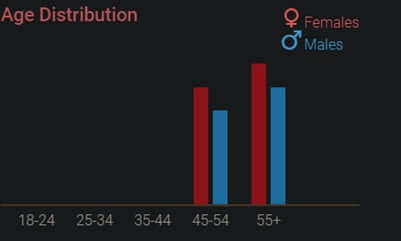 This has been an underlying reason as to the success of OurTime to manifest and present itself as an exclusive for older men dating site as it favors them in terms of percentage but also leaves ample room for women as well.
It has seen a slow but steady growth as well:
In comparison with many of the other big players on the dating scene, this competitor is not letting up and is establishing itself as a potential future leader within the senior dating scene.
Specialized in providing excellence to the older generations, it has been consistent in being fantastically suited for those who are both interested in dating or simply meeting someone new.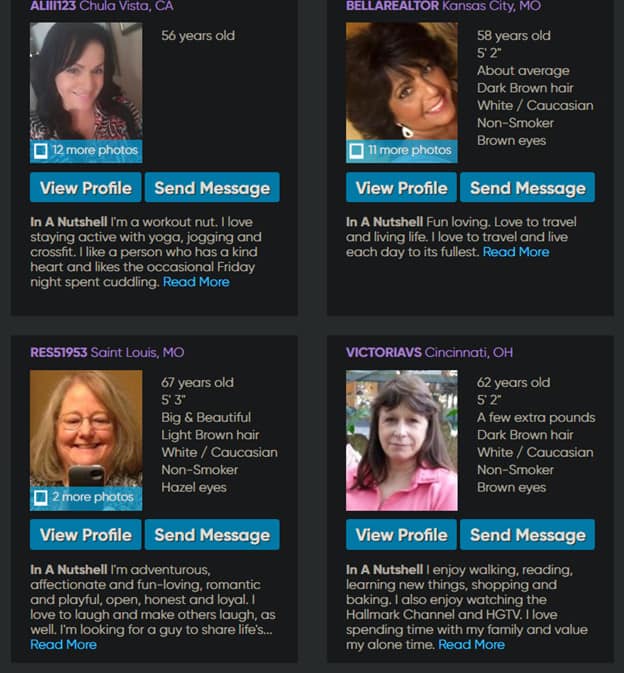 The profiles allow their owners to fill out a lot of information that can give a precise picture of who they are and how they look like.
All of the information is neatly packed and navigation, while it might be unfamiliar with those who aren't experienced in using dating sites, is easy to get a hang of and start taking advantage of the numerous opportunities the site offers.
The stats are looking good when determining the popularity and the kind of people it wishes to attract:

All of this, combined with dedicated devs and support teams, makes this a great choice for old men and women who want a dating site which is made exclusively for them.
It is, admittedly, somewhat more difficult to utilize than what would be expected of a site made for seniors.
Every unique feature can be found on the header menu while functions that can be used for contacting other members are neatly placed near their profiles.
It is pleasant to use and highly rewarding when you get into it.
1. Can I join OurTime for free?
One of the amazing aspects of OurTime is the full-time dedication to attracting new people who wish to engage in all kinds of activities the platform can provide.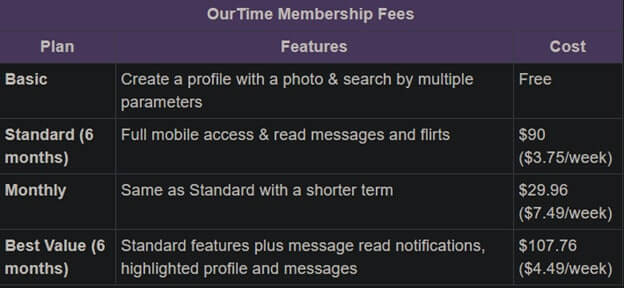 Subscriptions will indeed give you the full functionality the site has to offer but, for those who are still unsure if they wish to commit, the free basic plan will give you a nice glimpse of the amazing possibilities on OurTime.
It also has a mobile version with its own in-app purchases: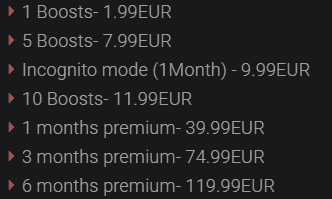 2. Is OurTime a legit app for seniors?
Yes, it is actively marketed towards the senior population and takes many steps forward with the intent to ensure that their stay on the website is pleasing and fulfilling.
3. Which features are available on OurTime?
It endorses basic ways of connecting such as ConnectMe (allows you to text other members, even when you are offline whilst keeping your privacy intact).
Blendr (roulette-type matching activity) and Activities (events organized by OurTime for its members) all combine to make this app rich in terms of the ways you can connect and even with everything laid out offers boosts that allow you to customize your experience.
It would be wrong to give this service anything lower than a 4 and yet it still has some room for improvement, so let us give it a 4.5/5.
It has the potential to make your time a truly unique experience and while it might be somewhat overwhelming at the beginning, a large part of the community and the OurTime staff will be more than happy to assist you in becoming an active and wanted part of the community.

Signing up – 4/5
Making Contact – 5/5
Profile Quality – 4/5
Overall Rating- 4/5
You are connected with potential mates based on common interests, hobbies, and more
A serious community that sincerely wishes to connect and find friends and partners
Newbie-friendly
Many options to choose from
Forums accommodate the topic they are created for
Great app
A guest account can still be engrossed within the service
It is somewhat prone to scams
It has the reputation of being popular with married seniors who are looking for a fling, which might not be ideal for everyone
The minimum age gap is 45
Looking for a dating site for older guys?
This is project upholds the principle that love has no age, as can be seen, by the demographic that is almost exclusively consisted of elderly folk which is, mostly, single.
Most people present at the site originate from the US and there is a predominantly female population (about 60%) which solidifies the chances for older men to find their luck on this dating site.
It is one of the oldest specialized dating sites and has had the time to fix many of the newly-formed dating services often make.
There are few limits imposed on the restrictions yet it is painfully obvious that its many offers and features target the senior population.
The user base is consistent within the gaps of 45+ and it is also an important factor when searching for new matches: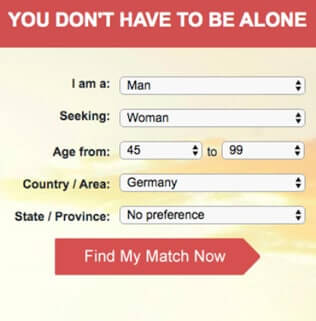 Location, gender, and preferred age will play a big role in determining which users are available to you, including additional comparative attributes.
You don't have to rely too much upon personal information if you do not want to yet the information you do provide is actively vetted, but a catchy headline and some bare-bones info are mandatory.
It includes the option of elaborating on your lifestyle, appearance, what kind of personality you have, and what you hope to come across the platform.
Everything is clear-cut and included in the interface so you won't have trouble finding your desired course of action.
1. Can I join SeniorMatch for free?
Yup, it is even recommended that you start off as a guest account before deciding if you wish to upgrade or not.
What's more, functions such as sending emails and being able to use advanced search functions are restricted to paying members whilst leaving you with a substantially sub-par functionality that leaves much to be desired but still allows you to take advantage of the service.
2. Is SeniorMatch a legit app for seniors?
It is marketed exclusively for that kind of demographic.
Much of its overall appeal is built to accommodate the needs of the older generations which is often more spartan in appearance when a comparison is made with those that accommodate teens or young adults.
3. Which features are available on SeniorMatch?
Filtering the searches for your ideal mate based on comparative data and location would sum it up nicely.
Instant messaging and support further accents the urgency of the benefits Gold (paid) members have, but the core feature remains the same: matching and striking communication, which is executed very nicely.
To be fair, rating a dating site should always include its efficiency towards the member base it accommodates and this is where the website shines.
It is fascinating and useful in every sense of the way when it comes to giving exemplary service, so it will get a 4/5 with many positive points for connecting thousands of people with positive results.
It is also seeing a slow but steady growth while remaining a secure and stable platform overall, so it's a great option for those who wish for increased legitimacy of the profiles and general dating experience.