EHarmony is one of the most popular dating sites on the internet, especially among people who are looking for a serious relationship.
Meeting your significant other has never been easier, but if you want to get the best results, you definitely want to learn how to use EHarmony the right way.
For that reason, in this article, we will help you learn:
Bonus tip: we have found that you can save a lot on eHarmony by signing up on the website (not the app) using this special link.
OFL Top Recommendations based on 100,000+ Survey

"Serious Relationships"
"Discreet Hookups"
"Best Course for Men"
"Quick Flings"
"Normal Hookups"
"Our Quiz"
Also, make sure to check out our full eHarmony review here.
Is your dating app giving you the best chance for success?
Make sure to take our online dating site/app quiz to find out.
It's a fact that people who follow our dating site suggestions have on average 2 extra dates per month.
How To Sign Up For EHarmony?
EHarmony is an online dating platform known for an extensive sign-up process that will require a lot of your time and energy.
If you want to create a high-quality EHarmony profile, you will need to take at least 20 to 30 minutes to do it the right way.
This is a dating app that has a unique algorithm that will connect you only to people who have a large number of things in common with you, so make sure you are 100% honest while uploading information.
During the sign-up process, you will need to upload your profile photos, confirm your identity through phone number verification, and answer basic questions like your age, location, religion, etc.
When the basic level of sign-up is over, you will need to complete an extensive questionnaire that will take you up to 15 to 20 minutes.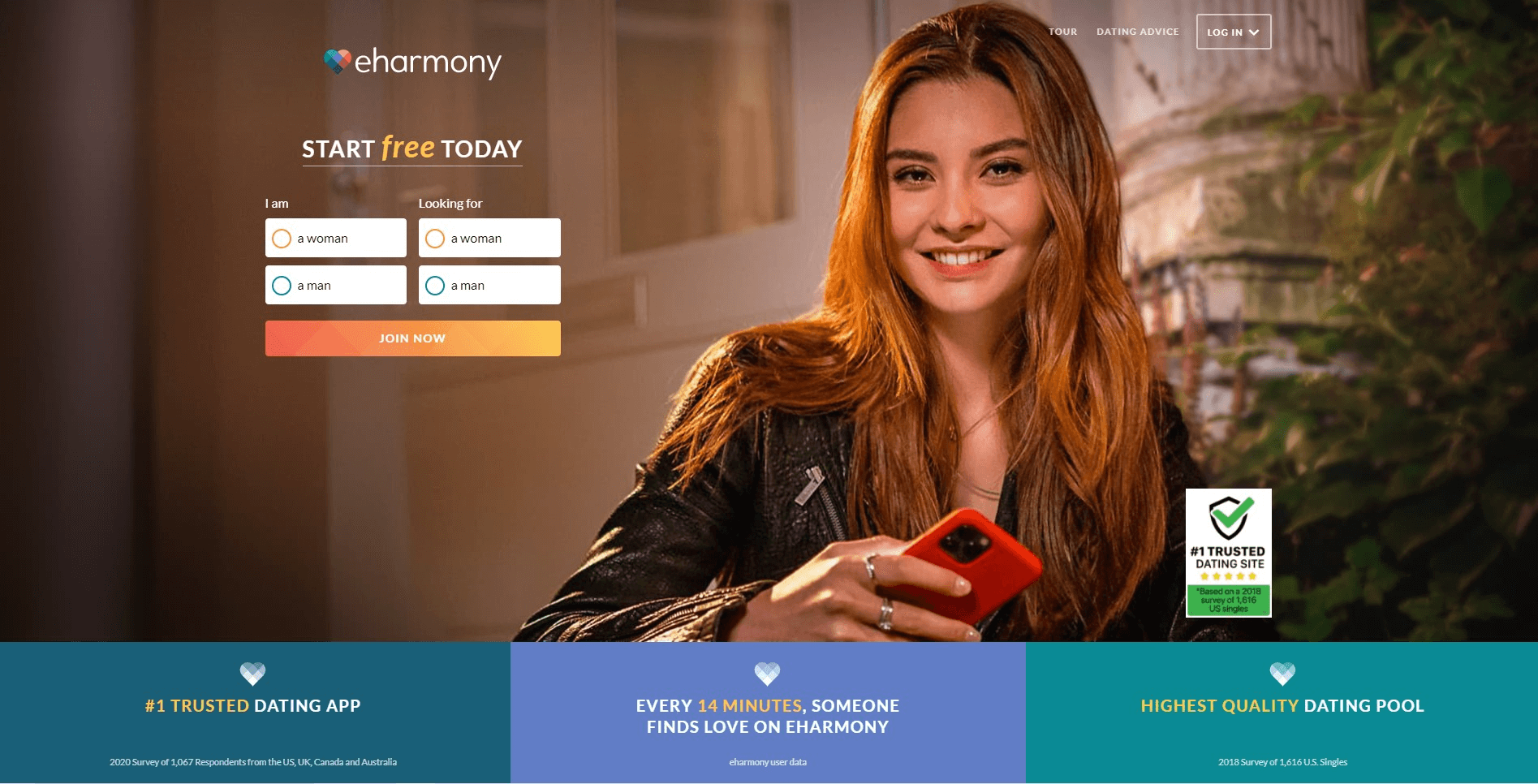 Here you will need to answer dozen of questions regarding different things, and you will even need to share things like your favorite movie, music genre, personality traits, childhood wishes, and many other things.
The main aim of this questionnaire is to gather as much information as it can about you before it starts the matchmaking process and connects you to people whose personality profile seems to be the most compatible with yours.
After you have completed a questionnaire, you will also be offered a personality test that is created by professional psychologists who know what the most important things are when you are looking for a potential partner.
These tests are probably the best addition to EHarmony, and they will help you find love easily as long as you are sincere when answering all of those questions.
Your answers from the personality test can be a real gamechanger, so make sure you are reading the questions right and answering them truthfully.
These are some of the basis of the whole sign-up process, and once you get admitted to the platform and become one of EHarmony members, you will be offered new questionnaires and personality tests every month, so you will be able to easily elevate your experience to another level.
All of those tests will have a huge impact on your overall EHarmony performance, so make sure you are taking enough time to complete them, and don't rush things because it can negatively impact your dating experience.
OFL Top Recommendations based on 100,000+ Survey

"Serious Relationships"
"Discreet Hookups"
"Best Course for Men"
"Quick Flings"
"Normal Hookups"
"Our Quiz"
How Do You Get Matches On EHarmony?
Once you have created a profile on EHarmony and answered all of those tests and questionnaires, you will be able to start meeting potential matches on this online dating site.
Since EHarmony is known for its unique algorithm and compatibility quizzes, this is the way you will be looking for perfect matches.
When you have uploaded all information about yourself, you will activate a compatibility matching system that will automatically do compatibility tests between you and potential partners.
The algorithm will start calculating compatibility scores between you and other daters on the platform, and within a few minutes, it will be able to provide you with a full homepage of compatible matches.
All of the people who appear as suggested are those that have turned out to have a large number of things in common with you and whose personality traits would suit you well.
However, if you want to make the whole matchmaking process even better, you can add preferred filters and features to your EHarmony profile, which means you will basically be able to create your perfect partner, and then search through the website for them.
On this dating service, you will be able to choose your preferred religion, ethnicity, educational level, and many more things, which will lead you to member profiles that fit your ideas well.
EHarmony close match is always a really close match, and you can be sure you will not get connected to a random person on the dating website.
All of your requirements will be fulfilled, and the person who has the highest compatibility score with you is the one who will be the best dater for you.
This is basically working like you place your EHarmony order and then wait for the website to deliver it, so don't be shy, and add whatever you want into those requirements.
EHarmony has millions of registered users, and there is someone who can make your dreams come true and provide you with even more than you have ever expected to get or see in a significant other.
The functionality of these filters is amazing, and it will provide you with instant results, so you can be sure you will be swiping through the best options possible.
Keep in mind this is a platform for serious dating, and if you are looking for hookups (like BeNaughty or Ashley Madison), you definitely won't have too much luck on it, and people won't be reaching out to you.
EHarmony dating site is created by Dr. Neil Clark Warren, who is a Clinical Psychologist and an expert in dating, so you can be sure the algorithm explores all dimensions of compatibility and helps you thrive on all occasions.
How Do I Communicate On EHarmony?
Communicating with other EHarmony users is relatively easy, and EHarmony works like regular chatting and dating apps.
You will be able to send a message to someone when you match each other, and there are no limits on who sends the first message.
However, you will need to have a premium membership if you want to send a message to someone because free users have no access to the messaging feature.
All premium members have access to the same messaging features, and they will be able to exchange an unlimited number of messages with others.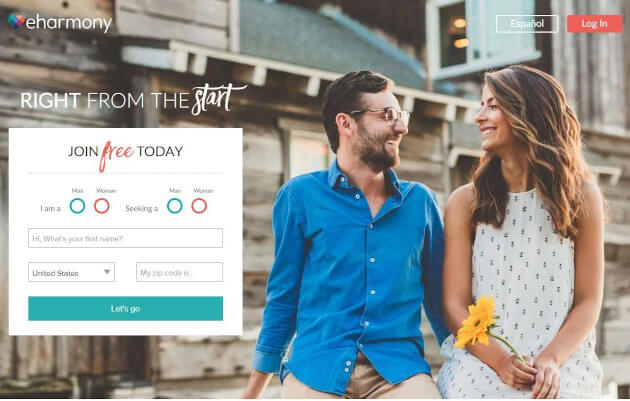 Since it is a platform for long-term relationships, the creators have thought of all potential scenarios and decided to provide everyone with unlimited messages.
While using the EHarmony messenger, you will be able to send photos, videos, gifs, stickers, and anything you can think of.
Also, all of your messages will be saved until you decide to get rid of them, so you don't have to worry about losing some of the information.
There are also some fantastic features that can make the whole messaging process even more accessible, and one of them is the recommended icebreakers you can use to send to your matches on EHarmony.
They will help you send the first message, and you won't need to overthink the ways you will approach other users.
The EHarmony send a smile, and EHarmony popsicle features are also quite remarkable, and they can be a great conversation starter when you feel too shy to come up with an actual icebreaker.
Also, there is a video date option, and EHarmony was one of the first dating platforms to introduce it.
With video dates, you will be able to start a video call with any of your matches, which will help you get into a more realistic conversation with them, but also realize whether you are dealing with a natural person or not.
This feature is extremely important for safety reasons, and if you want to be 100% sure you are dealing with a person who has your best interests in mind, you will be able to test them by recommending them a video date.
Also, since this is a platform for serious relationships, it is a feature that can help you keep up the connection with your potential partner solely through your EHarmony account, and it was beneficial for everyone during times of pandemics.
They offer winks and smiles, but these features are only here to help you break the ice, and they can never replace a real message.
You will be able to use the messaging feature on the regular EHarmony.com desktop website but also on their Android or iOS app.
How To Use EHarmony Effectively?
If you have decided to join EHarmony, then you are definitely not interested in casual dating, and you want to make the most out of it.
The only way EHarmony will be worth it is if you keep using the platform according to their recommendations and guides.
In case you have created a dating profile, but you didn't do any of those questionnaires or personality tests, you will not be able to get many first dates, and the guided communication definitely won't work for you.
To make the platform work to your advantage, always do all of those recommended tests and questionnaires, upload as much information as you can about yourself, and make sure you add a new profile picture from time to time to keep yourself relevant to the algorithm.
Also, you need to try to get the most out of all those filters and features you have available to you because the algorithm can't connect you to anyone unless it has information about what your perfect partner looks and acts like.
Age range is also something you shouldn't ignore, and make sure you always choose your preferred location.
EHarmony mail tips are something you will receive frequently, so make sure to read this newsletter whenever you can because it can be a great source of information, especially if you are still not sure how EHarmony works.
If you are into religion, and you would prefer your partner to be Christian, Muslim, or whatever your faith is, make sure you state that from the very beginning so the platform can connect you with people of the same religion.
Overall, having success on EHarmony is a lot easier than on apps like Tinder or Bumble, and even EHarmony messages and features are a lot better on those popular dating apps.
For that reason, make sure you choose a subscription plan and come up with your own EHarmony icebreaker that will help you become one of its most successful users.
You can also start by sending a smile on EHarmony or using winks that will help you poke the other user and basically force them to give you an answer.
Also, by uploading several profile photos and updating them regularly, you will increase your exposure to the algorithm and boost your overall dating performance.
If EHarmony sends you some personalized pieces of advice, always make sure to follow them, and you will see how much your whole experience changes.
How To Use EHarmony For Free?
Even though you will see that you can get your free dating experience on EHarmony, the fact is that this isn't possible.
While you will be allowed to join the platform without spending a dime, you will not be able to connect with anyone with a free membership, and the only thing you will be allowed to do is browse through people on your homepage.
Free members can only get the idea of what dating on EHarmony looks like, and if you want to send an EHarmony smile or send messages, you will need to pay the EHarmony cost and purchase a membership.
EHarmony free messages are not available, and to gain access to someone and reach out to them, you will need to invest in a subscription plan.
If you have read an EHarmony review or two, you have probably heard how this is one of the most expensive online dating platforms, which is entirely accurate.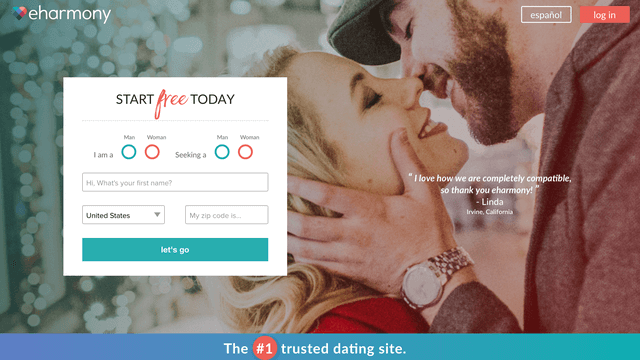 A one-month membership on EHarmony will cost you 65 dollars which is extremely expensive, but without it, you will not be to do anything – follow the EHarmony smile etiquette or send a message to a potential dater.
While you can purchase the EHarmony membership at a lower price, you will only be able to do it if you are buying a three-month or six-month membership, and this way, you will need to pay 45 or 35 dollars per month for a membership.
This is still a lot of money, but if you are sure you will proceed to use EHarmony and that you won't settle for the first recommended user, then it can be an excellent investment for your dating life.
However, you can be sure that none of those websites that claim to help you use EHarmony for free are true, and there is no way you will actually be able to get into the EHarmony dating scene without a subscription.