A niche site for "sugar daddies" to meet young, beautiful women and vice versa.
That's the best way to describe Established Men.
When it comes to dating sites on the internet, it certainly doesn't get more niche than this, that's for sure.
But is it all it's made out to be?
OFL Top Recommendations based on 100,000+ Survey

"Serious Relationships"
"Discreet Hookups"
"Best Course for Men"
"Quick Flings"
"Normal Hookups"
"Our Quiz"
Does it work if you are a "sugar daddy" looking for a young beautiful woman to have on your arm?
What happens if you are that young, beautiful woman?
Will Established Men put you into contact with the "sugar daddy" of your dreams?
Well in this all-inclusive review, we are going to look into:
What's your price is running a deal right now where girls can sign up completely free. We suggest you don't miss out on this limited offer. It's the biggest SD/SB site online.
So if you are looking for a "sugar daddy" or you are one, this review will tell you if Established Men is the site you should be using to find what you are looking for.
Is your dating app giving you the best chance for success?
Make sure to take our online dating site/app quiz to find out.
People who follow our dating site suggestions have on average 2 more dates per month.
Established Men Review in Video Form
Audio (podcast) form for those of you on the go
Ease of Use – 4/5
Effectiveness – 3/5
Key Features – 2/5
Pricing – 2/5
OFL Top Recommendations based on 100,000+ Survey

"Serious Relationships"
"Discreet Hookups"
"Best Course for Men"
"Quick Flings"
"Normal Hookups"
"Our Quiz"
A simple sign-on process
A decent amount of users on site
Easy to use
No app available
High membership costs
Male members can't see messages when someone replies
Virtual gifts are expensive
Key features aren't that impressive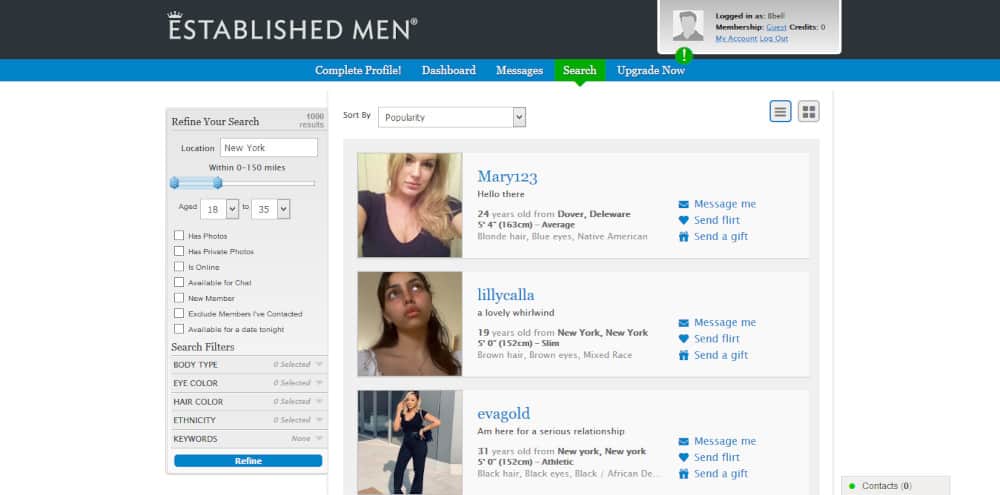 Who Is It For/Demographics?
If you came across a dating website called Established Men, you would be forgiven for thinking that it's aimed at gay men.
But once you do know who the site is aimed at and on giving it a bit of thought, Established Men is actually a very clever name.
It is obviously not your regular hookup site (like BeNaughty or Ashley Madison) nor a site for serious relationships (like eHarmony).
Yes, as mentioned already, this is a site for men who we can say have made it in life, certainly from a financial point of view.
And it's also for young women looking for a "sugardaddy".
There is no way to candy-coat it at all.
Niche dating sites like this are out there on the web because there is obviously a demand for them and two target markets that clearly are going to use it.
So now we know who the site is aimed at, let's get into just how popular it is.
Some dating websites are more than happy to advertise just how busy they are by providing the number of users they have.
Established Men is not one of those sites.
There are some numbers, however, that I did manage to track down which will give you an idea of how active the site might be.
So let's look a little more closely at those then.
And here they are:
Around 200 000 users on Established Men come from the United States
Around 50 000 people are active on-site each week
That's around 7 000 people a day
While those aren't crazy numbers, they not too shabby, especially when you consider that this website is a niche as a niche site can be, right?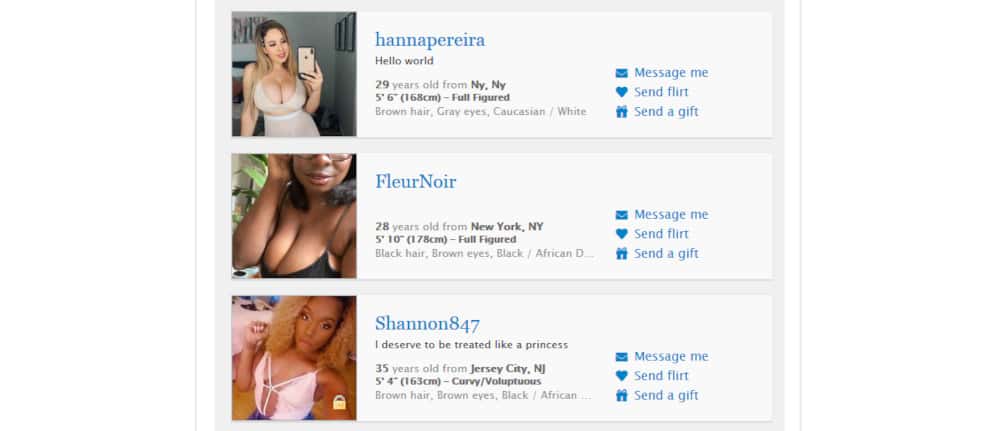 Gender breakdown and age ranges
The next critical thing to look at a gender breakdown.
Is the site dominated by males, females or is it pretty even?
Let me ask you a question.
Now that you know what the site is all about and that generally, there are more males on dating sites than females, which gender do you think dominates Established Men?
If you said males, you'd be wrong.
And quite a way wrong, that's because there are more females using Established Men than males by a ratio of slightly higher than 2:1.
Around 70% of the user base is female looking for their established man.
Just 30% are males.
What about an age breakdown?
Well, as you'd expect with 70% of the user base female looking for an older, established male, it's dominated by youngsters.
Here's how it looks:
18-24 years old
25-34 years old
35-44 years old
45-54 years old
55 +
So a basic breakdown of these age ranges would suggest that most of the 18 to 34-year-old range would be females and then from 35 and above, you would have the males that have registered for the site.
Of course, there are going to be a few anomalies in between but that's more or less what I found out during my research as well.
With the user base in place, just how easy is it to get online and to start the search for a "sugar daddy" or a young, beautiful lady, depending on your choice?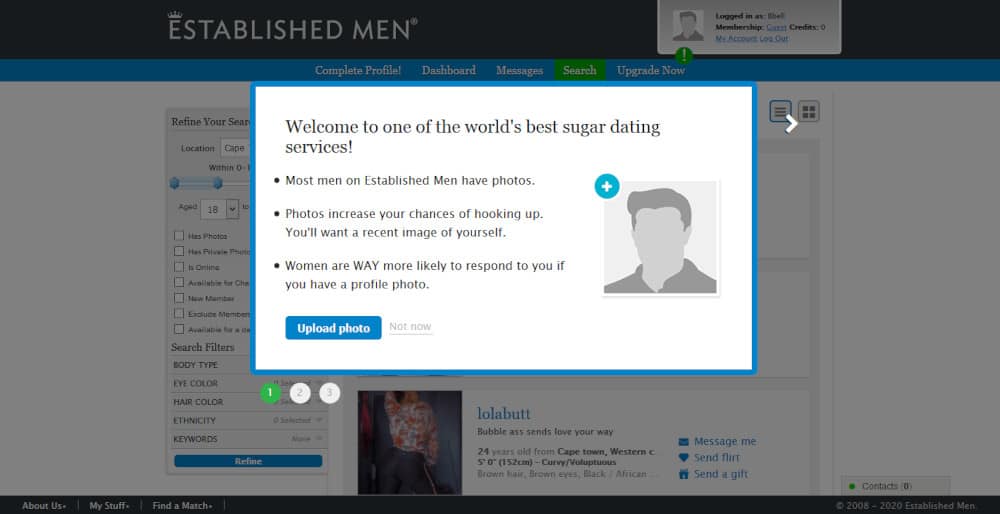 Incredibly easy, it turns out.
Visiting the site for the first time, you are greeted with a simple login page where you must fill in three details:
The gender you will be searching for
Where they should be located
Their age ranges
That's just the start of filling in your profile.
Establish Men expects you to fill in the rest before you can start browsing, so that's the next step.
It's nothing that's going to take hours to complete either but more like five minutes.
Here, you are going to provide the answers to a few basic questions that help flesh out your profile.
The information that Established Men are looking for includes:
Your email address
Your user name
Password
Gender
Location (including city, state, country)
The caption/greeting on your profile
Height
Body type
Eye color
Hair color
Ethnicity
It's a fair amount but to be honest, I prefer doing all the legwork before I get a chance to browse the site.
That's because I know it is done and now I can focus on finding some potential matchups.
Just like many other dating sites, Established Men will show you some potential matchups as soon as you get online.
And although I live in a fairly small town where you'd think there would be a struggle to find someone for a niche dating site like this, I was surprised to see a range of profiles to scan through.
If you'd like to find your own, however, everything you need is right before you.
To navigate your way around Established Men, there are three menu options at the top of the page.
These are:
Dashboard: Takes you back to the home page
Messages: Here you will find any messages you have received or sent
Search: You can launch new searches from here
A further menu option allows you to upgrade your account and become a member.
As you can see, those three main menus are pretty self-explanatory, as is most of the site.
In terms of design, the site looks good with its black and blue color scheme and it's pleasant enough on the eye.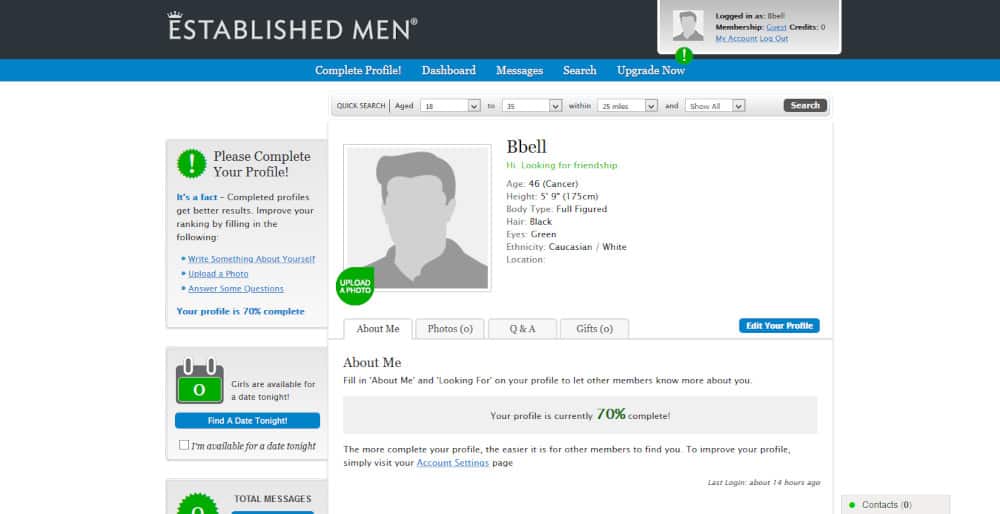 While you would have completed most of your profile when signing up for an account, there are still a few more things you will need to complete.
You will need to upload a profile picture
You will write a bio for yourself
You will need to answer a few questions about yourself
The first two are self-explanatory, the third one is a little bit more involved and will tell a potential match more about you.
For example, the questions include (these are from a male perspective):
"What three words best describe you?"
"What can you offer someone you meet"
"What kind of car do you drive"
While these might seem a little over the top, don't forget what type of site this is.
For what Established Men aims to be in the dating world, I cannot believe that there is no app developed for the site as yet.
More than half the users of the site are young females.
Surely they are crying out to browse Established Men on their cellphones as opposed to their laptops?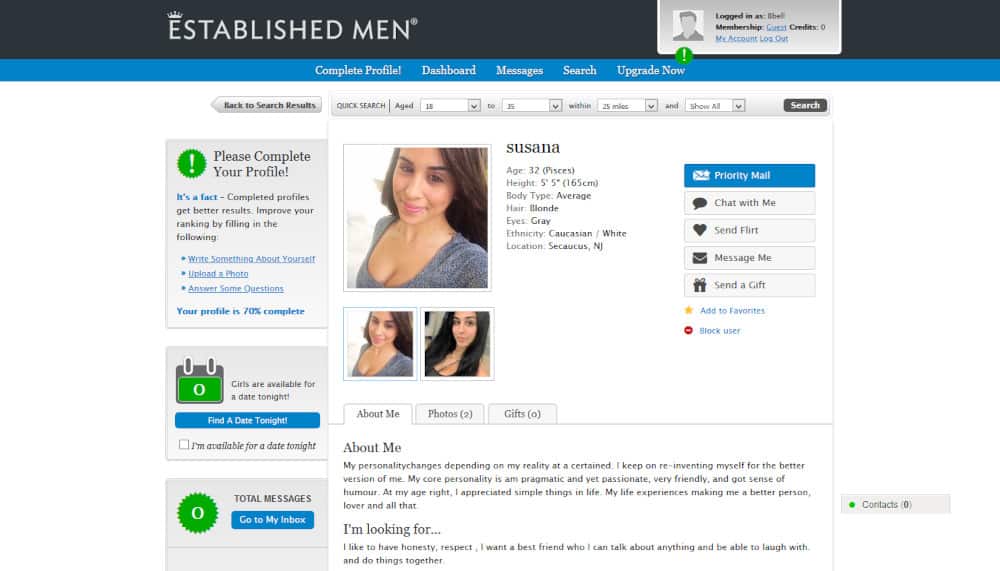 Once you've set up your profile on Established Men, it's time to start searching for potential matchups to look through.
A word of warning here.
Make sure that you do have a profile picture.
The site even tells you as much because, without one, your potential matchups are simply going to ignore you.
Yes, the users of the site are that shallow but again, that's to be expected considering the type of site it is.
Searching for potential matchups is very easy.
All you need to do is click on the search tab and from there enter the parameters you would like to include in your search.
Here are a few of them:
Location
Age range
Looks (here you can adjust body type, eye and hair color and ethnicity)
Whether they have photos (or private photos)
If they are currently online
If they are available to chat
If they are a new user
You can exclude people you have already chatted to
If they are available for a date tonight
Some of those search parameters might be new to you but clearly, they are site-specific and fit in with what Established Men is all about.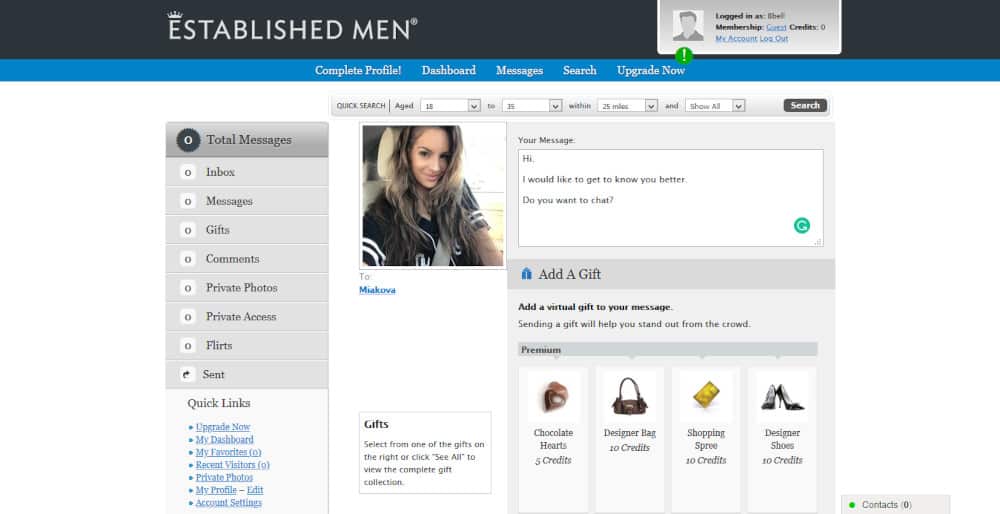 Obviously the next step in the process of getting to know someone is making contact.
It's here that Established Men has an interesting model in play.
If you are a female, the site is free for you to use.
So making contact with someone is simple.
If you are a male, to contact someone, you are going to have to take out membership on Established Men.
Yes, you can send messages but if they reply, you cannot read the messages that arrive in your inbox.
There are other ways to have limited contact with someone.
For example, you can send them a flirt, which is free of charge and a way to show your interest or you can send a virtual gift, which costs credits, the currency used on the site.
Key Features of Established Men
Before we get into a breakdown of the key features on the site, let's see what you can achieve as a user that hasn't signed up for membership.
You can see who has sent your flirts
You can see who has messaged you
You can tell who has viewed your profile
Searching if free and all search parameters are available
You can view all profiles as well as profile pictures
If you are a female, you can message for free
That's all pretty impressive unless you are a male and need to read a reply you've received!
In terms of key features, there aren't that many, to be honest, but for these, you are going to have to pay credits.
Note, however, that there is also a membership fee to the site which unlocks a few other privileges.
As a male using the site, you are free to fire off messages to anyone you want to.
But should they reply, you are not going to be able to read their messages.
To do so, you will need to buy credits, the current that Established Men uses.
I can understand why a site like this would use something like virtual gifts but for me, it's more of a money-making scheme than anyone else.
For example, the most expensive virtual gift is a platinum credit card that will set you back 150 credits.
That's madness in my eyes.
Again, as a male user, you can send out flirts to any matchups that have caught your eye but if someone was to flirt with you, you cannot flirt back unless you use some of your credits to do so.
Many users on the site have private photos.
Again, the only way you can unlock these is by using credits to do so.
5. New user recommendation
We now get onto a few features that membership (which I will explain later in the review) brings to the site.
With new user recommendations, as a member, you will be alerted to any new users that sign up to Established Men near your location.
If you opt for the premium member package, this badge lets you stand out from the crowd.
7. Six-hour exclusive access
As a member of the site, any new people that sign up are only seen by members for a period of six hours first up.
So that's the key features you can expect on Established Men.
How much are they going to set you back each month?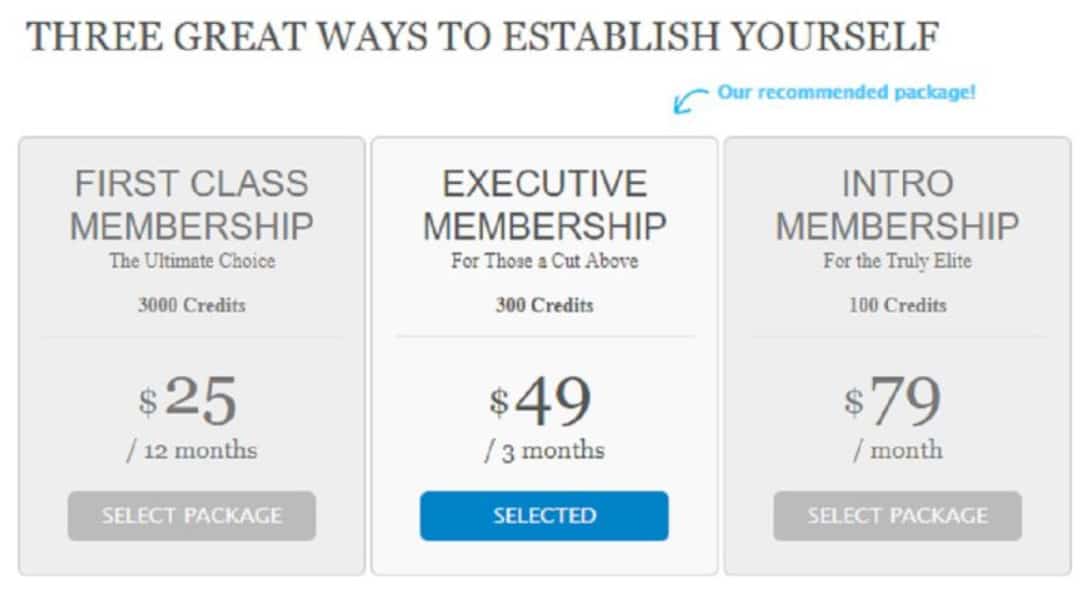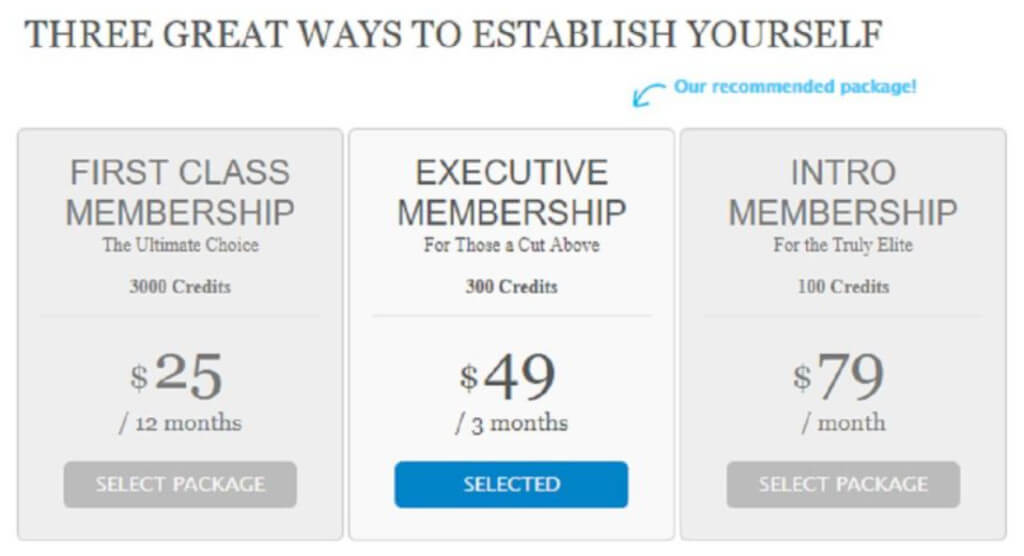 We've already seen that Established Men uses a monthly membership with credits for male users.
The monthly memberships themselves include some credits but you can always top those up when you need to.
As you've probably worked out by now, Established Men isn't a cheap dating site.
For membership year, you are going to have to hand over a pretty penny, that's for sure.
Here's the breakdown:
1-month membership (100 credits) – $79.99
3-months membership (300 credits) – $147.00 ($49.00 per month)
6-month membership (3000 credits) – $300.00 ($25.00 per month)
Now I understand that this site is aimed at wealthy men looking for young, beautiful women but those prices are very steep.
And everything is pushing you towards buying a membership because that offers a reasonable per month rate but also, it gives you 3000 credits to use on the site.
Also, the 1-month option only gives you 100 credits.
That's simply not enough at all and you will use them up quickly.
Plus there is no way to buy more, you will have to wait for the next month for them to replenish.
For the features on offer to paying members, these prices are not justified at all.
And I do understand the target market the site is aimed at but that still doesn't justify the high prices here.
If you'd like to take out a membership, you do have more than one payment option.
The most obvious is paying with your credit card but if you wish to do so, you can also pay for membership using PayPal.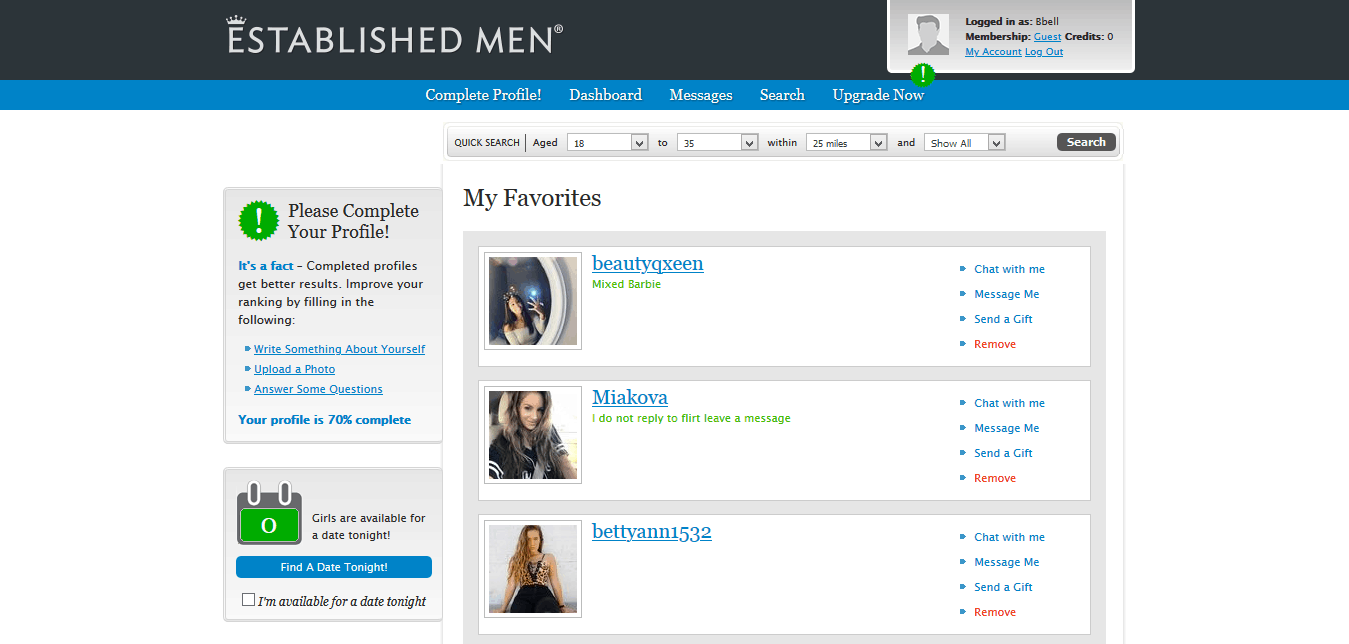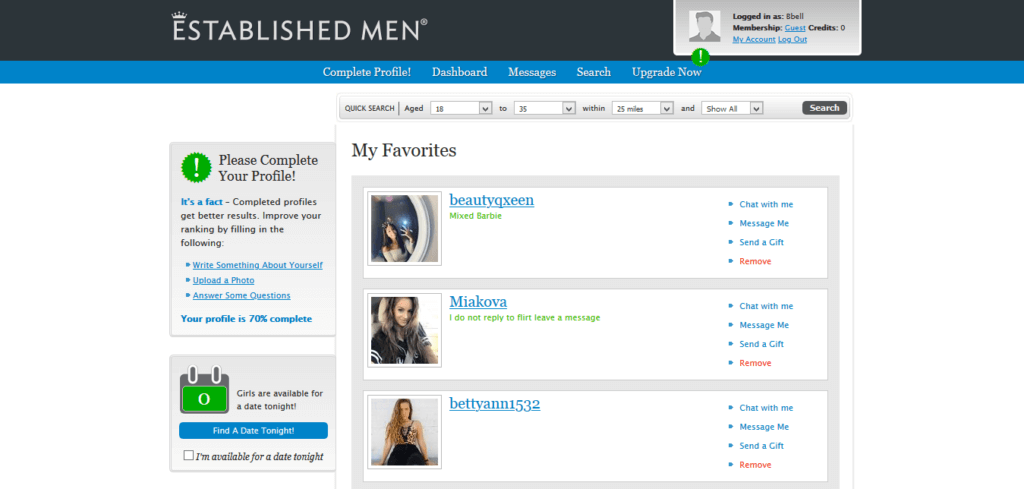 Conclusion and Overall Rating
2.75 out of 5.
That's my overall rating for Established Men.
If you are a young, beautiful female looking for your "sugar daddy" then this site is made with you in mind.
That's because you don't have to pay a cent at all.
If you are a "sugar daddy" or should we say, established man, looking for a young, beautiful female, well, you are going to have to pay to find them.
While I get that males using this site can easily pay the membership fees, I still think they are exorbitant.
The site itself is simple to use and navigate and easy on the eye.
Everything you need to help you find a matchup is a click away.
And although is a very niche dating site, it has a user base as well, especially if you are living in a larger city.
But I still can't get over the pricing structure.
If I had to guess, it's in place because over 70% (females) of the users on the site don't pay for any form of membership at all.
That leaves the 30% (males) left to get hit hard in the back pocket.
That's essential for the chance to read any replies they might get because the other features membership brings are just not that impressive.
So have you tried Established Men out?
Did you manage to have any success in finding a match?
And if you haven't tried out this dating site yet, do you think it's one that you might?
Let us know in the comments below.
Frequently Asked Questions