These days we are overloaded with hundreds of different dating apps and online dating sites, and Hinge seems to be the platform that has had the most success during the last few months.
However, many people who join Hinge are not really sure whether this is an app made for casual hookups (like BeNaughty or Ashley Madison) only or is it reserved for people who are looking for serious long-term relationships (like eHarmony or Tinder).
OFL Top Recommendations based on 100,000+ Survey

"Serious Relationships"
"Discreet Hookups"
"Best Course for Men"
"Quick Flings"
"Normal Hookups"
"Our Quiz"
Even though you can meet hundreds of potential matches easily on this app, you still won't be able to know whether this compatibility is only for a few dates or for a longer period of time.
For that reason, we will explore the Hinge dating app and its users and tell you:
Is your dating app giving you the best chance for success?
Make sure to take our online dating site/app quiz to find out.
It's a fact that people who follow our dating site suggestions have on average 2 extra dates per month.
Hinge is a very popular dating app that has become recognizable by its claim that it is designed to be deleted, which means it will help you meet your partner and then leave the platform.
This is a dating app that operates pretty much like social media and allows its users to create profiles worthy of attention, loaded with plenty of information, prompt answers, and dozen of profile pictures.
Among all online dating apps, Hinge seems to be the most serious one, and dating experts claim that this is the best dating app available on the market at this moment.
Even though it is mostly aimed at younger people who are in their 20s or early 30s, this is a dating app that is made mostly for serious long-term relationships.


Its user base is quite diverse, and it gathers millions of people from many different parts of the world; and even though all of them have different dreams of their potential partners, they will be able to swipe right and find someone who will suit them.
However, there are not too many Hinge hookup stories because this platform mainly focuses on people who are looking for the most compatible partner and are willing to go on several potential dates before they find the right one.
The algorithm will help everyone connect with Hinge users they have the most in common with, and in terms of matchmaking, it is pretty similar to serious dating platforms like OkCupid and Match.com.
Since you will not be able to choose the type of relationship or arrangement you are looking for, you always need to make sure you state that you are looking for a hookup if that is the reason why you are joining the platform.
Hinge does not really support hookup culture, so there is no option of choosing the sort of relationship you want to engage in, and this is something you should be aware of in advance.
In case you are here only for a hookup, you will probably leave the platform empty-handed, or you will have to spend months looking for a person who will share the same goals as you.
Not every 20 year old is interested in casual sex, and that is the reason why Hinge became so popular among this age group in the first place.
Platforms like Tinder and Bumble are reserved for casual daters and people who are here only to find some temporary fun.
OFL Top Recommendations based on 100,000+ Survey

"Serious Relationships"
"Discreet Hookups"
"Best Course for Men"
"Quick Flings"
"Normal Hookups"
"Our Quiz"
On the other hand, the Hinge experience is much different, and the main goal of this platform is to connect you with people with whom you can build deeper and meaningful relationships.
Hinge ratings are not that high for that reason, too, and it seems like many people don't understand the whole hookup vs dating situation and start searching for a friend with benefits arrangement without investigating Hinge first.
So, if you were asking yourself is Hinge for relationships, then you can be sure it is, and if you are looking for a real partner, this is definitely the right platform for that.
The Hinge relationship app is quite similar to Tinder and even though their whole design and concept have changed a bit during these last few months.
It has been trending everywhere because it allows people to express themselves and share plenty of information about many different things – their personal information, preferences, likes, goals, and even funny answers to Hinge question prompts.
You can easily get connected with your match group because the Hinge algorithm is absolutely impeccable, and they are able to find you your preferred member without any problems.
Since they label themselves as a dating app meant to be deleted, you can count on the algorithm to connect you with those who have a similar character and share the same interests.
Once you join the platform, you will need to fill out all the information and also answer original Hinge prompts you will be able to explore other people and get in touch with other profiles.
You will have to share your name, age, location, and profession, which is something you would have to do on all other social media platforms.
However, the thing that makes Hinge stand out so well is actually its original question prompts.
Every user will get a different combination of questions, and they will have to do their best in order to give original and unique answers.
These answers can really tell a lot about your personality and views on the world, so it is very important to pay attention to what you are writing and putting out on your profile.
It will help other Hinge users learn a lot about you and eventually determine whether they will get in touch with you or not.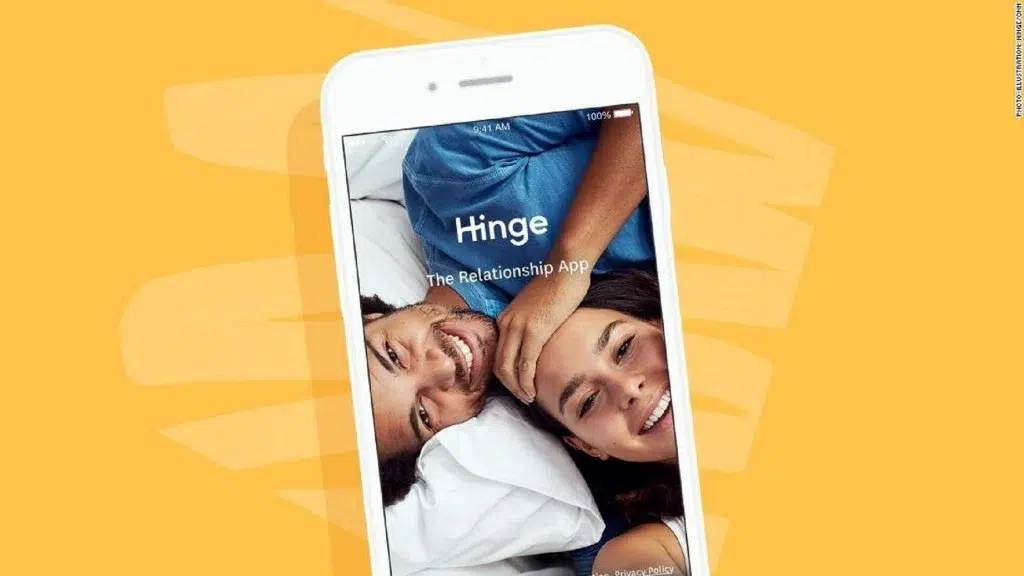 These prompts can really have a big impact on your whole dating experience and the number of people who keep on reaching out to you, so don't take them for granted and don't write stupid things in there.
Since the platform has everyone's unique answers stored, it is able to match you perfectly with like-minded people and eliminate all of those users who have completely opposite answers.
Their algorithm is really amazing, and if all dating apps had an algorithm as good as this one, many more people would have luck in love, trust me.
How Do You Hook Up With Other Hinge Users?
You can like anyone on the platform, but if you are a free member, you will only get a limited number of likes.
Free members can like only 8 people every day, which is definitely enough if you are someone who takes your time to explore other people's profiles and does everything he can in order to find the right match.
However, if you believe this is not enough, you can always invest some dollars into your profile and get a premium membership.
This way, you will be able to send likes to an unlimited number of people, and since it is only 10 dollars per month, it can get a good investment until you find a potential partner.
If you want to cut off the time you are spending on dating apps and make your matchmaking process faster, then you should definitely think about investing in it.
Since they have removed their swiping feature, it is much easier to connect to people who have similar interests because the algorithm has improved a lot, and it instantly eliminates people you have 0 things in common with.
When you come across someone who may seem like a good match to you, you can easily send them a message without any obstacles or requirements and wait for them to answer.
The platform provides you with a "seen" feature so you will be able to see if someone has already seen your message but decided not to reply.
Even though this feature can break some people's hearts, it is still a much better option than ghosting, especially for people who are really striving to meet their soulmate.
Their whole design can also help you save yourself from fake profiles because those that have 0 information on their pages are for sure not made by real or honest people.
It is also location-based, so if you are living in New York, you will get connected to people from your area based on the GPS location of your device.
This is a great option for people living in bigger cities because it will connect you to those who are the closest to you first, so you don't really have to get outside of your area in order to meet someone.
Even though you can explore people from nearby cities and places, you will have to create the location for yourself and change it manually on your device, which is not always the easiest.
If you find someone interesting, you can like their profile, or if you like just one specific thing they have posted, you can like just one of their answers or descriptions.
This is a pretty cool feature that will allow you to show what are the things you agree on with that person and help you express your views on the world too.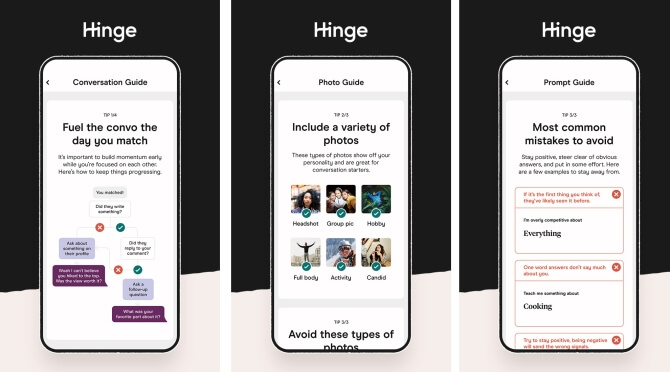 In comparison to most other dating apps that are popular these days, I believe Hinge is the one that has the best offer, and its features are really amazing, helping you connect with like-minded individuals instantly, without any obstacles.
If you are looking for something a lot more serious and you are willing to establish deep and meaningful relationships with other people, then this is definitely the right option for you, and it will help you meet a lot of worthy people.