Creating a good Seeking Arrangement profile is a challenging process for both sugar babies and sugar daddies, but with a little bit of advice and practice, you will be able to create an amazing one.
Online dating platforms like Seeking Arrangement have millions of active users and you really need to put some effort into your profile if you want to stand out among all of these people.
Here are some of the questions your sugar dating expert will try to give the answers to:
Everyone, Seeking.com, and What's your price are running a deal right now where girls can sign up completely free. We suggest you sign up for both to see which one you like the best. They are the biggest SD/SB sites online. Sign up for free on seeking here and for free on What's your price here.
Is your dating app giving you the best chance for success?
Make sure to take our online dating site/app quiz to find out.
It's a fact that people who follow our dating site suggestions have on average 2 extra dates per month.
How Does Seeking Arrangement Work?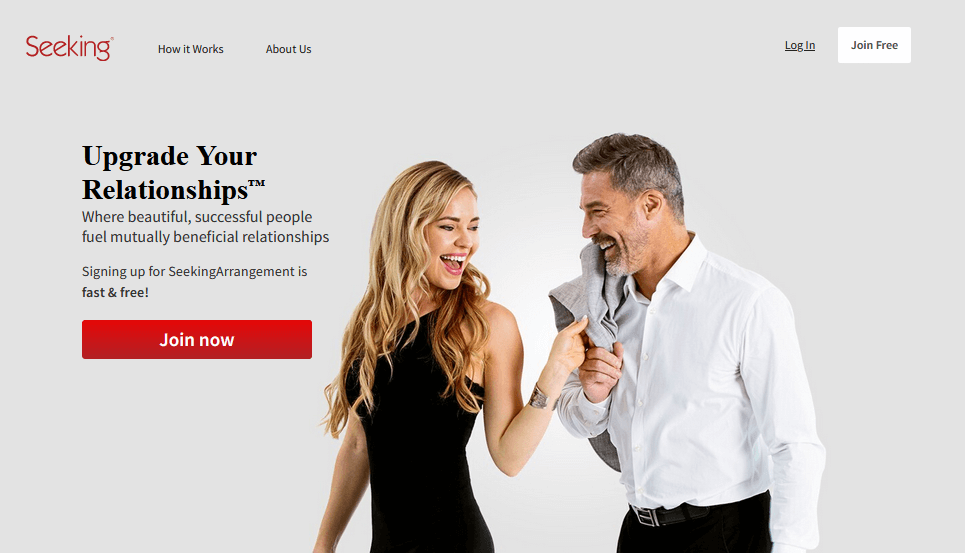 As you already know, Seeking Arrangement is an online dating platform made for connecting young women with older, rich men who are willing to provide them with some type of financial support in exchange for a sugar relationship.
The nature of your sugar relationships depends solely on the agreement between you and your sugar daddy, depending on whether they are looking for companionship (like Tinder or eHarmony) or hook-up (like BeNaughty or Ashley Madison), just like the height of your weekly or monthly allowance.
Seeking Arrangement is pretty easy to navigate and once you create your profile, you will have access to a homepage full of sugar daddy or sugar baby profiles.
All of the people on this dating website are looking for some type of beneficial relationship, all you have to do is start the search in order to find a person that is seeking the same kind of relationship as you.
SeekingArrangement.com allows you to connect with everyone who has an account on the platform and you can start your arrangement by messaging them.
If the two of you seem to be looking for the same things and you believe that there is some chemistry between you, you can schedule your first date and enter the sugaring industry.
So, what should I put on my Seeking Arrangement profile?
Even though this whole process seems to be quite simple, there are many things you should watch out for and you will certainly need some time to create a Seeking Arrangement Sugar Baby Bio that will be good enough to attract potential partners, whether it be sugar babies or sugar daddies.
There are also many things you don't know about the Seeking Arrangement experiences that may even make you give up on using this platform.
What Type Of Seeking Arrangement Memberships Are There?
All of the dating sites that are present on the internet offer you different types of memberships and most of them require you to pay some kind of subscription in order to use them.
Seeking Arrangement is one of those dating sites too, but the fact is that it is completely free for sugar babies and the sugar daddies are the ones who have to pay a large amount of money in order to become members.
OFL Top Recommendations based on 100,000+ Survey

"Serious Relationships"
"Discreet Hookups"
"Best Course for Men"
"Quick Flings"
"Normal Hookups"
"Our Quiz"
Only men that don't have to pay for a Seeking membership are those who register themselves as male sugar babies, and those are usually college students.
The Seeking Arrangement cost of a sugar daddy dating profile is anywhere between 90 and 250 dollars and it depends on the type of membership you choose.
Seeking.com offers you two types of memberships – a premium membership and a diamond membership.
Premium membership can be bought by anyone and it will cost you about 90 dollars per month, or 80 dollars if you pay the subscription 3 months upfront.
Premium members can send and receive an unlimited number of messages, hide their profile from searches and homepages and their online status.
Seeking Arrangement spam limit also doesn't work for them and they can add as many sugar babies as they want in a period of 24 hours.
They can also create custom search filters and be able to see the exact time when their messages were seen by other users, and they can also exchange Seeking Arrangement private photos.
The other option is a diamond membership which will cost you 250 dollars a month, but it is not accessible to everyone.
This is the type of membership Seeking Arrangement offers to its loyal users who have been on the platform for some time and have spent a lot of money on sugar babies.
It doesn't differ too much from the premium membership, but sugar daddies who are considered to be Diamond members will be the first ones to show up on a sugar baby homepage and they will get a lot of profile boosts that will enhance their overall performance on the website.
The Diamond badge allows them to create wish lists for their sugar babies and send them gift cards through the platform.
Many sugar daddies often ask me "How do I receive a free premium membership?" and unfortunately, I have to tell you that is pretty much impossible.
A Seeking Arrangement free premium membership is something a sugar daddy can only dream of because there is no way this platform will offer you to use it for free.
Sugar daddies are the only users that actually pay them a subscription and make this dating site profitable, so there is no way they will offer you a treat like this.
You may try entering one of the coupon codes that claim to provide you with a free membership, but during the approval process, you will see that it got declined.
There are many Seeking benefits so I honestly believe it is the best option for all sugar daddies and it is worthy of investing in membership because it can connect them to thousands of ladies that are not present on other dating websites.
How Long Is Seeking Arrangement Profile Approval?
Once you fill out all the required fields and create your Seeking Arrangement profile, you will have to wait for some time until it gets approved and you can use the platform without any obstacles.
The SeekingArrangement sign-up process is very easy, but you will have to fill out all the required fields and provide them with your email account before you actually start the approval process.
The Seeking Arrangement verification process will usually last for not more than 24 hours and during that time you will be able to explore the platform and see other people's profiles, but you won't be able to reach out to them.
How long does it take to approve your profile usually depends on the amount of information you have included and whether you have added a profile picture or not.
Once you get the email that your profile has been approved, you can start your sugar lifestyle.
This website also offers you the option of Seeking Arrangement background check with Optimum screening which will confirm your identity and give the sign to all the other users that you have no criminal records, are not registered as a sex offender you are not wanted in any other countries outside the USA.
This is a great option for all sugar daddies who want to enhance the performance of their profile because young women will for sure reach out to men who are 100% real and safe, and not scammers.
The whole screening process usually lasts for 3 to 5 business days and once you get verified, you will get a Seeking Arrangement background verified badge which will prove to other people on the platform that you are a 100% good and safe person to get in touch with.
What Should I Put On My Seeking Arrangement Profile?
I guess the Seeking Arrangement FAQ should mostly consist of questions regarding the look of your sugar dating profile and the information that you should include because that is something most sugar babies and sugar daddies struggle with.
"What should I put on my Seeking Arrangements profile" is something I hear very often from all the users and I believe there are quite a few bad examples and samples which completely confuse them and lead to many people creating a very bad sugar profile.
There are a few things that every sugar dating profile has to have in order to get approved but also to become successful on this dating platform:
Original username
Catchy headline
Informative and interesting "About Me" page
Even though everyone needs to fill out these fields in order to create a successful account, many people make a mistake and create very bland and uninspiring profiles that often make other people skip them when they appear on their homepage.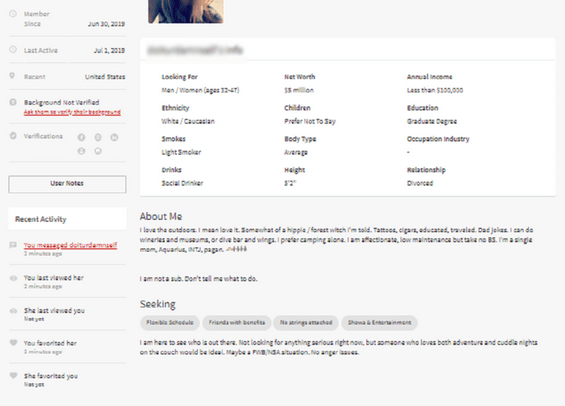 People underestimate the power of a unique username and an exciting headline and think that their personality or money is something that will attract people.
You have to be aware that your username and the headline are the first things a potential sugar baby or sugar daddy sees so you have to make sure you stand out.
People make a mistake and choose a very common and frequent name to be their sugar dating alias, without realizing that another Ashley or Mike certainly won't catch anyone's attention.
I always recommend sugar babies and sugar daddies to choose foreign and exotic names because this is something that will spark people's imagination, make them click on your profile, and find out more about you and your personality.
One thing you should always avoid is choosing one of those basic headline examples that exist on the internet.
No one will reach out to a person that has "Looking for a sugar daddy/baby" or "Be my sugar daddy" as their headline,
This is way too simple and it seems like you put 0 effort and imagination into creating your profile.
Always try to come up with something fun and specific, that will be in the spirit of your overall character and personality because it will connect you with people who have similar traits and interests like you.
The place where the biggest mistakes happen is definitely the "About me" page on your sugar profile.
Both sugar babies and sugar daddies tend to make a lot of mistakes there and often treat their About me page as the least important part of their profile, even though it is something that determines their sugaring future.
This is the part of your profile which you will use to give general information about yourself like your age, profession, and net worth, but also to describe your overall personality, tell a little about things you are passionate about, and your hobbies.
The more information you upload to your profile, the better its performance will be because no one wants to reach out to a person that provides them with 0 information about themselves.
Some websites offer you a separate "About Me" section and the other section in which you will describe the type of sugar arrangement you are seeking and the qualities you look for in a sugar baby.
I always recommend using this feature the best way you can because it is certainly something that can affect your overall Seeking.com performance.
A good description of yourself and the desired relationship can set you up for an amazing success or make your sugar career go downhill before it even began.
However, you should be careful when writing your sugar daddy bio because you don't want to reveal too much information and potentially expose your real identity.
You also don't want to reveal the area you are living and you should name the city you are in, like New York City or Las Vegas.
Giving out more information than this can put you in danger or make you a victim of different scams.
Even though scammers usually target SBs, sugar daddies should also be very careful and the general rule for all users of the platform is to not reveal their private information like their phone number, credit card, and bank account information, or their social security number.
Once you have given out this information to a stranger you can't do anything to get them back nor to stop the scam you are now involved in.
The other thing that can help you out immensely is uploading a good profile picture and adding a few more pics to your sugar dating account.
Older men are usually the ones who try to avoid this, but you should know the more pictures you have the more realistic your profile will look and the more women will start approaching you.
Sugar babies always do a deep research of their potential partners and they usually choose to approach those who have the most information on their profile, and also some pictures.
However, this is also something you should be very careful with and you should never upload pictures that are already present on your other social media account like Instagram, Twitter, or Facebook.
All it takes is a simple reverse image search and everyone will be able to find out your real identity and your real social media profiles.
Never underestimate the power of a well-done profile because your crazy net worth can't help you if girls don't find you interesting and enjoyable to be around.
What to write in a Seeking Arrangement profile is very important and can determine your destiny as a sugar baby or a sugar daddy.
Is There A Seeking Arrangement App?
Just like we have plenty of traditional dating apps like Tinder, we have a Seeking Arrangements app that has been working very well during the past few years.
Even though most users decide to use the platform through their preferred browser, there are also plenty of users of the app too.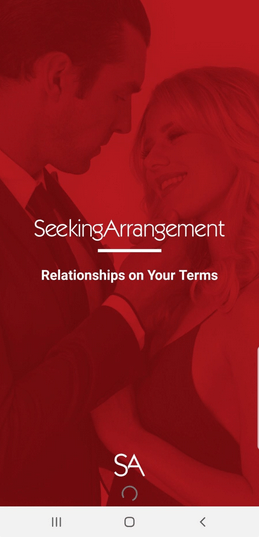 Unfortunately, it is available only to Android devices on the google play app store, but the creator of the website, Brandon Wade, promised that they will try to launch the iOs app by the end of 2021.
How to Delete Seeking Arrangement Profile?
In case you are not satisfied with Seeking Arrangement, you find it to be way too expensive or you have just found your desired sugar relationship and want to delete your account because you do not need it anymore, I will lead you through a pretty simple process of deleting your sugar account.
Once you are logged into your account, you will need to click on your username or your thumbnail in the top right corner in order to access the drop-down menu.
When the drop-down menu opens, you will choose the Settings page and get to the bottom of the page.
At the bottom of the page, you will be offered two options – one is to deactivate and the other is to delete SeekingArrangement account.
You will choose the option you came here for, and once the whole process is over, you will get a message sent to your email account confirming that your profile is permanently deleted.
Once you have deleted your profile, you won't be able to get it back, which is not the case with deactivated profiles that can be renewed by a simple Seeking Arrangement login.
And, how do I cancel my account?
There are also many people that don't want to leave the platform for good but know that they won't be using it for some time and they want to cancel their subscription until they come back.
This is also something that can be useful for everyone that wants to switch to another type of membership.
When you log in to your account, you will have to go to the Setting page and choose the tab that says "Payment options".
You will then see the type of membership you are already paying for and also the option to cancel it for good, or switch to another, more or less expensive one.
After you have chosen one of these options, you should get an email about the changes, and in case that doesn't happen and your membership stays the same, I recommend reaching out to Seeking Arrangement customer support.
What Are Some Other Things I Should Know About Seeking Arrangement?
Even though we have provided you with a very brief and clear guide through Seeking Arrangement, there are still a few Sugar Dating FAQs you might be asking yourself, and as always, we are here to provide you with the right answers.
1. How do I view my profile on Seeking Arrangement?
This is a pretty simple process but it seems like many users of Seeking Arrangement struggle with it.
All you have to do to see your dating profile is to click on your username or profile picture thumbnail in the top right corner and your profile page will open.
2. How to change profile picture on Seeking Arrangement?
Changing your profile picture however is a bit more complicated process and sometimes you might be required to go through a verification process.
Tap on your username or profile picture in the top right corner and go straight to your profile.
Once you are on your profile page, click on your profile picture and click on the "Upload new photo" option.
When you upload your new profile picture, sometimes it will get accepted immediately, and other times, you will need to go through a whole verification process and background check.
No one actually knows why this happens sometimes, but if you are using your real pictures and are not a scammer, you certainly won't have any problems with it.
3. How to tell if someone blocked you on Seeking Arrangement?
There are not many ways to find out whether your Seeking Arrangement account is suspended, blocked, or just deactivated or deleted.
When someone blocks you, or you block someone, you will no longer be able to see each other's profile, search for it, or send messages to each other.
All of your previous conversations will get deleted and there is really no way to find out what happened, except if you have a friend who also has a Seeking Arrangement account that can check it for you.
If the person that seems to have deleted their account still appears when someone else is searching for her, then you have certainly been blocked.