When you are joining a new dating platform, you want to explore all of its options and see what you can do with other users on it.
Blocking someone from your Zoosk account can happen for several reasons, and it is a practice that isn't strange to anyone on these platforms.
For that reason, in this article, we will cover things like:
Is your dating app giving you the best chance for success?
Make sure to take our online dating site/app quiz to find out.
It's a fact that people who follow our dating site suggestions have on average 2 extra dates per month.
How Do You Block Someone On Zoosk?
Blocking people is a quite common activity and an option that is available to everyone on various dating platforms and social media.
Some people tend to block the profile of the person they know in real life so their dating experience stays a secret, while others block those who are forcing things way too much and just can't get rid of nicely.
If you, too, have found yourself in an unpleasant situation and you want to block someone on these dating services, you will be able to do it with just a few simple clicks.
The process for blocking someone on Zoosk.com is the same as on most other dating apps, and these are the steps you need to follow:
open the dating profile of the person you want to block
click on the settings on their account
choose the Report option in the drop-down menu
choose the Block option
confirm the action
save settings
After you have completed this action, the person you have blocked will no longer appear on your homepage, and they won't have access to your account.
Once you block someone on the Zoosk app, they will no longer be able to get in contact with you, and you don't have to worry about their Zoosk profile coming across you.
As you can see, the whole process is relatively easy, and you can block other Zoosk users within seconds and protect yourself from different fake profiles or scammers.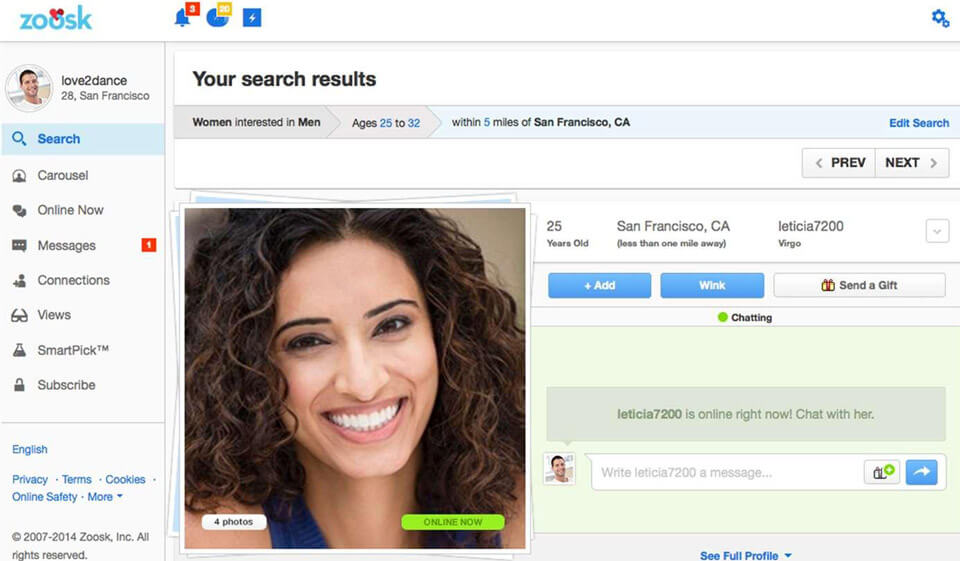 In most cases, the platform won't require you to provide them with reasons why you decided to report and block someone, but in case they really don't see anything suspicious, and they have never had a complaint regarding this user, you may be demanded To complete this action.
Make sure you always stay honest and say what is bothering you, without overreacting for no reason.
The process is the same whether you are accessing the platform through your Android or iOs iPhone device or your PC and regular dating website, but if your mobile app seems to be bugging for some reason, it is always the best to complete the action through the browser.
What Happens When You Block Someone On Zoosk?
Once you block someone on the Zoosk dating platform, that person won't be able to find your dating account anymore, and they will in no way be able to send you a message or a connection request.
Also, you won't be popping up on their homepage, and even when they are using Zoosk Carousel, they won't be able to come across your account because they are blocked.
OFL Top Recommendations based on 100,000+ Survey

"Serious Relationships"
"Discreet Hookups"
"Best Course for Men"
"Quick Flings"
"Normal Hookups"
"Our Quiz"
It is basically like you go invisible on the platform, and this person has no information about you anymore.
However, they will never receive a notification that you have blocked them, and there is no way they will be able to find out that they were blocked unless the two of you have matched in the past and now they are searching for you on the platform.
This is always a good thing because they can think that you just chose to deactivate your account and leave the platform for good, of course, if they don't push things too much.
Your display name will stay the same, and nothing on your homepage or account won't change, but the user you have chosen to block will no longer be able to find you in any way.
However, in case you choose to interact with other people on the platform, or someone even shares some picture or Zoosk post where you get tagged, they will be able to see that tag, but once they click on your profile, they won't see anything.
This will be a clear sign for them that they are blocked, and they won't be able to do anything about it.
The other subscriber will have no power over your decision, and they won't be able to change their status, so you shouldn't be worrying about that.
When you are using Zoosk, you can know that you are safe and that once you choose the Block option, this person won't appear anymore, unlike EHarmony and most other dating platforms.
Once you select Report and Block, you can be sure that you are free from this person and will get the message that you are not interested and don't want to do anything with them.
However, if you decided to block someone because you believe they may be a catfish or a scammer, I would recommend you to notify customer support, too, because you want to protect other users from this too.
If they believe your complaints were right and the person is some scammer, they won't pop-up on anyone's homepage anymore, and they will be deleted from the platform for good.
Can I Block Someone From Seeing Me On Zoosk?
Unlike most other dating platforms, Zoosk can't help you with this one, and the only way someone will not be able to see your account on the platform anymore is by blocking them for good.
There are no options that allow you to hide your dating profile for a certain amount of time or just hide the green dot in the top right corner.
The only way Zoosk allows you to get rid of someone is by blocking them completely, which means that they will no longer be able to see your profile, send you messages or interact with you in any way.
There is also no option of blocking someone who has already blocked you because once they complete this action, you will no longer be able to find them, and you can't make this happen.
In the end, I would recommend you to stay extra careful whether you are looking for a serious relationship (like eHarmony or Tinder) or just hookup (like BeNaughty or Ashley Madison), and if you believe someone on this platform may harm your privacy or get you into some trouble, make sure to block them, and if it is really needed, always reach out to the customer support regarding this matter.