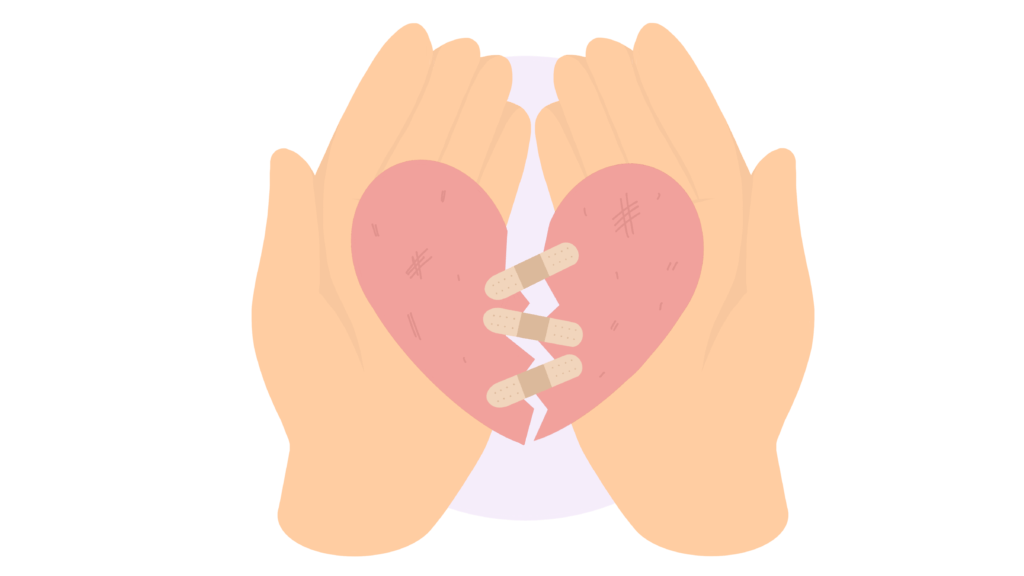 Hi all, welcome to yet another exciting piece of dating advice from our dating experts.
Sometimes you need to realize that moving on is the only way to heal and in this article on how to start dating again after a breakup, you'll learn:
Without much ado, let's begin!
Make sure to take our online dating site/app quiz to find out.
People who follow our dating site suggestions have on average 2 more dates per month.
How to Start Dating Again After a Breakup in Video Form
Audio (podcast) form for those of you on the go
The incredible tips for creating an online dating profile.
These tips are guides that will help you with online dating from day one till you finally start a concrete relationship with your partner.
A Quick Tip on Dating Again
We all know breakups can be tough especially if they ended badly; they can be really tough.
From our experience, they can be difficult both mentally and emotionally and can drag on for a very long time post-breakup.
But at some point, you do need to pick yourself back up and throw yourself out there.
However, we do not suggest dating immediately after a breakup.
While it might be difficult for you to get over a bad relationship and move on to the next one, you must not give up on the dating scene.
You need to reflect on your mistakes, learn from them, heal and get ready to mingle either online or offline with your thinking cap on.
This does not mean that you should jump headfirst into another relationship.
In fact, that is the opposite of what we recommend you doing.
Jumping into a relationship after a breakup can end up doing more harm than good after all.
This is especially true if you have recently just broken up or were in a very long relationship.
Usually, it's advisable to give yourself some time to reflect, heal and focus on yourself right after a bad breakup.
But if you've taken a long break from the dating world and you feel like you are mentally ready to move on start dating again, this guide is for you.
Dating again after a failed marriage or breakup should be something that you dip your toes in to test the waters.
Here are our top five dating tips on how to start dating again after a breakup.
1. Get comfortable in your skin again
Feeling fully comfortable with yourself can be quite difficult after a tough breakup.
We discovered during our findings that dating too soon after a breakup can spell doom if you're not comfortable with yourself.
While you're single/looking you need to focus on yourself a lot, instead of bugging your head with questions like "will I ever find love again?"
Potential partners will not be able to have a good relationship with you if you're not happy with yourself or content with who you are.
You cannot rely on another person to make you happy.
You need to be able to make yourself happy before you can be in a relationship.
Loving yourself is the first step towards being non-attached to dating or a relationship.
With time, you'll learn to stay true to yourself and enjoy being single and meet new people without thinking of any kind of relationship.
There's no hard and fast rule on when you are totally ready to fall in love again.
Trust me once you are entirely comfortable and happy with yourself, the perfect person will find their way into your life!
2. Play the field to see what's out there
Firstly, we'd like to advise you to avoid hopping in any relationship right after a breakup – we've mentioned this earlier, but that's how important it is.
Some people can't help but automatically search for a relationship right out of the gate.
In our perspective, you should control this instinct and let yourself play the field at least for a little while.
You must not forget the things that happened while you were dating "the love of your life", at least, so you thought.
If you jump into a relationship too soon, you are closing the gate to tons of other potential men and women (And ones that might be much better suited to you).
If you have never gotten involved with online dating, this would be the perfect time to do it.
From our experience, this is by far the best way to see how many fish in the sea are out there.
Limiting yourself to the people at work or the people that live near you is severely limiting yourself to what's out there.
Check out some of our articles on the top dating websites.
We suggest you try out match.com or eHarmony, but there are many others to choose from.
Make sure to create a stunning profile and also a username that is inviting to have the most success!
If you do not feel comfortable paying for a dating website at first, there is also a match.com 3 day free trial as well as a free eHarmony communication weekend that you can try.
3. Make a plan to better yourself
If you're hoping for a first date after a long-term relationship, it's best to give yourself a recovery time no matter how long it takes.
Our advice to you will be not looking for someone to date but to get out there and develop some talents as well.
A lot of persons start working out after a major breakup, so if you have always wanted to join a gym, this would be a perfect time to do it.
Exercise will not only be an excellent release, but it will also give you a massive boost in confidence.
If you have always wanted to learn how to paint, join a painting class and get after it.
Research shows that self-improvement is a fantastic way to make yourself feel better while at the same time networking with new people that might lead to a new dating life when you feel ready with a new partner.
Who knows you may even run into a super cute girl/guy while you are at the gym or your painting class!
Another one of our favorites is to learn a new language.
Not only is this extremely gratifying, but if you are planning on traveling shortly, they could come in handy as well!
Try to take on Spanish so that you can travel around South America and meet your Latin lover!
4. Pick your dates wisely
What is the best way to start dating again after a breakup?
Well, we asked our experts, and here's what they had to say; you need to be extremely picky about the people you are choosing to go out with!
If you choose to go online for a date, know the signs to look out for when chatting with a to-be partner, that tells the person could be dangerous or not a real person.
Remember, it is a period in your life when you need to find love with friends and family members and take time to discover the person you are before rushing into a new relationship.
This is another reason not to jump right into a relationship after breaking up.
You need to know the intentions, likes, and dislikes of a potential date otherwise it could be a disaster.
This is another reason why online dating is excellent.
You will have so many more people to choose from, and the chances of finding somebody compatible are much higher.
In fact, the success rates and marriage rates are much lower for individuals that met online compared to real life.
This makes sense because you have a much larger pool of individuals to choose from and are more likely to find somebody extremely compatible.
We've found asking them relevant questions to find out their real core values to be the best way to weed out wrong dates or matches online.
This will make sure you are not wasting your time with people you don't see eye to eye with or feel any connection with.
5. Leap of faith to succeed
It is essential to let go of your past relationship and learn how to love again after a broken heart to eventually start dating again.
If your previous relationship was toxic or if you were cheated on, it might be hard to trust again.
It is important to realize that not all people are the same.
You need to let go of your package to have a successful, trusting, long-term relationship in the future.
Although it is perfectly natural to assume the worst in people especially after a toxic relationship.
You need to have faith that there are good people out there and that you will not be treated like you were in your previous relationship.
This requires a leap of faith on your part.
Dating again after a breakup should feel like a clean slate.
It can be scary at first getting back into the dating scene.
Putting yourself out there will be intimidating at first but will feel much better in the end.
When you're ready, setting up an online dating profile, on a site you agree to gives you a good chance of meeting new people.
To be successful on an online dating website, all you need to do is create a profile and sell yourself on your profile.
It feels good to write about yourself to attract someone you want. It can also be a healing process for you after your breakup.
You move further to take awesome pictures with your best angles and put them right there on your profile.
Asking out a promising partner online and exchanging numbers is a good way of coming out of your shell as a woman.
We believe, however, that a great place to start will be apps like tinder, with a lot of young people in its dating pool looking for a great time.
What you must avoid at all cost
These are some simple tips we recommend to you to get back into dating after your breakup.
All of these things might be extremely tempting at first, but they are crucial to your success.
Do not text or call your ex to try to get them back. This is the most important thing. You will feel lonely at times after a breakup, and that is entirely normal. You have gotten accustomed to having someone in your life, and it is not very easy to be single again. You need to remember that you broke up for a good reason.
Don't date immediately after the breakup. As we mentioned above, you need some time for yourself to find peace. This should be your time to work on yourself. Jumping into a relationship right afterward will severely limit your possibilities of possibly meeting a much better match.
Once you start dating again, don't carry your lousy package from your previous relationship. If you are doing this, it means that you haven't fully let go and have not come to peace with yourself. You need to give the courtesy of a "clean slate" to all potential individuals that you are dating. These people are not your ex-boyfriend/girlfriend. Do not judge them as if they were.
Onlineforlove's relationship experts studied different online dating forums and social media platforms.
The approach we used was to analyze the most important criteria for getting back into dating after a breakup, as well as how suitable was for different types of relationships.
Our evaluation was based on the following factors:
how long the last relationship lasted
whether or not the breakup was bad
deal breakers after a bad heartbreak
what the last dating experience was like
Frequently Asked Questions
Well, that's about it, ladies and gentlemen, on our guide on how to start dating again after a breakup.
We hope that this was useful to some of you!
Our biggest recommendation for getting started with dating after your break up is to sign up for an online dating site.
Currently, you can get dating websites very cheap because they have been lowering their prices.
You can check out the cost of eHarmony here or the price of match.com here.
This is very noncommittal, and it can simply be to browse what kind of options are available to you in your city.
When online dating first started to become popular, there was a lot of skepticism and judging for the people that were using it.
Nowadays it is completely normal and accepted by the majority of people as a legitimate way to meet others.
Don't be limited to the people you see on a day-to-day basis at work or in your neighborhood.
If you do, you are severely limiting your options to what is available!
Leave me a comment down below if you enjoyed our guide on how to start dating again after the breakup.
Do you guys have any other tips on dating again?
We will get back to your comments as soon as we can.
In the meantime, put yourself out there and get back in the scene.
We guarantee that you will not regret it!
Also check for the complete guide to creating online dating profile.
This guide, when followed properly, will open you up to the opportunities for online dating and teach you the way to go about it.